10 Conflicts to Worry About in 2022
At risk of heightened social unrest amid an economic and political crisis
In 2021, Lebanon continued to grapple with a crippling financial and economic crisis, which the World Bank described as one of the world's three worst crises since the mid-19th century (World Bank, 1 June 2021). With over three-quarters of the population driven into poverty (UN, 3 September 2021), deteriorating economic conditions and political instability triggered thousands of demonstrations nationwide throughout 2021.
Although the majority of demonstrations remained peaceful, hundreds of violent riots and clashes with security forces were also recorded during the year. In January, a week-long riot broke out in the northern city of Tripoli over a COVID-19 lockdown, as a large majority of the workforce reliant on day-to-day income was left without pay (Reuters, 3 February 2021). One demonstrator was killed in heavy clashes with security forces. In March, as the Lebanese pound hit all-time lows, the number of demonstration events increased to the highest point since the start of anti-government protests in late 2019 (for more on the onset of demonstrations in 2019, see the ACLED report: Breaking the Barriers). Demonstrations continued at high levels throughout the summer as the currency continued to lose value, the central bank scaled back subsidies, and widespread power blackouts hit the country.
While the overall number of demonstration events increased only slightly in 2021 compared to 2020, there was a significant increase in demonstrators barricading roads with objects, which has become a hallmark of the demonstrations (Independent, 10 March 2021). At the same time, there was a 50% drop in the number of events where security forces interacted with demonstrators. Notably, following the president's call on the army to open blocked roads in March, the army chief voiced support for the "just demands" of the demonstrators and suggested that soldiers were also "hungry" (Arab News, 6 March 2021).
There was also a sharp increase in mob violence and armed clash events in Lebanon last year, mainly driven by disputes over fuel shortages. ACLED records more than 100 of these events, including knife fights and gun clashes over fuel, resulting in at least three reported fatalities. On several occasions, rioters stopped and confiscated fuel tankers, blaming smugglers for contributing to the fuel shortage.
As food prices registered an annual increase of more than 350% (FAO, 7 January 2022), over a dozen riots were recorded in which shoppers engaged in scuffles over basic necessities, like food supplies. On 14 April, one volunteer distributing food was killed in Tripoli when a fight broke out over a group attempting to take extra.
2021 was also marked by the deadliest eruption of violence on the streets of Beirut in years. On 14 October, supporters of the Shiite Hezbollah and Amal movements held a demonstration against the lead judge investigating the 2020 Beirut port blast. Gunmen believed to be supporters of the Christian Lebanese Forces opened fire on the gathering from rooftops, killing seven Shiites. Dozens were injured in the ensuing armed clash that evoked memories of the country's civil war. The aftermath of the accidental explosion of a large amount of ammonium nitrate at the Beirut Port in 2020 — which killed over 200 people and exacerbated the already dire economic situation (New York Times, 4 August 2021) — has further aggravated deep divisions within the country. Dozens of demonstrations have been held calling for accountability for those responsible as well as justice for the victims. Hezbollah and Amal have, however, opposed the investigation, which has seen two senior Amal members charged with intentional killing and negligence (New York Times, 4 February 2021).   
Disagreements over the investigating judge have further paralyzed Prime Minister Najib Mikati's fragile government, which did not convene for over three months between October 2021 and January 2022 (Reuters, 24 January 2022). Mikati's government was formed in September after a 13-month political vacuum, following ex-Prime Minister Saad Hariri's failure to form a government (France24, 10 September 2021). While Lebanon's political elite have shown a lack of urgency to cooperate despite the historic proportions of the crisis — delaying negotiations with the international community over much-needed financial aid (Independent, 15 April 2021) — citizens have continued to take to the streets.
Several incidents of Lebanese-Israeli cross-border hostilities were also recorded between May and August. During the May fighting in the Gaza Strip, three rockets were fired from Lebanon into northern Israel. In a significant development, Israel conducted an airstrike on 5 August, marking the first time Israeli fighter jets struck targets inside Lebanon since 2014 (Times of Israel, 12 August 2021). This occurred a day after missiles were fired into Israel from Lebanon, likely by Palestinian factions (Haaretz, 9 August 2021). Hezbollah retaliated with a rocket barrage, the first such incident since the 2006 Israel-Hezbollah War (Atlantic Council, 12 August 2021). However, after Hezbollah indicated that the rockets were directed at open fields (Arab Center Washington DC, 11 August 2021), Israel showed restraint, with retaliatory artillery barrages inflicting no damage.
What to watch for in 2022:
The aftermath of the August brinkmanship indicated that neither Israel nor Hezbollah has an appetite for an all-out war. Rather, both sides are expected to continue a policy of deterrence (Al Jazeera, 15 August 2021). However, the question remains as to whether further rocket attacks by anonymous Palestinian factions from southern Lebanon into Israel could provoke an unwanted escalation.
The biggest threat to Lebanon's stability in 2022, though, will continue to stem from internal sources. The rapidly escalating economic and financial crisis, along with rising poverty, are threatening a humanitarian crisis and severe civil unrest. Brought about by years of corruption, nepotism, and mismanagement, the worsening economic situation may provoke a spike in violence and insecurity. High levels of protests and riots are likely to continue throughout the year. Strains on the country's security forces, underpaid and stretched ever thinner by internal unrest, could further compound instability in Lebanon.
With legislative elections scheduled for May 2022 (Reuters, 15 May 2022), the formation of a new government may once more take considerable time and ultimately deepen the crisis. The prospects of a new government introducing serious reforms to unlock billions of dollars in aid and loans remain slim, as elites will likely postpone any major changes to minimize damage to their personal and party interests (ICG, 28 October 2021). Urgent humanitarian aid — including a $246 million World Bank loan that recently enabled a cash assistance program (Al Jazeera, 1 December 2021) — may mitigate Lebanon's socio-economic woes in the short term. However, without willingness from Lebanese elites to undertake thorough economic and political reforms, no amount of external assistance will be enough to overcome the country's mounting challenges.
Demonstrations: This term is used to refer collectively to all events coded with event type protests, as well as all events coded with sub-event type violent demonstration under the riots event type.
Disorder

: This term is used to refer collectively to both political violence and demonstrations.

Event:

The fundamental unit of observation in ACLED is the event. Events involve designated actors – e.g. a named rebel group, a militia or state forces. They occur at a specific named location (identified by name and geographic coordinates) and on a specific day. ACLED currently codes for six types of events and 25 types of sub-events, both violent and non-violent.

Political violence:

This term is used to refer collectively to ACLED's

violence against civilians, battles, and explosions/remote violence

event types, as well as the

mob violence

sub-event type of the

riots

event type. It excludes the

protests

event type. Political violence is defined as the use of force by a group with a political purpose or motivation.

Organized political violence:

This term is used to refer collectively to ACLED's

violence against civilians, battles,

and

explosions/remote violence

event types. It excludes the

protests

and

riots

event types. Political violence is defined as the use of force by a group with a political purpose or motivation. Mob violence is not included here as it is spontaneous (not organized) in nature.

Violence targeting civilians: This term is used to refer collectively to ACLED's violence against civilians event type and the excessive force against protesters sub-event type of the protests event type, as well as specific explosions/remote violence events and riots events where civilians are directly targeted.
For more methodological information – including definitions for all event and sub-event types – please see the ACLED Codebook.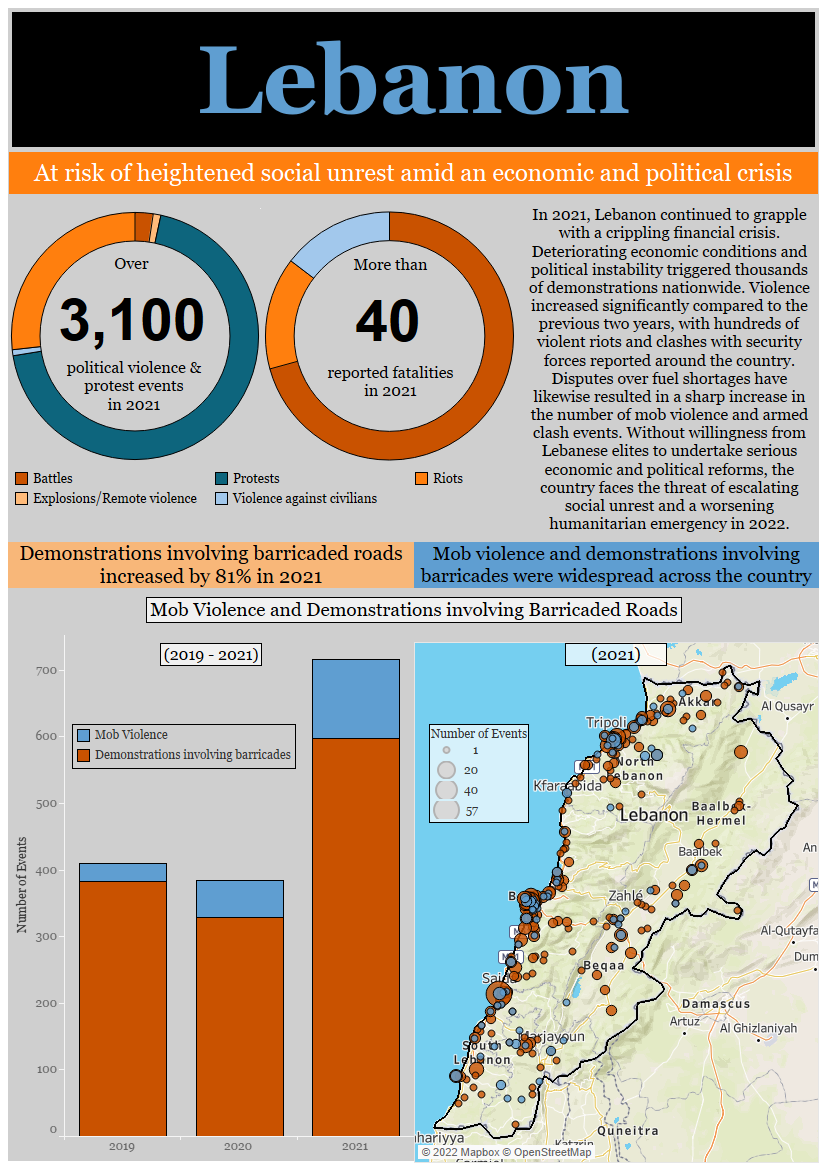 © 2022 Armed Conflict Location & Event Data Project (ACLED). All rights reserved.