10 Conflicts to Worry About in 2022
Military factions enhance their power amid spreading violence
The dubious narrative that Sudan was 'transitioning to democracy' became increasingly difficult to sustain in 2021, as the country's contending military factions competed and colluded to secure political power and economic assets in the capital, Khartoum. This culminated in a military coup on 25 October 2021 which saw the arrest of the beleaguered civilian Prime Minister Abdalla Hamdok (for more, see ACLED's report: Appetite for Destruction: The Military Counter-Revolution in Sudan), which ushered in weeks of unrest in urban areas across the country. Meanwhile, serious conflicts played out on the fringes of Sudanese territory, with provincial violence often reflecting the dynamics of confrontation and intimidation present in the capital (for context on the dynamics in the wake of the December 2018 uprising, please see ACLED's report: Danse Macabre: Revolution and Counter-Revolution in Post-Oil Sudan).
On 21 November 2021, following weeks of demonstrations against the coup, and intensifying repression from military, paramilitary, and police forces (Human Rights Watch, 23 November 2021), Prime Minister Hamdok was reinstated into office. This followed an opaque negotiation with the military, which was seemingly brokered by a pro-establishment politician, Fadlallah Burma Nasir (Berridge, 2022). Hamdok now presided over a cabinet of military-approved 'technocrats' and JPA signatories who had backed the coup. Correctly sensing that the deal merely legitimized the military power grab, demonstrators swiftly turned against it (Alneel, 2021), with protests being organized each week in major towns and cities since the new deal was signed. Dozens of demonstrators have been killed and hundreds wounded by security forces and paramilitaries since the coup (Radio Dabanga, 9 January 2022; Radio Dabanga, 19 January 2022). Security forces have also been accused of engaging in sexual violence (Radio Dabanga, 23 December 2021a) and assaulting journalists (Radio Dabanga, 23 December 2021b). There is a high potential for Sudan's vast and complex security apparatus to engage in escalating violence against demonstrators in the coming months, particularly if demonstrators continue to hurt the military bloc's economic interests by shutting down critical transport corridors.
On 2 January 2022, Hamdok resigned from his position, reportedly due to the military bloc's decision to extend the powers of the General Intelligence Service (the successor to the notorious National Intelligence and Security Service) and to block re-appointments of ambassadors who had been critical of the coup (Berridge, 2022). Since Hamdok's resignation, the military has continued to unilaterally appoint officials to governing organs, while reviving links with select elements of the National Congress Party (the ruling party under ex-President Omar Bashir). Meanwhile, Resistance Committees and the Sudan Professionals Association1Resistance Committees are activist networks who have, alongside the Sudan Professionals Association (a trade union) played a leading role in opposing Bashir and contesting the subsequent attempts at consolidating military rule following the April 2019 coup. have rejected a United Nations initiative to mediate between the civilian and military blocs, and continue to call for the military to be removed from politics altogether (Alneel, 2022; Africa Confidential, 12 January 2021). It remains to be seen whether these progressive political forces are able to successfully push for an alternate model for the Sudanese political economy. This is especially as the political economy has hitherto been dominated by an alliance of military officers and business elites who have violently extracted wealth from rural peripheries. Such a model would need to overcome long-standing rifts between urban and rural spheres, which have been exploited to perpetuate various forms of military rule, while somehow demilitarizing political and economic activity in both spheres (el Gizouli, 2021).
As these developments unfolded in the capital, violence continued to steadily climb in Sudan's geographical peripheries as militias (often organized along ethnic or sub-ethnic lines) competed for political, economic, and social power. Much of this violence took place in the western region of Darfur, where predation and attacks loom over farming areas, towns (especially those hosting IDPs), and along roads connecting IDP settlements to these areas. West Darfur state in particular was the site of dramatic rounds of hybrid clashes and massacres. These often involve Arab-identifying (typically Rizeigat) militias — suspected of being backed by the Rapid Support Forces (RSF) paramilitaries — launching attacks on other ethnic groups near the border with Chad. In South and West Kordofan states (close to the border with South Sudan) the second half of 2021 was punctuated by frequent clashes among local militias. In North Kordofan state — which typically experiences significantly less violence than southern areas of the Kordofan region — over 30 were killed in fighting between the Katouil and Dar Hamid ethnic groups in West Bara locality on 17 November.
While the military bloc has retained good connections to most of Sudan's neighbors, the deteriorating relationship between Sudan and Ethiopia has remained a cause for international and regional concern, with the conflict in Al Fashaga in eastern Gedaref state continuing to simmer. This is a disputed area, with control switching between Sudan and Ethiopia for over a century (for more, see ACLED's report: Red Lines: Upheaval and Containment in the Horn of Africa). Although western areas of Al Fashaga remained in the hands of Sudanese farmers, eastern areas had been annexed by Ethiopian settlers and militias in the mid-1990s. Following skirmishes in late May 2020, the Sudan Armed Forces (SAF) and paramilitary 'Reservists' moved into the area in November 2020 as the war in the neighboring Tigray region of Ethiopia began. Within weeks, Sudanese forces were engaging in regular clashes with Ethiopian National Defence Forces, Amhara Liyu Police, and Amhara local militia, occasionally backed by Eritrean forces. Fighting – as well as attacks and abductions by Amhara militias targeting Sudanese shepherds – have been concentrated in the southern locality of Basundah since late May, while the border between Galabat and Metema towns was officially closed for the second half of the year. The successes of SAF in reclaiming much of the territory provided a political boost to Lieutenant General Abdel Fattah Al Burhan, the commander-in-chief of SAF and head of Sudan's Sovereign Council. 
After a quiet summer, Ethiopian forces launched fresh offensives in late September and late November, with the latter attack killing at least 21 Sudanese military personnel and prompting two days of shelling between SAF and Ethiopian forces. The unpopularity of the 25 October coup may well lead to Burhan intensifying Sudan's involvement in the border conflict, which he had used to accrue political capital earlier in 2021. Yet recent overtures from Addis Ababa (Addis Standard, 6 January 2022), alongside initial steps towards a partial reopening of the border (Sudan Tribune, 6 January 2022; Sudan Tribune, 26 January 2022; Al Sudani, 11 January 2022), suggest that some form of agreement or accommodation could be reached on Al Fashaga.
What to watch for in 2022:
While the military bloc has been effective at both retaining and expanding its power in 2021, it is not a unified entity, and there is a high potential for a violent fall-out between its constituent parts (de Waal, 2019; Gallopin, 2020). The greatest risk remains fighting between SAF and the RSF, with different parts of the security apparatus (including ex-rebel groups) either aligning with one of these entities, or exploiting the upheaval to pursue their own interests. The most likely alternative is for a continuation of violence in the provinces, with subnational rivalries playing out under the shadow of political tension in the capital, as has been the case over the past year.
In 2022, the increasing centrality of paramilitary forces — drawn mainly from Western Sudan — to Sudanese politics, and not the stability of the power-sharing arrangement between civilian and military forces, will have the strongest bearing on Sudan's trajectory. As Thomas and el Gizouli (2021) explain, the rise of militias and paramilitaries is both a symptom and a solution of sorts for deeply entrenched violence and exploitation in rural Sudan. The spread of irregular and semi-regular forces epitomizes the extent to which the Sudanese state has disintegrated amid recurrent coups, mounting debt, and perpetual warfare in rural peripheries. Yet these same forces have also supplanted that decaying system, creating a new rural security architecture of some complexity to oversee the production and violent extraction of wealth from Sudan's peripheries.
Although parts of this system have been under serious strain in recent years, the RSF have been successful in monopolizing control of rural areas, while the leader of the RSF – Lieutenant General Mohamed Hamdan Dagalo (a.k.a. Hemedti) – amplified his power in Khartoum both before and after the removal of Bashir. This has granted the RSF an ability to influence patterns and levels of violence in many rural areas, with many of the most violent episodes in Darfur in 2021 (as well as some in South Kordofan) linked to RSF activity. This dynamic can be expected to continue in 2022.
Tensions between the RSF and SAF increased noticeably in June 2021 (The Economist, July 15 2021), and could easily do so once again as factional rivalries rise (Africa Confidential, 7 January 2022). The RSF has expanded its presence across much of Sudan (notably in Khartoum; see The National, 3 February 2022), and Sudan's intersecting political and economic crises provide continued opportunities for the leadership of both groups to augment their power at the expense of rivals. The current accommodation between the leadership of the RSF and SAF is not guaranteed to endure indefinitely under such conditions. The consequences of a breakdown in the relationship between these two forces would – in the worst case scenario – be for a violent scramble for power to take place across urban and rural areas, with potentially dire implications for Sudanese civilians.
Demonstrations: This term is used to refer collectively to all events coded with event type protests, as well as all events coded with sub-event type violent demonstration under the riots event type.
Disorder

: This term is used to refer collectively to both political violence and demonstrations.

Event:

The fundamental unit of observation in ACLED is the event. Events involve designated actors – e.g. a named rebel group, a militia or state forces. They occur at a specific named location (identified by name and geographic coordinates) and on a specific day. ACLED currently codes for six types of events and 25 types of sub-events, both violent and non-violent.

Political violence:

This term is used to refer collectively to ACLED's

violence against civilians, battles, and explosions/remote violence

event types, as well as the

mob violence

sub-event type of the

riots

event type. It excludes the

protests

event type. Political violence is defined as the use of force by a group with a political purpose or motivation.

Organized political violence:

This term is used to refer collectively to ACLED's

violence against civilians, battles,

and

explosions/remote violence

event types. It excludes the

protests

and

riots

event types. Political violence is defined as the use of force by a group with a political purpose or motivation. Mob violence is not included here as it is spontaneous (not organized) in nature.

Violence targeting civilians: This term is used to refer collectively to ACLED's violence against civilians event type and the excessive force against protesters sub-event type of the protests event type, as well as specific explosions/remote violence events and riots events where civilians are directly targeted.
For more methodological information – including definitions for all event and sub-event types – please see the ACLED Codebook.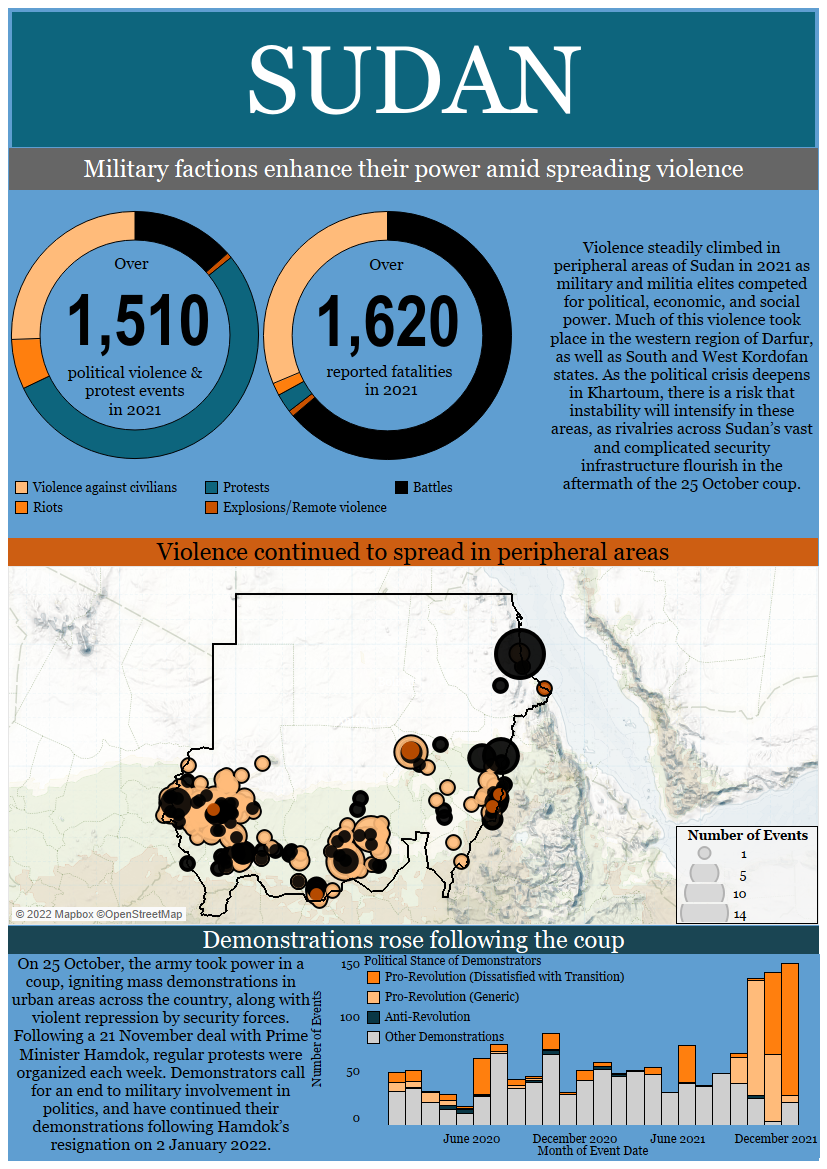 © 2022 Armed Conflict Location & Event Data Project (ACLED). All rights reserved.