Islamist militias from the city of Misrata claimed control of Tripoli airport from the rival Zintan forces on August 23, 2014 after weeks of deadly clashes in the conflict hotspots of Tripoli and Benghazi (see Fig. 1). Despite this recent development, it is unlikely to quell the endemic unrest as Libya witnesses deepening domestic political divisions.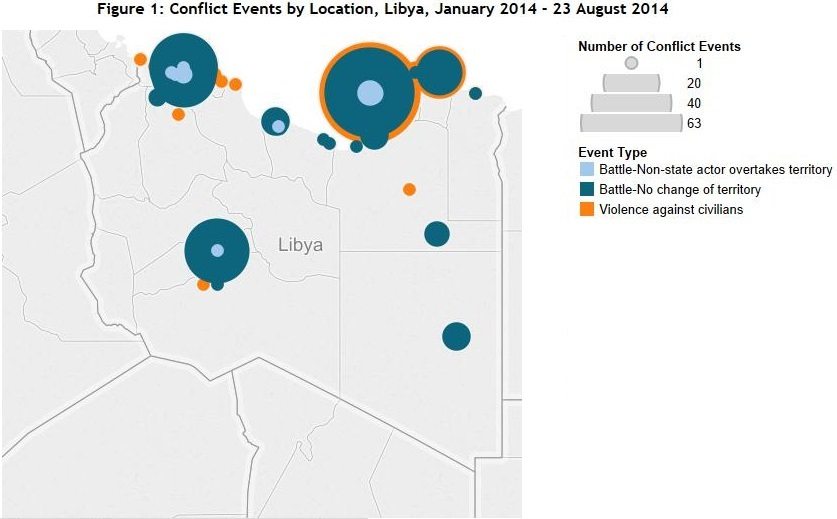 Clashes involving a transfer of territory have witnessed a steady rise since June 2014 (see Fig. 2). Fighting has been dominated by the Operation Dawn coalition, comprised of Misratan forces and members of Libya Shield, and Zintan forces who oppose the growing influence of Islamist groups in government (Reuters, October 10, 2013). This tit-for-tat violence has seen territorial-based fighting erupt on a daily basis as an extension of on-going parliamentary rivalry. These violent clashes reflect the political polarisation in Libya's turbulent parliament with a stand-off between the liberal House of Representatives which replaced the Islamist-backed General National Congress (GNC) in June 2014.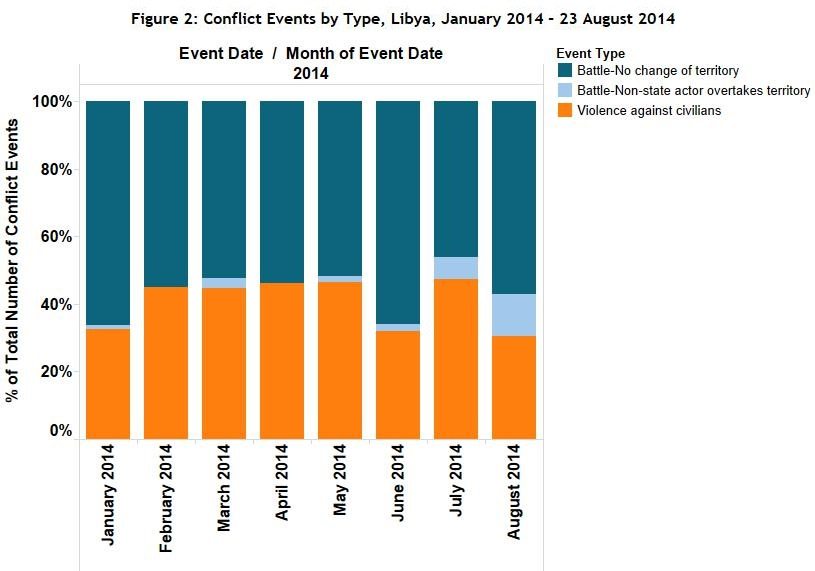 The chaotic situation in Libya was compounded when unidentified warplanes bombed Misratan militia bases in the capital, killing at least 10 fighters. Responsibility for these attacks remains contentious with accusations being bought against regional powers such as Egypt, the UAE and even the Ex. Gen. Khalifa Haftar's forces (The Washington Post, August 24, 2014). Libya's divisive landscape has spurred demonstrations objecting to the House of Representatives and also to augmented discussions of foreign intervention to stabilise the deepening instability.
Whilst the question of foreign support remains, peaceful negotiations are being pursued as intra-group splits emerge (Agence France Presse, August 18, 2014). The Benghazi Shura Council, made up of moderate Islamists, was organised to negotiate a solution to the Benghazi fighting without engaging in violence.

References
---
Agence France Presse. 2014. 'Splits emerge between Libyan Islamists and jihadists'. Agence France Presse, August 18, 2014. Accessed at: http://news.yahoo.com/splits-emerge-between-libyan-islamists-jihadists-183000425.html Last accessed: [26 August 2014].
Reuters. 2013. 'Factbox: Libya's rival militia groups'. Reuters, October 10, 2013. Accessed at: (http://www.reuters.com/article/2013/10/10/us-libya-armed-groups-idUSBRE9990O620131010). Last accessed: [26 August 2014].
The Washington Post. 2014. 'Libya's Islamist militias claim control of capital'. The Washington Post, August 24, 2014. Accessed at: http://www.washingtonpost.com/world/middle_east/egypt-denies-intervening-in-libya/2014/08/24/88b364ee-2b7d-11e4-be9e-60cc44c01e7f_story.html. Last accessed: [26 August 2014].