The week ending 13 September 2014 witnessed the highest intensity of violence involving the Operation Libya Dawn forces since the beginning of the conflict in July 2014 (see Figure 1). Groups loosely affiliated under Operation Libya Dawn continue to expand as the Libya Shield Brigade, Janzur militia and forces from Al Zawiyah added their auxiliary support to the Misratan-led coalition.


Libya Dawn claims to operate to protect and uphold the aims of the 2011 revolution, ensuring Libya steers away from Gaddafi-loyalist control (The Guardian, 29 August 2014) and evolved as a response to the anti-Islamist operation led by General Haftar. As a result, Libya Dawn's primary tactic has been to engage in battles with forces seen to be pro-Gaddafi in an attempt to gain control over state institutions in Tripoli. After being heavily active in and around the suburbs of Tripoli, and after seizing control of Tripoli airport, attention has shifted west of Tripoli towards Warsheffana tribal areas in Janzur, Al-Zahra and surrounding localities.
As fighting has intensified and extended to residential areas, increasing numbers of civilian populations have been killed in indiscriminate shelling between the opposing sides. Libya Dawn has ramped up its activity in the last month compared to a decline in activity among the Benghazi Revolutionaries and Operation Dignity forces fighting in Benghazi, and the intensity of the clashes between the two sides has resulted in extremely high fatalities (see Figure 2).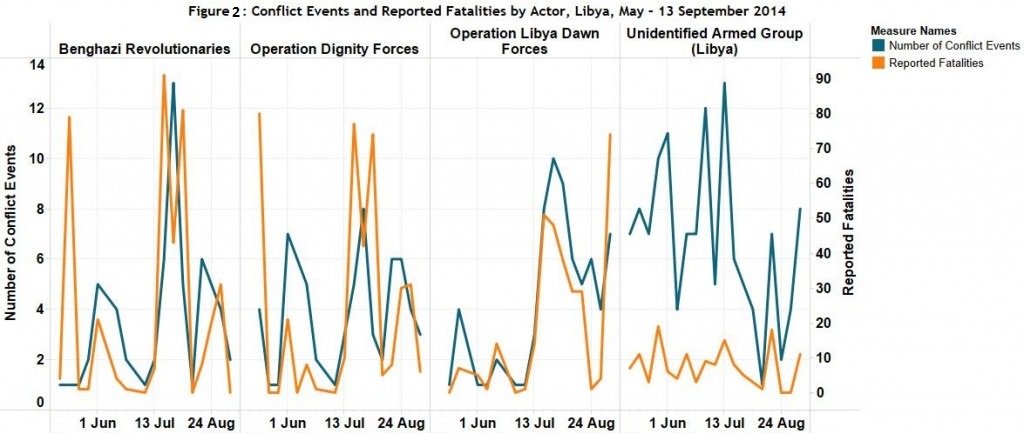 The drive to eliminate the opposition in Tripoli has witnessed unarmed civilians being targeted marginally more by Libya Dawn than other groups in Benghazi (see Figure 3). This violence has seen the destruction of Zintani homes, kidnapping of civilians, and an attack on a Tawergha refugee camp.



In ACLED's previous post on Libya, it was argued that these militias are engaged in a struggle for power, with neither side viewing the other as legitimate. Should the threat of foreign intervention continue to loom and popular support of Libyan citizens mounts for the Misratan forces, then their political leverage may start to match its military might (Middle East Eye, 12 September 2014). But institutionalising this power will require a common identity to be shaped, which could be made increasingly difficult as further groups get dragged into the conflict forcing Libya closer to the brink of Civil War.

References
---
The Guardian. 2014. 'World briefing: war in Libya.' The Guardian, August 29, 2014 http://www.theguardian.com/world/2014/aug/29/-sp-briefing-war-in-libya [Last accessed: 16 September 2014].
Middle East Eye. 2014. 'Amidst flaring tensions, new Libyan Parliament hopeful.' Middle East Eye. http://www.middleeasteye.net/news/libya-dawn-takes-upper-hand-civil-war-regional-proxy-war-becomes-hot-1676017519 [Last accessed: 16 September 2014].