Last week, President Obama announced that the United States plans to deal with the ISIS threat with a similar strategy to what they have been implementing in Somalia to combat Al Shabaab. [1]  This decision has been met with scrutiny, as it is not clear how truly successful or effective the strategy in Somalia has been. [2]  Using ACLED's real-time data can be helpful in better understanding the scope of violence in Somalia, especially since late 2010 following the major push for regaining the capital by the 'Transitional Government Forces' – now Government of Somalia – backed by the US and regional powers including Ethiopia, Kenya and Uganda. Late 2010 and external intervention are arguably the major turning points in Somalia's two decades of conflict hitherto.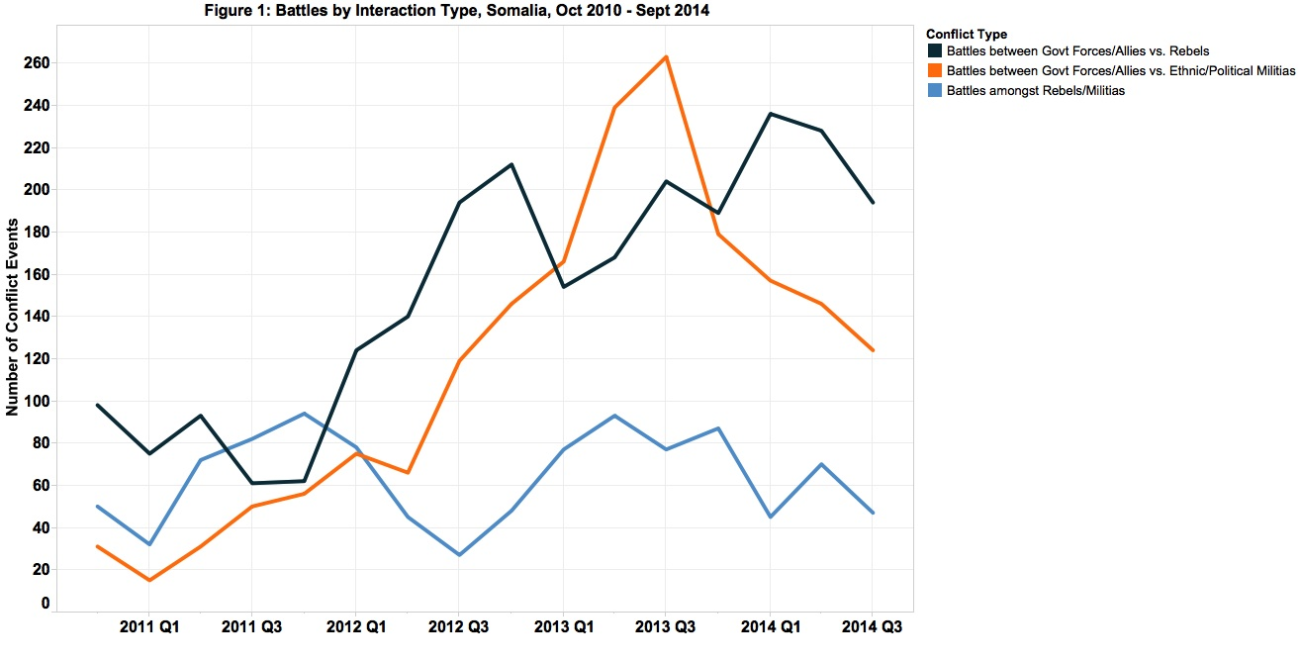 The violence has remained high in Somalia since late 2010, having increased manifold. Recent violence totals are roughly double what they were in 2010, having decreased from triple what they were in 2010 in 2013. Arguably, much of this increase could be attributed to the increased capacity of the Federal Government in its efforts to combat rebel forces.  Figure 1 shows how the majority of battles that have taken place in the past year have been between government and allied forces against rebels, specifically Al Shabaab.  In the most recent quarter, the vast majority of events is against Al Shabaab.  Two-thirds as many are targeted towards political or ethnic militias, and a quarter as many are amongst government opposition forces.
The violence in Somalia is not solely comprised of battles between rebel groups / militias and government forces / allies however; violence against civilians has been doubled since late 2010.  Furthermore, in the past 4 years, there have been multiple instances when the number of events involving violence against civilians have outnumbered the number of records of battles between government forces /their allies and rebels.  Figure 2 shows the perpetrators of violence against civilians. Though more of these events are carried out by rebel groups and political or ethnic militias, government forces and their allies have also taken part in these activities.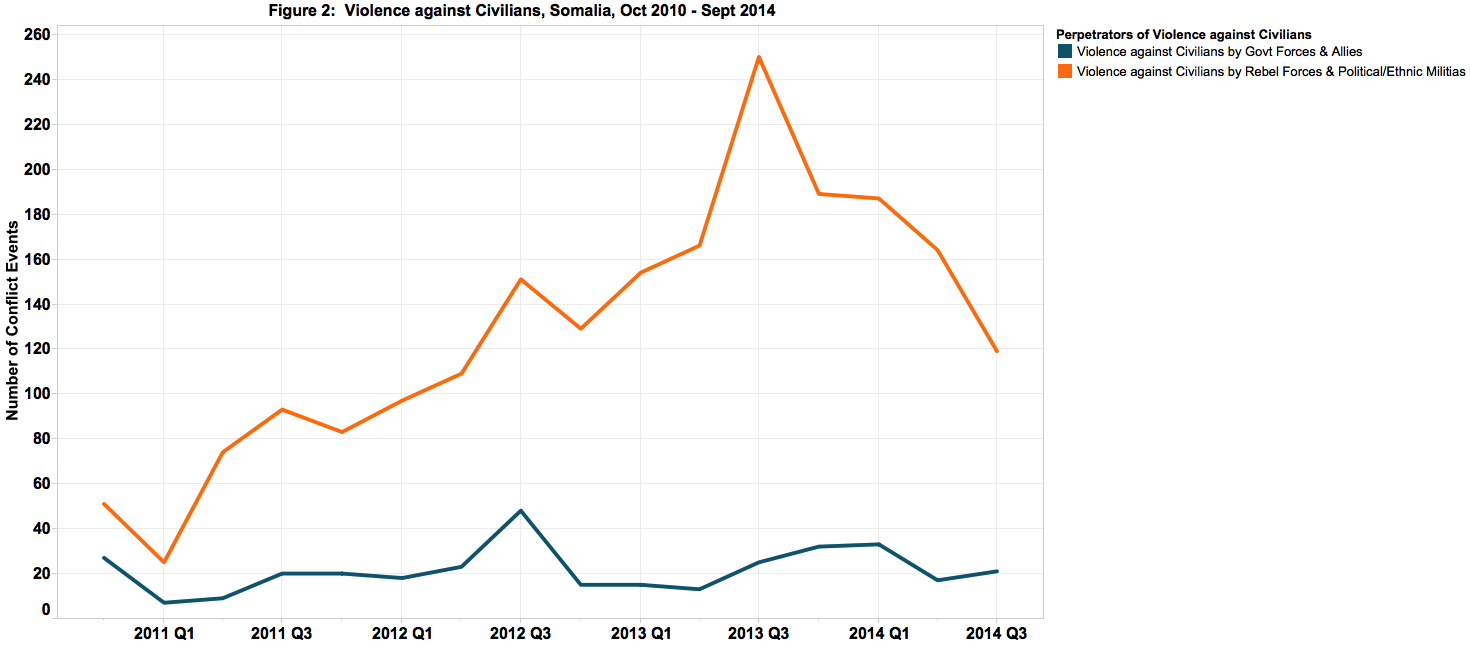 Figure 3 maps where these events have been occurring in the past year.  Many of these events, especially those involving rebel groups and political and ethnic militias, are occurring in areas under the control of the Federal Government – for example, Balcad, Kismayo, and Mahaday [3] – suggesting that these areas have still not become safer for civilians despite government and allied efforts.  The fact that rebel forces have been able to retain operating capacity, as well as the ability to inflict harm, in areas supposedly controlled by the Federal Government – despite thwarting efforts by the government and their allies – and are able to maintain the capacity to destabilize the Federal Government in these areas suggests that the counter-rebel tactics have not been completely effective.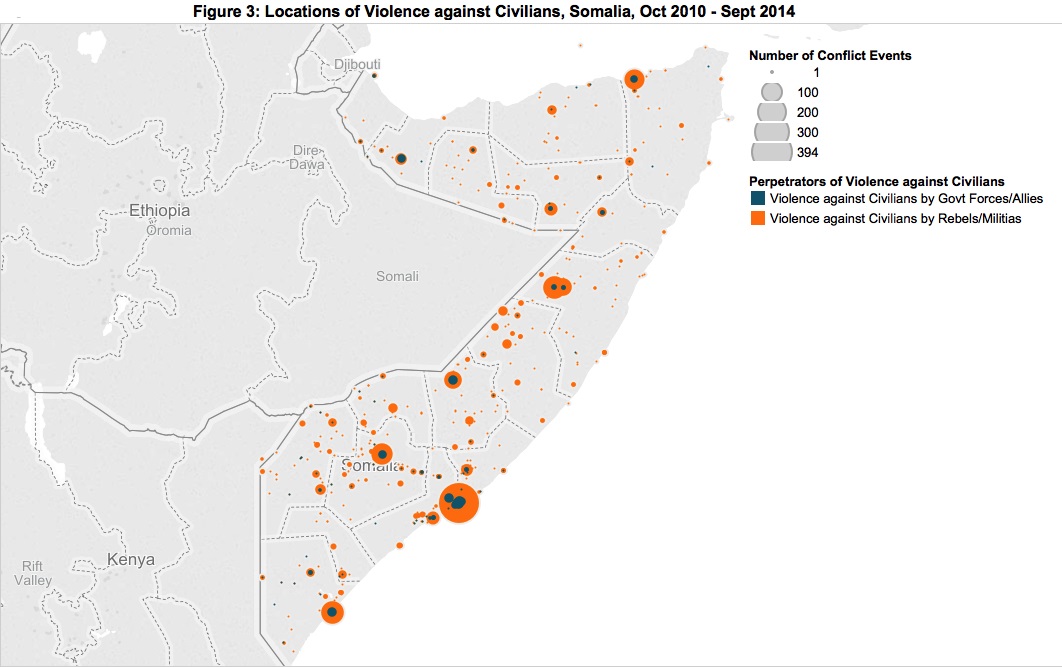 In this light, it is important to consider what conflict in Somalia means for civilians, especially with the heightened violence that they endure as a result.  For example, following the assassination of Al Shabaab leader Ahmed Abdi Godane earlier this month by US air strike in Somalia,[4] explosives were detonated by Al Shabaab last week in their efforts to attack government ally forces traveling in a convoy. The group stated that they carried out the attack targeting American officials who were travelling with the convoy, aiming to avenge for the killing of their leader Godane.  While the Pentagon stated that no American personnel were hurt in the attack, at least 16 civilians were killed and about 27 others injured, suggesting that civilians bear much of the burden of the violence in Somalia.[5]

References
---
[1] New York Times. 2014. 'Obama, in speech on ISIS, promises sustained effort to rout militants.' New York Times, September 10, 2014 http://www.nytimes.com/2014/09/11/world/middleeast/obama-speech-isis.html?_r=0 [Last accessed: 16 September 2014].
[2] Financial Times. 2014. 'Doubts raised over US use of Somalia strategy in Isis Campaign.' Financial Times, September 11, 2014. http://www.ft.com/cms/s/0/4f5f8a6c-39c7-11e4-8aa2-00144feabdc0.html#axzz3DJn0tGfW [Last accessed 16 September 2014].
[3]These locations were identified in ACLED coded data as having been seized by government and aligned forces during the period under review.
[4] The Guardian. 2014. 'Al-Shabaab leader Ahmed Abdi Godane killed by US air strike in Somalia.' The Guardian, September 5, 2014. http://www.theguardian.com/world/2014/sep/05/al-shabaab-leader-godane-killed-us-airstrike-somalia [Last accessed: 16 September 2014].
[5] Reuters. 2014. 'Somali Islamists bomb two convoys, killing at least 12. Reuters, September 8, 2014. http://www.reuters.com/article/2014/09/08/us-somalia-blast-idUSKBN0H318W20140908 [Last accessed: 16 September 2014].