Mozambique continues to experience a marked escalation in conflict, dating from late 2013.  An increased number of battles and instances of violence against civilians involving the ruling Frente de Libertacao de Mocambique (FRELIMO) party – who have held a monopoly on ruling power since independence from Portugal in 1975 – and opposition party the Mozambican Resistance Movement (RENAMO) contributes to this recent violence.  Conflict involving the two groups is reminiscent of the fifteen-year civil war between the two parties that plagued Mozambique from 1975 to 1992.  Conflict spiked following the annulment of the 1992 peace accord in 2013. Afonso Dhlakama, leader of RENAMO, and current president Armando Guebuza of FRELIMO signed a peace deal on August 24 of this year; since then the number of battles is much lower, though the number of conflict events still remains high (Figure 1).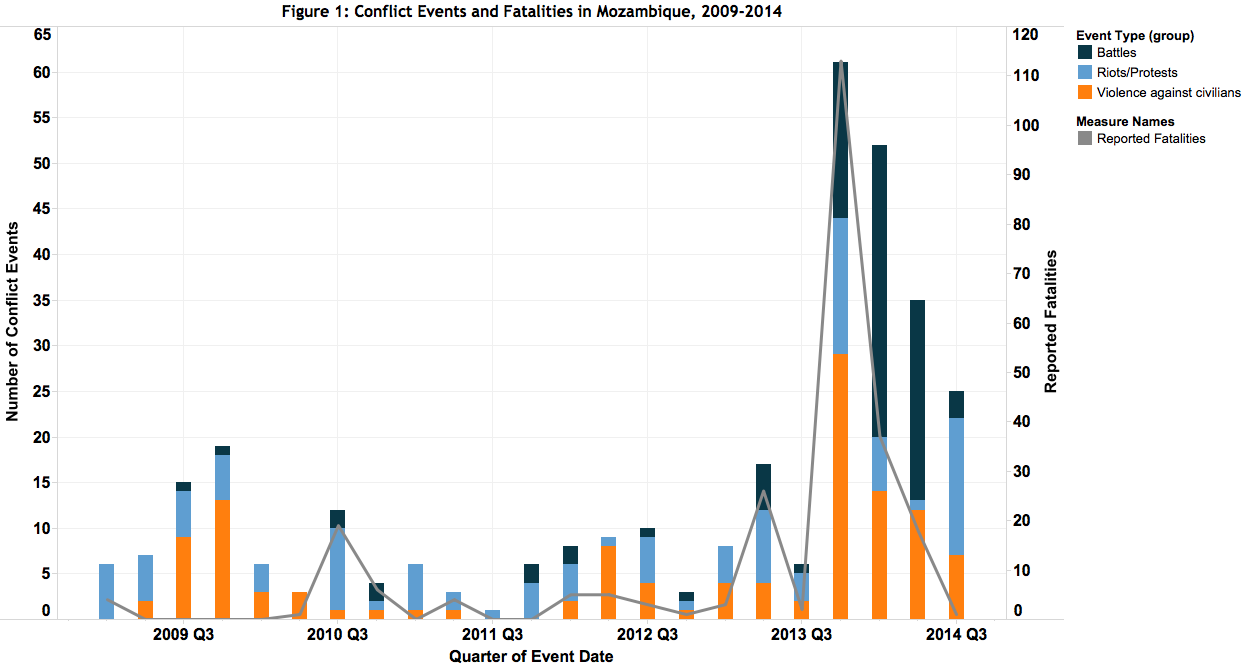 Next week on October 15, Mozambique will hold its general election.  Current president Guebuza is constitutionally barred from seeking a third term; as a result, FRELIMO is running Filipe Nyusi, who is largely expected to win the presidency. The peace accord signed in August by Guebuza and Dhlakama contains an amnesty law that will allow Dhlakama to leave his temporary hideaway in the bush and compete in the presidential election as RENAMO's candidate. The final candidate in the election is Daviz Simango of the Mozambique Democratic Movement (MDM).[1]  With their focus on conflict while forsaking political engagement, RENAMO suffered in polls; MDM made large gains in the 2013 local elections in RENAMO's absence, winning three of the nation's four largest cities, and is being largely viewed as the new main opposition party in Mozambique.[2] MDM nominee Simango is the only candidate expected to offer any real competition to FRELIMO's Nyusi in next week's presidential elections.[3]
Late 2013 saw an unprecedented spike in the number of riots and protests leading up to the November 2013 elections; these events involved FRELIMO supporters, as well as both MDM and RENAMO supporters, and occurred mainly in the provinces of Zambezia and Sofala, a RENAMO stronghold.  The number of riots and protests are spiking again now in anticipation of the October 2014 elections to an even higher degree than in 2013; in large part, these riots and protests involve supporters of FRELIMO and MDM parties, and are occurring mostly in the province of Gaza, though a number of events are seen across the rest of the country as well (Figure 2).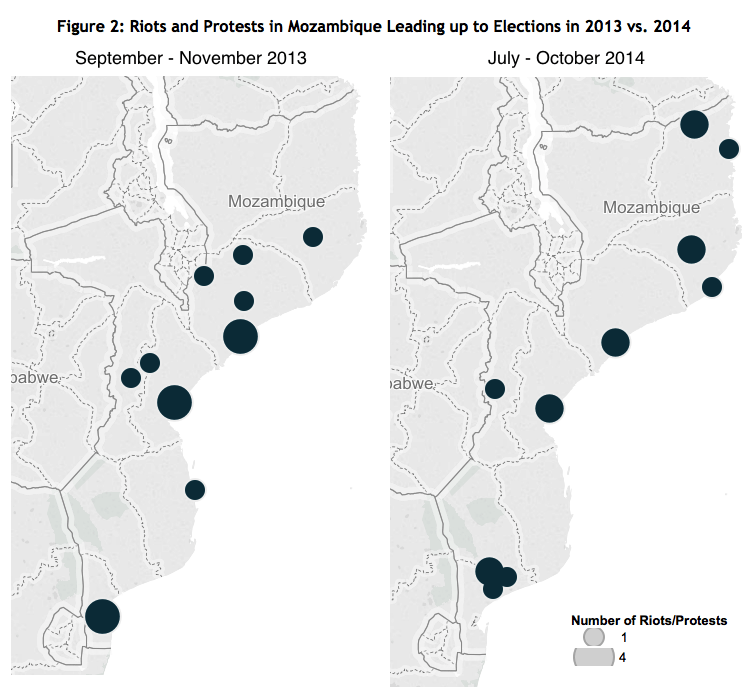 A number of civil society bodies have criticized the police for its bias in favor of FRELIMO (the ruling party), "[accusing] the police of being indifferent to violence when it is provoked by FRELIMO, but of repressing opposition parties whenever their members commit offences such as ripping down FRELIMO posters. They noticed that, since the election campaign began on 31 August, the police have detained many more supporters of the MDM and of the former rebel movement RENAMO than they have of FRELIMO."[4]
Since campaigning began at the end of August, two MDM offices have been looted and ransacked, allegedly by FRELIMO supporters.  In the towns of Macia and Chokwe, FRELIMO supporters have barred MDM nominee Simango and his supporters from entering their town to campaign.  A number of clashes have also occurred between supporters of the two groups; police have intervened at times using rubber bullets and teargas to disseminate the riots.  On one occasion, in the town of Chibuto, FRELIMO groups clashed with MDM candidate Simango and his supporters as he campaigned; a number of people were injured in the event, and FRELIMO members slit the throat of a live cockerel (the symbol of the MDM) and threw its body in the street while MDM and police looked on.  Civil society bodies are warning against the possibility of further violence following the announcement of election results next week.
References
---
[1] Mucari, Manuel. 2014. 'Mozambique government, Renamo opposition sign peace deal.' Reuters, August 25, 2014. http://www.reuters.com/article/2014/08/25/us-mozambique-politics-idUSKBN0GP0DG20140825 [Last accessed 7 October 2014].
[2] Mucari, Manuel. 2013. 'Local election gains boost Mozambique's MDM opposition party.' Reuters, December 4, 2013. http://www.reuters.com/article/2013/12/04/us-mozambique-politics-idUSBRE9B30RS20131204 [Last accessed 7 October 2014].
[3] AllAfrica.com. 2014. 'Mozambique: MDM will overtake Renamo, poll predicts.' AllAfrica.com, August 29, 2014. http://allafrica.com/stories/201408300001.html [Last accessed 7 October 2014].
[4] AllAfrica.com. 2014. 'Mozambique: Civil society bodies warn against election violence.' AllAfrica.com, October 3, 2014. http://allafrica.com/stories/201410031563.html [Last accessed 7 October 2014].