Following the short but deadly burst of fighting in May, Mali has generally seen a decreasing trend in overall events over the past few months (which follows a broader trend in decreasing violence since this time last year), with a spike in fatalities during July (see Figure 1). However, although the number of violent events and fatalities in Mali are reminiscent of the period of calm which occurred in the summer of 2013, there are two dynamics which could mean that the rise in fatalities seen from August to October could signal a potentially longer term trend of increasing violence in the months to come (see Figure 1). These dynamics are violence between Tuareg groups and increasing violence related to militant jihadist actors.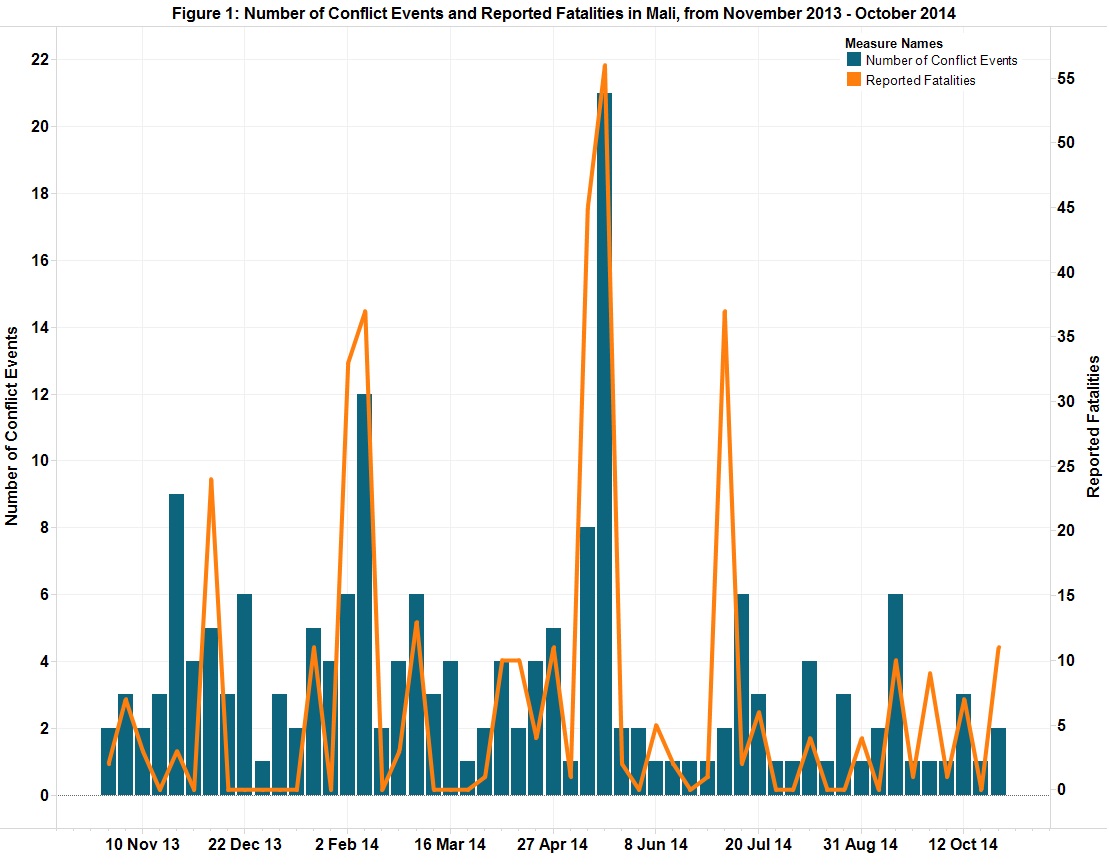 Since July, there have been several significant instances of fighting between militant Tuareg groups, with the most violent being a three day clash in July between the MNLA and MAA (Mali Jet, July 11, 2014), two of the most notable Tuareg groups, which was almost solely responsible for the spike in fatalities that month (see Figure 1). However, despite this fighting, the MNLA and MAA, along with the HCUA, were soon after able to come to a broad agreement to work together within the framework of the Coordination of Movements of the Azawad group, which since October also includes military cooperation (MNLA Website, Oct 28, 2014).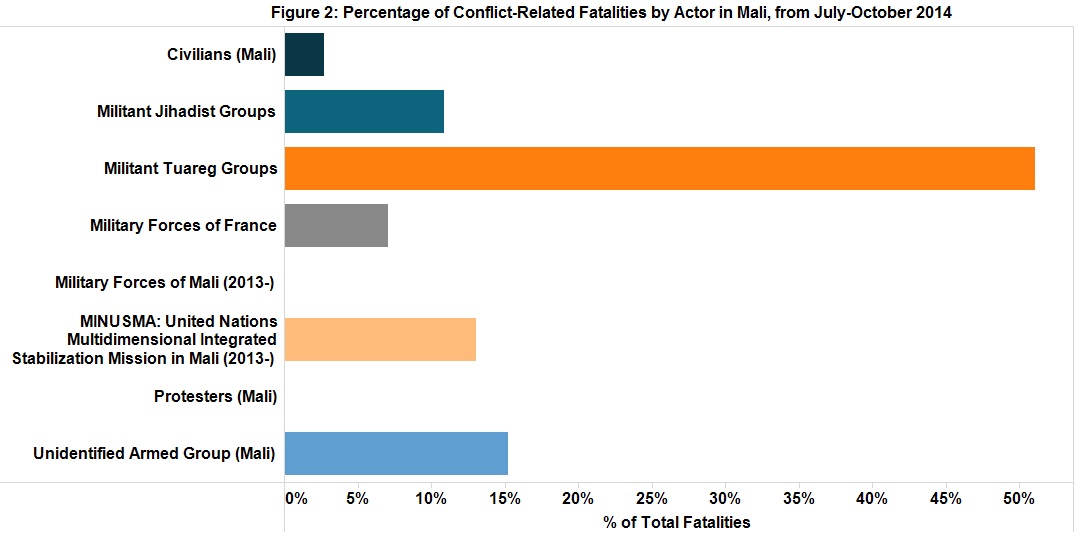 Despite this consolidation within the pro-independence movement, a new militant Tuareg group, GATIA, which opposes independence has emerged to challenge this unity. Since its inception in August it has succeeded in capturing two towns, N'tilit and Tessit from the MNLA, which a MINUSMA source claims has been done in order to get a seat at the ongoing peace negotiations between the Malian government and Tuareg groups in Algiers (AFP, Oct 17, 2014). This conflict between GATIA and the other Tuareg groups, but primarily the MNLA, has the potential to grow and could reignite wider conflict within Mali as the MNLA claims GATIA is a pro-government militia and is being used by the Malian military to indirectly weaken them (Jeune Afrique, Oct 16, 2014). Overall, between July and October, fighting between Tuareg groups has been responsible for more than 50% of all fatalities (see Figure 2).
However, while conflict between Tuareg groups signifies part of the upward trend in violence over the past few months, the most consistent factor has been the increase in violence carried out by militant jihadist groups. This is represented primarily by violence carried out by AQIM, MUJAO, and unspecified militant Islamist groups against international forces, alongside unattributed casualties caused by explosive devices planted primarily on the roads of the Kidal and Gao regions. These avenues of violence have accounted for a dramatic rise in fatalities among MINUSMA forces, most notably the deaths of 10 Chadian peacekeepers in separate events in September (VOA News, Oct 3, 2014), and the ambush of peacekeepers from Niger by Islamist militants in October, leading to 9 deaths (Associated Press, Oct 3, 2014). French forces have also experienced growing engagement with militant jihadists, with a recent operation in the Tigharghar mountains resulting in the death of one French soldier and an unspecified number of militants seized or killed (RFI, Oct 30, 2014).