Contrary to the recent tensions in neighbouring Mali and Burkina Faso, Ivory Coast has experienced a period of relative stability in 2014. With the exception of an outbreak of violence in May 2014, when pro-Gbagbo militia fighters stormed the South-western village of Fetai killing three soldiers and ten civilians (Aboa, 2014), overall conflict levels and intensity have remained relatively low throughout much of the year. Nevertheless, whilst battles and violence against civilians have seen a substantial decline since the beginning of the year, riots and protests remain major components of political unrest (see Figure 1). In November, widespread discontent over unpaid benefits among thousands of ex-rebels, now officially integrated into the army, sparked a series of demonstrations and blockades in Abidjan as well as in other major towns.
The wave of unrest highlights some of the obstacles still facing Ivory Coast in the process of re-integrating former rebel combatants into society. The International Crisis Group estimated that over 97,000 combatants have awaited demobilisation and reintegration since the end of the civil war (ICG 2012: 4). Due to poor coordination at the governmental level and inadequate funding, this process has made little progress, as rising unemployment and social exclusion among former rebels seem to confirm (Corey-Boulet 2013).
Protests, however, were not limited to former combatants: other public service workers, including doctors and agents in the energy sector, staged separate protests in November to demand attention from the executive. The combination of former combatants and public service workers demonstrating at the same time thus points to the mounting pressure on the government, who are accused of not doing enough to address popular grievances.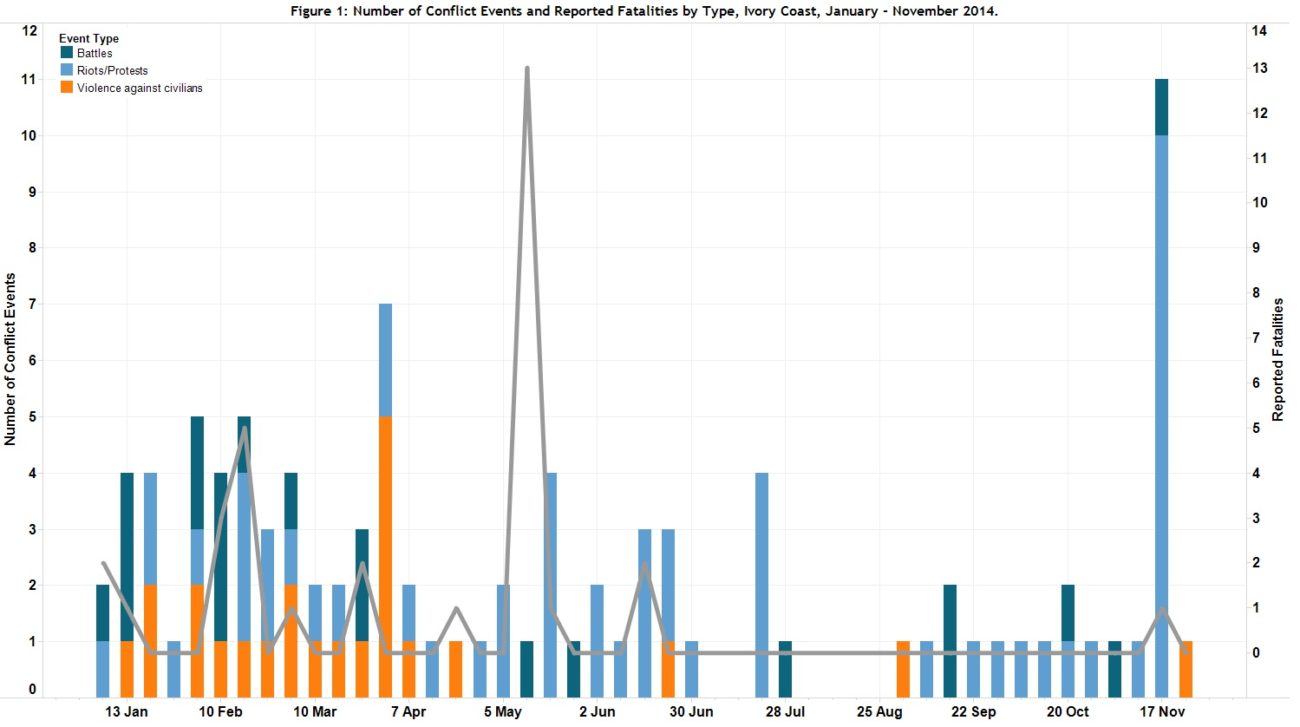 Figure 2 illustrates the geographical distribution of conflict events across the Ivorian territory in 2014. Battles are situated mostly in border regions in the North and the West of the country, where ethnic clashes and militia fighting are concentrated. In terms of riots and protests, the vast majority of them occur, unsurprisingly, in the capital city. However, although riots and protests are usually concentrated in this region alone, soldiers' demonstrations have swept across the country and involved the Northern regions of Savanes, Vallée du Bandama and Zanzan.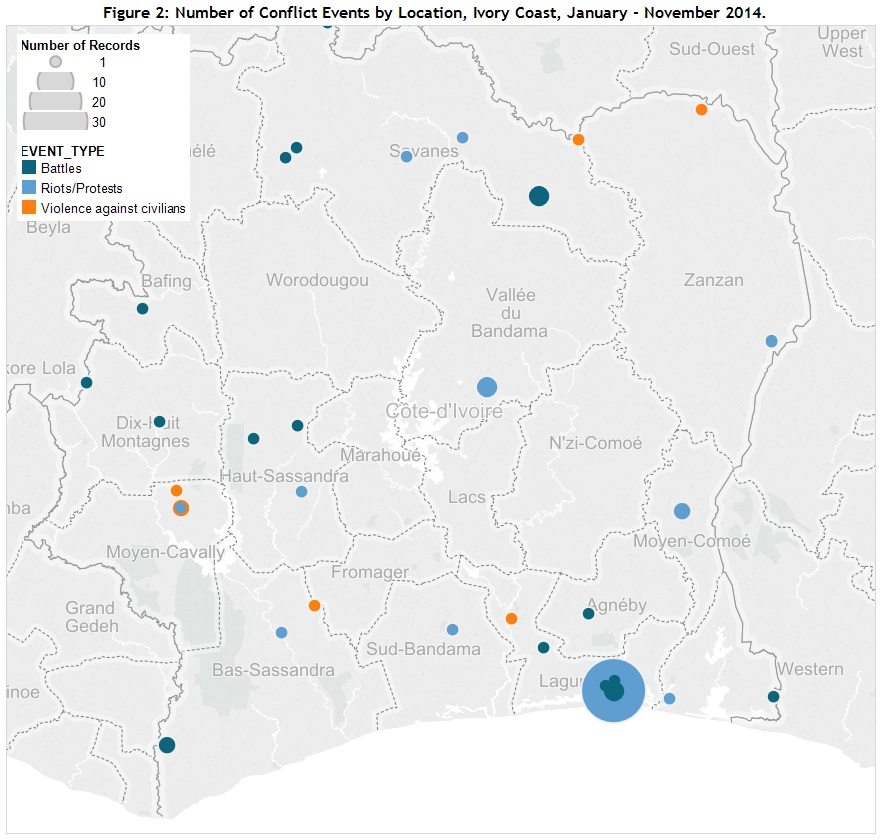 As Figure 3 shows, in contrast to the usual urban and capital city-focused protests, demonstrations involving soldiers spread to peripheral regions, where the concentration of pro-Ouattara rebels, now part of the army, is higher. During the November protests, the soldiers paralysed several towns by erecting barricades and blocking streets, whereas in Bouake, the country's second largest city, they burst into state television and radio and plundered the local police station. These episodes notwithstanding, no clashes with the police have been reported.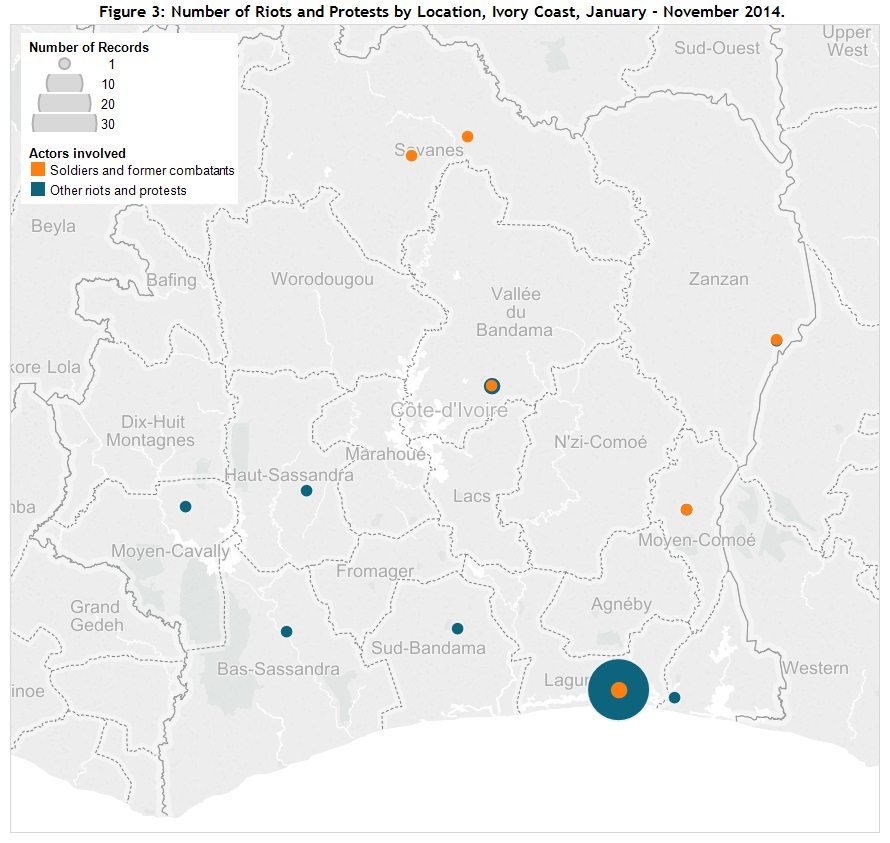 After two days of negotiations between the protesters and the government, President Ouattara announced the payment of wages and benefits to 8400 soldiers, urging them to end the demonstrations and return to barracks (Reuters 2014). Tensions centering on overdue benefits, however, are not over, as another group of soldiers claim that they still have to receive 5 million CFA (around 10 thousand dollars) they had initially been promised to join the rebellion against Gbagbo. Although political violence has been decreasing, the slowdown in the process of reintegration and unrest among former combatants thus raise serious doubts over the country's domestic stability.

References
---
Aboa, A., 2014. Ivory Coast army retakes border town after attack kills 13. Reuters, 16 May. Available at: http://www.reuters.com/article/2014/05/16/us-ivorycoast-attacks-idUSBREA4F0LK20140516.
Corey-Boulet, R., 2013. Ex-Combatants Face Uncertain Future Ivory Coast. Voice of America, 13 May. Available at: http://www.voanews.com/content/ex-combattants-face-uncertain-future-in-ivory-coast/1659849.html.
International Crisis Group, 2012. Côte D'Ivoire: Defusing Tensions. Africa Report N°193, 26 November. Available at:http://www.crisisgroup.org/~/media/Files/africa/west-africa/cote-divoire/193-cote-divoire-defusing-tensions-english.
Reuters, 2014. Ivory Coast soldiers end protests after government concessions. 20 November. Available at: http://www.reuters.com/article/2014/11/20/us-ivorycoast-army-protests-idUSKCN0J42NR20141120