August witnessed a continuation in the decrease of violent conflict events in Egypt, a trend that began in January 2015. Fatalities similarly dropped after military campaigns against the State of Sinai militant group in North Sinai produced a dramatic spike in July (see Figure 1). At first, the high casualty rate reported by the Egyptian state media throughout July suggests that military operations have made a significant dent in the operational capacity of the State of Sinai group. However, tightening restrictions over media reports and a sustained attack on the freedom of press within Egypt warrants careful interpretation of this apparent show of strength by the armed forces. President Abdel Fattah al-Sisi approved a string of new anti-terrorism laws this month provoking widespread criticism from national and international NGOs, rights groups and activists (BBC News, 17 August 2015).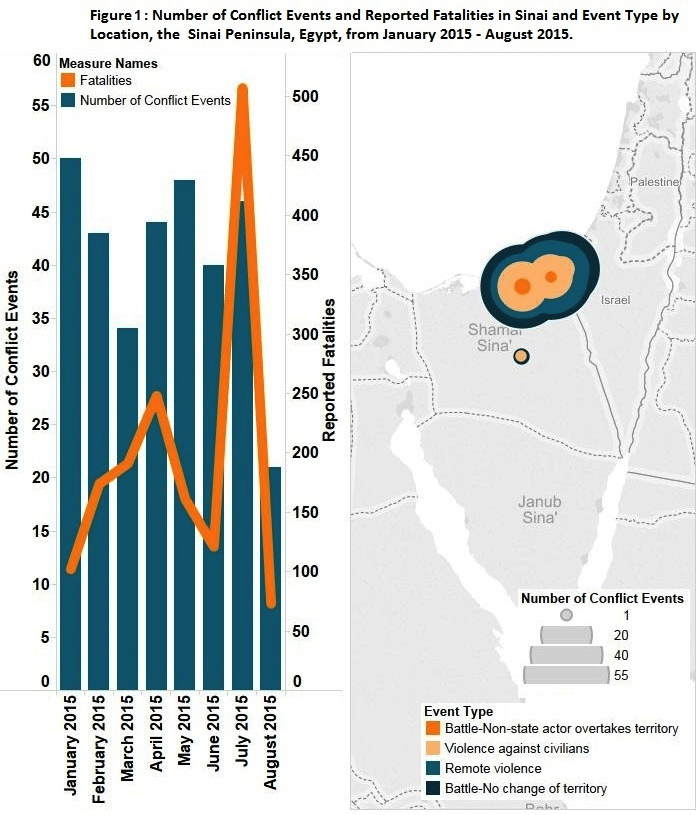 Under Article 35 of the law, media reports will be required to confirm the Ministry of Defence's official stance on acts of 'terrorism' and anti-terrorism. Reports on militant attacks that contradict official source will be vulnerable to severe fines between 200,000 and 500,000 Egyptian pounds (BBC News, 17 August 2015). Consequently, official accounts of militant strikes are likely influenced by a propaganda war in an attempt to erode the attractiveness of joining State of Sinai ranks, undermining recruitment. Current estimates suggest there are between 1,000 and 1,500 active members of the State of Sinai group (BBC News, 10 August 2015). State media reported at least 205 militant deaths in North Sinai in a three-day period at the beginning of July, indicating a severe blow to the group. Yet this has not deterred the militant insurgency that continues to carry out checkpoint attacks against security personnel.
Journalists have increasingly fallen victim to selective targeting and detention by the state with a growing number of 'forced disappearances' of journalists, students, lawyers and Muslim Brotherhood sympathisers. The clear issue underscoring the new anti-terror provision is the deliberately murky definition of 'terrorism', which appears to have been designed to justify the security services ruthless elimination of any substantial political disquiet.
In just one example in August, two newspapers had their articles censored, all focusing on high-ranking state officials (Daily News Egypt, 24 August 2015).  The stranglehold over Egyptian political life has extended beyond purely non-violent activity and Egypt's Interior Ministry is taking every opportunity to erode the political base of the Muslim Brotherhood through direct violence or through a non-violent regime of intimidation. The state body went as far as dismissing a protest by non-commissioned police officers in the province of Sharqiyah over unpaid salaries, claiming it was incited by Muslim Brotherhood elements (Daily News Update, 23 August 2015). Participating police personnel in fact expressed a number of occupational demands such as the payment of promised bonuses, amendments to pensions and protection of security facilities that appear to reflect historical tensions within the security structure in Egypt, rather than an act of civil disobedience instigated or hijacked by the Muslim Brotherhood.
Furthermore, although overall violence decreased in August, civilian-targeted violence witnessed a resurgence as remote violence continues to dominate the conflict landscape (see Figure 2). This comes as a growing number of reports surface over details of 'extra-judicial' killings by police forces south of the capital, ranging from torture in prisons and discriminatory shooting of unarmed individuals. The current regime of violence appears set to continue, as the Egyptian leadership remains impervious to the boundaries of constitutional limits.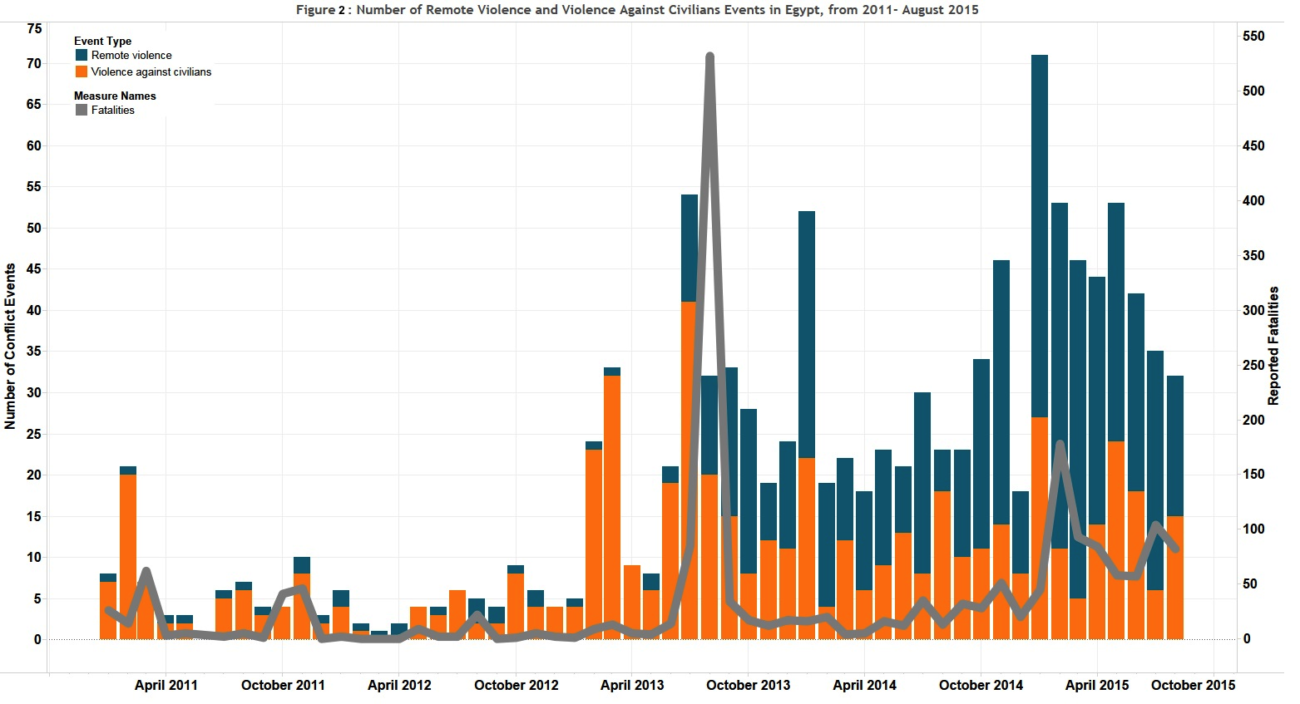 This report was originally featured in the September ACLED Conflict Trends Report.