August witnessed the lowest levels of political violence in Sudan, both in terms of activity and reported fatalities since the start of 2015. This decrease in violence has been driven by a reduction in violence against civilians, especially by political militias as incidences of civilian targeting by political militias decreased from 41 in July to 21 in August (see Figure 1). There were no reported attacks from government-aligned militias such as the Rapid Support Forces (RSF) or the Popular Defence Forces (PDF) and most incidences of violence against civilians were perpetrated by unidentified militias. This indicates that while government sponsored militias are not currently engaging in an active campaign, civilians remain at risk due to a culture of impunity that has taken hold in the region.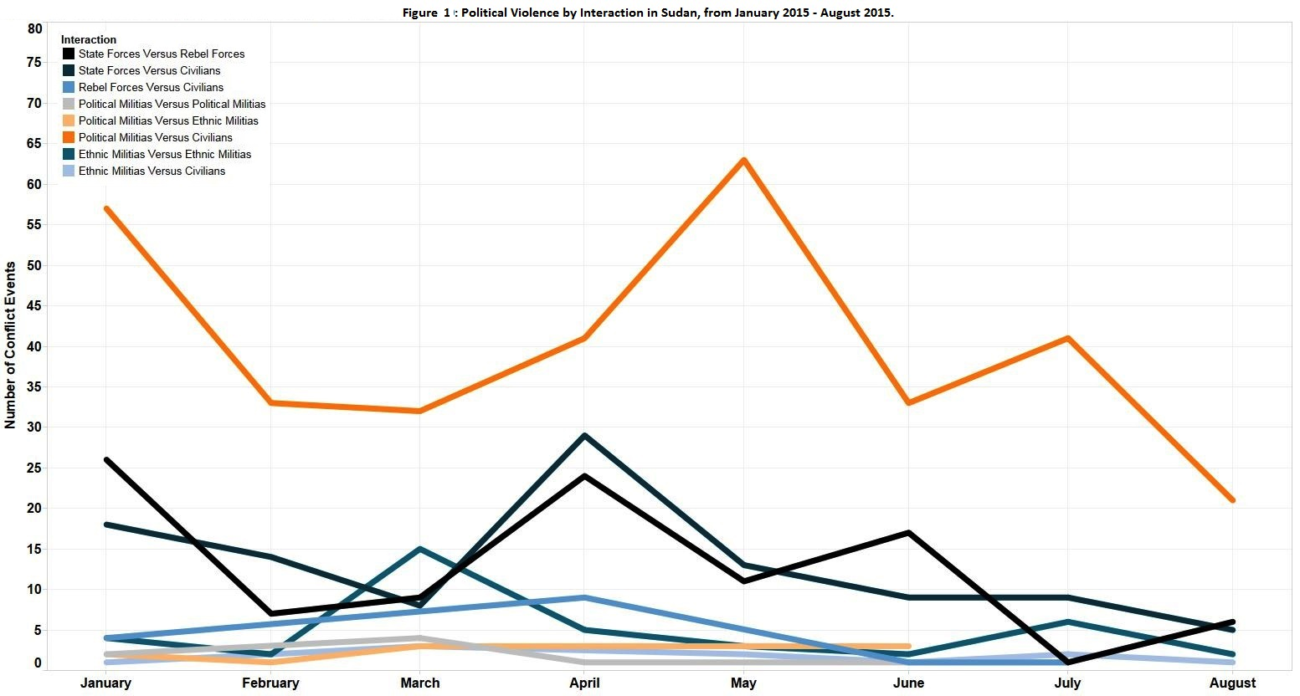 It is also uncertain whether this break in government-sponsored militia activity will last as the government in late August sent a new force of recently graduated RSF militiamen to Darfur on a counter-insurgency mission (Radio Dabanga, 23 August 2015).
Similarly, rebel activity has dramatically decreased in the last two months. This lull in activity may be due to President Bashir's announcement the National Dialogue peace process will restart in early October (Taylor, 13 August 2015). The National Dialogue talks have been previously stalled due to the opposition accusing the government of failing to provide a suitable environment for negotiation. Common accusations include incessant repression of the press and obstructive crackdowns by the police. During the past month, rebel groups including as the various factions of the Sudan People's Liberation Movement (SPLM), and the Justice and Equality Movement (JEM) have been engaged in meetings setting out their demands for a conductive environment for negotiation (Radio Dabanga, 17 August 2015). Bashir later offered a two-month ceasefire and amnesty to allow the negotiations to take place, which was accepted by the Sudanese Revolutionary Forces (SRF) rebel coalition (Amin, 25 August 2015).
In March, the government refused to take part in a two-day pre-dialogue meeting to discuss and agree on procedural matters relating to the dialogue process (Sudan Tribune, 19 August 2015). Yet this refusal to engage with the opposition seems to have dissipated in the aftermath of Bashir's electoral victory. It is likely that Bashir's previous intransigence was a tactic to appease his constituents while provoking the political opposition to boycott the elections. With Bashir guaranteed another term in office, it is possible that he may be more amenable to negotiation. However, ceasefires between the government and the rebel Sudanese People's Liberation Army (SPLA) were repeatedly violated during the Second Sudanese Civil War. With such a precedent, it is uncertain whether this cessation of hostilities will last through the National Dialogue (International Crisis Group, 2002).

This report was originally featured in the September ACLED Conflict Trends Report.