In August, conflict activity in Zimbabwe reached the lowest levels since December 2014, with 12 recorded conflict events and no reported fatalities. Conflict levels have been decreasing since April, when competition for the June by-elections contributed to escalating violence (ACLED Trends Report, June 2015). As the different factions of the Movement for Democratic Change (MDC) opted to boycott the by-elections, the ruling Zimbabwe African National Union-Patriotic Front (ZANU-PF) secured all 16 seats and reinforced its parliamentary majority (Mananavire, 12 June 2015). The splits within ZANU-PF triggered a new round of by-elections that are due to take place on 19th September. Three members of parliament who belong to Joice Mujuru's Zimbabwe African National Union-People First (ZANU-People First) were expelled from the assembly, leaving their seats in Marondera, Mbire and Mwenezi vacant (Africa Confidential, 22 July 2015).
However, the electoral competition for the upcoming by-elections did not translate into full-scale violence as in April. In July and August, the incidence of violence against civilians and between rival political factions did not increase significantly in the contested constituencies, with occasional violent events involving ZANU-PF or MDC members taking place in Mwenezi and Goromonzi (see Figure 1). This change could be due to the fact that the September polls have become increasingly marginal, especially after the sweeping victory ensured by ZANU-PF in June. Additionally, MDC candidates may not even stand in the upcoming by-elections, turning the electoral contest into an intra-party competition.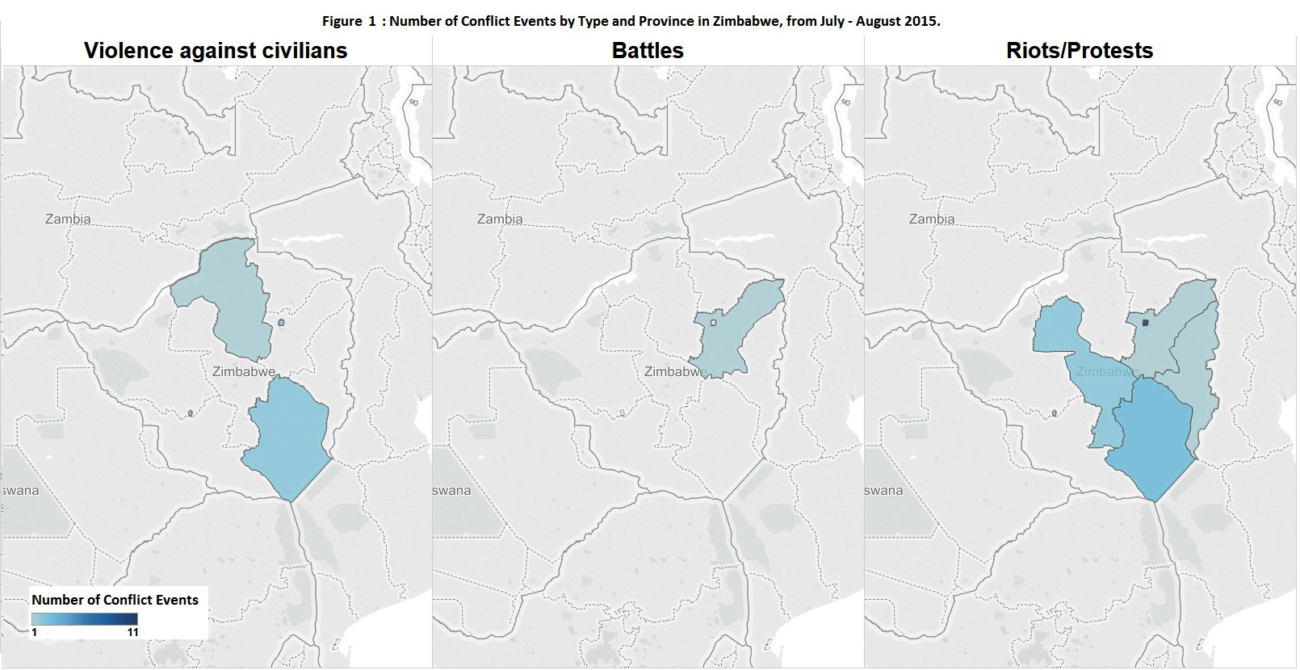 By contrast, instability remained at high levels in the capital. Protests broke out in Harare after a recent Supreme Court's ruling that allow employers to dismiss workers giving three months' notice and no compensation. Several members of the Zimbabwe Congress of Trade Unions (ZCTU) and journalists who were covering the events were arrested prior to the demonstrations, which were met by a massive deployment of riot police (Agence France Presse, 8 August 2015). Minor clashes also involved vendors and police who tried to seize their goods and relocate them into designated areas following attempts to regulate informal street trade (Africa Confidential, 20 August 2015). While unemployment drives many young people to street vending, authorities fear that party-aligned kingmakers may be tempted to capitalise on informal street trade to create patronage networks for the youth wings.
Rumours that Grace Mugabe could run for presidency in 2018 are likely to foster factionalism in ZANU-PF, especially if Vice-President Emmerson Mnangagwa will not give up on succeeding the 91-year-old Mugabe (Africa Confidential, 20 August 2015). The question is whether the ageing leader will be able to tighten his grip on the party and prevent intra-party competition from escalating into violence. However, the opposition MDC will need to resolve its own problems with factionalism if it wants to capitalise on ZANU-PF's internal splits.

This report was originally featured in the September ACLED Conflict Trends Report.