After the terrorist attack last month in Bangkok, ACLED reviewed the recent large scale (ten +)  attacks on civilians in South and South East Asia. From January to August in 2015, six large terrorist attacks have occurred against civilians in the South and Southeast Asian states that ACLED covers. Five of the six attacks occurred in Pakistan, while the final attack was in Myanmar.

Pakistan
The five large scale terrorist attacks in Pakistan since January do not indicate any geographic similarities or patterns: the locations range from Lahore to Turbat to Karachi. Large scale attacks have stopped since mid-May, remaining relatively quiet over the summer, possibly due to the success of the ongoing operation Zarb-e-Azb that is targeting various military groups including Jundullah and the Taliban in North Waziristan. The launch of the operation in June 2014 targeted militant hideouts and known leaders (The News, June 2014).  Militant groups attacked civilian populations in retaliation for the government offensive in December 2014, including a border attack by the Tehreek-e-Taliban Pakistan (TTP) in Wagah which killed 45 people, and the TTP's bombing of a military affiliated primary school in Peshawar, which killed 141 people (The Independent, December 2014). A TTP representative, Muhammad Umar Khorasani announced, "We selected the army school for the attack because the government is targeting our families and females. We want them to feel the pain" (The Independent, December 2014).
The lack of direct, large scale retaliation in 2015, despite the continuation of the operation, suggests TTP leaders remain in hiding or are recuperating after heavy losses. Out of the five attacks that did occur since January, Jundallah claimed responsibility for three, each of which attacked the Shia community. Jundallah carried out two attacks by sending suicide bombers to Shia mosques and executed another attack by boarding a bus and killing Shia commuters. (Quartz, May 2015, Press TV, January 2015) Targeting the "kafir" or the unbelievers remains Jundallah's mission, though their current silence calls into question Jundallah's capabilities after Zarb-e-Azb. In addition, Jamaat-ul-Ahrar killed 16 people by attacking two churches in Lahore in March. 80% of Pakistan's large scale terrorist attacks (10+ fatalities) targeted minority religions in violent suicide attacks.
The Baloch Liberation Army (BLA) claimed responsibility for the final attack, whose struggle against "Pakistani occupation" remains the primary motivating factor for civilian targeting in Balcohistan (New York Times, April 2015). The BLA and several other Baloch groups target government-affiliated companies and workers, in addition to Pakistan's security forces.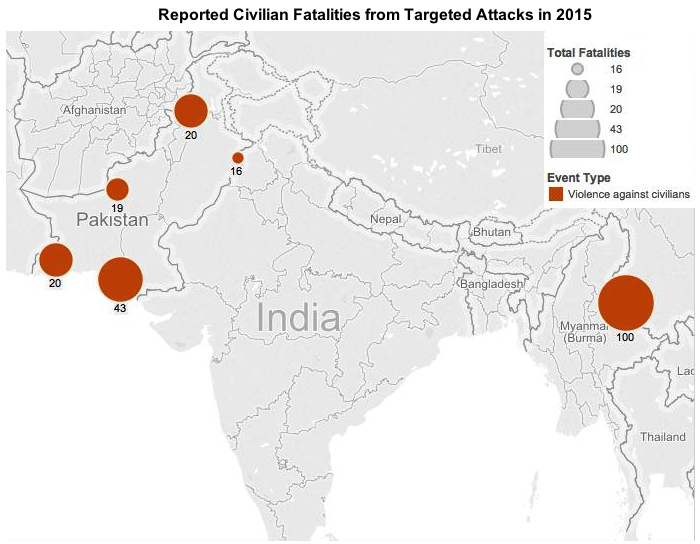 Myanmar
On February 15, 2015, rebels reported that the Burmese military forces killed unarmed civilians in Kokang, Myanmar. Forces gunned down civilians in the city of Kokang and continued to shoot after civilians tried to flee to safety (Asia Times, 2015). At least one hundred civilians were killed over two days. The army denied such accusations, stating that after fighting died down locals who had fled were welcomed by the army with "noodles, soft drinks and snacks" (Irwadday, February 2015). Such large scale violence against civilians is rarely reported in Myanmar.

This report was originally featured in the August ACLED-Asia Conflict Trends Report.