Over the past year, a number of African leaders have held referendums in an attempt to extend their term limits. Most notably, leaders in Burkina Faso, Burundi, Rwanda, and now the Republic of Congo have set their sights on constitutional amendments that would prolong their powers through presidential office. These efforts have resulted in divergent and unpredictable outcomes for stability. Burkina Faso witnessed intense street protests and burning of the Parliament buildings which led to the ousting of former President Blaise Campaore (Reuters, 3 November 2014). By contrast, Rwanda experienced a complete absence of protests or violence following amendments to their constitution which will allow President Paul Kagame to run for a third term in 2017 (International Business Times, 8 October 2015).
In the Republic of Congo, President Denis Sassou Nguesso announced in September that a constitutional referendum would be held on 25 October, which would allow him to run for a third term (Daily Nation, 6 October 2015). Following this decision, opposition and civil society groups mobilized to oppose the changes (Voice of America, 24 September 2015); as a result, October is one of the most violent months in the Republic of Congo since 2002 (see Figure 1). This spike was dominated by riots and protests occurring almost exclusively in the country's two largest cities of Brazzaville and Pointe Noire.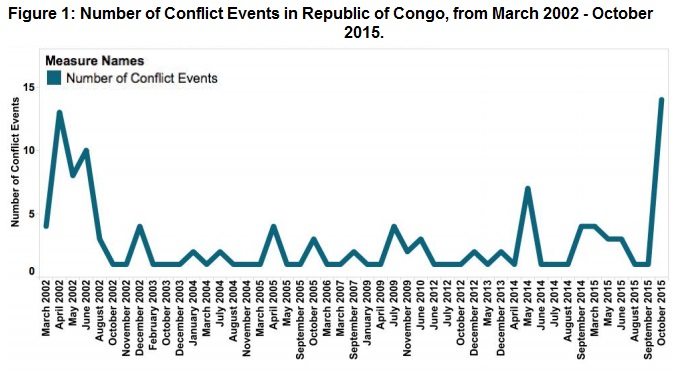 Although less violent than the events in Burkina Faso and Burundi, the protests which broke out in the Republic of Congo shared many similar characteristics. These include a relatively peaceful amplification of the demonstrations, followed by a climax which included significant violence used by the security forces. During the most violent day of protests on 20 October, clashes between demonstrators and the security forces in Brazzaville and Pointe Noire resulted in 4 deaths. Security forces, allegedly backed by members of the Ninja paramilitary group who helped bring the current president to power, opened fire on the demonstrators (Al Jazeera, 20 October 2015). It was also reported that Radio France Internationale's transmission signal cut, and internet and SMS services went down at 6:00am that day (Reporters Without Borders, 23 October 2015).
But the Republic of Congo seems to have avoided a prolonged bout of destabilizing violence. The referendum held and passed on 25 October was without major disturbances, allegedly garnering 92% of the vote with a turnout of 72%. The figures were not verified independently (Reuters, 27 October 2015) and remain disputed by the opposition, who boycotted the polls. The question now is whether, having passed the hurdle of the referendum, the Republic of Congo has merely delayed further violence until the start of the presidential elections in 2016.
This report was originally featured in the November ACLED-Africa Conflict Trends Report.