A new update of the recent unrest in Burundi, covering events from 26 April to 7 November 2015 has been released by ACLED. This update can be found here. These real-time data draw primarily on crowd-sourced information available from 2015Burundi as well as from ACLED's weekly real-time conflict data release.
Burundi saw one of the highest numbers of conflict-related fatalities reported in any one week of the crisis last week. Despite the rise in reported fatalities, the total number of conflict events has slightly decreased from the prior week. All violence in the past week occurred in the communes of Bujumbura Mairie or Bujumbura Rural, including the discovery of six bodies with bullet wounds in Gikungu, Musaga, and Bujumbura. On November 6, the son of anti-Nkurunziza human rights activist Pierre-Claver Mbonimpa was killed in Mutakura, and on November 7, gunmen killed nine bar-goers in Kanyosha. Last week also saw battles in Nyabiraba, where gunmen killed eight policemen and captured 18, and in Mutakura, where police killed two suspects attempting to launch grenades.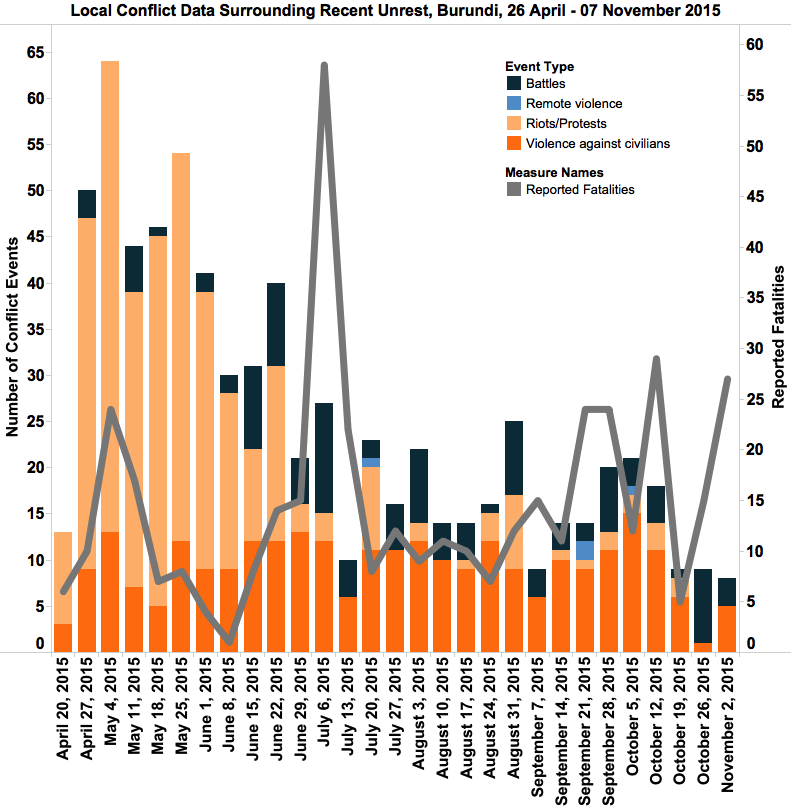 Over the past week, information provided by local crowdsourcing data unveiled 65 previously unreported conflict events in Burundi that occurred in September and October. These new data have resulted in an increased number of conflict events and reported fatalities in our dataset for almost every week since September 21.
The week of October 12 had the highest change in reported fatality count; while originally 7 fatalities had been reported, this has now been updated to include 29 reported fatalities, a result of newly-coded battles and instances of violence against civilians. Attacks on a Kinanira police station left an unknown number of people dead on October 13; reports also confirmed that clashes between an unidentified armed group and police in Ntahangwa that same day resulted in the death of two policemen and nine civilians (only six fatalities were initially reported).
No conflict events had been previously reported during the week of October 19. As expected, reports have since trickled in, so far revealing one battle, two protests, and six incidents of violence against civilians, including the extrajudicial killing of two rebel soldiers by police in Kibera forest on October 23.
As new information for September and October continues to unfold, the week of October 26 is the only week to not yet see an increase in reported fatalities. One previously unreported incident of violence has been added to the dataset, though it would be unsurprising to see more events backcoded in future weeks given current trends and the slow trickle of information coming out of Burundi.
In addition to updated fatality counts, local crowdsourcing data have revealed increased use of grenades again as well in Burundi's conflict.
For more on Burundi local data coverage and analysis, see ACLED's prior posts on this topic.