January saw the Egyptian military forces redouble their efforts against Islamic militants and the State of Sinai group in the North Sinai towns of Al-Arish, Sheikh Zuweyid and Rafah. ACLED data recorded 120 fatalities as a result of the 'Retribution for the Martyr' military operation. And as the Egyptian tourism sector struggles to recover from the Russian plane crash in October 2015 – claimed by the Islamic State – militants dealt another blow to the tourism industry on 8 January when the Bella Vista hotel in the Red Sea resort of Hurghada was attacked by knife-wielding attackers, injuring a number of foreign tourists (Daily News Egypt, 16 January 2016).
Protest and riot events formed the dominant mode of political expression in Egypt in the final quarter of 2015, for the first time since January 2015. From October — December 2015, protest and riot events were responsible for an average of 41% of all recorded political activity in Egypt (see Figure 1). This coincided with a rise in deaths in police custody and renewed attention on excessive police brutality. November witnessed the sharpest spike in violence against civilians, where 21 individual acts of violence were recorded; the highest levels in 6 months. The intensification of these protest events was predominantly concentrated in the North of Egypt in the Nile Delta region. Police abuses continued into January 2016 when Egyptian security forces were accused of killing a doctor suspected of involvement in Muslim Brotherhood-led protests (Daily News Egypt, 11 January 2016). Enforced disappearances of regime opposition supporters have been commonplace throughout 2015; the rise in torture, deaths in custody and police violence against civilians holding no political affiliations has caused outrage amongst the Egyptian community (Africa Confidential 8 December 2015).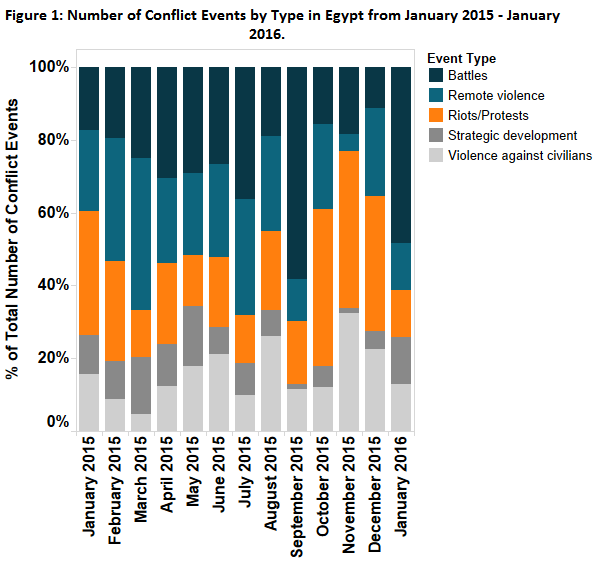 The recent upswing in staged protests is unlikely to buck the trend that has dominated 2015, where almost all attempts at protest were suppressed. Following electoral success of coalitions and political blocs supporting Abdel Fattah al-Sisi's regime, the Egyptian parliament met for the first time in three years on 10 January. The assembly is tasked with discussing and revising 380 laws passed in the absence of a legislature. Of these 380, the controversial protest law passed by Adly Mansour — that effectively smothers attempts to organise peaceful protest by requiring three-days' notice before protesting and justifies forcible dispersion of protests — will not be considered (HRW, 12 January 2016).
Last year's anniversary of the 25 January Revolution witnessed a number of anti-government protests and riots. Most notably, 17 people were killed in clashes in Matariyah district in Cairo. January 2015 also witnessed a number of small-scale attacks against Central Security Forces (CSF) by local militant groups such as the 'Death Cell', 'Popular Resistance' and 'Revolutionary Punishment'. With the fifth anniversary of the 25 January Revolution quickly approaching, and the continued suffocation of legitimate protests, escalatory attacks by small armed groups may occur next week.
This report was originally featured in the January ACLED-Africa Conflict Trends Report.