On 26 August 2015, South Sudan President Salva Kiir and opposition leader Riek Machar signed a peace deal in an attempt to end a 20-month civil war (Reuters, 26 August 2015). The agreement has already proven fragile with an escalation in the number of conflict events and reported fatalities involving Sudanese People's Liberation Army/Movement-In Opposition (SPLA/M-IO) in September, October and November (see Figure 1). There has also been an increase in activity by new rebel groups, formed in reaction to Kiir's plan to restructure the country's ten existing states into 28 states.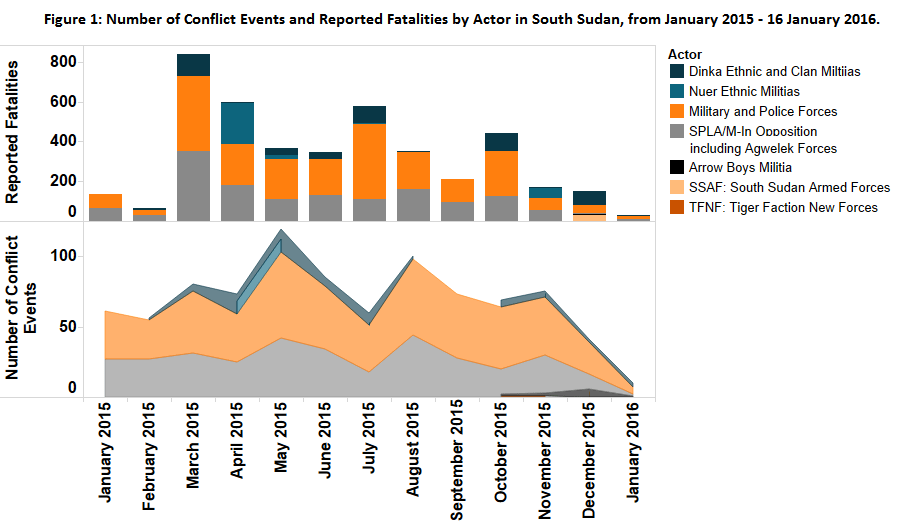 In Juba in December, the Jieng Council of Elders, an influential group of Dinka politicians, welcomed Kiir's appointment of 28 new state governors (Radio Tamazuj, 26 December 2015). Elsewhere in the country, groups demanded that the peace deal be implemented as agreed – with power-sharing over ten states, not 28 (SPLA/M-IO to be given control of Upper Nile and Unity States) (Radio Tamazuj, 3 October 2015).
Opposition to the 28-states plan has led to the formation of the South Sudan Armed Forces (SSAF) and Tiger Faction New Forces (TFNF) (Radio Tamazuj, 3 October 2015). In early December, the Anthony Ongwaja-led SSAF announced its arrival by taking control of a police station in Idolu (in what will be Imatong State) and overrunning a military outpost in Longiro, killing three soldiers. (see Figure 1). Fifty soldiers and police, mainly from the Latuka ethnic group, have defected to join the new rebellion. The Yaones Okij-led TFNF, made up predominantly of members of the Shilluk ethnic group, have introduced a new source of insecurity in Manyo County (in what will be Western Nile State). On 31 October, TFNF held the Manyo County Commissioner hostage, claiming control of Wadakona as its headquarters. In November, the group clashed with military forces in Malakal.
In Western Equatoria, armed youth known as Arrow Boys have recently re-emerged after remaining inactive for the first nine months of 2015. Arrow Boys were the main actor in at least one conflict event each month since October, clashing with military in Mundri, Napele, and Sar Sibu (see Figure 1). The most recent clashes occurred on 3 January in Yambio (in what will be Gbudwe State).
Increased activity from smaller offshoot militias is the result of a growing suspicion that the military will only integrate Machar's rebel troops (predominantly Nuer tribe members) upon implementation of the peace agreement. "The mobilisation of armed young men highlights the peace deal's limitations in addressing the deeply rooted grievances of smaller ethnic groups" (Al Jazeera, 21 November 2015).
This report was originally featured in the January ACLED-Africa Conflict Trends Report.