Myanmar recorded 254 battles in 2015, compared to Pakistan's 274. Geographically, Myanmar's battles are concentrated largely in two of its northern states: Shan and Kachin (see figure below). This area of Myanmar recorded nearly as many battles as all of Pakistan.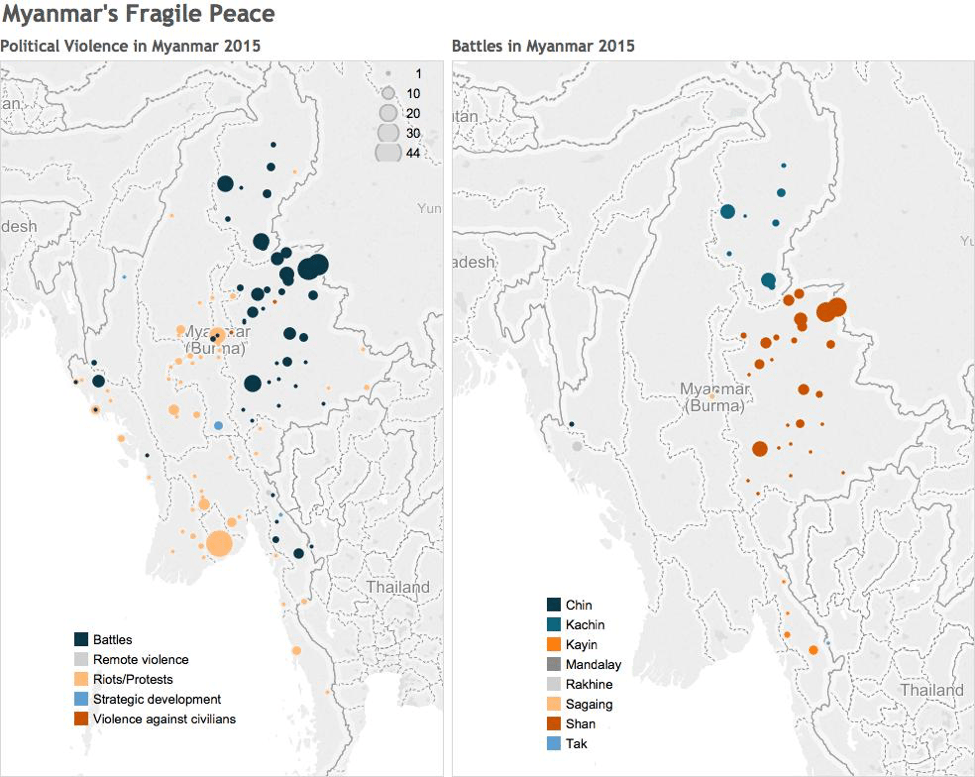 Since Myanmar's coup d'etat in 1962, which transitioned the country to strict authoritarian military rule, the government has continued to stifle independence movements from the mountainous areas of Shan and Kachin. For decades, local ethnic groups in these two states have taken up arms against the central government in an attempt to achieve independence. Though government and rebel leaders have signed several ceasefire agreements over the years, constant violence between the government and ethnic rebel groups has persisted and no comprehensive, lasting peace has held.
In October 2015, the government and eight rebel groups (The All Burma Students' Democratic Front (ABSDF), Arakan Liberation Party, Chin National Front, Democratic Karen Benevolent Army, Karen National Liberation Army-Peace Council, Karen National Union, Pa-O National Liberation Organization and Shan State Army-South) signed a ceasefire agreement. The government agreed to remove the organizations from its list of terrorist groups and extend development assistance to the regions they governed. Several of the largest, most powerful groups, however, refused to sign the final document, citing ongoing military attacks that were displacing civilian populations. Groups that refused to sign included the United Wa State Army, the Kachin Independence Army (KIA) and Shan State Army-North (SSA-N). Other groups, such as the Myanmar National Democratic Alliance Army (MNDAA) and the Ta'ang National Liberation Army (TNLA), were not included in the talks due to the government's refusal to recognize their legitimacy (Radio Free Asia, October 2015). Leaders from the TNLA expressed doubts the ceasefire would hold, citing past failures, ongoing military operations endangering civilians, and the exclusion of important rebel groups (Radio Free Asia, October 2015). Since October 2015, Myanmar's military leadership has targeted rebel groups in the North and East of the country, displacing thousands of civilians.
Overall, violence occurring in Myanmar's pockets of conflict declined in 2015 compared to previous years. The most active rebel groups that have refused to sign a ceasefire agreement with the government include the MNDAA, KIA, TNLA, and the Arakan Army (AA). The Myanmar Peace Monitor collects estimates of clashes of each group. Together, these groups accounted for 80% of all battles in Myanmar. MNDAA remained the only group that substantially increased their military offensive against Myanmar in 2015. engaging in at least 15 clashes in 2014 while ACLED recorded 69 clashes in 2015, a 360% increase (Myanmar Peace Monitor, August 2015). Though no numbers were available for previous years, ACLED recorded 12 battles involving the Arakan Army in 2015. The TNLA clashed at least 80 times in 2012, 42 times in 2013, and 113 in 2014 (Myanmar Peace Monitor, August 2015). ACLED recorded TNLA engaging in 70 battles, 64 of which involved Myanmar's armed forces, decreasing significantly from the previous year. The remaining 6 battles included clashes with rival political militias and a communal militia. Finally, the KIA's violent encounters decreased markedly from more than 2,400 in 2012, to less than 1500 encounters in 2013, to only 73 reported clashes in 2014. ACLED recorded 66 battles involving the KIA in 2015. Despite KIA, TNLA and AA's refusals to sign the most recent ceasefire agreement, the number of violent interactions against the government committed by these groups during 2015 significantly decreased.
Myanmar's latest attempt at reaching a peace agreement was largely regarded as a political maneuver designed to sway election results in November 2015. Leader of Myanmar's National League for Democracy Party, Aung San Suu Kyi was held under house arrest by the current regime for 15 years. However,  Suu Kyi recently expressed support for the ceasefire, surprising many and spurring additional rebel groups to consider the proposition (Reuters, January 2016).  Suu Kyi's historic opposition to the regime paired with her recent support for the ceasefire has spurred serious consideration from major opposition groups and greater hope for a lasting, more inclusive peace between the government and Myanmar's major rebel groups. After decades of broken peace accords and persistent conflict between Naypyidaw's leadership and ethnic rebel groups, a lasting peace accord would significantly reshape domestic security, governance capabilities, and potentially resource distribution to the ethnic majority regions in Myanmar. It is unlikely, however, that a lasting peace will come about with the continued exclusion of several prominent rebel groups that have vowed to continue their military campaigns against the government.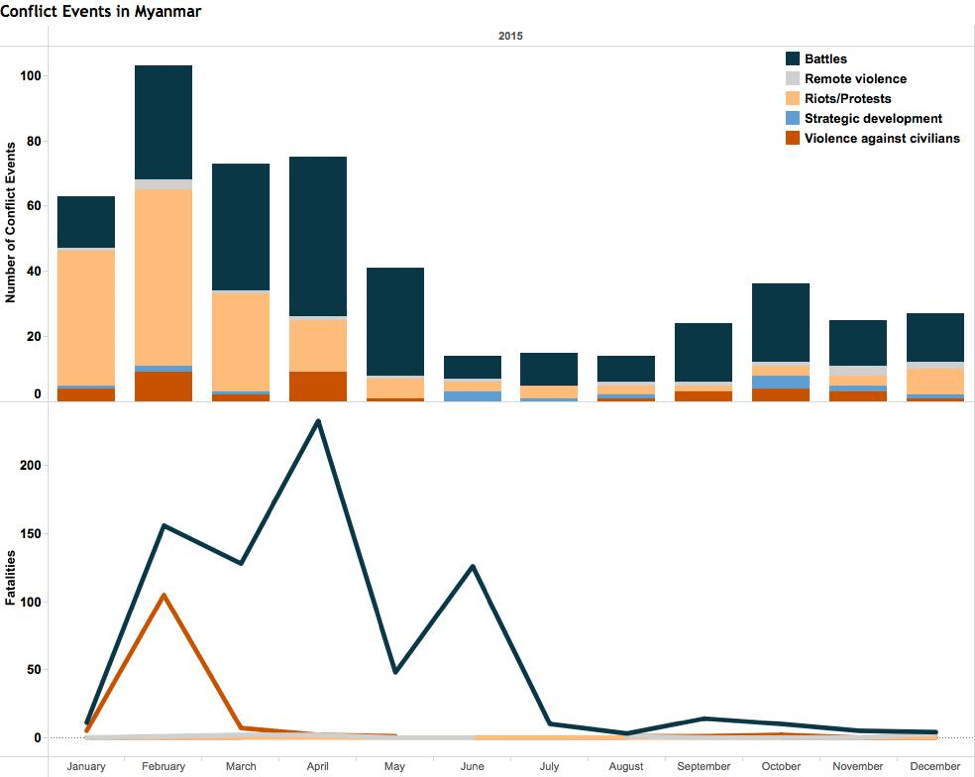 This report was originally featured in the February ACLED-Asia Conflict Trends Report the fourth report in our series. The analysis is based on ACLED real-time and historical data on political violence and protests from ten countries in South and Southeast Asia. Monthly data updates are published through our research partners at Complex Emergencies and Political Stability in Asia (CEPSA) and are also available on the ACLED website.