In 2004, Thailand's Pattani region experienced a noticeable spike in violence, perpetrated by Muslim separatist groups seeking autonomy. Over the past 11 years, this southern border region—encompassing the provinces of Yala, Narathiwat and Pattani— has been engulfed in a lingering unrest. Conflict analysts at Deep South Watch have defined the situation as one of "protracted violence" as it has occurred every day in every month of every year since 2004 (Deep South Watch, 2011). ACLED's data confirms the sporadic violence is chronic; in the past five years, ACLED has recorded 1,296 incidents related to Southern unrest, which include battles between military/police forces and Muslim separatist groups, bombings in cities, villages, and rural roadsides, shootings targeting civilians, and other attacks. From 2010 to 2015,  the Patani region averaged 21.6 insurgency-related incidents per month, with some months experiencing much higher numbers while others, much lower. Although no discernable pattern exists in the frequency of attacks per month, it is undoubtedly pervasive. The variation in the frequency of violence has only further defines the nature of the conflict as one of volatility and uncertainty.
The Emergence of Thailand's Insurgency  
Thailand's insurgency has its roots in an unsuccessful assimilation process of the late 19th and early 20th centuries when the ruling elite in Bangkok attempted to centralize the nation.  Assimilation was least successful in the south where Malay Muslims remained attached to distinct identities and where the centralized conditions of Thailand's political structure—in which governors are appointed and local elected officials hold little power—furthers discontent within resident ethnic and religious minority groups (The Asia Foundation, 2013) who aren't represented by central government-appointed officials. The main separatist movements in the south include organizations and cells made up of Malay Muslims, who attack in strong opposition to the Bangkok government and those who enforce the law: the Thai military, police and paramilitary patrols. These movements include the Pattani United Liberation Organization (PULO) and the National Revolutionary Front (BRN), but also other smaller cells. According to The Asia Foundation, contestation over governance remains one of the primary drivers of conflict in this region of the world (2013), and the demands of conflict actors have ranged from complete independence from Thailand, to greater local autonomy, to the removal of security forces.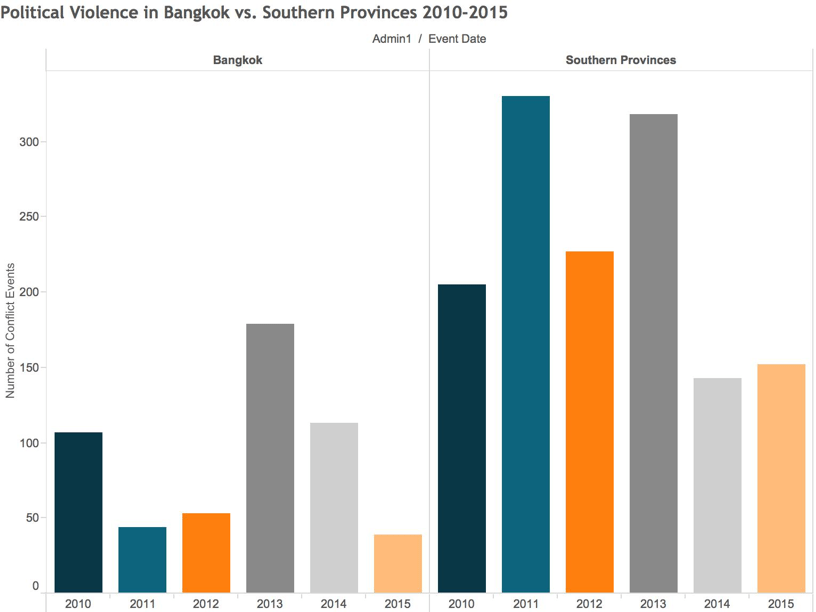 Comparing Coups d'Etat and Conflict in Bangkok to Violence in the South
When compared alongside concurrent political and violent incidents in Thailand's capital, Bangkok, ACLED's data illuminates a pattern that could link the southern Muslim insurgency to the country's political instability. Since 2006, Thailand has experienced frequent political turmoil, marked by a spate of mass protests, government takeovers and violent attacks in Bangkok between demonstrators, security forces and oftentimes bystanders. During these times when Bangkok erupted in political conflict (most notably in early 2010 and late 2012), violence in the south tended to diminish.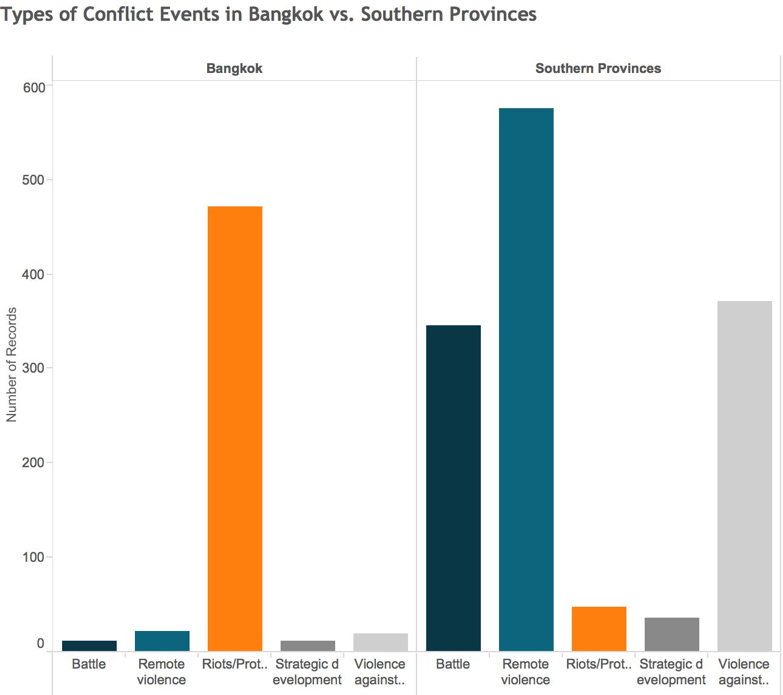 Coups d'etat are nothing new for Thailand. Since Thailand became a constitutional monarchy in 1932, the nation has had 24 military coups, in addition to 18 constitutions and 28 Prime Ministers  (International Business Times, 2014). The origin of Thailand's recent unrest is traced back to 2006 when a bloodless coup forced Prime Minister Thaksin Shinawatra from power. In late 2008, the succession of Abhisit Vejjajiva prompted a spate of rallies in support of Shinawatra. Between March and May 2010, tens of thousands of United Front for Democracy Against Dictatorship (UDD) supporters, dressed in emblematic red shirts, demanded the resignation of Vejjajiva. 91 people died in the violent clashes that ensued.
During the outbreak of political violence in Bangkok in 2010, there was a perceptible drop in violence in the south related to the Muslim insurgency. In March 2010, the numbers of insurgency-related attacks begin to drop to 24 that month. In April, there were 16 incidents, while May, only three—a significant decrease from the average of 25. Once the circumstances in Bangkok began to calm that June, the violence in the south returned to averaging about 25 incidents per month with no dramatic outliers (besides one uptick in October 2011) until 2012.
In May 2012, Bangkok began to stir again as thousands of  "red shirts" rallied to commemorate the 2010 protests. Their opposition, the People's Alliance for Democracy (PAD),  known for donning yellow shirts in support of the monarchy and the military, also began to protest—calling attention to a growing rift between the people, the government, and then Prime Minister Yingluck Shinawatra. There was widespread discontent with the strict lese-majeste law that protects Bangkok's ruling elite among the red shirts. The yellow shirts were staunchly against a planned national reconciliation bill, as they believed the bill would allow Thaksin Shinawatra back into the country from a four-year self-imposed exile. In June, yellow-shirted PAD members blockaded parliament and began to intensify their protests in opposition to government policies and their red shirt rivals (BBC, 2014). While resistance against the Prime Minister and her policies intensified throughout the fall months in Bangkok, Thailand's south again grew relatively calmer—from May to December 2012, Muslim insurgent violence averaged less than 20 incidents per month, down from 25.
The frequency of Muslim insurgent activity would dip once again during 2014, coinciding with heightened protests against the Yingluck administration. March recorded only  11  incidents, followed by 9, 15 and 14 in April, May and June respectively. From September 2014 into 2015, the average of Muslim insurgent attacks remained less than 11 per month, following a May 2014 coup when the Thai Army seized power from Shinawatra.
When viewed holistically over the past six years and compared alongside instability in Bangkok, the trend in the rise and fall of Southern Muslim insurgency  reflects that the conflict is political, not solely religious, and is tied up within the context of Thailand's larger political landscape. For years, however, the Thai government  has struggled to explain the political element to the insurgency, and often blames the situation only on personal/ religious conflicts or criminal activity (Tony Blair Faith Foundation, 2014). This is because, unlike groups operating in other areas of the world, the Muslim separatist groups in Thailand are not vocal about their motives or practices; they rarely, if ever, claim responsibility for their attacks. They have no stated political allegiances. One possible explanation for this trend could be the fluctuation in media coverage during political turmoil in Bangkok. During these periods of crisis, the media could be shifting its attention to the capitol and reporting less vigilantly on events occurring in the south—skewing the numbers of attacks actually taking place.
Although the recent numbers indicate a potential decrease in the frequency of insurgent attacks in the south, the 11-year history of the situation serves as a warning that this may only be a trough in the wave that could easily crest again during political shifts in Bangkok. The political significance of Thailand's southern unrest and its correlation to changes in broader state policy are worthy of analysis (Deep South Watch, 2011). The enduring restlessness of Thailand's politics as well as the inability of those in power to produce and/or show a committed interest in a cohesive plan of action in fighting the southern insurgency could also contribute to the fluctuations in the region's violence. According to Human Rights Watch, the Thai government has done little to establish a credible and effective mechanism to investigate the problems that have generated discord among the southern  population (2015), such as corruption and abuse against Malay Muslims. The problem of insurgency has remained of little concern to Bangkok because it has not significantly impacted the government's power and it has not been widely published in foreign media. The conflict remains largely free from international censure.  Over the years, peace talks between the Thai government and separatist groups have failed repeatedly due to lingering divides between insurgent factions as well as Bangkok's lack of commitment. But in August 2015,  the military-run Thai government along with the Malaysian government entered into its third round of closed-door peace talks with separatist groups in Kuala Lumpur.  These 2015 talks were made possible by more systematic efforts by Thailand's leaders and the formation of Mara Patani—an umbrella organization for several of Thailand's  separatist groups: Barisan Revolusi Nasional (BRN), Gerakan Mujahideen Islam Patani (GIMP), Barisan Islam Pembebasan Patani, and three factions of Patani Liberation Organisation (PLO) (Channel NewsAsia, 2015). Mara Patani's goal remains sovereignty and the right of self-determination, despite Thailand's previous refusal to grant this regional autonomy. Although nothing concrete emerged from the closed-door talks, public talks will continue in 2016, after Mara Patani has had time to look over a three-point proposal issued by the Thai government in November (Bangkok Post, 2015).
Changes in the Characteristics of Southern Violence:  
Decrease in Civilian Deaths
Most casualties resulting from the insurgency have been civilians (Human Rights Watch, 2015). While civilian deaths attributed to attacks by Southern Muslim Separatists are still frequent in Thailand, ACLED data concludes  that incidents of violence against civilians has decreased notably since 2013. From 2010-2013, events classified as violence against civilians ranged from around 70 to 100 annually, while only 28 events were reported in 2014 and 25 in 2015. In the past two years, civilian deaths have been occurring more frequently as collateral damage from attacks aimed at military, police and local leaders, and less because the civilians  were the outright targets themselves.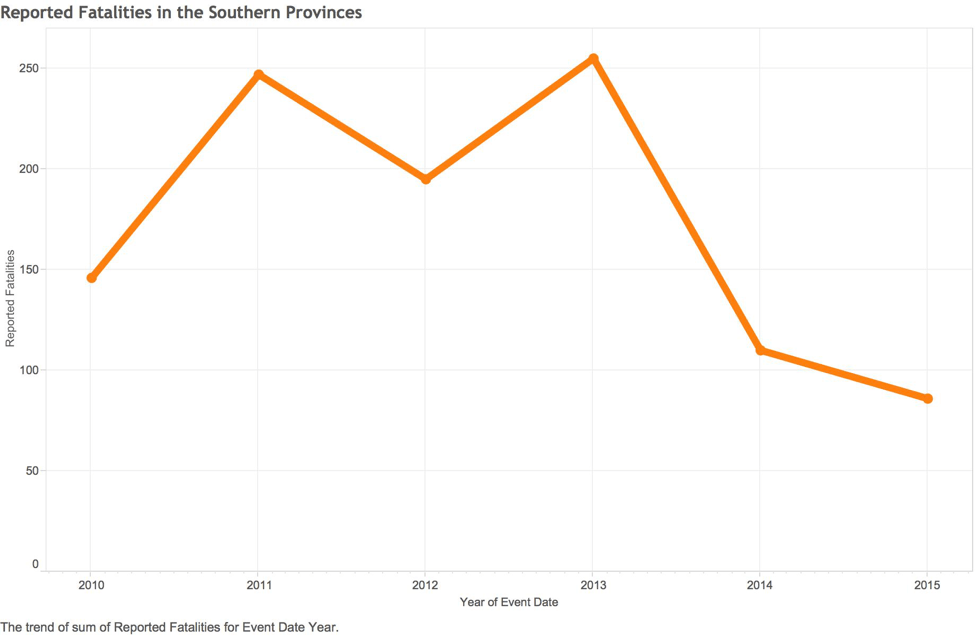 This decrease in attacks targeting civilians could indicate a change in the insurgent groups' tactics to minimize loss of life while still drawing attention to themselves and exhibiting their military prowess. This is firmly in line with the increased use of roadside bombs in rural areas rather than urban spaces where casualty rates would be much higher. Additionally, in 2015 there were 12 attacks on local infrastructure such as power poles and electronic transformers, in some cases causing mass blackouts (Bangkok Post, 2015). The objective of these attacks is also not to inflict mass casualties, but rather to create an inconvenient spectacle and show a willingness to innovate with their attacks and instigate chaos.
Buddhists and Teachers as Targets
Southern Muslim Separatists in Thailand remain deliberate and discriminate in their choice of targets, selecting targets that they perceive as symbols of their political struggle. Most frequently, the insurgents choose victims that are  icons of the Thai state such as local government officials and village headmen, or kanman. Malay Muslim insurgent groups operating in Thailand's south also perceive civilians affiliated with the educational system as representatives of  state oppression due to the schools' direct ties to the national government (Human Rights Watch, 2010) and frequently launch attacks near schools and on students and teachers.
As a result of this trend, the Thai government ordered government security forces to be stationed at many schools to provide protection(Human Rights Watch, 2010). These police and military officials in turn have become targets in their own right and attacks against these patrols have escalated over the past five years. In 2015, ACLED recorded 14 attacks on school-related targets, slightly higher than the average of 10 per year since 2010. This tactic has been used to spread terror among students and teachers and is highly disruptive to the quality of education in the southern provinces, as is the presence of armed government forces on school properties.
Buddhists are also repeated targets, as separatists see Buddhists' presence in the southern provinces as a mark of the infiltration of Buddhist Thai culture. Separatists have declared that Buddhists should not live in these provinces (Human Rights Watch, 2007), and continue to target Buddhist civilians explicitly on the basis of their ethnicity. There have been on average five attacks on Buddhist targets in Pattani, Yala, and Narathiwat each year since 2010. During the Songkran holiday in April 2015, there was a series of attacks against Buddhist civilians following intelligence reports that the separatists would launch attacks on Buddhists during the holiday (Bangkok Post, 2015). Eight deaths were reported in one incident during the holiday.
Scant Coverage of the Southern Conflict
Over the past five years, there has also been a grave under-reporting of this still active insurgency. According to Peace Direct, "the conflict in Thailand's southern border provinces is one of the world's least known" (2015), based on a lack of consistent and thorough reporting both within domestic and foreign media. Thailand's faltering political system, however, has captured the media's attention, thanks to years of military and parliamentary interventions, ever-emerging corruption and the deepening of political divides. While Bangkok's instability is certainly newsworthy, the statistics over this six year period point to a situation that continues to smolder in the south.  Analysts at the International Business Times agree that while Thai media focuses on the problems in Bangkok and global media cover crises elsewhere in the world, "a silent war continues to rage in the remote southern regions of Thailand" (2014).
From 2010 to 2015, there were a total of 502 violent events and 26 fatalities reported in Bangkok stemming from political tensions. During the same five years, the southern border provinces of Yala, Pattani, Songkhla and Narathiwat, experienced 466 instances of remote violence alone, in addition to 277 incidents of violence against civilians, 272 battles between government forces and militant groups, and 29 instances of non-violent but chaos-inducing attacks. This totals 1044 violent events with 812 fatalities. These numbers captured by ACLED's open source collection suggests a more active insurgency. 1044 events were reported, though consistent concerns of poor media coverage in the south reveal perhaps an even more significant problem. Of the nine countries ACLED covers in the Asian sub-continent, Thailand's level of political violence ranks fourth behind India, Pakistan and Bangladesh—countries with populations that more than double that of Thailand. The Global Terrorism Index 2015, released by Sydney-based Institute for Economics and Peace, ranked Thailand as tenth after analyzing patterns in terrorism and measuring its impact in over 162 countries (2015).  Thailand's ranking remains unchanged from 2014, a year in which it saw a 16 percent increase from 2013, signalling a need for not only more international coverage and awareness of Thailand's insurgency, but also a serious commitment from the Thai government to ending it.
Since Thailand's military junta took power, it has vowed to end the insurgency and has taken steps to boost coordination between security forces, establish a network of checkpoints, and initiate a drive to collect fingerprints and DNA in hopes of making insurgent operation more difficult. But analysts agree that any success will need to involved a dedicated and consistent commitment from the government that involves addressing local grievances to avoid further alienation and increase trust in the region. The problem has been the inability to achieve lasting trust between the Thai government and insurgent groups over time—which can be attributed to frequent political shifts and changes of power in Bangkok.
Though Thailand's Southern Muslim Insurgency remains largely confined to its southernmost provinces, the atmosphere of pervasive chaos paired with the inability (or lack of desire) of the Thai government to contain the violence suggests other violent actors could take advantage of the lack of government control and base their operations out of the south. While currently there are few fears about external extremist groups operating out of Thailand, the southern region should be carefully watched to avoid creating an environment fertile for the growth of foreign extremist groups.
This report was originally featured in the February ACLED-Asia Conflict Trends Report the fourth report in our series. The analysis is based on ACLED real-time and historical data on political violence and protests from ten countries in South and Southeast Asia. Monthly data updates are published through our research partners at Complex Emergencies and Political Stability in Asia (CEPSA) and are also available on the ACLED website.
Authors: Claire Cella and Anna Waterfield