Political violence and protest events increased in Uganda in 2016, with unrest during the election period in February continuing to grow during the post-election period in March. Episodes of political violence have been concentrated within certain counties – most notably Kampala, Kasese, Bundibugyo and Kapchorwa – that have formed key battlegrounds in the 2016 election between incumbent Museveni and the National Resistance Movement (NRM) and the opposition Forum for Democratic Change (FDC) led by Kizza Besigye.
Though opposition politicians have typically garnered strong support in the north and east of Uganda, these regions were relatively untouched by violence. Isolated incidents of unrest in a few northern counties were due to protests over living standards or pastoralist violence rather than disputes over the election (see Figure 1).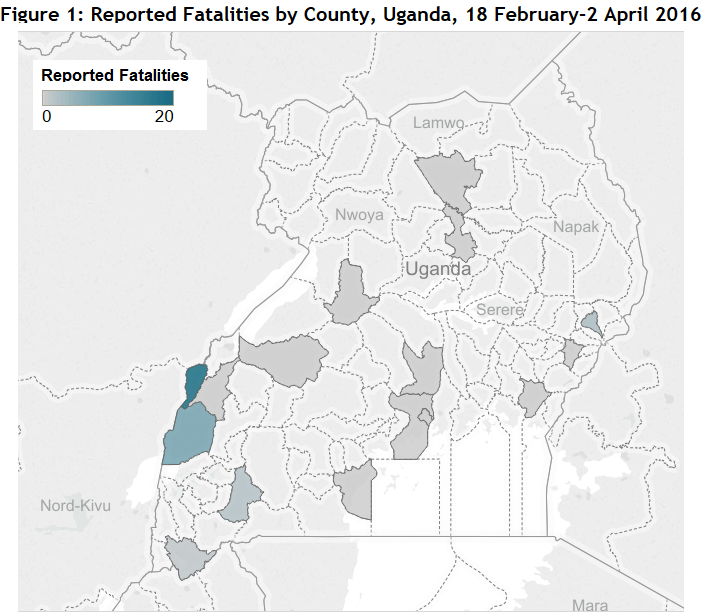 The exception is the eastern county of Kapchorwa which has seen attacks on security forces by a new group called the Ugandan Saving Force, which has pledged to eliminate the Museveni regime (Magabi, 13 March 2016). FDC supporters in Kapchorwa were victimised by unknown assailants during Basigye's electoral campaign. The rise of organised anti-state violence in the aftermath of Museveni's electoral victory and anti-FDC violence raises the possibility that individuals opposed to Museveni have deemed electoral competition as an unsuccessful means to unseat the regime and have deferred to violent opposition.
The most lethal episodes of violence have been concentrated in areas of opposition support within the NRM heartland of the central and western regions, specifically the Rwenzori sub-region. The region previously experienced a surge in violence in 2014 when armed Bakonzo attacked state forces in the Kasese and Bundibugyo districts (ACLED Trend Report, August 2014). Besigye has capitalised on discontent within the Bakonzo community, who accuse Museveni of failing to address local grievances, and has historically received strong support in the sub-region (Ngwomoya, 7 February 2016). The opposition won a good number of seats from the NRM in the local council elections and gained a majority in the region (Basiime and Mumbere, 20 March 2016). However, in heavily contested seats such as Hima and Busaru, NRM victories prompted opposition supporters to attack state forces and rival voters leading to multiple deaths (Mutegeki, 29 February 2016; New Vision, 14 March 2016).
The other main centre of post-election unrest has been Kampala. In contrast to the lethal violence that has flared in the west and Kapchorwa, political instability in Kampala has primarily taken the form of ongoing anti-government riots and protests by the FDC. In the run-up to the elections, Kampala was the epicentre of political unrest with violent repression by state forces and a bomb attack by unknown assailants resulting four deaths. However, in spite of the FDC's ongoing campaign of protest, activity has significantly decreased in the capital with the number of recorded events halving in March.

This report was originally featured in the April ACLED-Africa Conflict Trends Report.