A new update of the recent unrest in Burundi, covering events from 26 April 2015 to 8 May 2016 has been released by ACLED. This update can be found here.
ACLED has covered the Burundi crisis with regular data updates and blog posts since June 2015, relying on a combination of news sources and local crowd-sourced information from the 2015Burundi Project, a network of grassroots organizations and trained citizen journalists aiding in conflict monitoring, and ACLED's weekly real-time conflict data release covering Burundi.
A One-Year Special Report reviewing conflict patterns and dynamics, and the current state of the Burundi Crisis as it officially enters its second year, was recently published, and is available here.
Summary of trends for the weeks of April 24 and May 1:
As the crisis in Burundi entered its second year (on April 26), the country remains unstable, with reported incidences of violence against civilians resulting in the majority of reported fatalities, especially since the new year (see Figure 1 below). The week of April 24 also saw an increase in reported fatalities resulting from remote violence. On April 25 in Kamenge, attackers with rockets and grenades killed Brigadier General Athanase Kararuza on his way to work, along with his wife, daughter, and security guard (BBC News, 25 April 2016).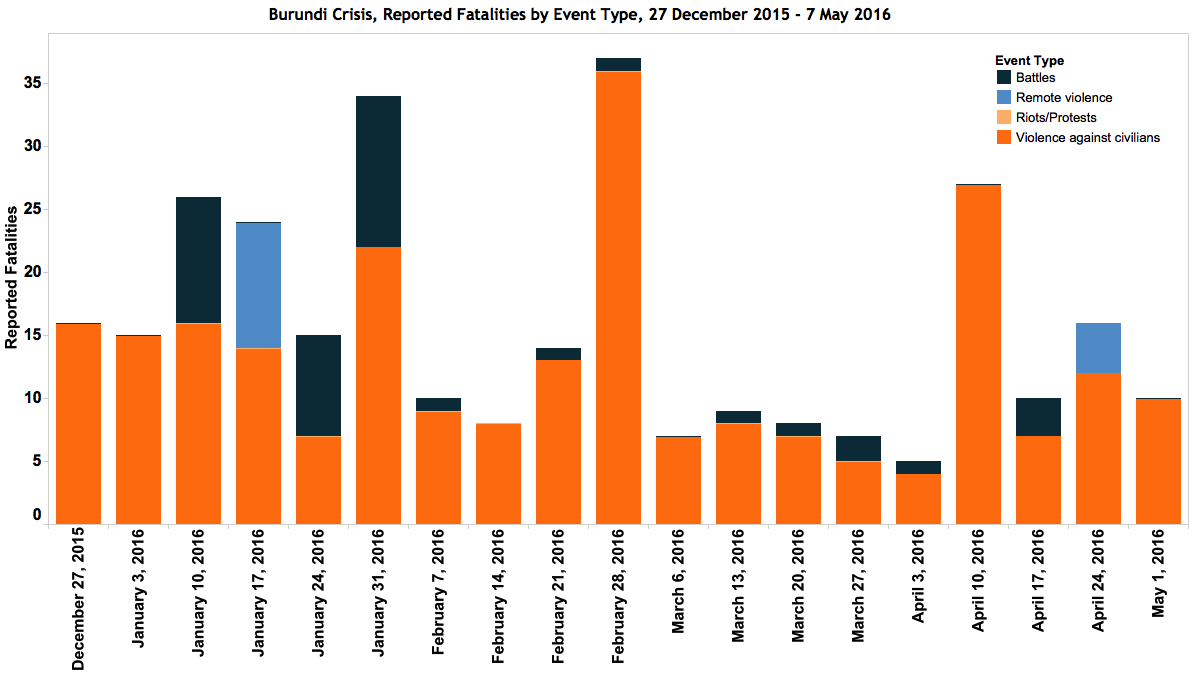 Although violence against civilians perpetrated by Imbonerakure youth militia have been reported to steadily occur throughout the political crisis, such incidences have become increasingly lethal in 2016, particularly in the last month (see Figure 2 below). On April 26, Imbonerakure reportedly beat a man to death in Mayange in Makamba, accusing him of breaking curfew by walking late at night.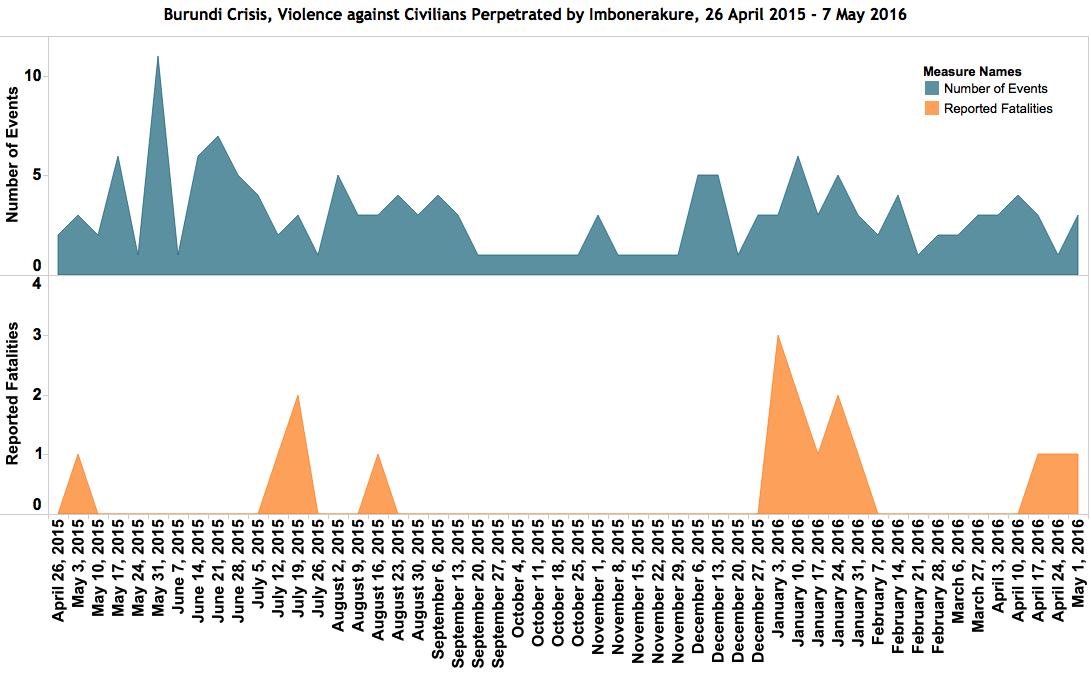 Reports of grenade attacks in bars remain a constant occurrence, particularly in Bujumbura Mairie, but also in Bubanza and Kirundo Provinces. Often, both civilians and soldiers are injured in the attacks, making it difficult to determine whether military forces or bystanders were targeted. On April 27 in Kirundo, grenade blasts in Nyarunazi report 5 wounded, including 1 solider. The next day in Musaga, gunmen firing on a bar reportedly kill 4 civilians and a soldier. While fleeing, the attackers threw a grenade near a military post without any casualties reported. On April 29, two grenades were thrown at the house of Celestin Nahimana, chief of Nyabagere neighborhood, and were reported to cause only material damage. The reported number of battles has lessened in the past two weeks, with only 1 member of Imbonerakure reportedly injured in a gunfight in Bujumbura Mairie.
In the weeks of April 24 and May 1, reports note corpses showing signs of torture continue to be found in various provinces, although reported in decreasing numbers from earlier weeks. A man's body hacked by machete was reportedly found in Rumonge, while another body with hands and legs tied was reportedly discovered on Estonia Hill in Bujumbura Rural.
Police continue to arrest people accused of housing or even cooking meals for rebels. Police have also searched homes of Congolese nationals suspected of recruiting fighters across borders. Tensions with Rwanda remain high, as SNR security agents arrest Burundian taxi drivers that shuttle routes between Bujumbura and Kigali. Rwandan President Paul Kagame has reiterated to the international community that his country has not supported Burundian rebel groups (Reuters, 13 May 2016).
For more on Burundi local data coverage and analysis, see ACLED's prior posts on this topic.