The number of political violence and protest events increased over the past month in Zimbabwe. The spike in violence is largely due to an increase in the incidence of violence against civilians, which doubled between August and September (see Figure 1).
This spike in violence against civilians comes after months of upheaval against the Mugabe regime by protesters from various pressure groups. Protesting against the regime is a mixture of organised political opposition, unions and seemingly spontaneous social movements.
The #Tajamuka and #ThisFlag campaign represent examples of popular movements which have protested against the government on the street and online. #ThisFlag seems to function as an avenue by which ordinary Zimbabweans can demonstrate their grievances against the government with the group's leader, Pastor Evan Mawarire, calling for Zimbabweans to engage in passive strikes and stayaways to make their voices heard (ACLED Conflict Trends, September 2016). In contrast, the #Tajamuka campaign is focused on forcing Mugabe to step down before the 2018 elections and has been engaged in active protests and riots in Harare and Bulawayo (Tajamuka, 2016). Protesting with these social movements is the National Vendors Union of Zimbabwe (NAVUZ) which is also demanding an end to Mugabe's administration (Masasi, 24 July 2016).
In response, the conventional opposition parties are concerned about losing relevance as the mouthpiece of anti-Mugabe sentiment; they have formed an alliance and also engaged in widespread protest against the government. The alliance includes notable former regime insiders and opposition politicians including Morgan Tsvangirai's Movement for Democratic Change-Tsvangirai (MDC-T), Welshman Ncube, former Vice-President Joice Mujuru's Zimbabwe People First (PF) party, Tendai Biti's People's Democratic Party (PDP) and Elton Mangoma's Renewal Democrats of Zimbabwe (RDZ) (Africa Confidential, 26 August 2016).
With Mugabe and the ruling Zimbabwe African National Union-Patriotic Front (ZANU-PF) facing both internal coalition competition and popular discontent, the regime has defaulted to violence in order to cow the opposition into submission (see Figure 2). The spokesperson of the #Tajamuka campaign and the leader NAVUZ have both been abducted and tortured by unidentified men suspected to be security agents (Dewa, 14 September 2016; Ncube, 29 September 2016). The manner in which these individuals were targeted echoes the disappearance of Itai Dzamara, who led a protest against the Mugabe regime and is yet to be found (Nehanda Radio, 8 May 2016). This sends a clear message to those orchestrating the anti-Mugabe protests that they can also be made to disappear altogether if necessary.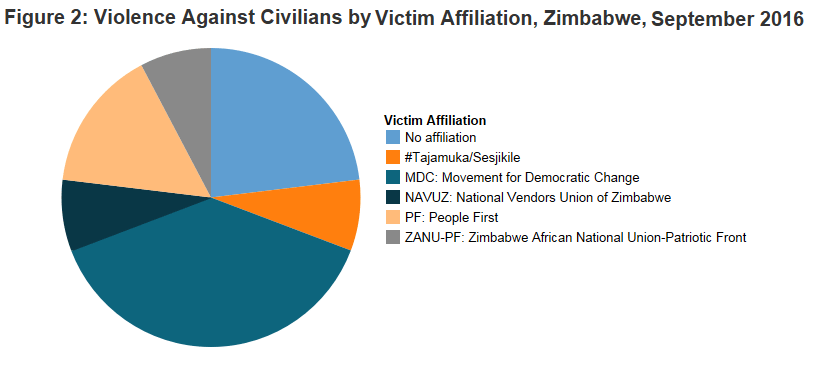 ZANU-PF is also continuing its campaign of violence against the street-level machinery of the opposition with ward councillors from both the MDC and PF assaulted by ruling party cadres. While the regime is seeking to decapitate the unions and social movements by intimidating their leaders, it is aiming to cripple the political opposition by removing its supporters and lower level functionaries.
This report was originally featured in the October ACLED Africa Conflict Trends Report.