July and August 2016 witnessed an unprecedented surge of Dalit protest against their systematic discrimination. Prime Minister Narendra Modi's home state of Gujarat experienced the bulk of the protests, which resulted in the resignation of Gujarat Chief Minister Anandiben Patel, and the continued struggle of the the Bharatiya Janata Party (BJP) state government to restore confidence among the Dalit community (Firstpost, 2016).

The latest spate of violent protests in Gujarat is fueled by attacks on Dalit community members; these attacks are perpetrated by right-wing Hindu nationalist groups under the banner of cow protection. Overall, these events feed into  a growing intolerance around religiously motivated issues within the Indian society since the BJP assumed power in 2014 (see ACLED's Conflict Trend Report No. 4). 'Gau rakshak' (cow protection) groups have characteristically targeted those involved in cow slaughter, especially Muslims, with the 2015 Dadri lynching of a Muslim man suspected of cow slaughter being the most prominent case  (Indian Express, 2015). However, recent attacks point to an emerging trend of cow vigilantes targeting Dalits based on their traditional profession of disposing and skinning cow carcasses.
The targeting of the Dalit community received national public attention after a viral video showing cow vigilantes publicly stripping and flogging four Dalit men for skinning a dead cow in Gujarat's Una town on July 11 (Hindustan Time, 2016). The incident set off a storm of Dalit protests across Gujarat unprecedented in their scale and intensity (Scroll, 2016). The often violent demonstrations left one policeman dead (Chandigarh Tribune, 2016), many injured, and saw several Dalits attempting suicide in protest against upper caste violence (BBC, 2016). Dalit organizations called on their followers to defy traditional caste-roles by refusing to dispose of carcasses, even going as far as deposing  dead cows on the streets (Quartz India, 2016). The incident also triggered further inter-caste violence with upper caste community members attacking Dalit protesters at a rally in Una on August 14 and 15 (Hindustan Times, 2016).
The Una flogging not only sparked outrage in Gujarat but also resonated across India. In Lucknow, Uttar Pradesh, there were complaints of increased attacks on Dalit community members by cow vigilantes. Ten Dalit organizations decided to work together and form a statewide Dalit movement (Times of India, 2016). In Karnataka where Bajrang Dal members beat up five Dalit men for allegedly stealing and slaughtering a cow in on July 10 (Indian Express, 2016), Dalit organizations staged a protest in demand for a ban on the activities of cow protection groups in the country (The Hindu, 2016).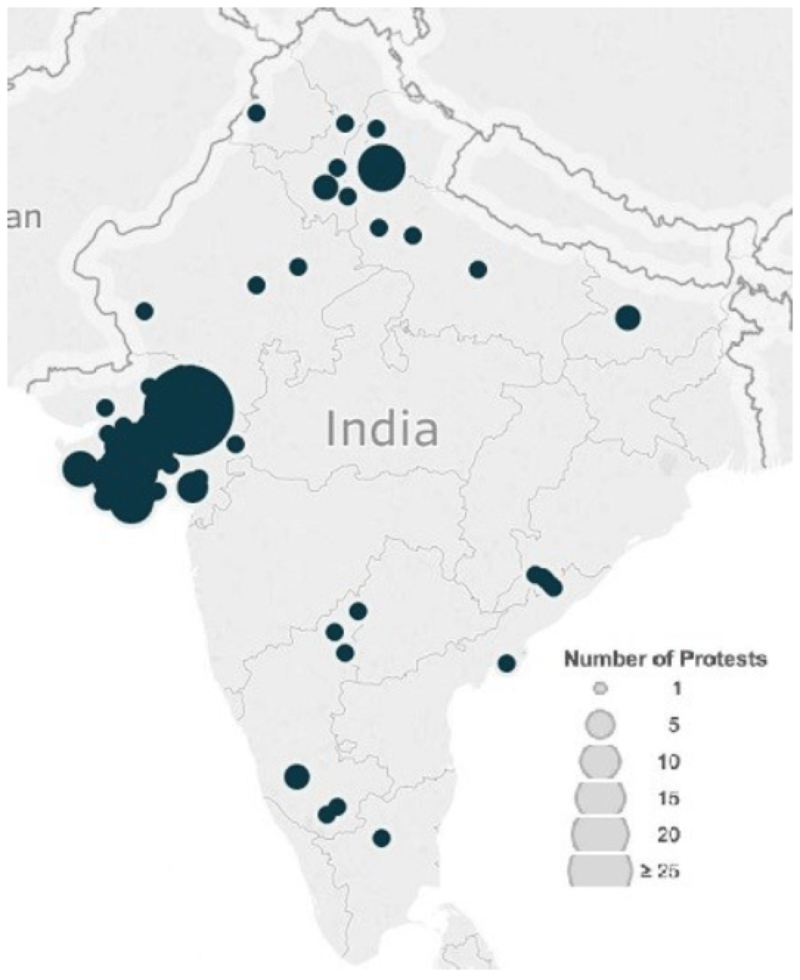 Upcoming elections in several states, including Gujarat and Uttar Pradesh, further politicized the issue with many opposition parties gearing up to compete for Dalit votes (Indian Express, 2016). Mounting political pressure forced Prime Minister Narendra Modi to publicly denounce the illegal activities of cow vigilantes during an August 6 speech in an attempt to appease the angry protesters (The Hindu, 2016). However, the latest events have further reinforced the notion of the BJP supporting right-wing Hindu nationalist groups at the expense of minority rights.