2016 represents the second most active year in the ACLED dataset for South Africa. Although conflict and protest event levels have decreased overall since 2015, 2016 has borne witness to several crucial events and trends which have had serious ramifications on the fabric of South African society. As Figure 1 demonstrates, protests and riots continued to make up the bulk of events in South Africa over 2016. Violent protest action preceding the local elections and the continuation of nationwide student protests have dominated conflict trends over 2016.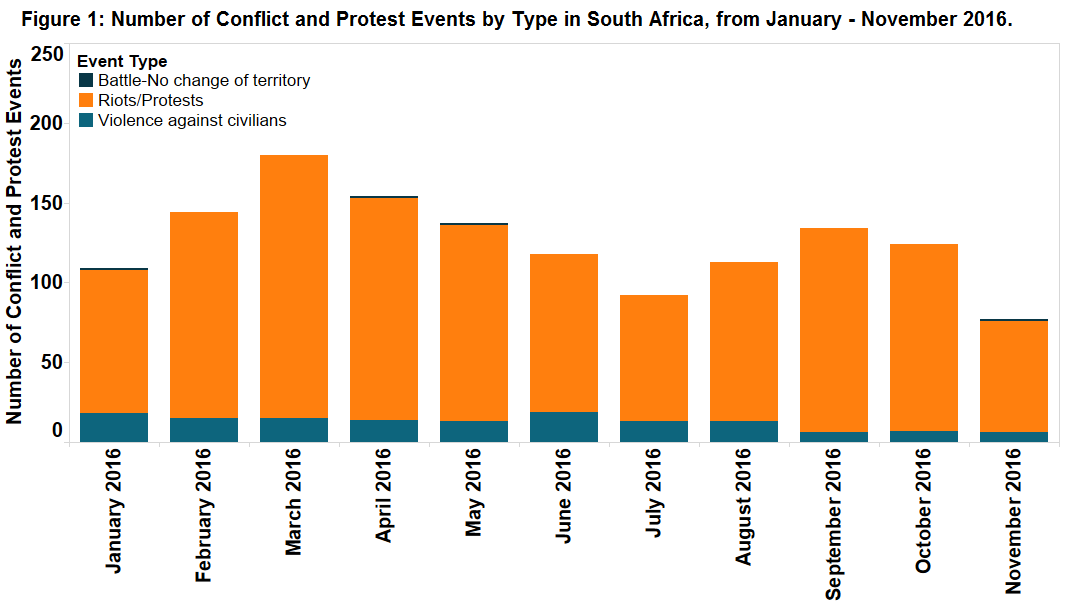 In August 2016, South Africa held key local government elections. These elections took place amidst growing dissatisfaction with increasing government corruption, the slow pace of development and the government's inability to deliver on its promises after 20 years of democracy. Violent protests were particularly prominent in the area of Vuwani in March and June – more than 20 schools were destroyed – and Pretoria in which violent protests engulfed outlying townships (Election Bureau, 28 July 2016). National dissatisfaction was expressed not only through widespread pre-election protest action, but through substantial electoral losses for the ruling African National Congress (ANC). The ANC lost around 8% of the overall vote in 2016 compared to the 2011 election and further lost control of the important municipalities of Nelson Mandela Bay, Johannesburg, Tshwane and Ekurhuleni (News24, N/D).
Under the auspices of the #FeesMustFall campaign, student protests on campuses throughout South Africa have continued to be a prominent feature of 2016 (Conflict Trend Report, October 2016; Conflict Trend Report, May 2016). Although these protests have occurred sporadically throughout much of the year, they spiked in September and October with the Higher Education Minister Blade Nzimande's announcement of an 8% fee increase for 2017. While these fee increases do not apply to families with an income of R600'000 or less, many in the protest movement see such policy as merely a stop-gap, with the bigger issue of the eradication of tuition fees being left unresolved (Time Live, 23 November 2016). As such, it is highly likely that student protests will continue in the New Year when universities reopen. While student protest action has been more peaceful than not over 2016 (Conflict Trend Report, October 2016), state and private security forces have nevertheless dealt with said protests with a heavy hand – more than 800 students have been arrested in 2016 (African News Agency, 28 October 2016). As such, it is probable that students may in future resort to more violent forms of protests given the increased securitization of campuses and heavy-handedness of security     forces.