In April 2017, violence escalated to its highest level in more than three years in South Sudan. 120 conflict events were recorded resulting in 627 fatalities – a 1.7 times increase on their respective monthly average over that period. Battles between the government and rebel Sudan People's Liberation Army-In Opposition (SPLA-IO) mainly drove this trend, but so did violence against civilians, which reached unprecedented levels since the country's independence in 2011 (see Figure 1).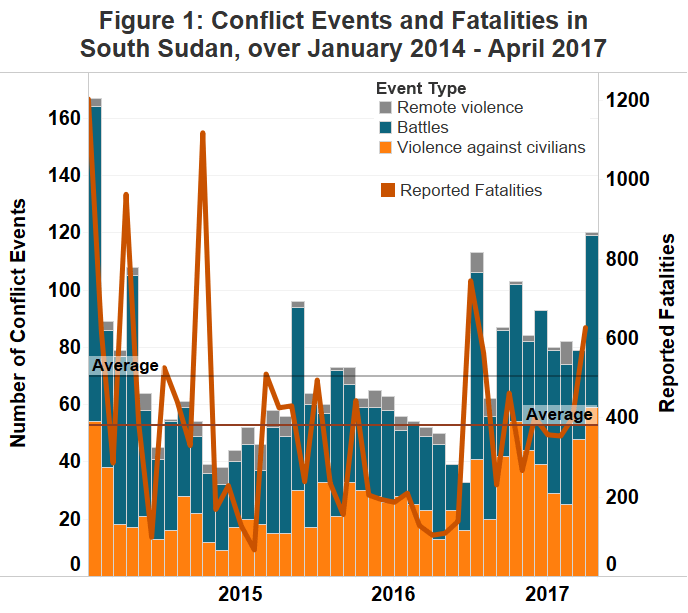 Government and rebel forces engaged in major battles over March-April that often resulted in claims of territorial gains (see counties highlighted in red in Figure 2). This can be understood as an attempt by both sides to consolidate territory before the onset of the rainy season around early May.
In April, battles particularly rose in Bahr el Ghazal and in Jonglei. In Western Bahr el Ghazal, SPLA claimed control of several SPLA-IO strongholds around Bagari (Wau county), after battles outside Wau town quickly expanded (Africa News, 12 April 2017). A week later, SPLA-IO claimed to have captured Raja town (Radio Tamazuj, 18 April 2017). In Jonglei, government forces supported by the Mathiang Anyoor militia claimed major gains after heavy battles around Yuai in Uror county (Protection Cluster, 4 May 2017). At the same time, battles remained sustained in Greater Equatoria and in Upper Nile. Among the most recent flashpoints were SPLA-IO's capture of various areas in Morobo county in Central Equatoria (Radio Tamazujm, 30 April 2017); and SPLA's regaining of Kodok (Fashoda county), Gel Achel (Baliet county) and Tonga (Panyikang county) in Upper Nile. Tonga was recently re-captured by the rebel forces (Sudan Tribune, 4 May 2017).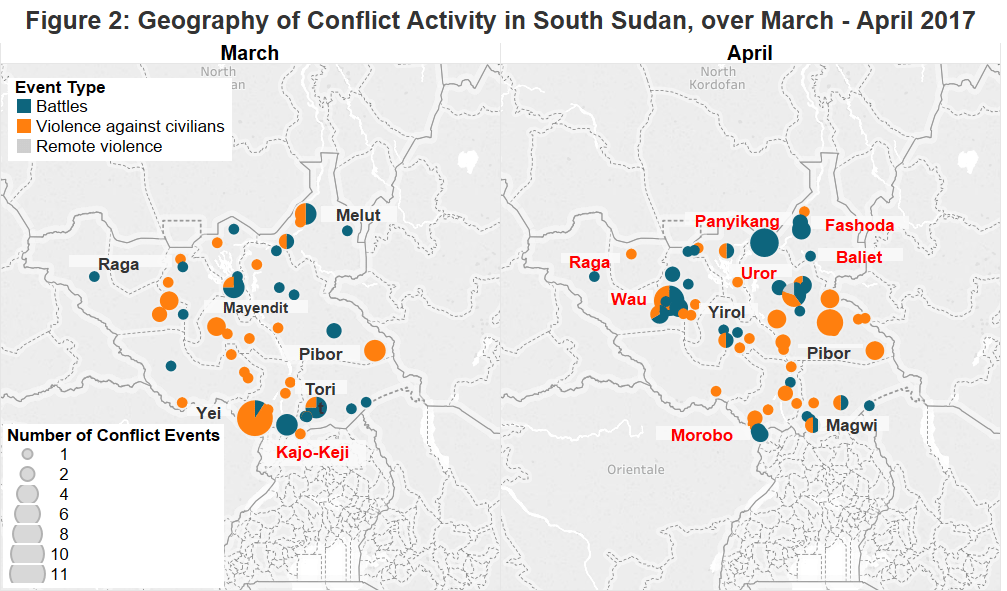 The impact of the battles on civilians rose due to the many executions, abductions, and looting and burning down of properties carried out by conflict parties. SPLA, in particular, showed wide distrust towards populations in areas where battles occurred, arresting and killing dozens in the aftermath of clashes, for instance in Pajok in Eastern Equatoria's Magwi county early April (Radio Tamazuj, 10 April 2017).
With conflict logistics and ease of movement made more difficult during the rainy season, it is likely that government/rebel battles reduce in the next few weeks. However, as parties continue to disagree on steps to de-escalate the crisis, this period may be used to regroup forces and prepare for larger offensives in the last quarter of the year.
Communal violence also rose over the past two months, mainly over land and cattle, but also in revenge for earlier attacks carried out by rival groups. In Jonglei, while violence persisted between the Murle and Lou Nuer communities, new trends showed unprecedented conflict levels between Murle and Dinka youths. The latter's recent attacks on Murle villages around Boma in Pibor county underlined the youth's frustration with authorities' failure to recover stolen cattle and abducted children, and the potential for the crisis to escalate (Radio Tamazuj, 7 May 2017). Other violent episodes drove the upward trend: in Lakes state, between youth and herders from Eastern and Western Lakes (for instance in Yirol county); and in Western Bahr el Ghazal, between Wau farmers and herders from Tonj county (in Warrap state).
Communal fighting is usually less affected by the rainy season, as resources are the most abundant and cattle raiding most likely to be successful during this period. There is thus a potential for communal violence to escalate in the coming weeks.