The parties, locations and intensity of political violence in Kenya has varied widely since the beginning of 2017 (see Figure 1). Increased political tension due to the upcoming August election has generated fear that Kenya's multiple conflicts will intensify during the upcoming voting period. Political and land- motivated unrest dominates the western counties while al-Shabaab intensifies its campaign in the East. In certain towns and cities, the notion of 'safety' is becoming politicised.
Communal Contests
Violence in the eastern counties of Laikipia and Baringo increased due to a series of clashes between Pokot and Tugen-Ilchamus militias. These battles caused a peak of fatalities in March 2017 (see Figure 1) (APA News, 15 March 2017). Overall, the south-east region suffered frequent episodes of violence, including in Narok County, where Maasai and Kipsigi militias continue their fight along the Trans Mara West-Trans Mara East border and near Bomet. This dispute devolved into a series of small revenge attacks along shared borders despite a two month amnesty provision given by the county commissioner in January (Daily Nation, 13 February 2017).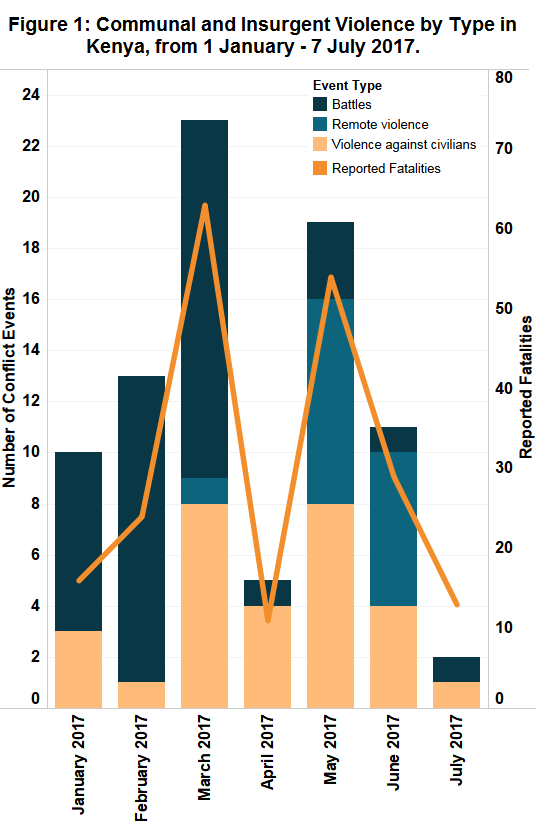 Violence in these regions is often linked to competition over land, but the recent clashes could be related to political tensions stemming from the upcoming election. Devolution means that governors are now sources of significant wealth and political power, raising the chances of groups engaging in violence to secure control of the local government (Reliefweb, 27 April 2017). Memories of the 2007-2008 electoral crises that occurred through the Rift Valley and into the Western Region still concerns residents. In spite a relatively peaceful elections in 2013, allegations of widespread voter fraud and a difficult political climate persist. Most importantly, political polarization remains tied to geography and group rather than ideology (Daily Nation, 28 June 2017).  Illustrating this unease, a May 2017 poll found that 70 percent of voters expect violence over the course of the upcoming campaign. Many politicians, including incumbent President Kenyatta, use 'safety' as a burgeoning political issue, stating opposition groups are "planning violent disruptions during the campaign" (Washington Times, 11 May 2017). Anticipating unrest, police in Nairobi are focussing their presence on potential political "hot spots" throughout the city, including informal settlements, and those containing dense populations of intermingling diverse groups holding varying political allegiances (Kenya Standard, 4 July 2017).
Al-Shabaab
Al-Shabaab insurgents continue to be active in the eastern counties bordering Somalia. These attacks are generally close to the Somali border and are concentrated in Mandera County in the extreme north east (see Figure 2). The majority of recent attacks are IED or other explosions, typically targeting civilians or local police. When attacking the Mandera area, al-Shabaab typically launches raids from the adjacent Somali town of Bula Hawo, and often returns back to Somalia the same day. Over the past month, al-Shabaab's focus has shifted to Lamu County in the south where a series of attacks caused nine civilian fatalities and a destroyed police post over the course of only a few days (The Independent, 8 July 2017). An emerging tactic of the group is the abduction of security personnel for ransom or to extract strategic information from the abductees (Somali Update, 16 May, 2017). Other al-Shabaab targets are telecommunication masts and other radio equipment, with the intention of cutting military communications between Mandera and the rest of the county. Attacks on communication infrastructure sometimes foreshadow an upcoming attack on soldiers or other government personnel, as victims are less able to call for reinforcements.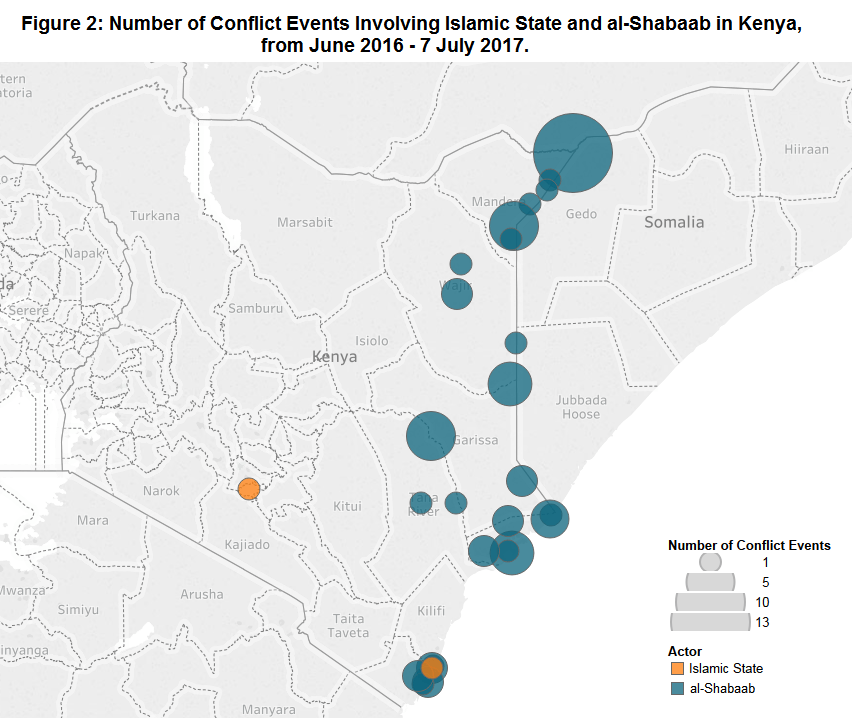 Observers are speculating that the sharp increase in al-Shabaab activity over the past months is related to the upcoming election (AllAfrica 24 May, 2017) (Kenya Standard, 24 June 2017). Along with displacing the Somali government, al-Shabaab is committed to removing Kenyan troops from Somalia. A propaganda video released on 18 May referenced the upcoming elections multiple times and demanded President Kenyatta withdraws Kenyan forces from Somalia (Daily Nation, 20 May 2017).
President Kenyatta remains committed to maintaining Kenyan troops in Somalia under the current anti-al-Shabaab AMISOM (African Union Mission to Somalia) mission (Daily Nation, 26 May 2017). In contrast, Raila Odinga, leader of the opposition National Super Alliance Party coalition, argues that the Kenya-backed Somali African Union mission against al-Shabaab secondary to local economic circumstances and has pledged to remove a number of Kenyan forces from Somalia operation if he gains office. (Kenya Star, 27 June 2017). In response to the escalating violence the government plans to increase security measures in the east in the run up to the August election (All Africa, 29 May 2017).
Islamic State remains a presence in Kenya, albeit in more narrow capacity than al-Shabaab. This is perhaps due to limited personnel and resources. The group has thus far only focused on urban areas, attacking police personnel in Mombasa and Nairobi (Reuters, 29 October 2016) (see Figure 2). Following a pair of incidents in 2016, security forces made a handful of arrests, including two in Mombasa in early 2017 (The Star, 18 February 2017). It is thus far unclear if agents are being actively directed by the group's leadership, or are simply inspired by their ideological goals.