Political violence and protests were reported in several countries across South and Southeast Asia last week.
Sri Lanka witnessed post-polling violence following the Local Government Elections 2018, the largest election in Sri Lankan history held on February 10, with attacks on rival candidates and their supporters reported from various parts of the country. Nepal saw a spike in militant activity. Suspected militants, presumably from the Communist Party of Nepal (Maoist), targeted local infrastructure projects with improvised explosive devices at several locations across the country. Afghanistan, on the other hand, saw a decline in militant attacks following ramped up US bombings and drone strikes on strategic targets, in particular the Taliban. Data from Pakistan too indicates a decrease in militant activity this week. However, demonstrations in solidarity with the Jammu and Kashmir separatist movement continued to erupt across Pakistan. Beginning on February 5, to coincide with Kashmir Solidarity Day, demonstrations were held in 62 confirmed locations, and then again on February 11, the death anniversary of Jammu Kashmir Liberation Front (JKLF) co-founder Maqbool Butt, at 11 confirmed locations.
Protests also occurred in Bangladesh for the second consecutive week, with supporters of the Nationalist Party (BNP) supporters continuing to protest against the ruling of a special court in Dhaka. The court sentenced the former Prime Minister and BNP chairperson, Khaleda Zia, to five years in jail in a corruption case. In Indonesia, public transportation and ride-hailing drivers staged protests in the wider Jakarta region against the Jakarta administration's recent policies, which have resulted in increasing the number of public Angkots (mini-vans) and have forced regulation of online ride-hailing services.
The political environment in the countries of Vietnam, Laos and Cambodia was quiet with no reported incidences of violence or protests last week.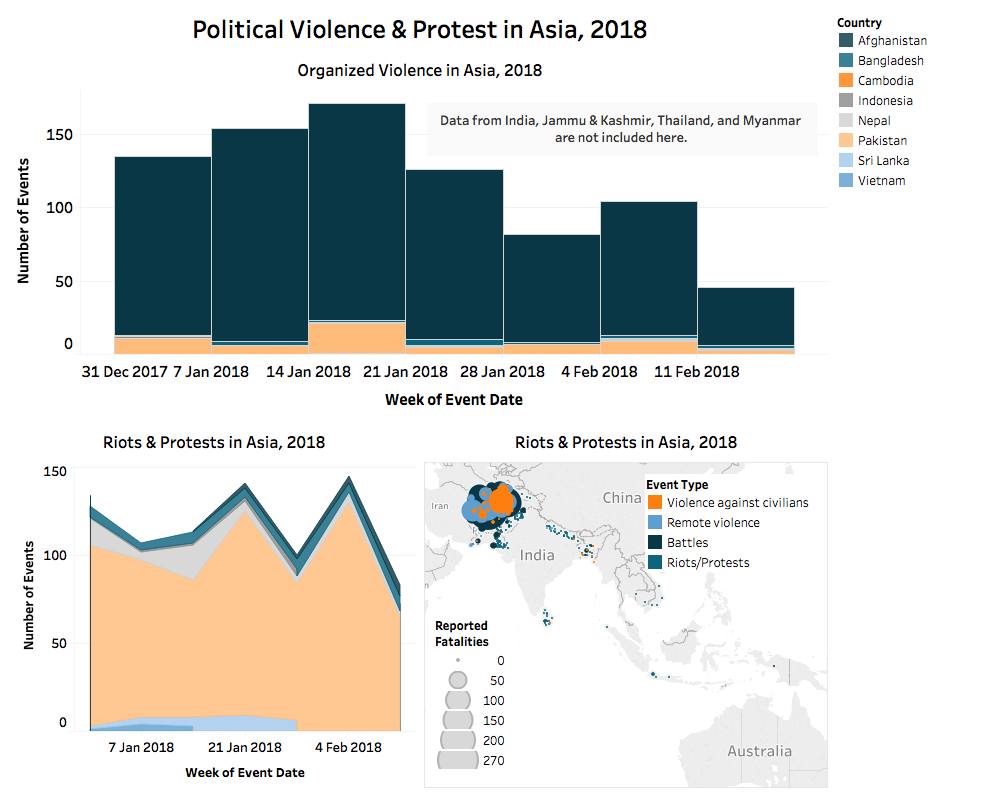 (Data on India [including Jammu & Kashmir], Thailand, and Myanmar have not yet been released; trends are hence not explored above.)