After the fall of Sana'a in September 2014, forces of the Houthi-Saleh alliance seized territory south of the capital with relative ease. The Houthis managed to briefly overtake Aden by the summer of 2015, before being ousted by local militia groups and forced to retreat north. Despite prolonged, intense fighting in Al Bayda, the southeastern frontline of the Yemeni Civil War has remained largely static throughout the conflict, stretching along what was once the border between North and South Yemen.
The Al Bayda governorate constitutes a major centre of violence in the civil war, with armed clashes raging across several locations and upsetting the local tribal order. As some of the tribes living in Al Bayda decided to side with the Houthi-Saleh alliance, the conflict has over time exacerbated political and tribal divisions and militarized existing rivalries among local groups (Salisbury, 2017). A number of local tribesmen have also joined Al Qaeda in the Arabian Peninsula (AQAP), which has become a key anti-Houthi force in Al Bayda. The growing size of AQAP, compounded by the presence of a limited number of Islamic State (IS) fighters in Al Bayda, has prompted the United States (US) to intensify its drone strikes in the area throughout 2017 and in early 2018. Figure 1 shows the number of US-led operations in Al Bayda since January 2017.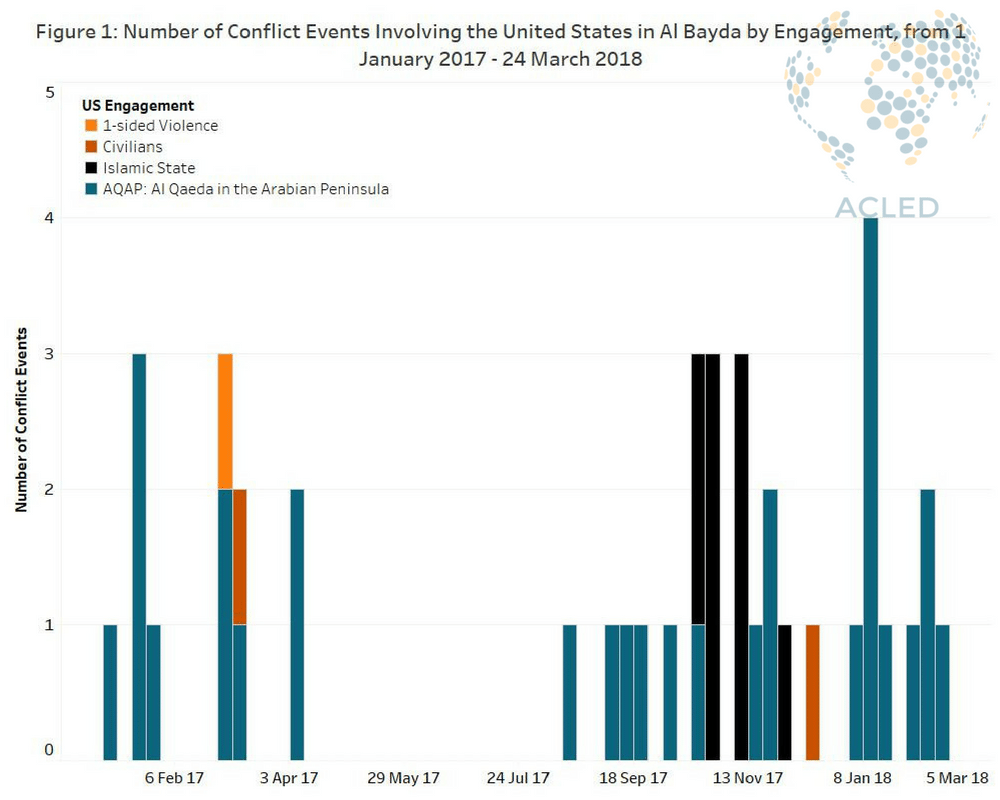 While fighting remains intense in several districts of Al Bayda, ground conflict has been more limited in the neighbouring governorates of Dhamar, Ibb and Ad Dali, which remain largely under Houthi control (as shown in Figure 2). Competition for control over these areas, however, may reignite tensions within opposing factions in the anti-Houthi coalition. In a recent development, the Security Belt Forces, a militia supported by the United Arab Emirates (UAE), were deployed into portions of Ad Dali governorate seized from the Houthis (Yafa News, 2018). Although they were originally formed for the purpose of conducting counter-terrorism operations, the Security Belt Forces, along with other UAE-trained forces, represent the armed wing of the secessionist Southern Transitional Council (STC) (ACLED, 2018). As such, their redeployment to Ad Dali seems to suggest an attempt at expanding the territorial outreach of the STC and consolidating their control over the south.
Find an explanation of ACLED's methodology for monitoring the conflict in Yemen here.