Conflict levels have remained stable over the past 6 months across all Governorates in Egypt. Fatalities peaked in November 2017 owing to an Islamic State attack on a mosque in Bir al-Abd that killed 311 people. Excluding this event, fatalities have increased in the first three months of 2018 compared to the last three months of 2017. This is largely driven by an uptick in the intensity of conflict and resultant fatalities in North Sinai as opposed to a country-wide dynamic change.
Outside of North Sinai, political violence and protest were contained in the lead up to the election, which el-Sissi won comfortably at 97% (see Figure 1). The most significant development took place two days before the Presidential election, when the Alexandria security chief was targeted by a bomb attached to the underside of his car leaving two policemen killed. No group has officially claimed responsibility but on 25 March, Egypt's Interior Ministry claimed to have killed six suspects of the attack, who belonged to the Hasam Movement (Deutsche Welle, 25 March 2018). If confirmed, this would represent the first organised attack carried out by the Hasam Movement since an IED attack on the Myanmar Embassy in Cairo in September 2017. The group has actively engaged security forces since September, though usually during arrests and raids instigated by intelligence services.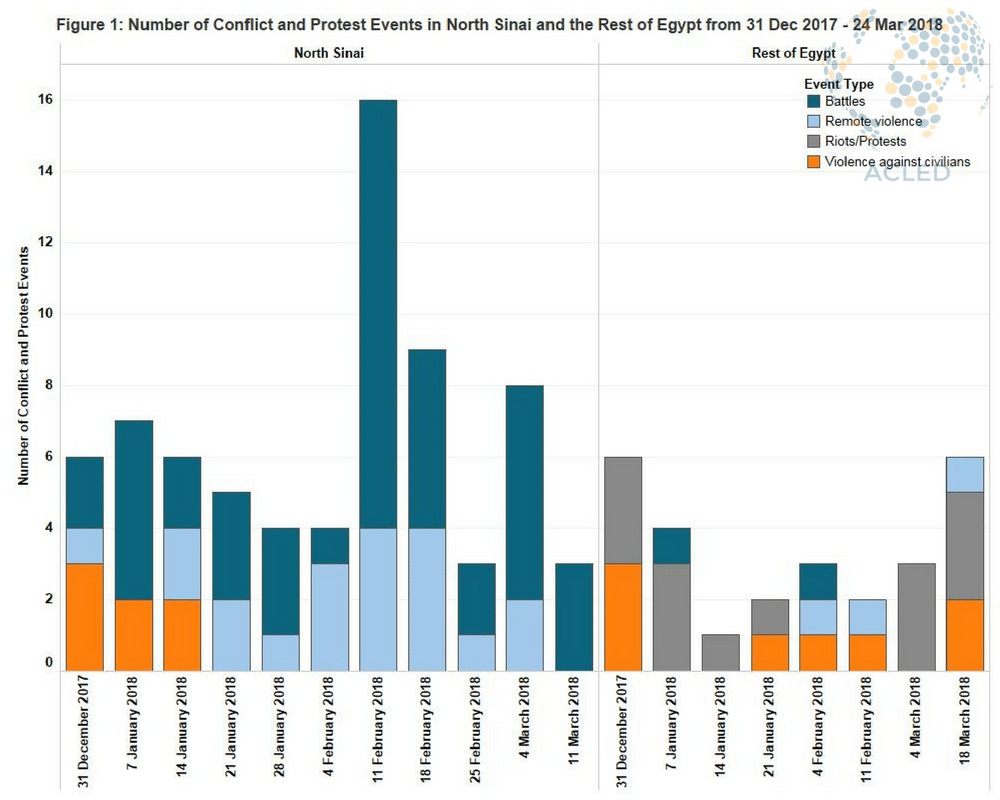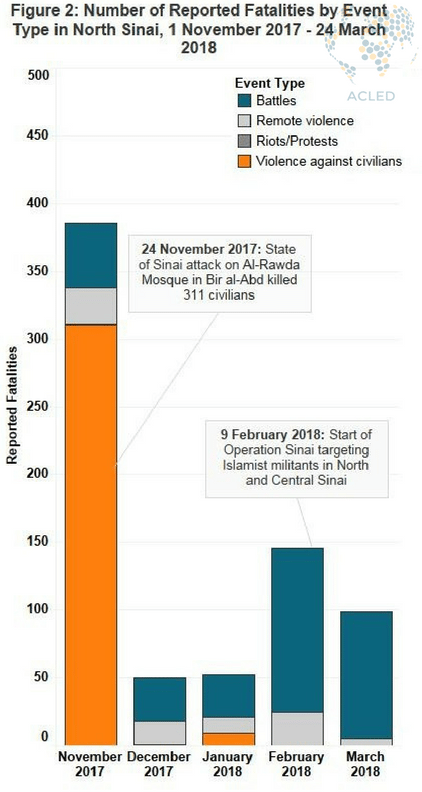 Protests also slightly increased from the previous month, though only two of these were election-related. Ghad party members demonstrated in Cairo in support of Moussa Mustafa Moussa on 4 March and 10 March. Police were absent from both protests though isolated incidents of police abuse were reported in March.
State of Sinai violence towards civilians has dropped off considerably since January 2018, which is unsurprising, given the initiation of Operation Sinai 2018 on 9 February to target Islamist elements in North and Central Sinai. In a continuation of previous years (such as Operation Martyr's Right in September 2015 and July 2017), this counter-insurgency has resulted in a sharp rise in reported deaths in North Sinai (see Figure 2).
In 2017, the State of Sinai militant group were active or claimed responsibility for attacks in Assiut, Cairo, Giza, Ismailia, Minya, North Sinai, Qena, South Sinai and Suez Governorates. In January and February 2018, attacks have only been reported in North Sinai (see Figure 3). This could suggest that, despite its criticisms, Operation Sinai is pinning the group to one geographic area, stunting it from carrying out more widespread attacks across Egypt. The numerous large-scale security operations against Islamist militants have turned the Sinai into a 'pariah peninsula'. However, these attacks are also legitimating nation-wide crackdowns on more moderate voices within Egypt. Some critics express scepticism about the Egyptian government's reports, and have raised concerns that the number of reported militant deaths from the counter-insurgency is a political tactic to make the campaign look more successful than it is and reinforce Abdel Fattah el-Sissi's position as a stable security provider  Sabry, 13 February 2018).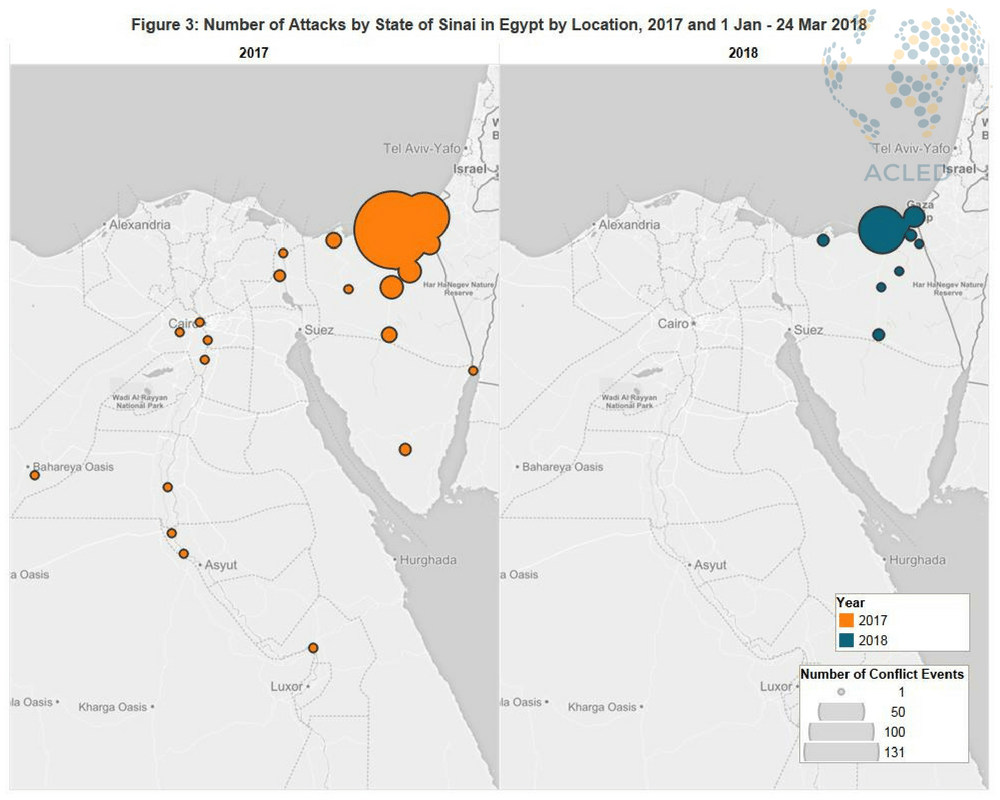 The containment of the State of Sinai group opens up the possibility for other 'religious-nationalist' (TIMEP) groups such as the Hasam Movement to reassert themselves in the coming months. However, their operations will be closely monitored and future violence will play into the hands of el-Sissi's repressive machinery. El-Sissi's mantle as Egypt's undemocratic security provider is set to continue.