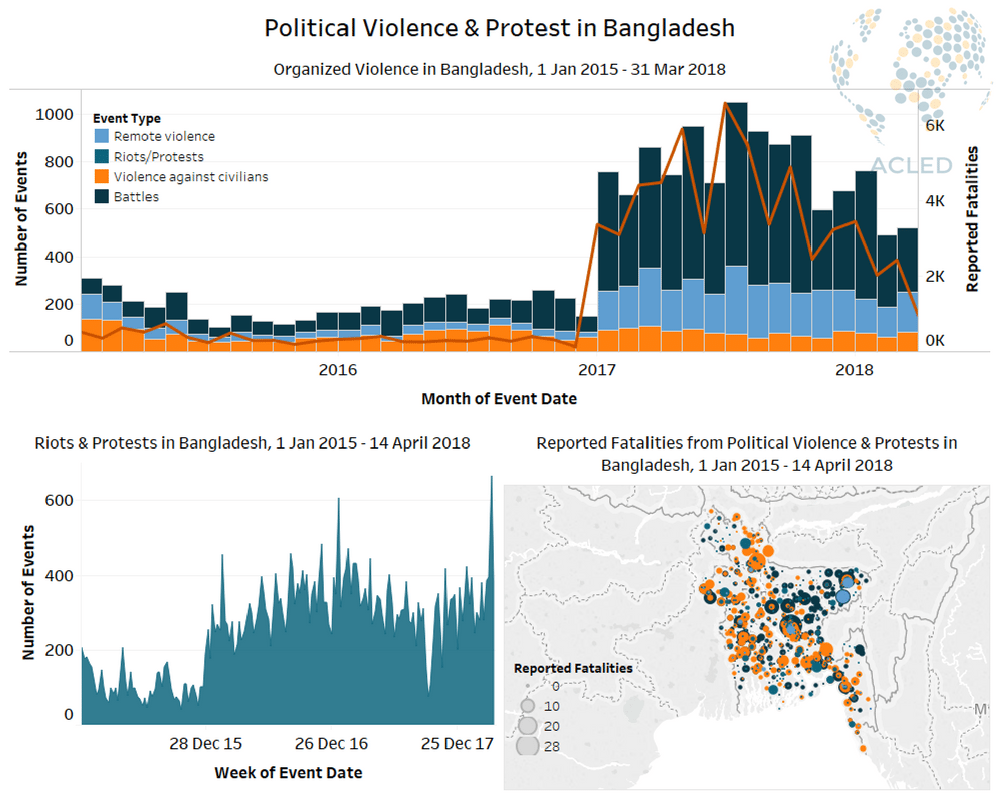 From mid-2017 through March 2018, Bangladesh experienced a moderate level of political violence and protest relative to the rest of South and Southeast Asia. About half of all events recorded in Bangladesh have been riots and protests. The majority of these occur in the capital, Dhaka. The number of riots and protests has fallen since the high numbers reported in early 2015, which largely involved the Bangladesh Nationalist Party (BNP). Although, more recently, in late-2017 there was a spike in demonstrations involving the BNP, which was likely a response to multiple attacks on the motorcade of BNP chairperson Khaleda Zia. Compared to most other South and Southeast Asian countries, battles and violence against civilians are more common occurrences. These events occur throughout the country and tend to involve political militias and student wings of the major political parties; the Bangladesh Chhatra League (BCL), associated with the Bangladesh Awami League (AL), and Bangladesh Jatiotabadi Chatra Dal (JCD), associated with BNP. Since January 2017, there have only been four recorded instances of police violence against civilians.
Rohingya Refugee Crisis
Around 1 million Muslim Rohingya have fled Buddhist majority Myanmar for Bangladesh to escape violence in response to a late-August 2017 attack on security force posts in Rakhine State by the Arakan Rohingya Salvation Army (ARSA). In January 2018, Bangladesh and Myanmar agreed to complete the return of hundreds of thousands of displaced Rohingya Muslims within two years. Most of the conflict associated with the influx of displaced Rohingya has taken place in Chittagong's Cox's Bazar district, where the majority of the refugees have settled. Although the vast numbers of displaced Rohingya represent a humanitarian crisis, political violence and conflict related to the Rohingya crisis has been minimal in Bangladesh — many of the issues associated with the displaced refugees have instead been crime-related, including acts of prostitution, brawling, and theft within the resettlement camps.
2018 Electoral Conflict
Bangladesh is a parliamentary democracy dominated by two parties, the Bangladesh National Party (BNP) and the Bangladesh Awami League (AL). In February 2018, Bangladesh's main opposition party leader, BNP chairman Khaleda Zia, was convicted by a Bangladeshi court of embezzling 21 million taka ($252,200) from Zia Orphanage Trust and sentenced to five years in prison. News of Zia's conviction, combined with the recent announcement that Bangladesh would hold its parliamentary elections in December 2018, has caused serious concern over the future of the country's two-party system. Zia's party (BNP) is the only viable alternative to challenge the present government controlled by AL leader Sheikh Hasina. Assuming that the BNP agrees to participate in this year's elections, Zia's absence could adversely impact BNP's chances of winning the election. Conversely, if BNP refuses to participate in this year's elections, the party could be deregistered altogether. It would be nearly impossible for a third party to challenge the ruling AL party. Therefore, if BNP's viability is too severely weakened by Zia's criminal conviction, Bangladesh could be a de facto one-party state presided over by the AL party.
Zia's conviction and its potentially negative implications for the future of the BNP led to widespread protests in February and March 2018. Immediately following the February 8 guilty verdict, there were BNP-led demonstrations in Dhaka, Chittagong, and Rajshahi. Although many of the protests were peaceful, there were a number of clashes with police and political arrests in Dhaka and Chittagong. Approximately one thousand BNP leaders and activists were arrested in the cities of Dhaka and Chittagong while protesting the verdict. In the weeks following the verdict, BNP continued their protests in Dhaka and Chittagong, as well as in Rajshahi, Khulna, Sylhet, and Barisal. In fact, the total number of riots and protests increased by 71% when comparing the month before to the month after the conviction. Of those riots and protests, the stark increase in BNP's involvement [in teal] following the conviction is evident (see figure below). Aside from the February 8 clashes between BNP demonstrators and police in Dhaka city, there has not been any substantial violence involving BNP actors in connection with Zia's conviction or the country's upcoming elections.