Despite the sense of widespread disorder conveyed by the dominant narrative on Yemen, the frontlines of the war pitting forces of the (former) Houthi-Saleh alliance against those loyal to the internationally-recognised government have largely remained static over the past year.
For most of 2017, conflict actors of the Yemeni civil war focused on developing governance capacities within the territories under their control while dealing with internal splintering. As Figure 1 below illustrates, fighting was most intense in the south-western Taiz governorate, which provides access to the strategic Bab al Mandab Strait (ACLED, 01 March 2018), and in the Nihm and Sirwah fronts north-east of Sana'a (ACLED, 12 April 2018).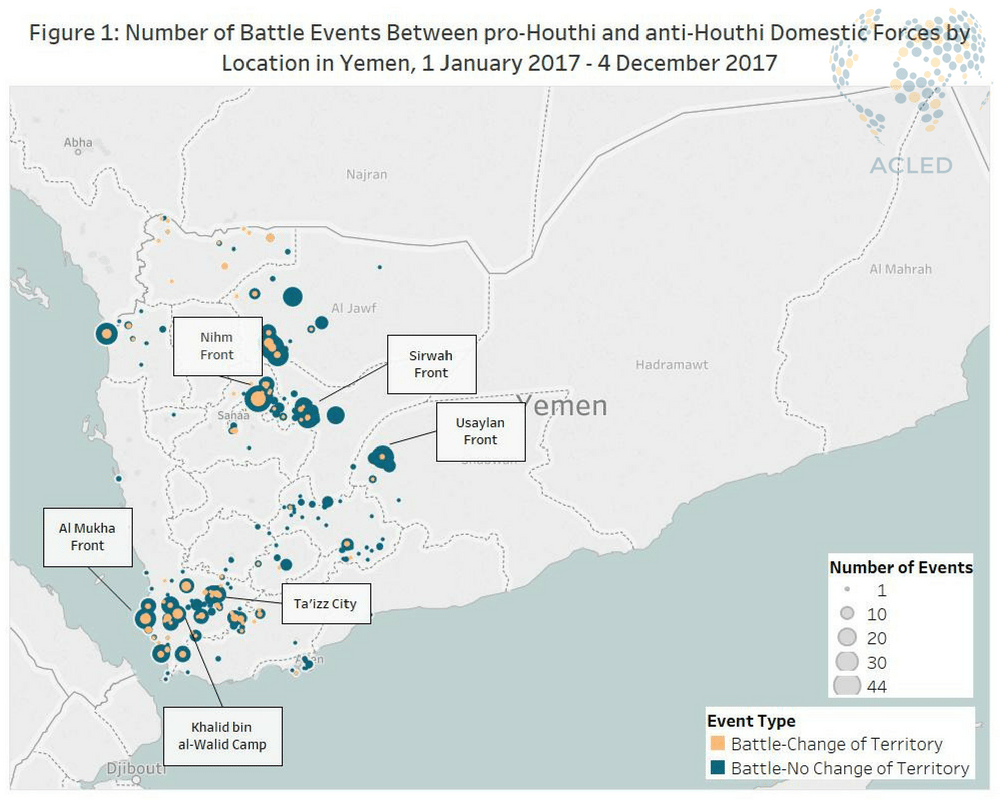 Until late 2017, Operation Golden Spear constituted the most successful military campaign launched by pro-Hadi and southern secessionist forces in the year (ACLED, 15 March 2018). The offensive led to the recapturing of several key sites in Taiz and Lahij governorates, including most of Al Mukha district and the Khalid ibn al Walid military camp overlooking Bab al Mandab Strait. In November, however, the growing rapprochement between former president Ali Abdullah Saleh and the Saudi-led coalition sparked the battle of Sana'a (ACLED, 16 February 2018), which would ultimately lead to Saleh's death on December 4 and to reignite the violence in several war fronts.
Figure 2 shows that, before the collapse of the Houthi-Saleh alliance, the number of battle events was at one of its lowest points in the year, with a limited number of battles leading to a territorial change. The anti-Houthi coalition seized the opportunity to strike pro-Houthi forces at a time of increasing instability and uncertainty. The number of recorded battle events – and, among them, of battles leading to territorial changes – has since increased dramatically, reflecting the new push into Houthi-controlled territories. As anti-Houthi forces were responsible for the vast majority of these territorial gains, it seems to indicate that the disintegration of the Houthi-Saleh alliance was a critical rupture point for conflict dynamics in the Yemeni civil war.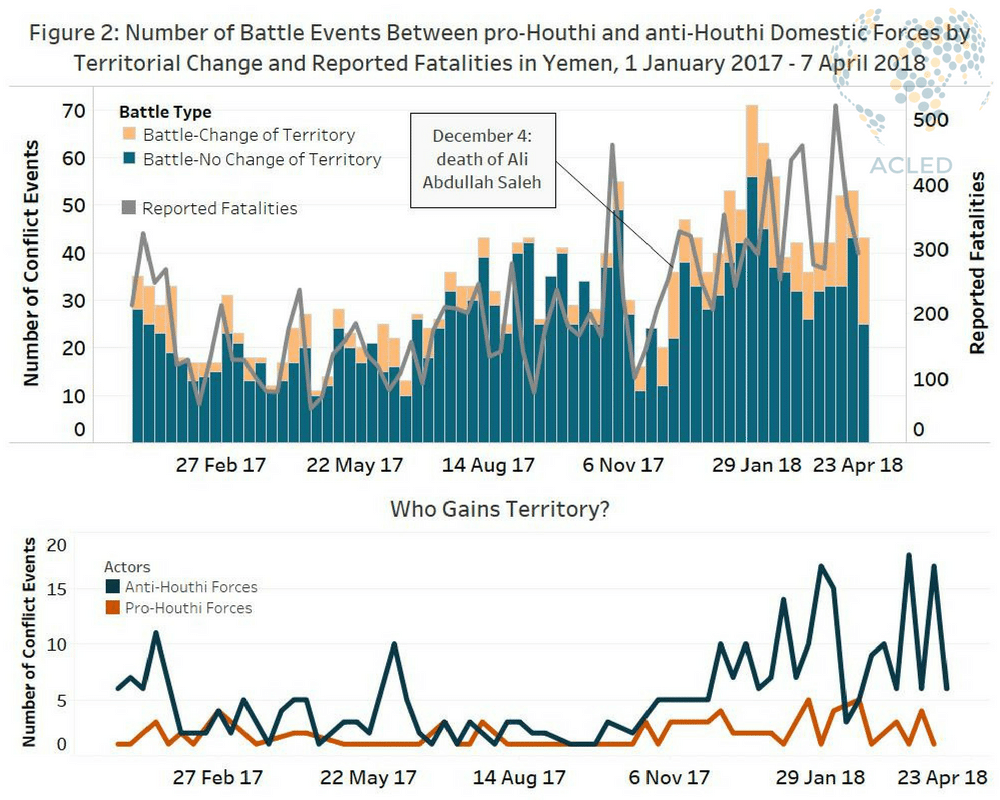 Since December 2017, anti-Houthi forces have advanced: into Al Khawkhah and Hays districts in the western Al Hudaydah governorate; from Usaylan and Bayhan districts of Shabwah, into Nati' district of Al Bayda; and into several districts in the Houthis' stronghold of Sa'dah and in the neighbouring Al Jawf and Hajjah governorates (ACLED, 22 March 2018). As shown in Figure 3, violent clashes continue to take place northeast of Sana'a and at the border between Lahij and Ta'izz governorates. Although the trends are likely to continue in the upcoming months – unless further splits in the anti-Houthi coalition hamper their military capacity and international backing – it is unclear whether these military offensives will force the Houthis into accepting a negotiated settlement.
Find an explanation of ACLED's methodology for monitoring the conflict in Yemen here.