Over the last week, protests and riots occurred across Jordan in response to the proposed income tax bill, which would raise the income tax by at least 5% — dramatically affecting both lower- and middle-class Jordanians. The impact of the IMF-backed proposed tax bill on those groups has sparked already simmering discontent and has the potential to destabilize the Kingdom, as demonstrated by the increase in violence at demonstrations.
At the end of February 2018, the Jordanian government announced major financial reforms, which included the removal of subsidies and increased taxes on hundreds of daily items. These reforms sparked demonstrations and stirred discontent, though the scale and attendance at these protests were low compared to earlier protests around the announcement of the US Israeli embassy move to Jerusalem (for more on this, see this recent ACLED piece). The proposed income tax bill, however, hits the middle- and lower-classes harder than previous financial reforms, which has resulted in fueling the recent surge of protests. While prior protests were driven by farmers, these protests are being driven by the middle-class and are much larger. Simmering discontent and dissatisfaction with the government is now boiling over and it is unclear whether the intervention of King Abdullah and the resignation of Prime Minister Hani Al Mulki will be enough to contain the situation or if it is too little too late. The graph below depicts this trend.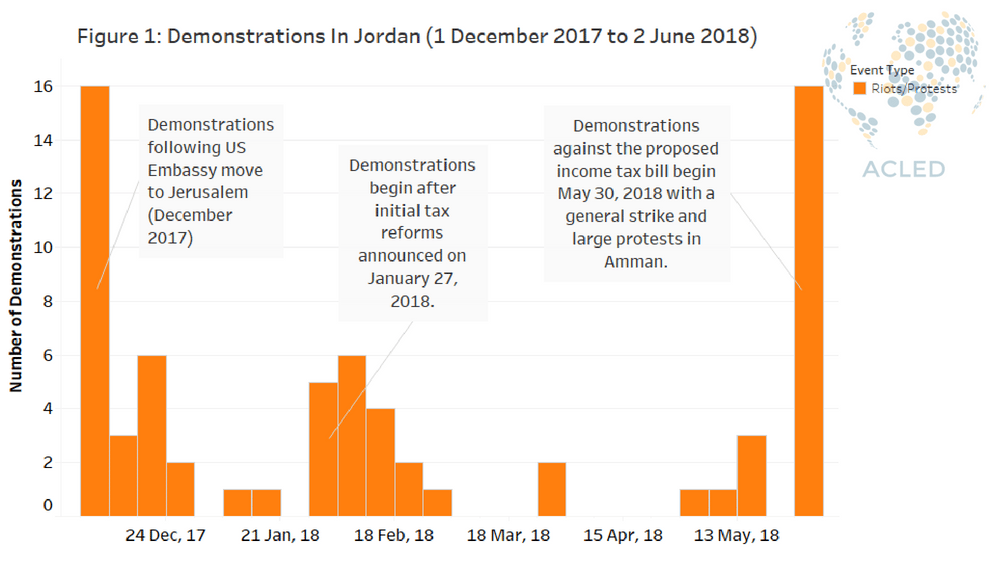 On Wednesday (30 May 2018), thousands of Jordanians went on strike to protest the new tax law. They also took to the streets of Amman in one of the largest protests in recent years in Jordan (Middle East Eye, 30 May 2018). On Friday (1 June 2018), King Abdullah intervened to freeze the increased taxes on fuel. Police response to demonstrations escalated on 2 June, with reports of police using tear gas to disperse demonstrators (BBC, 3 June 2018). In Maan, rioters blocked roads with burning tires. Due to the escalation of demonstrations and the calls for his dismissal, Prime Minister Al Mulki resigned on Monday, 4 June 2018 (Al Jazeera, 4 June 2018). The graph below depicts this trend.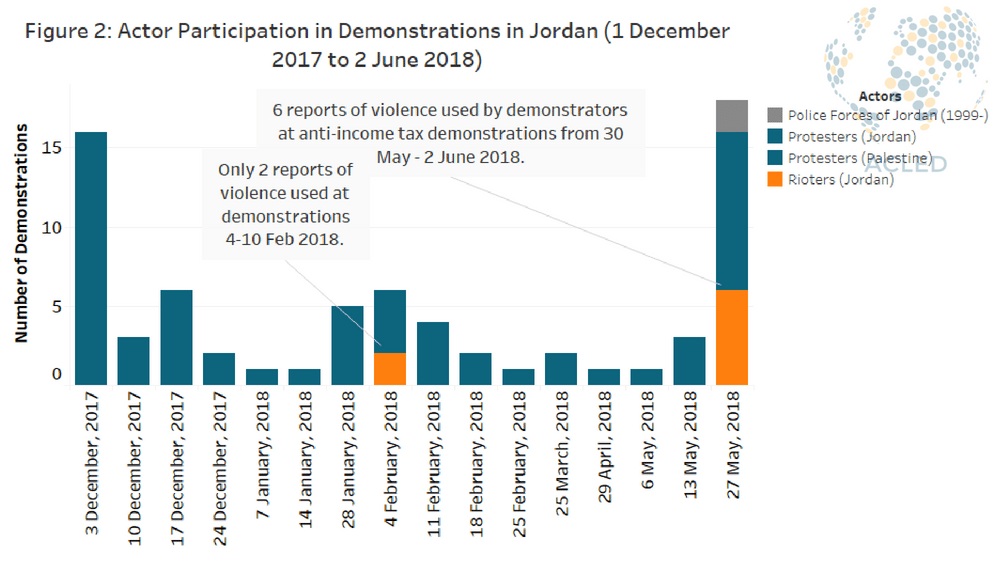 The recent financial reforms are intended to address the country's debt and are backed by the International Monetary Fund (IMF). While Jordan has exhibited stability in light of the Syrian Civil War and other regional conflicts, these conflicts have nonetheless reduced Jordan's exports and have negatively impacted its economy. These financial reforms backed by the IMF appear to be driving Jordan into a volatile situation as violence at demonstrations appear to be increasing.