In late April and early May, six massacres took place in the Mali-Niger border corridor. Presumed militants of the Islamic State in the Greater Sahara (ISGS) carried out massacres against the Dawsahak community. Militiamen of the Movement for the Salvation of Azawad (MSA) and the Tuareg Imghad and Allies Self-defence Group (GATIA) carried out massacres against the Fulani and Ibogalitane communities (Menastream, 2018). These mass atrocities followed intense  counter-militancy operations between February and April. Operations spearheaded by French forces of Operation Barkhane, in cooperation with the local ethnic-based militias, MSA and GATIA. These operations exacerbated already existing tensions between local communities in the Mali-Niger borderlands (ACLED, 2018).
In Figure 1 (below), it can be seen that there is a dramatic shift in violence patterns in the Mali-Niger corridor from battles to violence against civilians. Several factors have contributed to this changing pattern of violence. The Operation Barkhane counter-militancy operations against ISGS were accompanied by human rights violations on the part of the militias, primarily against the Fulani community (Studio Tamani, 2018), precipitating retaliatory violence. For the militants, direct engagements became too costly, as demonstrated by the heavy losses sustained in the ambush against the joint forces in early April in the area of Akabar (TV5Monde, 2018). The events in Akabar were the last major engagements that preceded the series of massacres (France 24, 2018). The shift from battles to violence against civilians constitutes a shift in tactics – to target communities associated with the militias, to deter the militias, reduce their support, and demonstrate that the militias are unable to protect their communities.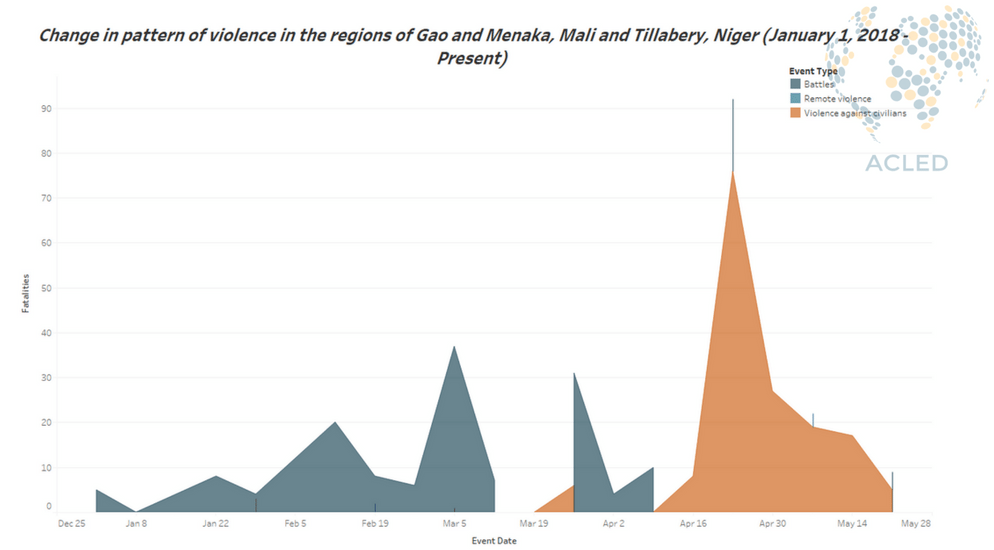 Meanwhile, during the first week of May, violence began to shift further north of the border corridor, towards In-Deliman and its surroundings along the Menaka-Ansongo axis (see Figure 2 below). The violence and retaliatory killings around In-Deliman have mostly been carried out by Arabs from the Iskakna tribe and the Dawsahak. The violence has also moved to rural Gao, where hostilities have flared up in the areas of Tamkoutat (Walid Le Berbère, 2018) and Talataye (Le Monde, 2018) (see Figure 2). Tamkoutat and its surroundings are marked by contention between Imghad Tuareg and Arabs from the Ahel Taleb tribe, while the conflict in the area of Talataye is characterized by intra-Dawsahak rivalry, mainly driven by MSA, the High Council for the Unity of Azawad (HCUA), and the Group for the Support of Islam and Muslims (JNIM), prior to the merger of militant factions, Ansar Dine (Jihadology, 2017).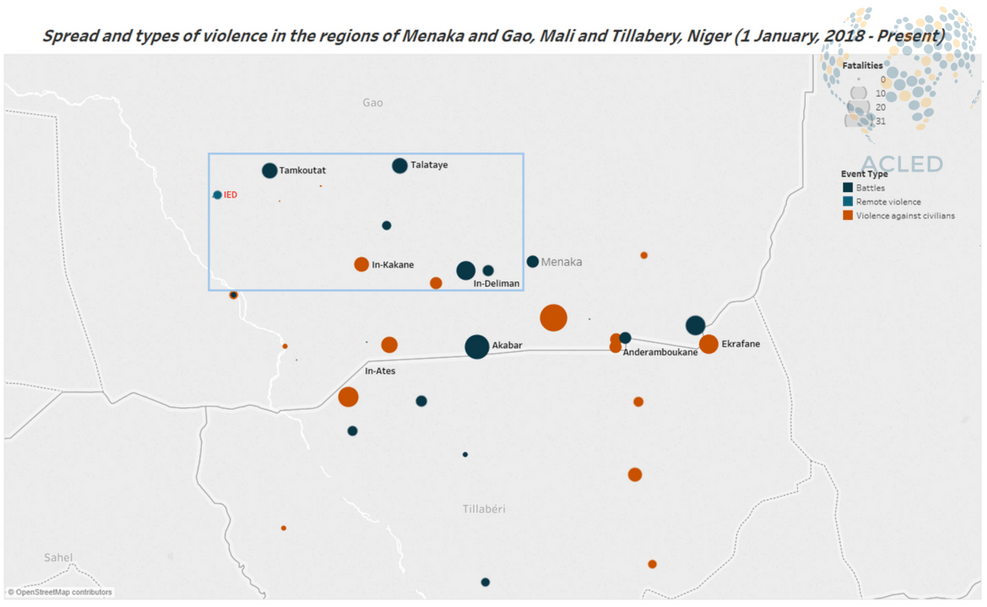 The conflict between the Iskakna and the Dawsahak predates the current conflict – it is rooted in fights over water management dating back to 2014, particularly in the area of Ikakane. The Iskakna are split between MAA (loyalist), Al-Mourabitoun (JNIM) and Katiba Salaheddine/Islamic State in the Greater Sahara (ISGS). MAA (loyalist) has been a close ally to GATIA, as part of the Plateforme Alliance. In April 2015, GATIA and MAA seized Menaka from the Coordination of Azawad Movements (CMA). The Dawsahak repositioned themselves by leaving the CMA and creating the MSA in September 2016. The MSA is made up of two factions, split along ethnic lines: the Dawsahak faction is led by Moussa Ag Acharatoumane and the Chamanamas faction is led by Assalat Ag Habi. It is likely that the problematic relations between the Dawsahak and the other tribes contributed to the separation of the Chamanamas, who broke off into their own faction, to safeguard their interests against the Dawsahak (Sahelien, 2016).
The repositioning of the Dawsahak created a strong alliance with the Imghad, mainly represented by GATIA, which has been to the detriment of the Iskakna. Recent counter-terrorism operations in the regions of Gao and Menaka exacerbated already-existing tensions between local communities (ACLED, 2018). As the favored counter-terrorism partner of the French forces of Operation Barkhane, MSA has denounced members of the Iskakna community for both genuine and false links to militant groups. Hence, members of the Iskakna community are being targeted by the MSA based on their ethnic affiliation and kinship, a factor that has likely contributed to the retaliatory killings now taking place. Iskakna merchants in Menaka have begun a strike to protest the killing of members of their community (Abu al-Maaly, 2018). See Table 1 for more detail about the relationships between tribal and armed groups operating in Menaka and rural Gao.
Protracted intercommunal violence, counter-militancy operations, and insurgency-related violence have had disastrous consequences for the civilian population in the Cercle of Ansongo and in the Menaka Region. The arrival of as many as 1300 households of internally displaced has been reported in the town of Menaka over the past couple of weeks (Studio Tamani, 2018), among these, many Iskakna Arabs from the areas of Ikakane and Ihaganagh (Sidi Kounta, 2018).
On May 8, a GATIA vehicle was struck by an IED detonation between Djebock and Ahina (Kibaru, 2018), killing one and injuring two others (Menastream, 2018). It is extremely rare that armed groups are targeted in IED attacks in this region. The last such attack was on January 10 in Kidal (Issalan, 2018) and, before that, on November 30, 2016, in Ajlal (Malijet, 2016). This IED attack could be anomalous, but it could also indicate an escalation in the intensity of this conflict.
Boosted by successes amidst joint operations in the borderlands, MSA and GATIA have attempted to continue asserting their influence in nearby areas, which has resulted in the resumption of the aforementioned hyper-localized conflicts, these conflicts and issues are intertwined with the wider subregional conflict. Likewise, connected to the events along the Mali-Niger border, this since militant networks and their interconnections span other armed groups, communities, and areas across the subregion.
Table 1: Details about Armed Groups Operating in Menaka and rural Gao
Tribal Group
Factions/Splits within the tribe
Allied with
External threats/targets
Where  (in specific local context)
 Iskakna
 Arab Movement of Azawad (MAA-Plateforme)

Al-Mourabitoun (JNIM)

Islamic State in the Greater Sahara (ISGS)
 Dawsahak
Targeted by the MSA
 Ikakane

In-Deliman
 Ahel Taleb
 Katiba Salaheddine (ISGS)

Arab Movement of Azawad (MAA-CMA)
 Islamic State in the Greater Sahara
(ISGS)
 Imghad
Targeted by GATIA and MSA
 Tamkoutat

Tikirkiwit

Samayte

Ahina
 Dawsahak
 Movement for the Salvation of Azawad (MSA)

High Council for the Unity of Azawad (HCUA)

Jama'ah Nusrat al-Islam wal-Muslimin (JNIM)

Islamic State in the Greater Sahara (ISGS)
 Strong faction within the MSA

Allied with GATIA and Operation
Barkhane through the MSA
 Iskakna

Targeted by Islamic State in the
Greater Sahara (ISGS)
 Talataye

Ikakane

In-Deliman
 Imghad Tuareg
 Tuareg Imghad and Allies Self-defence Group (GATIA)
 Strong faction within GATIA

Allied with MSA and Operation
Barkhane through GATIA
 Ahel Taleb

Targeted by Katiba Salaheddine
(ISGS)

Islamic State in the Greater Sahara
(ISGS)
 Tamkoutat

Tikirkiwit

Samayte

Ahina
 Chamanamas
 Movement for the Salvation of Azawad (MSA2)
 Neutral