Since the start of the Syrian Civil War in 2011, Turkey has been the main hub for hosting Syrian refugees. It is estimated that about 3.5 million refugees are based in Turkey; this amounts to approximately 15% of the total pre-war population of Syria. Due to the Turkish refugee burden, the government is pursuing a policy to limit refugee flows. In January 2018, Human Rights Watch criticized one of Turkey's policies arguing that the Turkish government is shooting at refugees at the border in an attempt to force them back into Syria. Ibrahim Kalin – President's Erdogan spokesman – responded that Turkey had "an open door-policy" and that "there has been absolutely no case of civilians being fired upon at the border".
ACLED data reveal a systematic pattern of targeting refugees at each of the five Syrian districts alongside the Turkish border. Refugees have died as a direct result of Turkish bullets. 140 incidents since January 2017 and over 190 alleged fatalities are recorded in ACLED in these locations. For example, on the 15th September 2017, "Turkish border guards targeted several civilians as they attempted to cross the Syrian border into Turkey at an unidentified point, killing a 12-year-old child and injuring others [SYR12615]."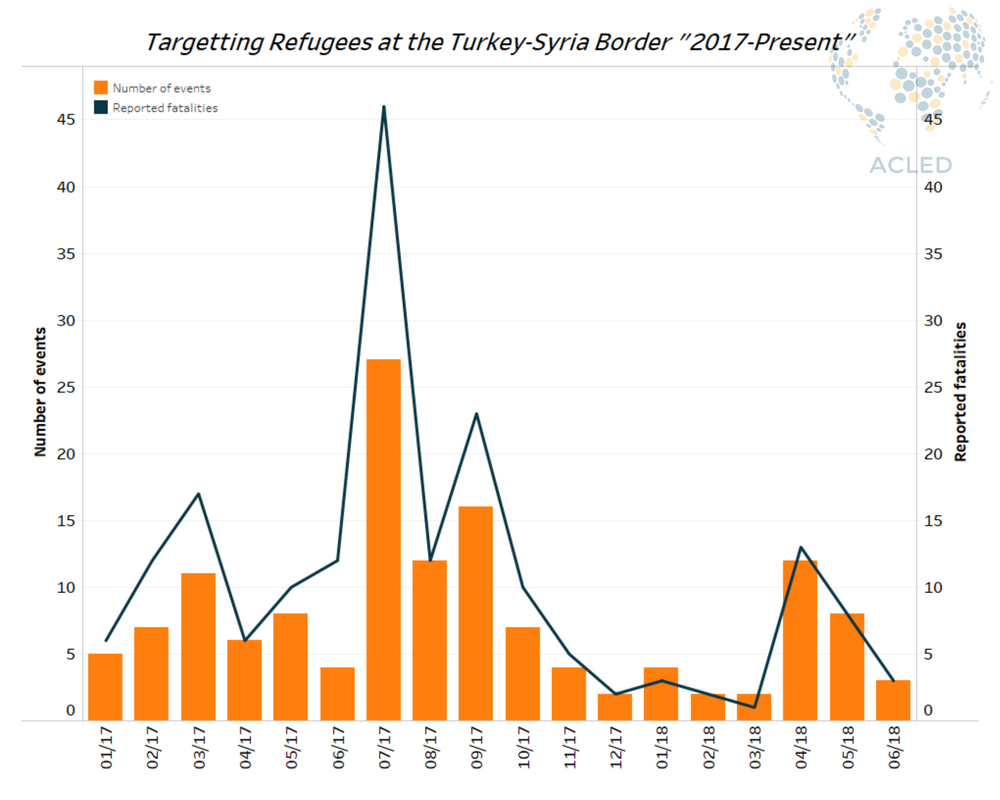 Figure 1 shows the incidence of shootings and the number of suspected fatalities at the Turkey-Syria border since 2017. There is variation in the data with a peak in the middle of 2017 and a drop in December 2017  through the first quarter of 2018. This drop is likely due to Turkeys' Afrin offensive. Since April, incidents are increasing again in this region, but over 90% of incidents are directed against civilians rather than armed actors.

Figure 2 presents the location of incidents throughout the Turkish-Syria border. The spread of events does not drastically change over the period of 18 months, suggesting that the shooting of refugees is a systematic policy ordered by the Turkish government.[1] Most shooting by the Turkish Gendarmerie against civilians take places in Aleppo and Idlib province where the only three open border crossings are located (out of 19 official crossings).[2] As Aleppo and Idlib are controlled by Nationalist-Islamists and FSA affiliated groups, it is unlikely that Turkey's practice is a concealed attempt to target Kurdish fighters fleeing into Turkey.
Turkish actions are a clear infringement on basic Human Rights and of the non-refoulement principle enshrined in the 1951 Refugee Convention. The practice is also a reality check for Europe: its policy of outsourcing border protection in the Sahel and Middle East comes with costs.
Since the 2015 Valletta summit, Europe has pursued a policy of externalizing border control to stave the refugee flow. One of these methods has been to aid local security brokers in Libya and Niger. The situation in Turkey shows the trade-off outsourcing border control generates: partners may reduce refugee flows yet jeopardize the most basic principles Europe claims to uphold. Ending this practice at Turkish borders should be considered as Europe's leaders convene to revamp Europe's Common Asylum System on June 28 and 29.

[1]  The Turkish Gendarmerie reports to Süleyman Soylu – the Turkish Minister of Interior – and deputy chairman of the ruling AKP, rather than the Turkish Armed Forces.
[2]  Most incidents occur at closed and unofficial border-crossings.