Throughout the Middle East region last week, overall instances of battles continued to decrease, while remote violence events, such as airstrikes and IED attacks, increased as part of a general upward trend since the beginning of 2019. Reported fatalities dropped in number after rising the week prior. Demonstrations, meanwhile, have increased in the majority of countries. Iran in particular was the site of a large-scale teacher's strike where coordinated sit-ins were staged in approximately one hundred locations.
In Israel last week, two rockets fired from Gaza were intercepted by the Iron Dome on 6 March as part of recently renewed cross border violence. There were also at least four reports of incendiary balloons and two of rockets reaching southern Israel, but no damage was reported. Israel responded by conducting numerous airstrikes on militant targets in Gaza. Meanwhile, demolitions of the homes of Palestinian-Israeli citizens were reported in Qalansuwa, al Kabiyeh near Haifa, and in Al Araqib in the Negev desert. The latter is a Bedouin village that has been demolished 141 times (Ma'an, 07 March 2019).
In Palestine, ongoing conflicts were highly active last week, particularly in Gaza. Over the past few weeks, incendiary devices have re-emerged in the Gazan-Israeli conflict (for more on those, see this ACLED analysis). Last week, Israeli forces responded by bombarding Hamas locations across the Gaza Strip, causing large-scale property damage, though no reported casualties. According to ACLED data, Israeli aircraft targeted Hamas locations at least 22 times across the week.
Meanwhile, two demonstrators were reportedly killed by Israeli forces during the weekly demonstrations in the Gaza Strip. On Friday, the 50th Great March of Return demonstrations took place at five locations along the border, with an estimated 8,400 participants. There is currently no end in sight as the large-scale agitation approaches its one-year anniversary.
Similar to the week prior, there were a number of attacks against civilians in Gaza, with Israeli forces frequently firing on fishermen and other civilians throughout the week. There was also an assassination attempt carried out by armed men in the central Gaza Strip against a Fatah official. The attack was condemned by President Mahmoud Abbas who is also the chairman of Fatah (Jerusalem Post, 9 March 2019).
In the West Bank, two Israeli soldiers were run over on 4 March near the entrance to Kafr Nimah, prompting them to open fire and reportedly kill two Palestinians and injure a third. Israeli sources stated that the attack was deliberate, while Palestinian sources claim that it was a car accident. The incident caused intense clashes to erupt in the Ramallah area and its environs. Elsewhere, there were fewer settler property attacks and clashes with settlers than in previous weeks.
In East Jerusalem's Old City, scuffles broke out on Friday between Haredi worshippers at the Western Wall and a Jewish feminist group called Women of the Wall. Women of the Wall campaign for women to have equal prayer rights at the Western Wall. This commonly includes praying in a way that is typically reserved for men, which can be considered offensive or inflammatory by more conservative religious practitioners (Haaretz, 10 March 2019). Meanwhile, 40,000 Muslims attended prayers at the recently reopened Al Aqsa compound following calls to protest the Israeli closure of Rahma Gate; no clashes were reported.
In Jordan, unemployed citizens demonstrated in Amman, while student groups protested in front of the capital's Ministry of Education and in Irbid city against the newly imposed single-semester system for high school exams and graduation (Tawjihi). Throughout the week, over 1,200 Syrian refugees reportedly returned to Syria from Jordan; 200 additional refugees returned to Syria through the Yabous and Talkalakh crossings in Lebanon.
In Lebanon, demonstrations were held throughout last week in Beirut by people opposed to the Bisri Valley Dam project. Other demonstrations included those by professors and teaching staff of the Public University of Beirut calling for increased salaries and pensions, and by Sudanese asylum seekers and refugees against poor living conditions and discrimination by the UN.
In Iran, labour protests continued across the country. Noteworthy was a three-day strike by teachers in dozens of cities, towns, and villages across Iran following a call by the Coordinating Council of Teachers Syndicates in Iran (CCTSI). Teachers held sit-ins in their school principals' offices to demand better pay and health insurance plans, the release of jailed teachers' rights activists, the right to form unions, and the allocation of more resources to education in Iran's 2019 budget (VOA; 4 March 2019) Turnout was reportedly very high in a dozen major cities, but remained low in Tehran. This marked the third round of the nationwide teacher strikes in Iran over the period of a year. (Radio Farda, 5 March 2019).
Meanwhile, it was a relatively quiet week in Bahrain, with only one demonstration being reported in Aali town against the normalization of ties with Israel, as well as some anti-regime rioting in Akr and Nuwaidrat.
In Turkey, Women's Day demonstrations were the highlight of the week, with mass protests taking place in over twenty cities across the country. The vast majority of demonstrations concluded peacefully, although police used pepper spray and tear gas to disperse thousands of marchers in Beyoglu, Istanbul, due to a ban on demonstrations issued for the Taksim neighbourhood. Elsewhere in Istanbul, two IEDs detonated in the Sultangazi and Gaziosmanpasa city districts, reportedly injuring two waste collectors in the latter. It is not yet known who laid the explosives.
In the southeast of the country, no events were reported last week related to the ongoing conflict between the Kurdistan Workers Party (PKK) and Turkish security forces. However, Turkish airstrikes continued to target PKK positions in the mountains of Iraq Kurdistan, which the group uses as a base of operations. Recently, Turkish officials announced upcoming joint operations with Iran against the PKK and other Kurdish insurgent groups, such as the Iranian PKK-offshoot Kurdistan Free Life Party (PJAK) (Press TV; 6 March 2019).
In Iraq last week, there was a resurgence of Islamic State (IS) attacks targeting police forces, while similar attacks continued against Popular Mobilization Forces (PMF), who have taken on a prominent post-war security role across the country (for more on that, see this recent ACLED analysis). IS continues to employ discreet tactics such as IEDs, ambushes, and, more recently, sniper attacks. Similarly to the week prior, an IS car bomb detonated in the Muthanna neighbourhood of Mosul city, reportedly killing 2 civilians and wounding 10 more.
In the south, demonstrations reignited in Basra and Thi Qar governorates to demand better state services and jobs. A 7 March demonstration outside the provincial government building in Basra city became violent and was dispersed by riot police. Similar demonstrations — mostly in Basra — had earlier peaked in July 2018, a result of poor living conditions despite high revenue from the region's oil production (for more on that, see this ACLED analysis).
In Yemen, clashes continued between anti-Houthi forces and pro-Houthi forces throughout the week, with intense fighting taking place in the districts surrounding Hodeidah port city. Battles were also fought along the northern border area of Sadah governorate, with no major territorial gains reported by either side.
Elsewhere, riots rocked Aden city throughout the week, with demonstrators demanding justice for a young man who was shot dead by UAE-backed forces after he accused them of raping a child. Further demonstrations took place in Seiyun, Hadhramawt governorate, where locals demanded that elite UAE-backed forces take over local security from military soldiers loyal to the internationally recognized Hadi-government.
Houthi forces, meanwhile, managed to push Hujur tribal militias out of several key locations in Kushar district, where clashes have been ongoing. High fatalities were reported on both sides, with Houthi forces utilizing ballistic missiles and Saudi-led coalition warplanes backing the Hujur tribesmen. Houthi forces likewise fired ballistic missiles and conducted explosive drone strikes in several areas near the southern border of Saudi Arabia.
In Syria, regime and rebel/Islamist groups — mainly Hayat Tahrir al Sham (HTS) — continued to exchange shells in and along the DMZ in the governorates of Idleb, Hama, and the Aleppo countryside. Notably, a number of airstrikes were also reported in the same area by Syrian and Russian warplanes. The intensive shelling on the DMZ has led to a massive wave of displacement within rebel-controlled territories of Idleb. Meanwhile, members of the Islamist group Ansar Al Tawhid infiltrated regime positions in Hama governorate on 3 March, reportedly killing 30 regime and allied fighters. Ansar Al Tawhid is part of an operation room called Wa Harred Al Mo'meneen, which includes several other Islamist factions who refused the DMZ agreement.
In the east, clashes between Syrian Democratic Forces (QSD) and the remaining elements of IS continued in IS-held areas north of Baghuz town, Deir-ez-Zor governorate. Global Coalition warplanes launched an intensive airstrike campaign on the area in an attempt to force IS fighters to surrender. Several IS fighters and their families have recently surrendered to QSD forces, though an unknown number of civilians still remain trapped in the territory despite mass evacuations over the past few weeks (VOA, 4 March 2019).
In the north, QSD forces clashed with Turkish-backed factions in several areas of Aleppo's northern countryside. In the same region, Turkish forces shelled areas under control of the People's Protection Units (YPG), a Kurdish militia with ties to Turkey's own insurgent group, the PKK.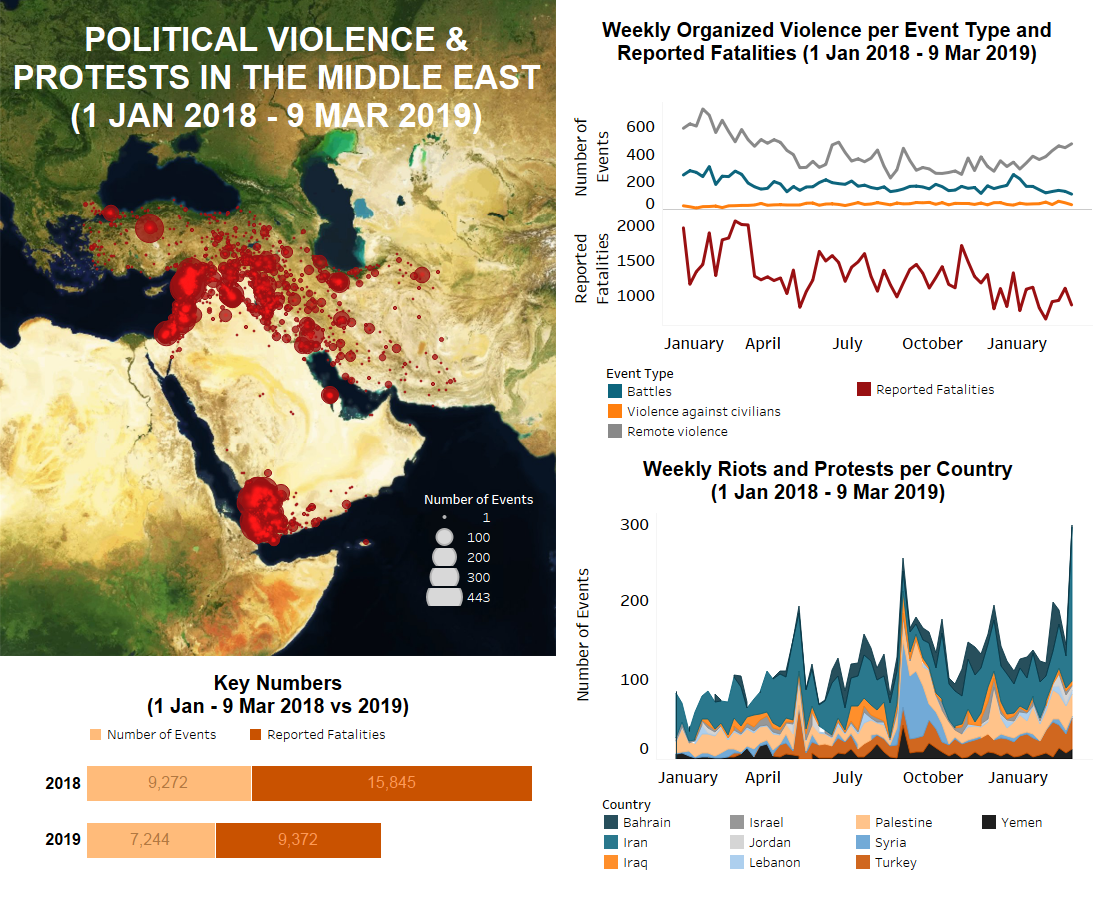 © 2019 Armed Conflict Location & Event Data Project (ACLED). All rights reserved.