20 March 2019: With the UN announcing a new plan to shore up the December 2018 Stockholm Agreement between Yemen's warring parties, the latest Armed Conflict Location & Event Data Project (ACLED) data show that overall conflict-related fatalities have declined by more than 20% since the deal's implementation, predominantly as a result of the ceasefire in Hodeidah. Despite repeated violations of the truce, ACLED has recorded over 1,000 fewer fatalities in January and February 2019 compared to the previous two-month period, and civilian fatalities reported as a result of direct targeting in Hodeidah province specifically have diminished to their lowest numbers in more than a year.
Yet heavy fighting continues in other areas of the country, and in some provinces the situation has actually deteriorated. Even as reported fatalities have plummeted in Hodeidah, they have risen in Ta'izz, Hajjah, and Al Jawf.
Still, the strained accord has tenuously held out in Hodeidah amidst extreme pressure — and provided nominal respite from violence for the province's vulnerable civilian communities. As the peace process enters a new phase amid escalating fighting around the country, it remains to be seen if the overall decline in lethal violence can be sustained.
Total conflict fatalities:
ACLED has recorded more than

67,600 conflict-related fatalities from January 2016 through the end of February 20191
Fatality rates declined by more than 20% from the end of 2018 to the beginning of 2019, with over 1,000 fewer fatalities reported in the first two months of this year. This is largely a result of trends in Hodeidah

ACLED recorded 4,274 fatalities in January and February 2019, a sharp decline from the 5,523 fatalities reported in November and December 2018, before the January 2019 implementation of the Stockholm Agreement
This is also a slight decline compared to the same period last year, with ACLED recording 4,542 fatalities in the first two months of 2018
Civilian fatalities:
Between January 2016 and March 2019, ACLED recorded over

3,000 direct attacks targeting civilians resulting in approximately 7,000 fatalities

—

over 2,300 of which occurred in 2018 alone2
Responsibility for the highest number of reported civilian fatalities in Yemen is linked to the Saudi-led coalition, with approximately 4,700 reported civilian fatalities since 2016 — including 67 in 2019 — stemming from coalition activity
The Houthis and their allies are responsible for approximately 1,300 reported civilian fatalities — including 149 in 2019

Thus far, 2019 has been the only year in which the Houthis are responsible for the direct reported killing of more civilians than the Saudi-led coalition
Flashpoints:
Hodeidah
Reported civilian fatalities in Hodeidah have decreased dramatically since January 2019,

when the Stockholm Agreement was implemented

January 2019 was the least deadly month for civilians in Hodeidah since November 2017

ACLED has recorded 81 reported fatalities from direct civilian targeting in Hodeidah province over the first two months of 2019,  a

stark decrease

from civilian fatality rates recorded last year

From June 2018 to December 2018, civilian fatalities per month ranged from 70 to 191
Ta'izz
Unlike in Hodeidah, violence has actually

intensified

in Ta'izz province since the Stockholm Agreement:

ACLED recorded a 200% rise in total reported fatalities

in January and February 2019 compared to the previous two-month period

Reported fatalities from events targeting civilians in Ta'izz  peaked in January 2019 at 31

, the highest number of recorded civilian fatalities since May 2018
Hajjah
Violence against civilians has also escalated in Hajjah governorate:

just several weeks into March 2019, ACLED has already recorded a 700% increase in reported fatalities linked to events targeting civilians

compared to February 2019 (and a 200% increase over January 2019)

Reported civilian fatalities rose after the anti-Houthi offensive in Hujur as a consequence of both Houthi shelling and Saudi-led coalition air strikes, amid increased Hujur

tribal resistance

to Houthi forces in the area
A US-based 501c3 established in 2014, ACLED is the highest quality, most widely used, real-time data and analysis source on political violence and protest around the world.
For an explanation of ACLED's methodology for collecting data on the Yemen conflict, click here.
For interview requests and press inquiries, please contact:
Sam Jones, Communications Manager
[email protected]
___________
1Fatality numbers are frequently the most biased and poorly reported component of conflict data. While ACLED codes the most conservative reports of fatality counts to minimize over-counting, this does not account for biases that exist around fatality counts at-large. Find more information about ACLED's methodology for coding fatalities here.
2This figure includes only civilians killed as a result of direct civilian targeting. It does not include collateral civilian fatalities. As such, the number is assumed to represent an underestimate of the total conflict-related civilian fatalities in Yemen.
___________
*1 April 2019: This release has been updated to reflect revised data.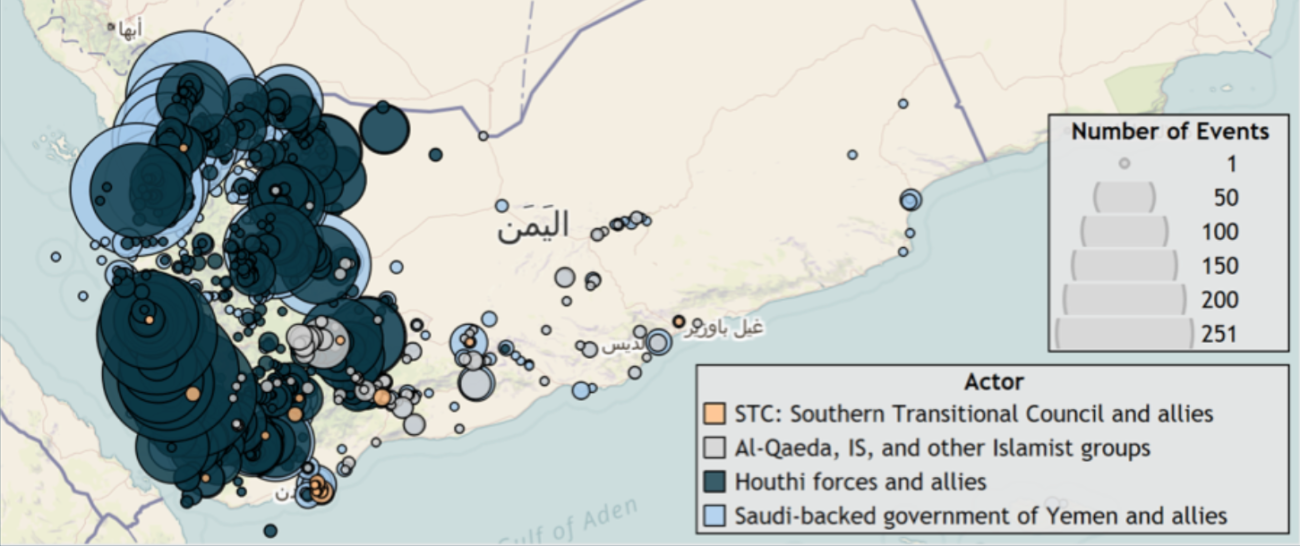 © 2019 Armed Conflict Location & Event Data Project (ACLED). All rights reserved.