Key developments in Africa in the week of April 28th include continued Boko Haram attacks in the Lake Chad region, ongoing election and governance protests in Sudan, Benin and South Africa, Islamic State activity in Democratic Republic of Congo, and a declared state of emergency in Somaliland.
In Nigeria and Cameroon, Shekau and Barnawi (ISWAP) factions carried out a series of attacks on military and civilians alike. On April 29th Shekau fighters launched a large-scale attack on the town of Kuda in Adamawa State, reportedly killing twenty-five civilians and causing many to flee. ISWAP fighters targeted civilians in Mongumo, Borno State the following day, resulting in fourteen reported fatalities.  Elsewhere in the vicinity of Lake Chad, Boko Haram carried out an offensive on a Cameroonian military base near the Chadian border, causing four fatalities. Overall, ISWAP has demonstrated a far-reaching presence in the Borno-Lake Chad corridor. Attacks have stretched from Borno's south-western Biu Local Government Area to Eastern Lake Chad locations in the span of less than a week. Elsewhere, the middle belt of Nigeria, Fulani militias raided several villages in Osun and Adamawa States.
In Somalia, security forces began a level of high alert in two key areas. On April 30th Somaliland President Bihi Abdi ordered an official state of emergency in three heavily populated areas of Sanaag Region following a fatal attack on security commanders by Habar Jeclo militias on the previous day. The attack, which was spurred by the recent criminal detention of a Habar Jeclo member, marks the first violent interaction between Somaliland and Habar fighters since June 2018. A number of protests against the militia occurred in Awdal in the following days of the week. In Middle Shabelle, intelligence divisions of Somali government forces and AMISOM were on high alert after learning of al Shabaab plans of a "large and complex attack" on military convoys along roads near Mogadishu. Though the feared attack was never realized, security forces did clash with al Shabaab at Qalimow and suffered a grenade attack at Jowhar. Military forces continued to see heavy interactions with al Shabaab to the south of Mogadishu, primarily in Lower Shabelle and Juba regions. The majority of events were small "hit-and-run" style attacks by al Shabaab, yet Somali and AMISOM forces were able to regain control of Bariire on May 1st.
In the Democratic Republic of Congo, the Islamic State (IS) appears to have made inroads: a speculated link between IS leadership and the Allied Democratic Forces (ADF) is still unclear. On April 18th IS claimed their first attack in the DRC when ADF ambushed a group of Congolese soldiers in the Nord-Kivu town of Kamango, near the Ugandan border. In the week that followed, IS published a photograph of the attackers in their newsletter al-Naba. Reiterating their presence, Islamic State leader Abu Bakr al-Baghdadi declared the new affiliate in north eastern DRC as "Wilayat Central Africa," on April 29th, in his first video appearance in five years. However, some security experts have shed doubt over the depth of the alliance among the two groups.
Lastly, some relevant demonstrations and election violence occurred last week in South Africa, Benin and Sudan.
In South Africa, general elections will occur in the coming week. Overall, political protests to date have been considerably fewer relative to recent elections. The Africa National Congress (APC) is expected to maintain power, though their polling support has dipped somewhat in recent months due to rampant housing and electrical shortages, as well as service provision inadequacies. Recent government responses to flooding in KwaZulu-Natal highlight overall mismanagement issues. As such, homebuilding has become a major election issue. In targeted violence, a youth league member of the African National Congress was shot and killed at his home in Ntshongweni on April 30th.
In Benin, last week's violent demonstrations calling for election boycotts continued to produce violence in Cadjehoun, Tchaourou and Cotonou, after several opposition parties were barred from ballots. Protests began again in earnest on May 1st following rumors that the former President Yayi was to be arrested. The demonstrators, calling for an annulment of the April 28th election, lit fires and shouted anti-Talon slogans after it was learned only 27% of the voting population took part in the exercise. Security forces responded with tear-gas and live ammunition, which prompted a response by the UN to urge restraint from security forces. Street fighting in Tchaourou sparked fears of reprisal attacks by state security forces, leading to a displacement of people toward the Nigerian border. Five fatalities and numerous injuries were reported throughout several cities.
In Sudan, despite making a number of rhetorical inroads with the Transitional Military Council (TMC), protests continued in several cities this week, including at a military headquarters in Khartoum. Other marches called for the removal of personnel associated with the Bashir regime from the Transitional Military Council (TMC).  Military leadership pushed back against the overall unrest significantly, stating "no more chaos [would be tolerated]," citing the disruption of services and food. A demonstration by IDPs in Nyala, South Darfur ended in violence as several protesters were wounded, two by police gunfire.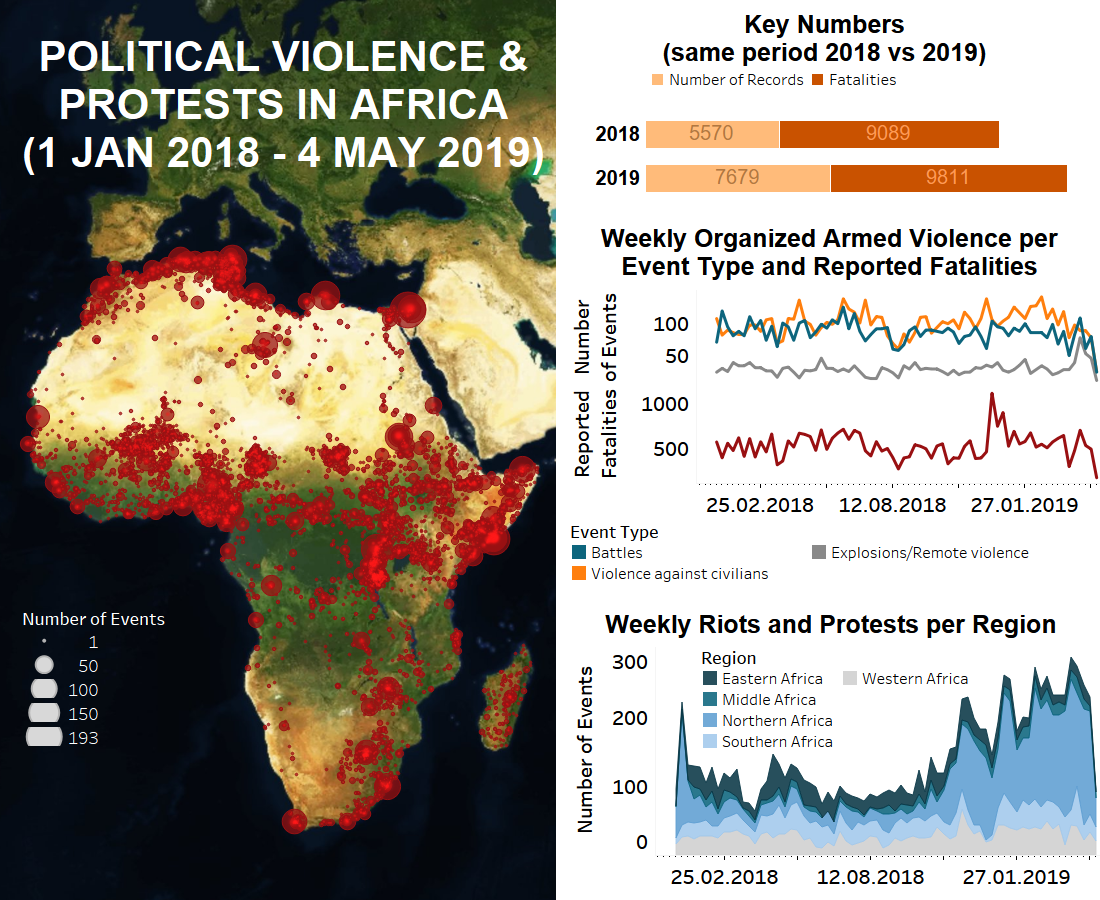 © 2019 Armed Conflict Location & Event Data Project (ACLED). All rights reserved.