On 15 March 2020, Syria entered its 10th year of war. Although ACLED data show an overall decrease in violence over the course of 2019, the war in Syria remains the most active conflict in the world,1 and one of the deadliest for civilians.
In the year since 15 March 2019, ACLED records almost 19,000 total disorder events across Syria. Battles, violence against civilians, and explosions/remote violence — such as shelling and airstrikes — account for over 17,100 of these events. Nearly 15,000 total fatalities are reported during this period, including almost 4,100 civilians killed in direct or targeted attacks, with even more killed as 'collateral damage.'2 
Over 12,200 battles and explosions/remote violence events took place in Greater Idleb, the last rebel-held region in Syria. In spring 2019, regime and Russian forces launched an offensive to retake the area, and since the beginning of the second phase of the campaign in December 2019, months of bombing and shelling have displaced almost a million civilians, more than half of which are children (UN Security Council, 28 February 2020). 
Since March 2019, ACLED records nearly 2,400 fatalities from direct civilian targeting events in the Greater Idleb area. Regime or Russian forces are responsible for approximately 88% of these fatalities. During the same period, at least 56 schools and 79 health facilities have been destroyed or partially damaged by regime and Russian attacks in Greater Idleb.
Elsewhere in Syria, another 10 hospitals and 8 schools have been damaged or destroyed during the past year.
Escalating confrontations between Turkey and pro-regime forces further complicate the situation. Although Turkey and Russia agreed to a ceasefire in early March 2020, the truce is unlikely to hold. A renewed regime and Russian offensive in Greater Idleb — which is home to 3.7 million civilians — will almost certainly result in high civilian fatalities and further mass displacement, pushing additional refugees toward the Turkish border.
ACLED's Syria data are collected in partnership with a network of local and international organizations.
All data can be accessed through the Data Export Tool and Curated Data Files.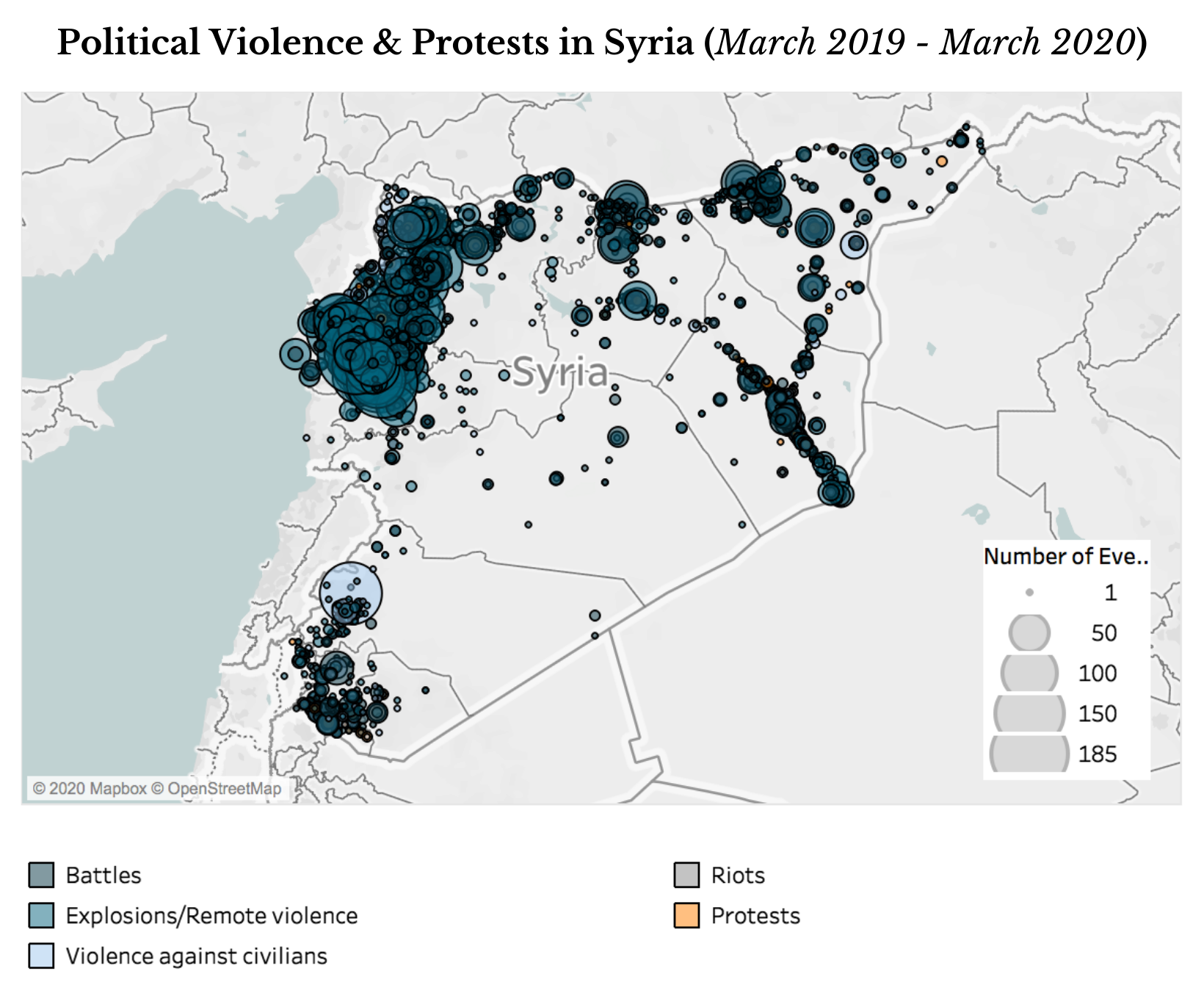 ____________________
Notes
1 Syria registered the highest number of political violence events of any country covered by ACLED in 2019.
2 This figure includes only civilians killed in targeted or direct attacks. It does not include all collateral civilian fatalities, meaning that the full civilian death toll is likely far higher.

© 2020 Armed Conflict Location & Event Data Project (ACLED). All rights reserved.