3 December 2020: Historical back-coding for 2018, as well as supplemental data drawing on 18 new sources, together result in ACLED's most comprehensive coverage of East Asia to date. The new data add nearly 10,000 events across China, Taiwan,1For more information on ACLED coding of Taiwan and China, see this methodology brief. Japan, Mongolia, South Korea, and North Korea,2Because of the difficulty in accessing reliable information from within North Korea, and given the nature of the conflict between North and South Korea, the vast majority of events in the North Korean dataset are coded as "Strategic developments." For more information on the unique data collection challenges presented by North Korea, see this methodology brief. including over 8,000 demonstration events, over 600 political violence events, and over 400 strategic developments. The release expands ACLED's full East Asia dataset to more than 29,000 total events from the beginning of 2018 to the present.
Access our updated East Asia Resources page for new analysis and an interactive dashboard.
East Asia Dataset: Country Figures
Total number of events by country, January 2018-November 2020:
China: 9,066

Taiwan: 1,977

Japan: 4,613

Mongolia: 240

South Korea: 13,019

North Korea: 96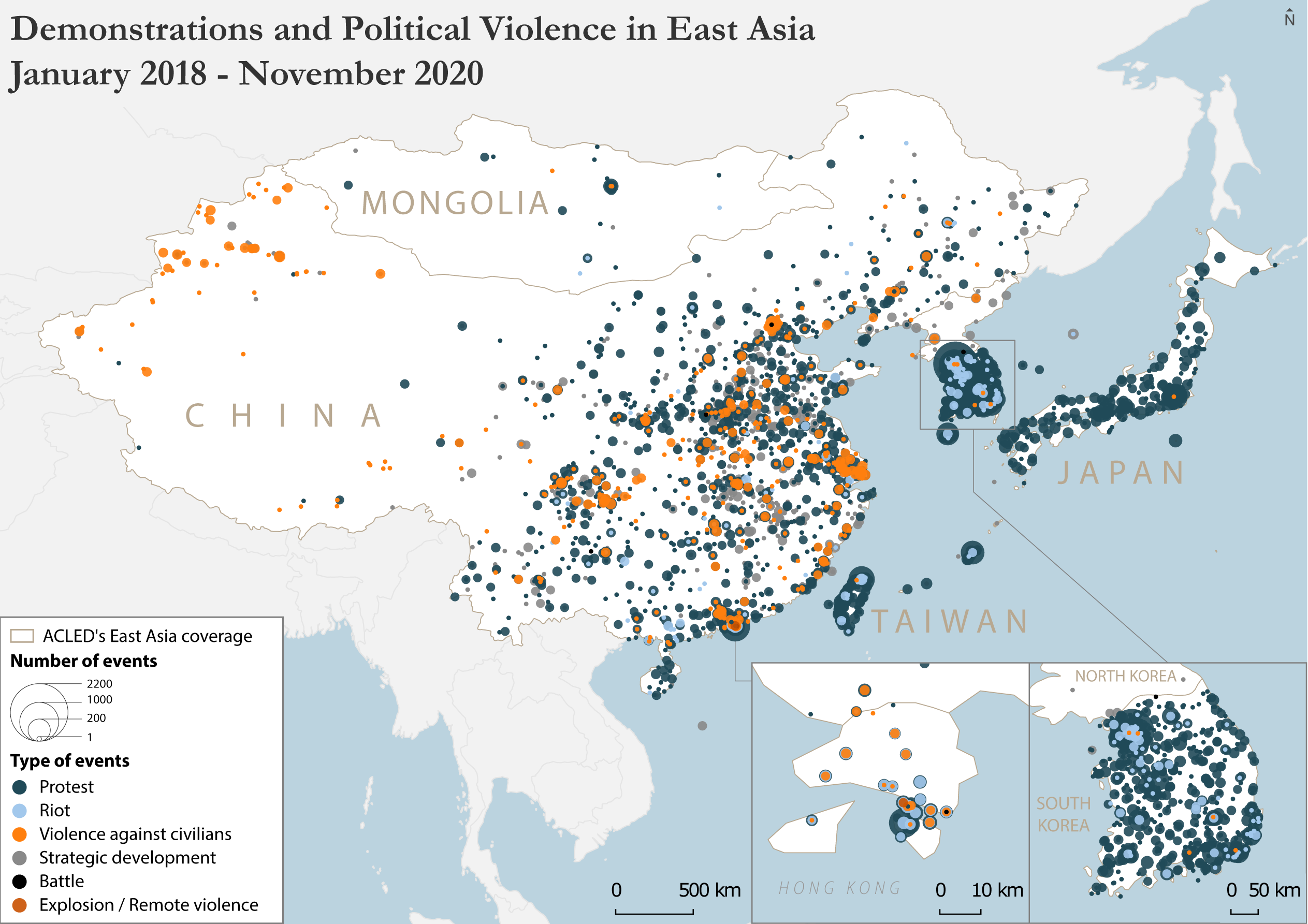 A US-based 501(c)(3) non-profit organization established in 2014, ACLED is the highest quality and most widely used real-time data and analysis source on political violence and protest around the world. 
If you would like to use ACLED data and analysis, please review our Terms of Use & Attribution Policy. For more information about ACLED methodology and resources for analyzing the data, visit our General Guides and Methodology pages.
For interview requests and press inquiries, please contact: Sam Jones, Communications Manager

© 2020 Armed Conflict Location & Event Data Project (ACLED). All rights reserved.