Situation Update | March 2023
Kenya: Government Operation Against Pastoralist Militias in North Rift Region
Kenya at a Glance: 1 January-24 March 2023
VITAL TRENDS
ACLED records nearly 250 political violence events and 240 reported fatalities from 1 January to 24 March 2023. Pastoralist militias were involved in almost 30% of violent activity in the country.

Garissa county saw the highest number of reported fatalities, with 37. Turkana county followed with 27 reported fatalities. Pastoralist militias were connected to 30% of reported fatalities.

Protests were the most common event type recorded by ACLED, with nearly 190 events, followed by riots, with almost 140 events. Opposition groups organized mass protests in some areas of the country against the increased cost of living.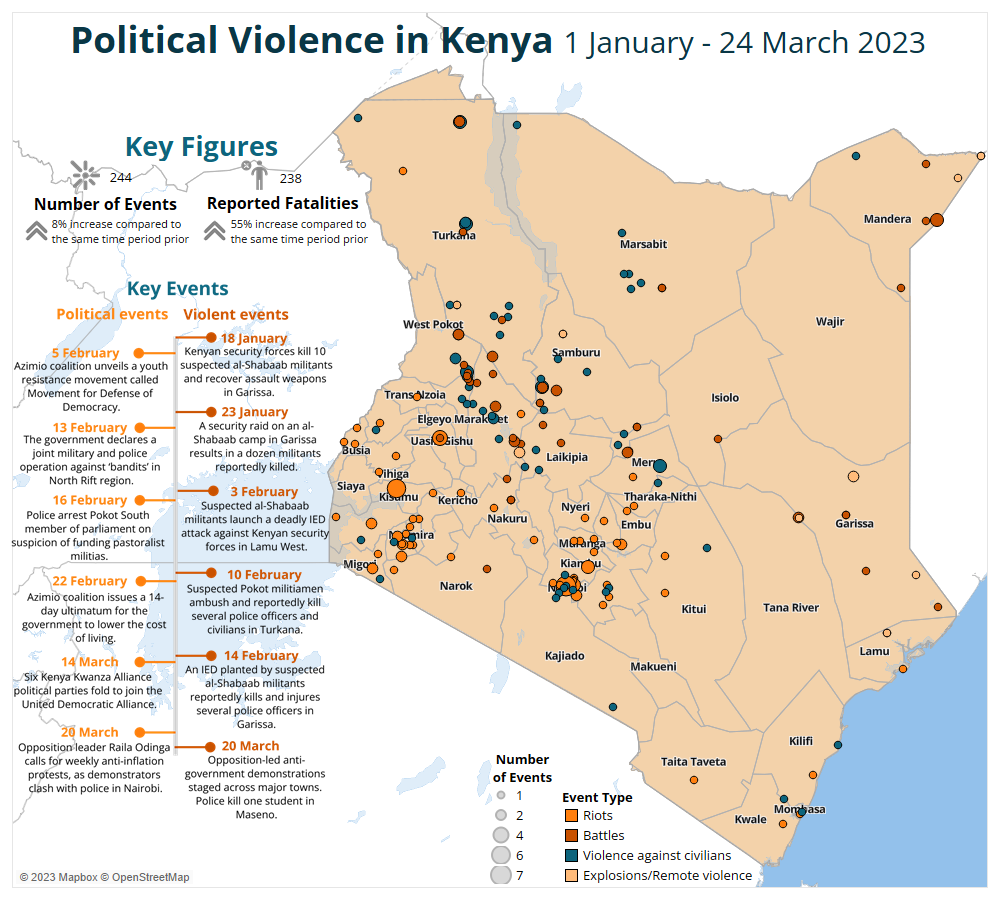 Government Operation Against Pastoralist Militias in North Rift Region
For decades, the Kenyan government has attempted to address cattle rustling, a criminal practice that has resulted in hundreds of fatalities in much of northern Kenya. Livestock theft considerably impacts the livelihoods of pastoralist and farmer communities, breeding grievances and revenge feuds. The proliferation of small weapons, along with increasing logistical and tactical sophistication, has exacerbated the security challenge. This report analyzes recent trends in violence related to cattle raiding, specifically focusing on pastoralist militia activity in the first quarter of 2023, the government security operation launched in response in the North Rift region, which includes Elgeyo Marakwet, West Pokot, Baringo, Turkana, Laikipia, and Samburu counties, and the results in affected areas.
Pastoralist Militia Activity on the Rise in Kenya
North Rift region has been hard hit by insecurity challenges brought about by pastoralist militias in Kenya. ACLED data show that there has been a growing trend in pastoralist militia activity in 2023 compared to the same time period prior in 2022 (see graph below). ACLED records 69 political violence events involving pastoralist militias from 1 January to 24 March 2023, a 77% increase compared to the period from 10 October to 31 December 2022. Violence involving pastoralist militias accounts for almost 30% of total political violence events in Kenya in the first quarter of 2023, resulting in at least 73 reported fatalities. 
In one of the deadliest attacks targeting security forces this year, suspected Pokot pastoralist militiamen ambushed and reportedly killed at least six people, including four police officers on patrol along the Kitale-Lodwar highway at Kaakong area of Turkana county on 10 February. At least 12 other people, including seven police officers, sustained injuries during the incident. The militia also looted and razed down two police vehicles. They further stripped the slain officers naked and made away with their arms and uniforms.1Benjamin Imende, 'Bandits stripped police officers in Kainuk, survivor reveals,' The Standard Kenya, 12 February 2023 Next, a multi-agency security team was also shot at while they were retrieving the bodies of the slain officers from the scene of the attack.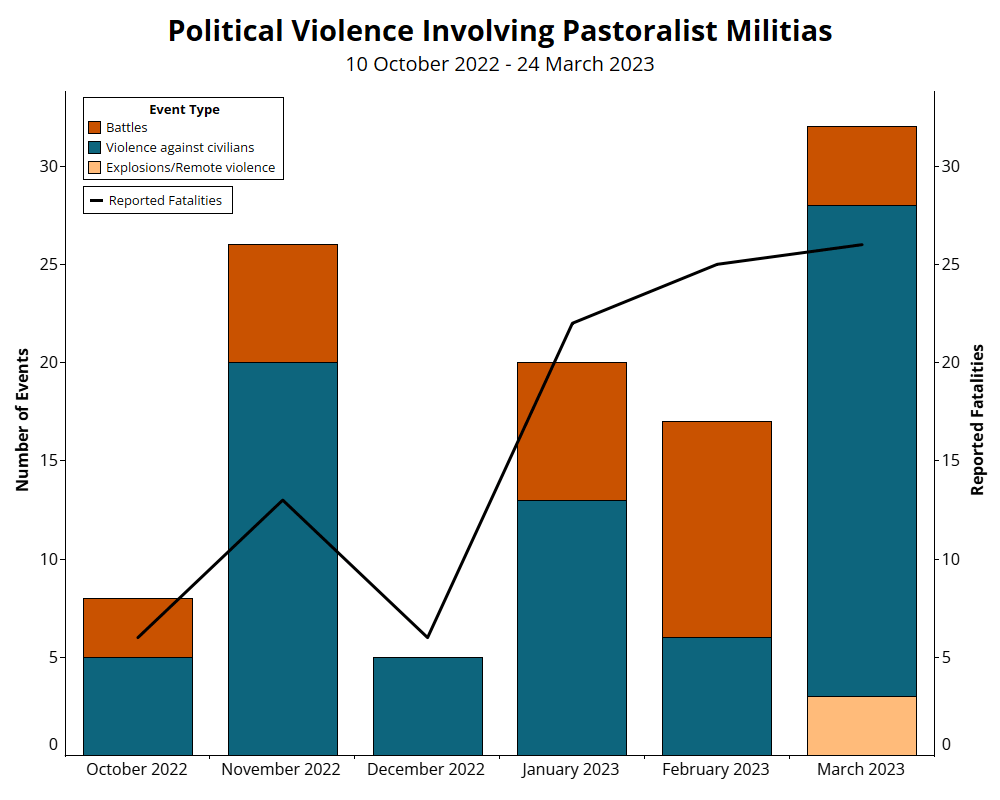 On the whole, most of the armed individuals involved in the violence, are members of the Pokot, Turkana, Marakwet, Tugen, Illchamus, and Samburu communities; they are also the communities most impacted by the violence.2Daily Nation, 'Boots on the ground as KDF soldiers sent to bandit zone,' 15 February 2023 Notably, Pokot ethnic militias are the most active violent actor in North Rift region, being involved in nearly half of all pastoralist militia violent activity in the first quarter of 2023, as per ACLED data.
Multiple factors contribute to the complexity of this violence. One factor is the competition over grazing land, a situation made worse by the ongoing severe drought period that has led to the scarcity of pasture and water coupled with soaring food prices.3Mordecai Ogada, 'Understanding the Crisis in Northern Kenya,' The Elephant, 17 March 2023; Famine Early Warning Systems Network, 'Record high food prices and a fifth consecutive below-average rainy season drive high levels of acute food insecurity,' 31 January 2023 Political officials attribute the conflict to the struggle for land resources, noting that the nature of the violence indicates a determination to displace residents from their land.4Geoffrey Ondieki, Florah Koech, and Fred Kibor, 'Bandits now use guerrilla tactics to counter military, police,' Daily Nation, 8 March 2023 Additionally, the increasing proliferation of small weapons, government corruption, and politicians' use of cattle rustling networks for their own benefit have further exacerbated the violence.5Duncan Omondi Gumba, 'Cattle rustling: from cultural practice to deadly organised crime,' Institute for Security Studies, 28 February 2020; Bruhan Makong, 'East Africa: Ruto Says Conflicts in the Horn Fueling Banditry, Vows Efforts to Tame Proliferation of Arms,' Capital FM, 11 January 2023 There is also emerging evidence that the militias have changed tactics and are now also staging daylight attacks, such as targeting motorists along the highways, and their activity has been characterized as increasingly 'commercialized.'6Caleb Atemi, 'Winning the war on cattle rustling needs more than police and army,' The Standard Kenya, 20 February 2023; Mohamed Daghar and Willis Okumu, 'Cattle rustling: a flourishing illicit market in East Africa,' ENACT Africa, 7 October 2021 Former Rift Valley commissioner and current governor for Trans Nzoia county George Natembeya recently revealed that the militias sell stolen livestock to the meat markets of Nairobi and other cities.7Moses Kinyanjui, 'How Nairobians Fund Banditry In The Rift Valley – Governor Natembeya,' Citizen Digital, 14 February 2023 The militias allegedly benefit from the protection and support of "senior security commanders, spiritual leaders, and political patrons," according to Interior Cabinet Secretary Kithure Kindiki.8Cyrus Ombati, 'Kindiki threatens to unmask senior individuals linked to banditry,' The Star Kenya, 12 March 2023 Further evidence suggests the connections go deeper, as security officers have indicated that militias communicate with 'informers' from communities and government, in exchange for livestock, money, or protection.9Florah Koech, 'Informers — the enemies within frustrating war against bandits in North Rift,' Daily Nation, 14 March 2023 
At the same time, there are indications that some militias have a 'structured command,' evidenced by recent rapid and simultaneous attacks against security forces – a deviation from their previous gang-like tactics.10Geoffrey Ondieki, Florah Koech, and Fred Kibor, 'Bandits now use guerrilla tactics to counter military, police,' Daily Nation, 8 March 2023 Interior Cabinet Secretary Kindiki has likened the militias to groups such as al-Shabaab and Islamic State.11David Njaaga, 'Kithure Kindiki: Bandits are like Al-Shabaab or ISIS militants,' The Standard Kenya, 1 March 2023 In addition to the proliferation of small arms and light weapons, pastoralist militias have also been increasingly using more sophisticated weapons. Unlike in the past when the militias relied on traditional bows and arrows, the pastoralist militias are now using weapons such as G3, AK47, mortars, and grenades.12Bethwel Kaino, 'North Rift interventions should be sustainable,' The Star Kenya, 4 March 2023 Moreover, some media reports describe how soldiers who deserted from the security forces have joined pastoralist militias in North Rift region and, in doing so, given them further capacities.13Fred Kibor, 'Retired colonel demystifies security operation in North Rift,' Daily Nation, 21 February 2023; Mary Wambui, 'Did they have to die? Sad tales of rookies sent to battlefronts in volatile North,' Daily Nation, 14 February 2023
Government Launches Security Operation Against Pastoralist Militias
In a bid to address insecurity in North Rift region brought about by pastoralist militia activity, the government ordered the launch of a security operation on 13 February, aimed at disarming the militias.14Citizen Digital, 'President Ruto Orders Joint Military, Police Operation In Turkana As Bandits Terrorise The North,' 13 February 2023 First, more than 150 illegal weapons were reportedly surrendered to the police during a three-day amnesty period declared by the government in the counties of Turkana, Baringo, Elgeyo Marakwet, West Pokot, Elgeyo Marakwet, and Samburu.15Didacus Malowa, 'North Rift: 39 Guns Recovered, 124 Suspects Arrested as Crackdown on Bandits Intensifies,' TUKO, 25 February 2023 As a security measure, the government also declared a 30-day curfew between 14 February and 15 March in 16 sub-counties, and deployed the military.16Bruhan Makong, 'Govt Declares Curfew In Parts Of North Rift As KDF Moves In,' Capital FM, 14 February 2023; Fred Kibor, 'It is now or never as more soldiers arrive in bandit-prone North Rift,' Daily Nation, 19 February 2023 The government has also established a new anti-banditry force that aims to drive out the militias from their hideouts, while the second phase of the operation has included a ban on low-altitude flights and evacuation orders for residents in the areas where the security operation will be carried out.17Maureen Kinyanjui, 'Kindiki: We've created a special squad to monitor bandits,' The Star Kenya, 6 February 2023; Perpetua Etyang, 'Kindiki lists areas to be vacated as KDF takes war to bandits,' The Star Kenya, 12 March 2023 
Thus far, in addition to armed clashes, the operation has included the military's aerial bombardments of areas considered to be militias' hideouts (see map below). Specifically, the military targeted Korkoron and Tandar hills in Baringo county, which allegedly harbor pastoralist militias, on 3 and 16 March. Similar incidents were reported in Samburu's Kurkur caves on 25 February and a livestock market in Kalemngorok, Turkana county, on 4 March. At the time of writing, it is not yet clear whether the military's strikes resulted in any casualties. Also, in Turkana, two militiamen were arrested, after they attempted to ambush security officers in Kainuk area.18Eric Matara and Sammy Lutta, 'Two bandits arrested after daring attack on KDF at Kainuk,' Daily Nation, 23 February 2023 As of 25 February, over 124 people had been arrested across the targeted counties for violating the curfew order.19Didacus Malowa, 'North Rift: 39 Guns Recovered, 124 Suspects Arrested as Crackdown on Bandits Intensifies,' TUKO, 25 February 2023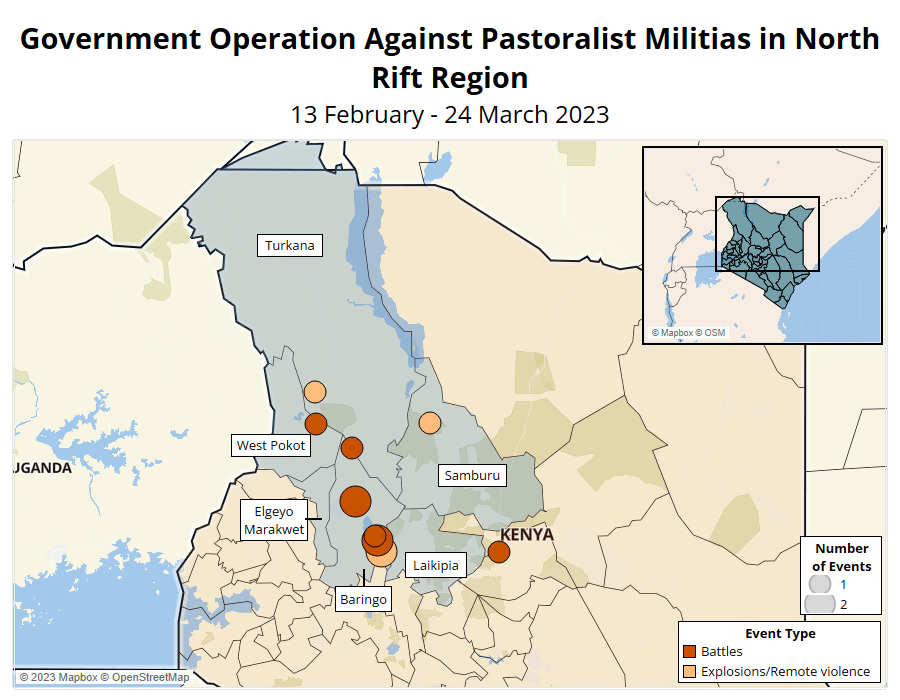 Despite the ongoing operation, the militias have not only continued staging attacks in some of the areas earmarked for the operation, but also engaged in gun battles with the security personnel. For instance, around 25 February, unidentified militiamen shot and injured two military officers and one police officer while on patrol in Lkeek Sabuk in Samburu county. 
While the security measures have been received positively across the region by some political leaders,20The Nation Team, 'Boots on the ground as KDF soldiers sent to bandit zone,' Daily Nation, 15 February 2023 some security experts remain skeptical of the reactive nature of the operation.21Freed Otieno Saitoti, 'What the government must do to end menace of bandit attacks,' The Standard Kenya, 10 February 2023 This assertion is closely shared by Timothy Toroitich, member of parliament from Marakwet West sub-county, who noted that the deployment of the military "must be real and not cosmetic."22Geoffrey Ondieki, Florah Koech, and Fred Kibor, 'Bandits now use guerrilla tactics to counter military, police,' Daily Nation, 8 March 2023 At the same time, the Law Society of Kenya has questioned the legality of the move, stating that it bypasses constitutional safeguards on the deployment of troops.23Fred Kibor, 'It is now or never as more soldiers arrive in bandit-prone North Rift,' Daily Nation, 19 February 2023 Some residents of Baringo county also fled their homes as Kenyan military forces arrived, with reports indicating that these residents feared the tactics the military and police forces planned to use during the operation.24Daily Nation, 'Boots on the ground as KDF soldiers sent to bandit zone,' 15 February 2023
Faced with mounting pressure from local community members to decisively address the rising pastoralist militia activity in North Rift region, the government is seeking to maintain its presence in the region by setting up a permanent security installation to ensure peace is restored.25Bruhan Makong, 'We Are In The North Rift To Stay, Kindiki Says Of Security Deployment,' Capital FM, 21 February 2023 While the impact of the first phase of the security operation remains unclear amid continuing pastoralist militia attacks in the region, the government has promised "radical and drastic military action" in the second phase that began on 11 March.26Antony Gitonga, 'Kindiki: Phase two of security operation in North Rift to start Saturday,' The Standard Kenya, 9 March 2023 However, whether a military response will be effective in putting an end to cattle rustling in Kenya is debatable.