For more information, including previous situation summaries and an interactive dashboard, visit our Ukraine Conflict Monitor.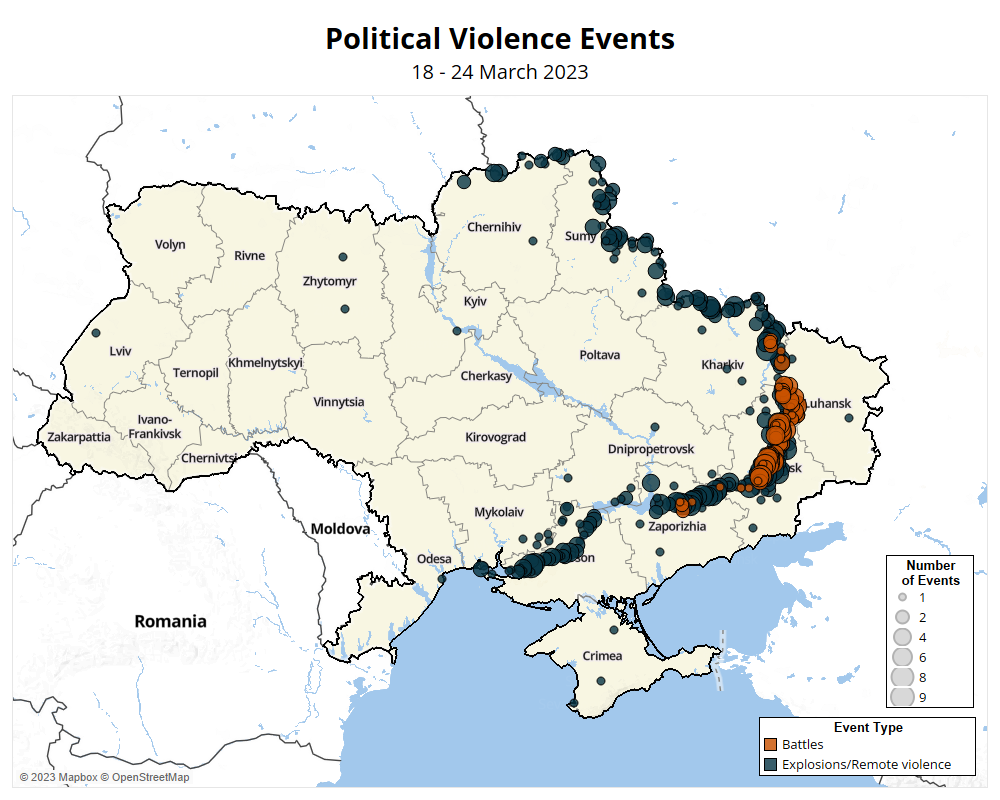 Fighting between Russian and Ukrainian forces continued along the frontline in the Donetsk region, particularly in the areas of Bakhmut, Avdiivka, and Marinka, as well as along the Kreminna-Svatove-Kupiansk axis in the Luhansk and Kharkiv regions. Neither side made significant territorial gains but Russian forces reportedly advanced around and within  Bakhmut and near Avdiivka.1Railey Bailey et al, 'Russian Offensive Campaign Assessment, March 20, 2023', Institute for the Study of War, 20 March 2023 
Russian forces continued to target civilian infrastructure with shelling, missiles, and drone strikes, reportedly killing over 30 civilians in the Donetsk, Kherson, Kyiv, Sumy, and Zaporizhia regions. A Russian missile strike on Odesa city on 21 March hit a Moscow Patriarchate monastery and wounded four people. In Rzhyshchiv in the Kyiv region, a Russian drone strike on 22 March hit two dormitory buildings and a lyceum, leaving nine civilians dead and over 20 hospitalized. On the same day, Russian missiles damaged two apartment buildings in Zaporizhia city, killing two civilians and wounding over 30. Additionally, at least six civilians were killed and 16 were wounded in landmine detonations and other explosions in the Donetsk, Kharkiv, Kherson, Mykolaiv, and Sumy regions. On 23 March, an alleged Russian collaborator was reportedly wounded in an IED attack in Melitopol in the Zaporizhia region.