Situation Update | June 2023
Kenya: How Azimio Coalition's Remobilization of Supporters Signals Potential Future Escalation
Kenya at a Glance: 22 April-2 June 2023
VITAL TRENDS
From 22 April to 2 June, ACLED records 110 political violence events resulting in nearly 80 reported fatalities. Nairobi county registered the highest number of political violence events, mainly due to riots.

Marsabit county had the highest number of fatalities, with nine recorded during the reporting period. Turkana and Samburu counties followed, with seven reported fatalities each. Ethnic militia activity resulted in over 30% of reported fatalities.

The most common event type was riots, at over 100 events, followed by protests, at nearly 90. The opposition Azimio la Umoja (Resolution for Unity) One Kenya Coalition Party organized a second round of demonstrations against the high cost of living and alleged election fraud on 2 May.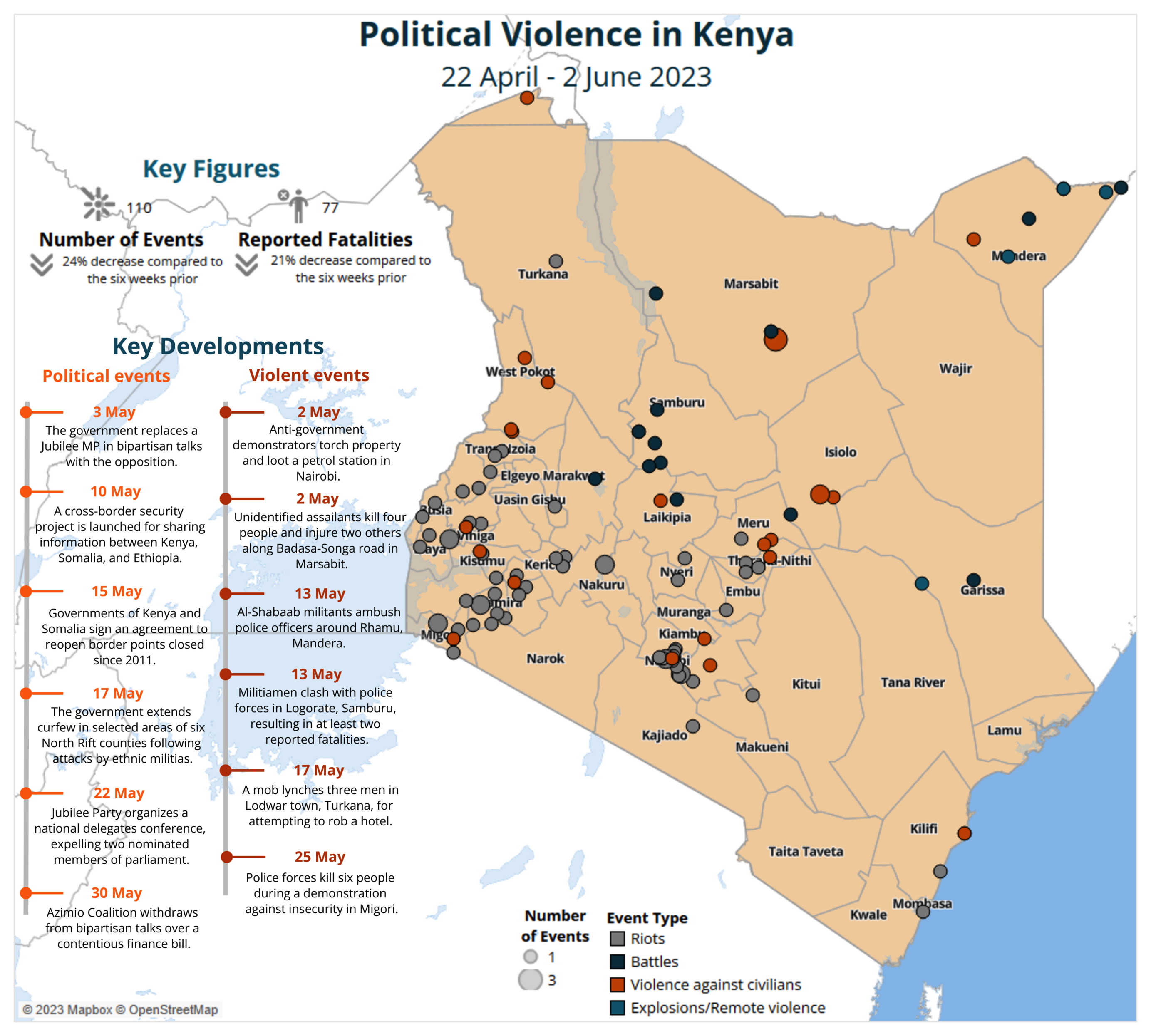 How Azimio Coalition's Remobilization of Supporters Signals Potential Future Escalation
The opposition Azimio la Umoja One Kenya Coalition Party has been rallying its supporters to call on the government to address multiple grievances, including reducing high living costs and opening the election servers from last year's presidential voting. Former presidential candidate Raila Odinga is leading the mobilization, first calling for nationwide protests in March. This first round of demonstrations ended on 2 April after both President William Ruto and Odinga agreed to address the issues raised by the demonstrations through a bipartisan parliamentary dialogue process.1Mariama Diallo, 'Kenya Opposition Leader Odinga Calls Off Monday's Protest,' Voice of America, 2 April 2023 After a month-long pause, Azimio Coalition and Odinga again called supporters to the streets, and Kenya saw a second spike in unrest in May (see graph below). This report focuses on the disorder trends related to the opposition-led anti-government unrest during the reporting period. It specifically looks at the events leading to the most recent unrest, the characteristics of activity, the government's response, and the possibility of escalation following the collapse of the bipartisan talks.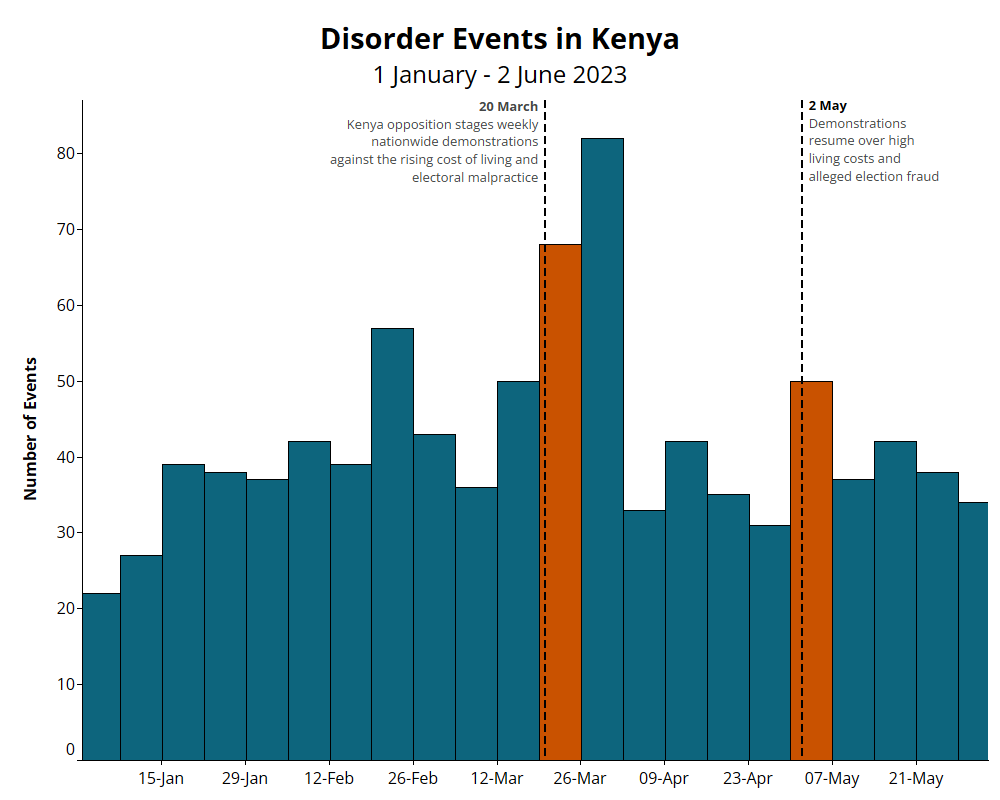 Second Round of Opposition-Led Demonstrations Amid Bipartisan Talks
Anti-government demonstrators returned to the streets on 2 May after Azimio's assessment that the government lacked commitment to address the grievances raised by the opposition in the bipartisan talks.2Justus Ochieng', 'Azimio to resume anti-govt protests on Tuesday May 2,' Daily Nation, 24 April 2023 The main point of contention was the membership and composition of the government side in the talks. President Ruto named Eldas Member of Parliament (MP) Adan Keynan to the government bipartisan talks team. Adan Kenyan, however, is an MP elected from the Jubilee Party, an affiliate of the Azimio Coalition. Some critics have claimed that this amounted to Ruto "toying" with the opposition.3Sharon Mwende, 'Bipartisan talks: Ruto is toying around with Azimio – Ngunyi,' The Star Kenya, 3 May 2023 
Similar to the demonstrations in March, the majority of the events were violent demonstrations – 14 out of 25 total. While demonstrations were largely limited to the Kenyan capital, Nairobi, other towns in the western region – typically support bases for Azimio Coalition – were also affected (see map below). In contrast to the unrest in March, however, the May demonstrations were more geographically concentrated, and no fatalities were recorded. Nairobi and Kisumu counties were again the epicenters of demonstration activity by Azimio Coalition supporters. On 2 May, ACLED records demonstration events in at least 21 locations in six counties, including Nairobi, Homabay, Kisumu, Vihiga, Siaya, and Migori.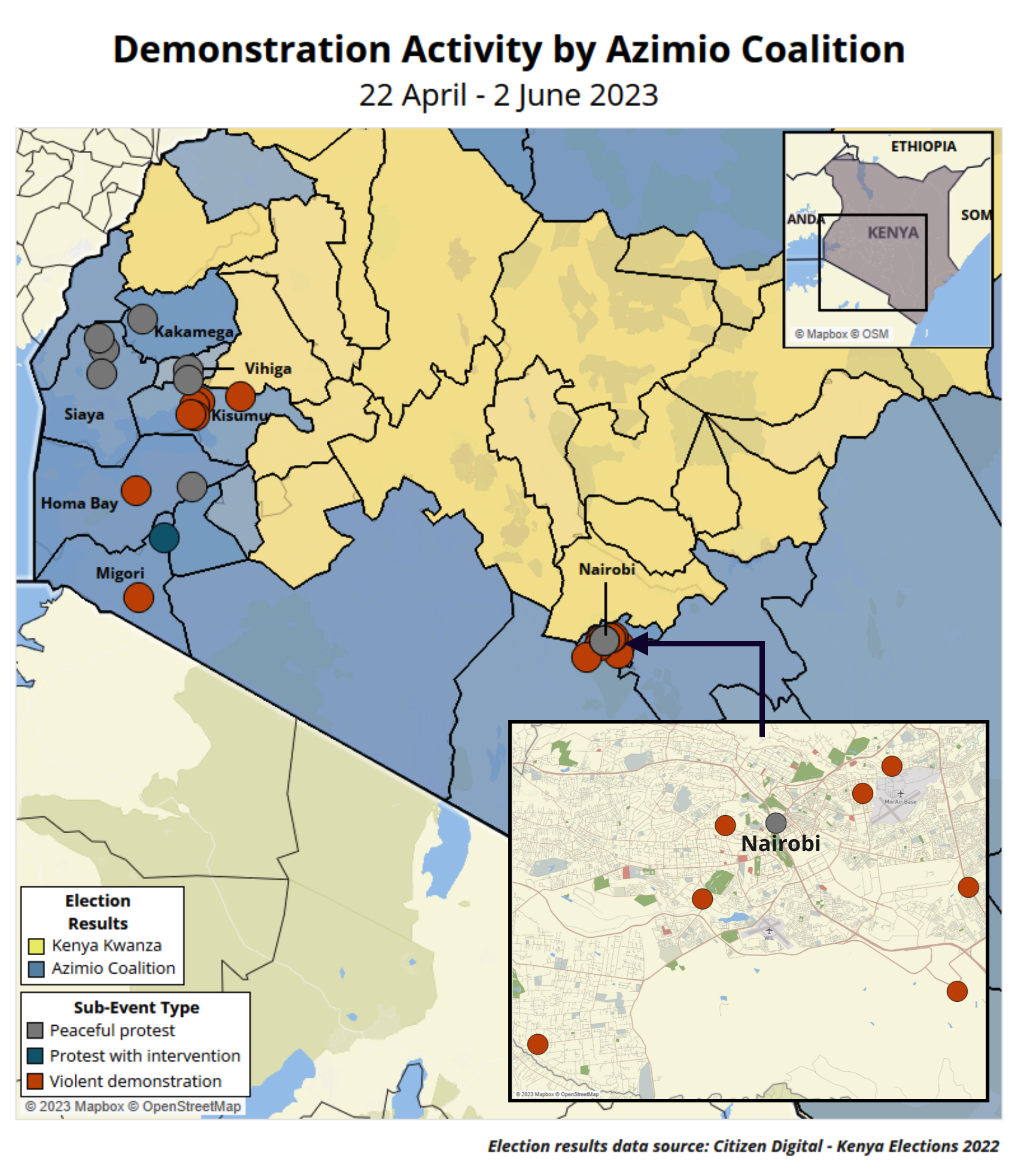 Demonstration events were recorded in at least eight locations across Nairobi on 2 May. All but one of these demonstrations were violent (see map above). Along Ngong road in Nairobi, demonstrators pelted stones at a public service vehicle, before torching it using petrol bombs.4Cyrus Ombati, 'Goons burn bus along Ngong Road as Azimio protests start,' The Star Kenya, 2 May 2023 A few hours later, along the Southern bypass in Langata, another group of demonstrators attacked a driver of a cargo truck heading to Uganda, and then set it on fire.5Bruhan Makong, 'Uganda-Bound Cargo Truck Set Ablaze By Rowdy Youth In Southern By-Pass,' Capital FM, 2 May 2023 Also in Nairobi, demonstrators looted 12 gas cylinders and vandalized fuel pumps and vehicles parked at the Shell petrol station along Juja road near Eastleigh. Police fired live bullets to disperse the group, injuring at least three people. These incidents paralyzed transport and business in the affected areas of the capital.6Shoshana Kedem, 'Kenyan protests take economic toll,' African Business, 9 May 2023 However, Azimio refuted the involvement of its supporters in violence, terming the perpetrators as "hired goons" who were out to malign the opposition protests.7Maureen Kinyanjui, 'Etale: Azimio supporters have not started demos,' The Star Kenya, 2 May 2023
Outside the capital, more than half of the demonstrations turned violent. For instance, in Kondele in Kisumu county, Azimio Coalition supporters barricaded the Kakamega road and attempted to storm the Kondele police station. Running battles ensued as police officers lobbed teargas to disperse the group. Dozens, including police officers, were injured. Although the leader of the National Rainbow Coalition–Kenya alleged that Azimio leadership's efforts to mobilize supporters were thwarted by the heavy deployment of the police, there is indication of Azimio supporters' lackluster participation in the protests.8Manny Anyango, 'Why we did not show up for protests – Martha Karua,' The Star Kenya, 2 May 2023 Some supporters fault Azimio's demands around electoral justice, arguing that it was needless to pressure the government on this point after the Supreme Court unanimously upheld Ruto's victory.9Robert Omollo, 'Steer clear of Azimio protests, Luo elders advise youth,' The Star Kenya, 2 May 2023 This could partly explain the waning popularity of the Azimio Coalition, which dropped in the recent household-based polls. Meanwhile, President Ruto's Kenya Kwanza alliance has gained popularity, dethroning Azimio as the most popular coalition.10Steve Otieno, 'Kenya Kwanza topples Azimio in popularity,' Daily Nation, 21 April 2023
Security forces intervened in over half of the Azimio-led demonstration events in May. On 30 April, police declared the planned demonstrations in Nairobi illegal, citing the violent and chaotic nature of the demonstrations in March, including attacks on non-demonstrators, destruction of property, looting, vandalism, and the loss of life.11Felix Kipkemboi, 'Blow to Raila as police declare City demos illegal,' The Star Kenya, 30 April 2023 At least eight reported fatalities were recorded during the demonstrations in March, mostly at the hands of police forces. 
According to Human Rights Watch, riot police used excessive lethal force to suppress the demonstrations, while also arbitrarily arresting and beating civilians, and destroying property.12Human Rights Watch, 'Kenya: End Abusive Policing of Protests,' 31 May 2023 On 2 May, security officers set up roadblocks leading to the central business district in Nairobi and attempted to disperse the demonstrators using teargas, firing live bullets, and making arrests. Police also reportedly shot at demonstrators near Eastleigh in Nairobi, injuring three people, including a 17-year-old.13Cyrus Ombati, 'Four in hospital with gunshot wounds after Tuesday protests,' The Star Kenya, 4 May 2023 In addition, 14 people were arrested in Nairobi and 32 in Nyanza region, for allegedly engaging in robbery and destruction of property during the demonstrations.14Sharon Mwende, '46 arrested as police foil Azimio protests – Kindiki,' The Star Kenya, 2 May 2023 Among those arrested in the Nyanza region, specifically in Kisumu, was a nominated member of the county assembly.15Allan Obiero, 'Nominated MCA Among 10 Charged Over Azimio's Anti-Gov't Protests In Kisumu,' Citizen Digital, 3 May 2023
Bipartisan Talks Fail Again Due to Political Differences
While more demonstrations were planned for 4 May, the Azimio Coalition announced the suspension of the mobilization and vowed to resume the bipartisan talks. This decision came after the move by the Kenya Kwanza Alliance government to replace the Jubilee MP, Adan Keynan, in the bipartisan talks.16Nancy Ogutu, 'Azimio calls off anti-govt protests to give bi-partisan talks another chance,' Daily Nation, 3 May 2023 The Azimio Coalition had protested his inclusion, claiming that he could not participate in the talks on behalf of the government because Jubilee Party is part of the Azimio Coalition. Although that is the case officially, internal power struggles within the party have created two factions with different alliances.17James Mbaka, 'New twist in bipartisan talks as Jubilee protests exclusion,' The Star Kenya, 10 May 2023 The suspension of the demonstrations also coincided with visits from United Nations Secretary-General Antonio Guterres, Japanese Prime Minister Fumio Kishida, and German Chancellor Olaf Scholz; Azimio leader Odinga claimed the government complied with their demand to replace the Jubilee MP in the bipartisan talks in order to avoid embarrassment before the high-profile foreign visitors.18Manny Anyango, 'Raila: Why state heeded Azimio demand after our last demo,' The Star Kenya, 8 May 2023 However, other sources claim the suspension of the demonstrations was directly linked to the arrival of these high-profile leaders for the sake of Odinga's reputation.19Anthony Kitimo and Moses Nyamori, 'On-off opposition protests in Kenya a risky affair for transporters,' The EastAfrican, 9 May 2023 
The outcome of the bipartisan talks hangs in limbo after the Azimio Coalition walked out of the negotiations. On 23 May, Azimio Coalition announced the suspension of talks for seven days, citing the failure of the government to address their demands related to food costs and electoral justice.20Francis Muli, 'Sifuna announces suspension of bipartisan talks,' People Daily, 23 May 2023; Samwel Owino, 'Azimio team suspends bipartisan talks for seven days, claims Kenya Kwanza insincere,' Daily Nation, 23 May 2023 However, viewed as "unnecessary roadblocks," the government side was quick to dismiss the move as "premature," noting that there were no irreconcilable differences.21Allan Kisia, 'Kenya Kwanza pleads with Azimio to resume bi-partisan talks,' The Star Kenya, 25 May 2023 
Seven days later, Azimio Coalition withdrew from the talks and asked that the 2023 Finance Bill be revoked, and by-elections be held for Jubilee MPs who have defected to the Kenya Kwanza Alliance.22Sharon Resian, 'Kenya: Opposition Azimio Withdraws From Bi-Partisan Talks Until Finance Bill is Revoked,' Capital FM, 30 May 2023; Justus Ochieng', 'Azimio nominates Embakasi West MP to replace Sabina Chege as deputy Minority Whip,' 30 May 2023 The bill seeks to boost revenue and cut public borrowing by raising taxes, a move that has been criticized by opponents as adversely affecting small business owners and struggling households.23Africanews, 'Kenyans brace for higher taxes as new finance bill targets petrol, beauty products,' 19 May 2023 Busia county Senator and Azimio Coalition ally, Okia Omtata, and four others have filed a petition to the High Court, arguing that some sections of the 2023 Finance Bill are unconstitutional.24Paul Ogemba, 'Omtatah gives court 13 reasons to derail Ruto's first Finance Bill,' 2 June 2023 The collapse of the bipartisan talks, coupled with the possible passage of the Finance Bill as is, could mean that another round of unrest is on the horizon – as Odinga has already implied.25Olivia Odhiambo, 'Raila Odinga hints at return of protests should talks fail,' The Standard Kenya, 22 May 2023; Irene Mwangi, 'Raila Threatens Mass Protests Against Proposed High Taxes,' Capital FM, 16 May 2023 Azimio has also indicated that it would pursue 'secession' as a last resort in protest against government policies,26Kitavi Mutua, 'Azimio to push for secession in battle with Ruto as talks stall,' 27 May 2023 a move that was condemned by the interior cabinet secretary.27Laban Wanambisi, 'Kindiki Warns Azimio Against Incitement, To Go For Mungiki Financiers,' Capital FM, 28 May 2023 
In addition, there are fears of the resurgence of the outlawed Mungiki youth gang.28Laban Wanambisi, 'Kindiki Warns Azimio Against Incitement, To Go For Mungiki Financiers,' Capital FM, 28 May 2023; For more on the Mungiki gang, see Omar Lucien Koffi, '[Gangs of Africa] The Mungiki, between bloodthirsty rituals and politics,' The Journal of Africa, 9 August 2022 Supporters of former Mungiki leader and opposition politician, Maina Njenga, recently clashed with the police outside the Directorate of Criminal Investigation headquarters in Nairobi, where Njenga had been summoned for questioning in relation to a cache of weapons allegedly found in one of his residences.29Simon Ciuri, 'DP Rigathi Gachagua vows to deal firmly with Maina Njenga, Mungiki gang,' Daily Nation, 28 May 2023; Daily Nation, 'Police clash with Maina Njenga supporters at DCI headquarters,' 25 May 2023; Loise Macharia, 'Maina Njenga is a victim of political witchhunt – Lawyers,' 29 May 2023 Unless the two factions return to the negotiating table and pursue genuine talks to resolve their disputes, Kenya will likely experience continuing unrest and political instability and might also witness the resurgence of gang militias exploiting instability in the country.