Found 93 Results
Page 1 of 10
20 May 2021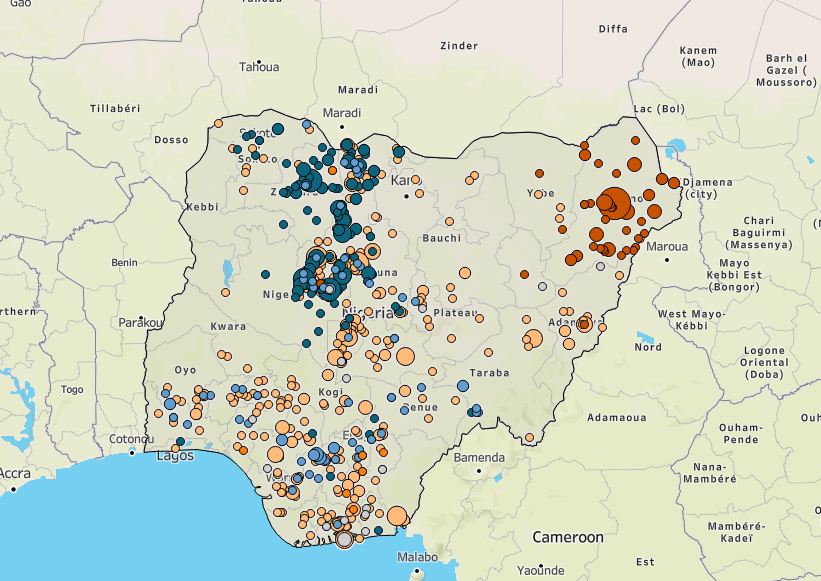 Abduction/forced disappearance events more than doubled in Nigeria last year. ACLED Nigeria Senior Researcher Dr. Olajumoke Ayandele and Research Analyst Curtis Goos unpack the data on the country's kidnapping crisis, mapping the key players, targets, and trends. © 2021 Armed Conflict Location & Event Data Project (ACLED). All rights reserved.
Read More
9 February 2021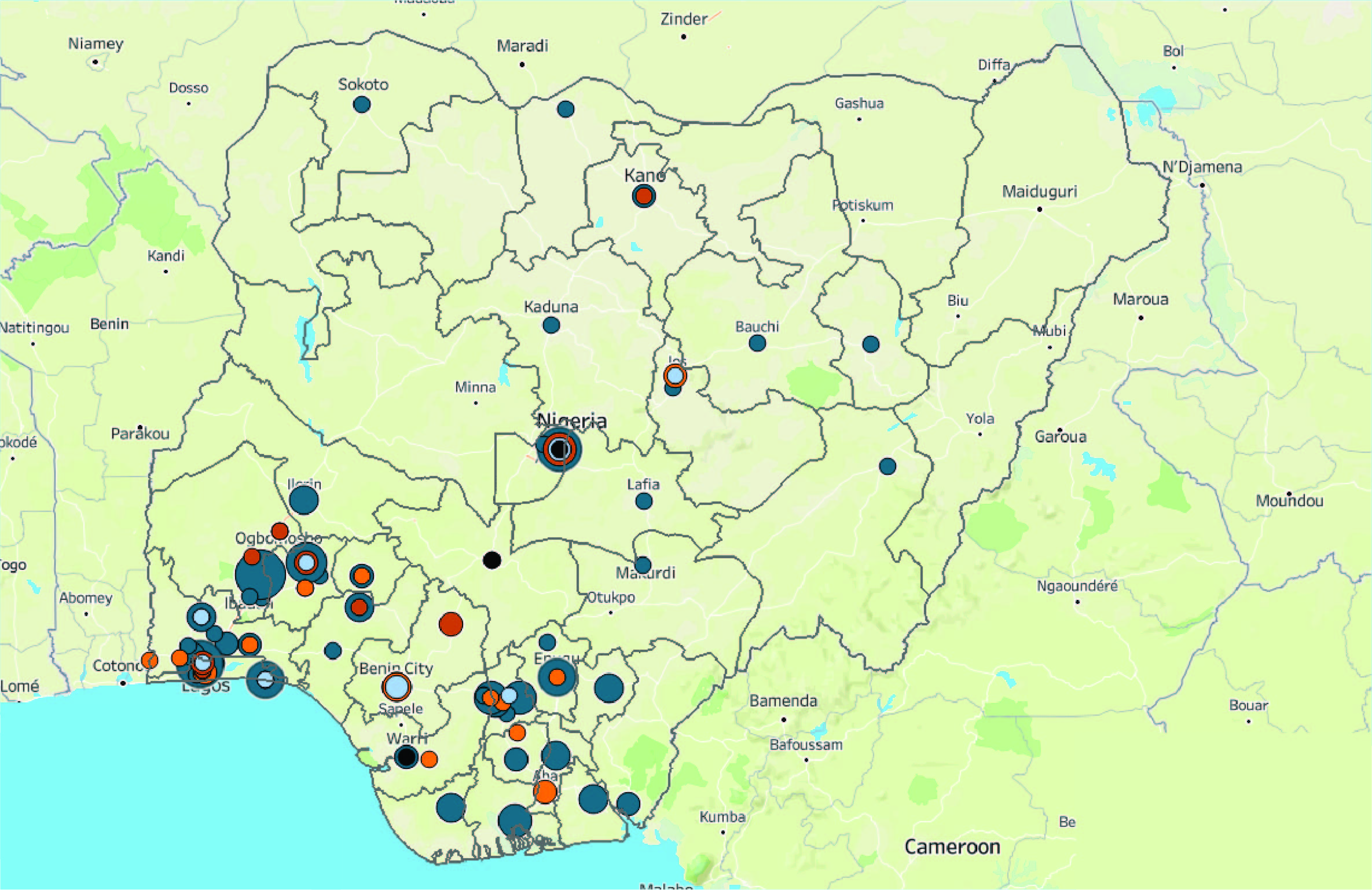 On 3 October 2020, in Nigeria, operatives of the Special Anti-Robbery Squad (SARS) allegedly shot a young man at Wetland Hotel in Ughelli, injuring him. This incident was filmed and went viral, sparking an outcry on social media against SARS using the hashtag #EndSARS. By 8 October, demonstrations associated with this hashtag had begun to…
Read More
28 May 2020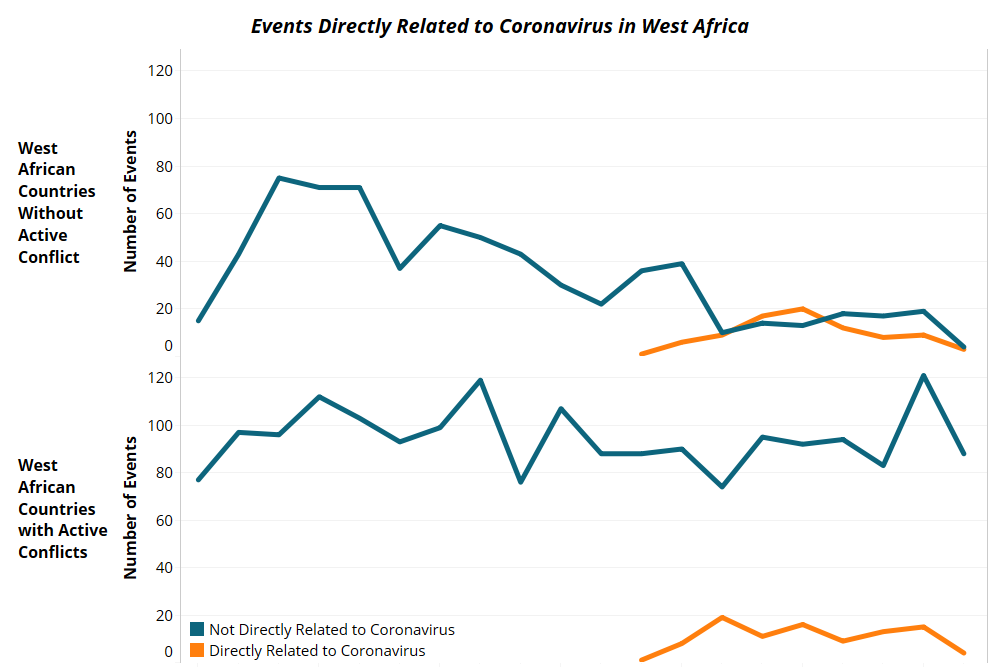 This is a joint brief by Kars de Bruijne and Loïc Bisson produced in partnership with the Clingendael Institute and published in the Clingendael Spectator. The outbreak of COVID-19 has strengthened the position of states across West Africa. Governments are subtly exploiting the crisis to repress opposition and manipulate elections. The lack of genuine opposition risks…
Read More
30 April 2020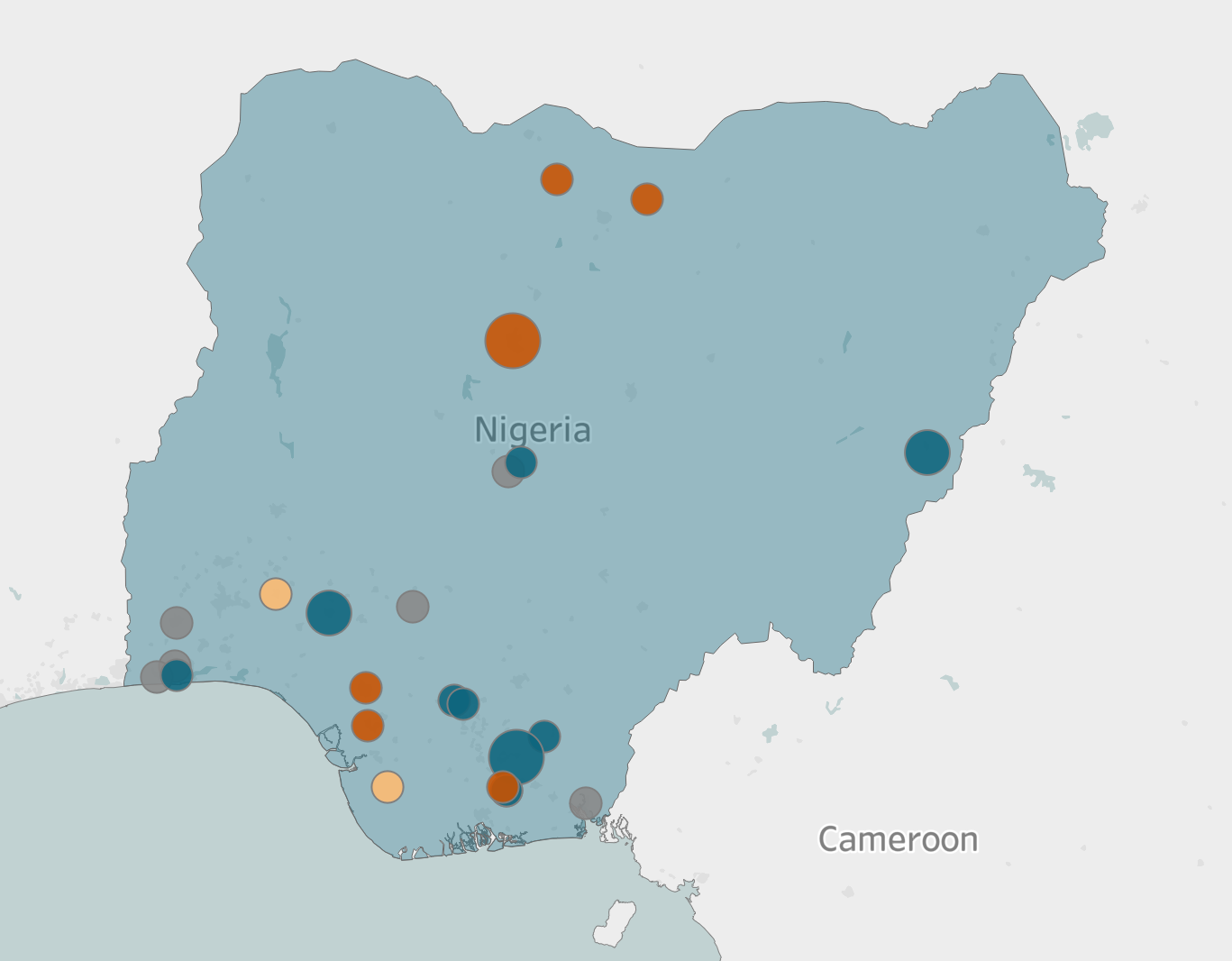 ACLED Research Analyst Adam Miller examines the targeting of civilians and demonstrators across Nigeria as authorities violently enforce coronavirus restrictions. This infographic is part of our special CDT Spotlight series. © 2020 Armed Conflict Location & Event Data Project (ACLED). All rights reserved.
Read More
23 January 2020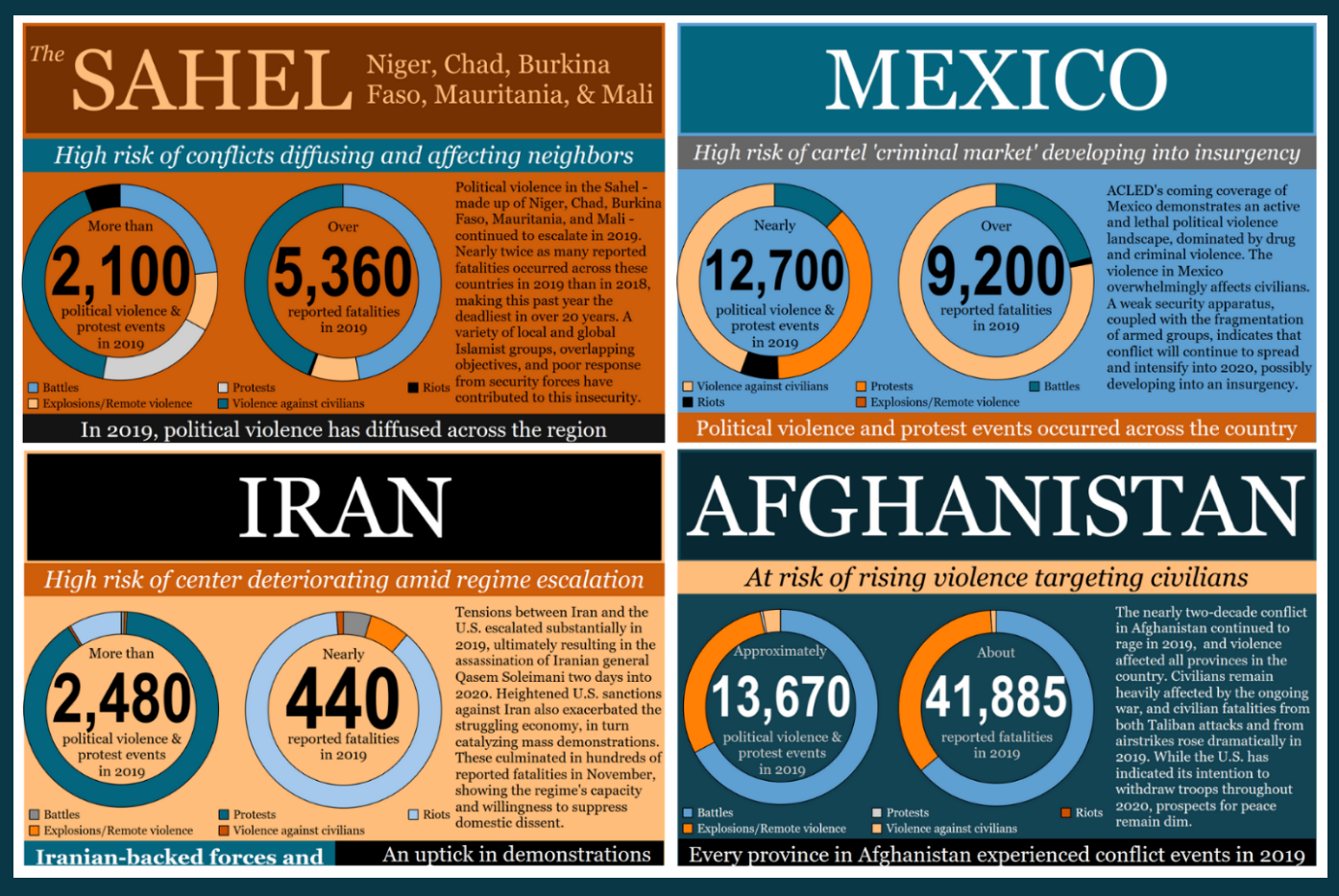 Our annual special report reviews the past year of data for 10 key conflicts with a look toward trends to watch in the coming months. Access ACLED data directly through the export tool, and find more information about ACLED methodology in our Resource Library. To explore an interactive visualization of this special report, click here. To…
Read More
2 August 2019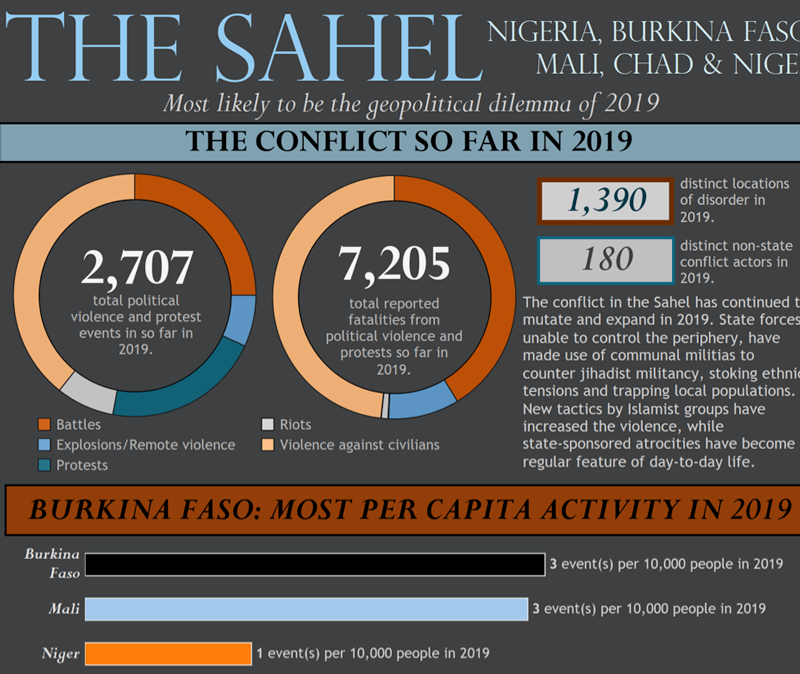 In our special report on 10 conflicts to worry about in 2019, ACLED assessed the state of political violence and protest across critical flashpoints in Africa, Asia, and the Middle East, providing both an overview of 2018's developments and a preview of what to watch for in the new year. Our Mid-Year Update revisits these…
Read More
20 May 2019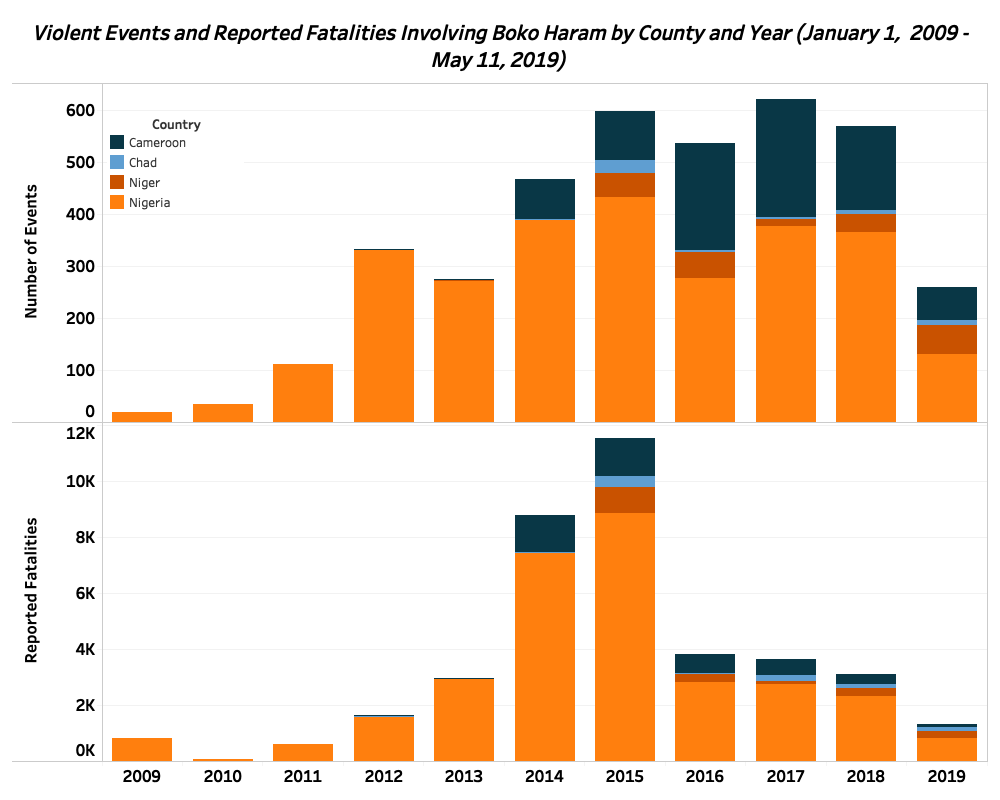 Since emerging in Borno State in North East Nigeria in 2009, the vast majority of Boko Haram's violent activities have been concentrated in Nigeria. In the ten years the group has been active, more than 70% of violent events associated with the group and 80% of the associated reported fatalities have taken place in Nigeria.…
Read More
19 April 2019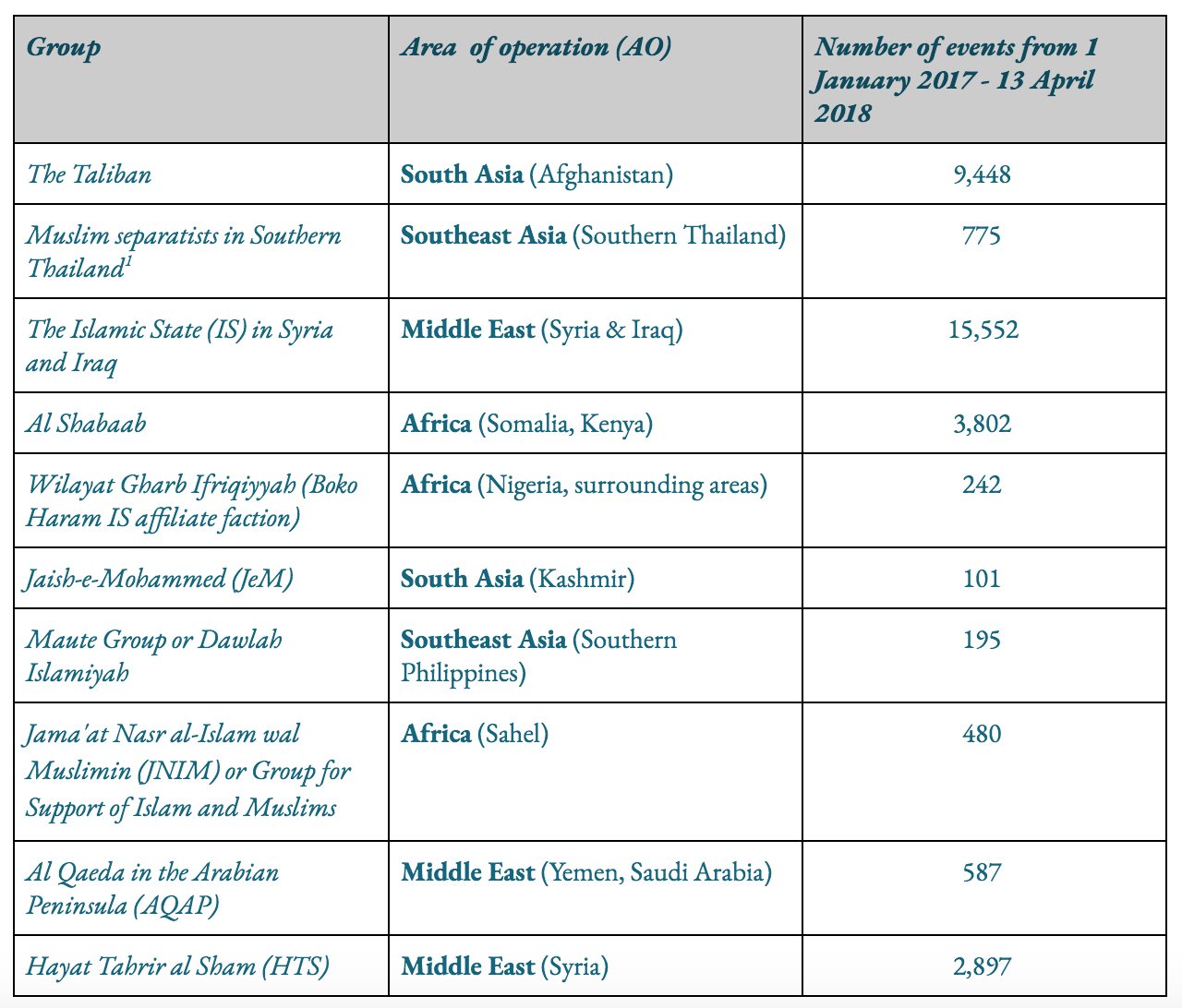 Islamist groups have been deemed one of the most significant threats to international security in the 21st century, and current conflicts include peak levels of political violence involving Islamist actors (New York Times, 6 July 2018). Islamism can imply a variety of qualities – most commonly, the term implies that the group in question aims…
Read More
27 February 2019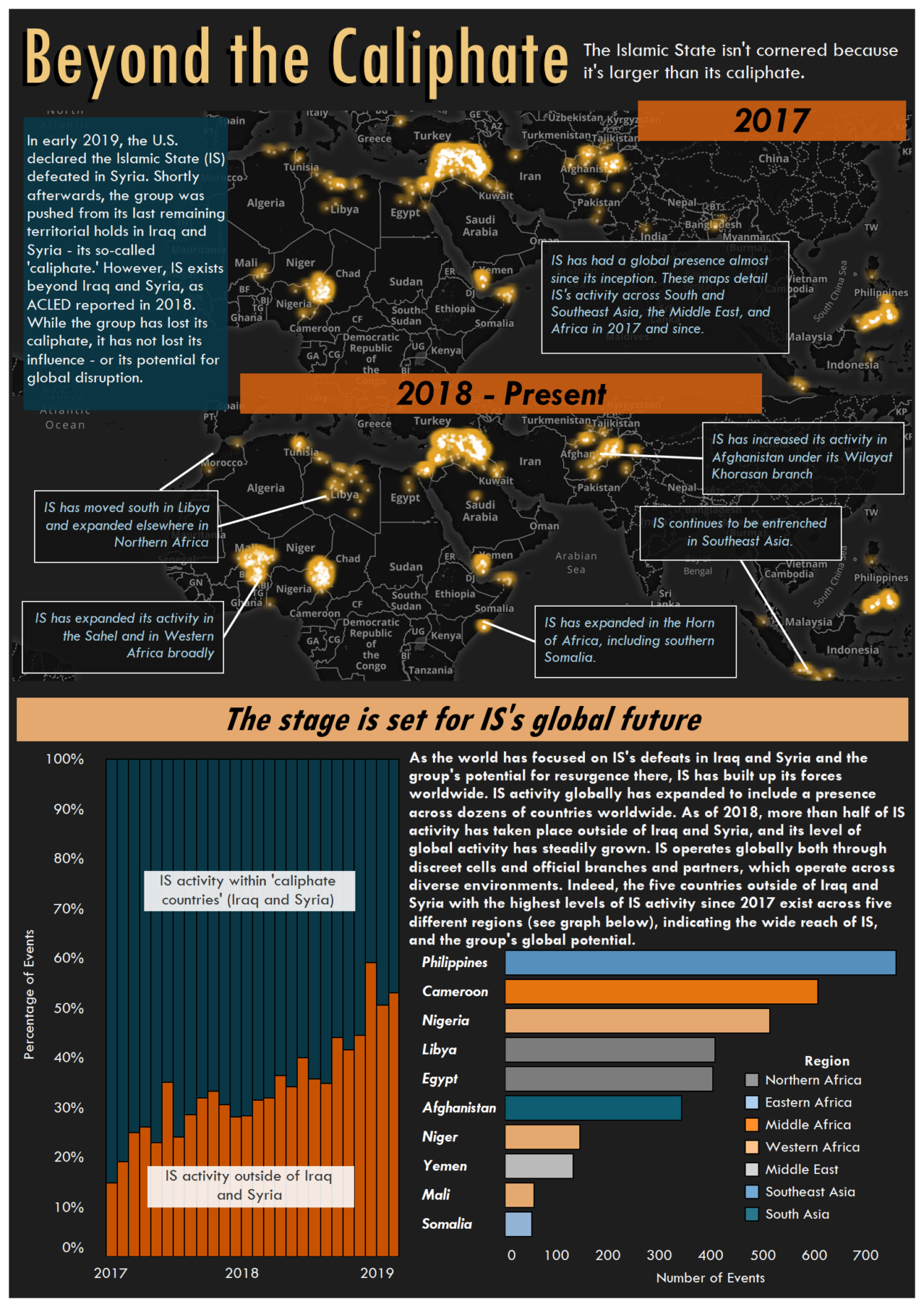 ACLED Research Analyst Melissa Pavlik tracks Islamic State activity outside of its former "caliphate" in Iraq and Syria, evaluating the militant group's continued potential for global disruption.* ________ *Correction: This infographic previously included activity where the specific faction of Boko Haram involved in the event (Barnawi or Shekau faction) was unknown based on reporting. As…
Read More
14 February 2019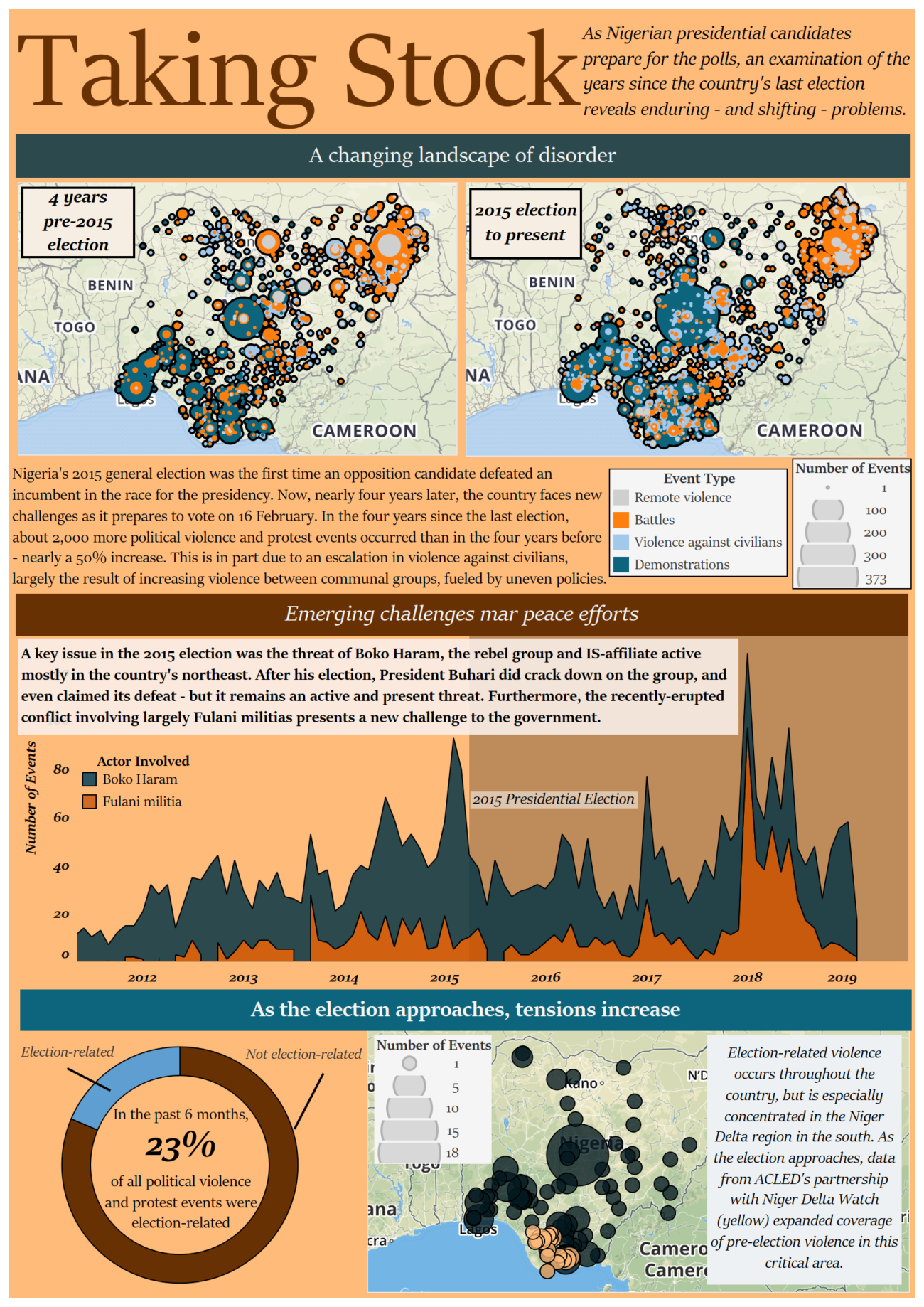 With Nigeria's next General Election set for 16 February 2019 (later delayed to 23 February), Research Analyst Melissa Pavlik surveys the changing political violence landscape in the years since the last vote. © 2019 Armed Conflict Location & Event Data Project (ACLED). All rights reserved.
Read More
Page 1 of 10