Found 91 Results
Page 3 of 10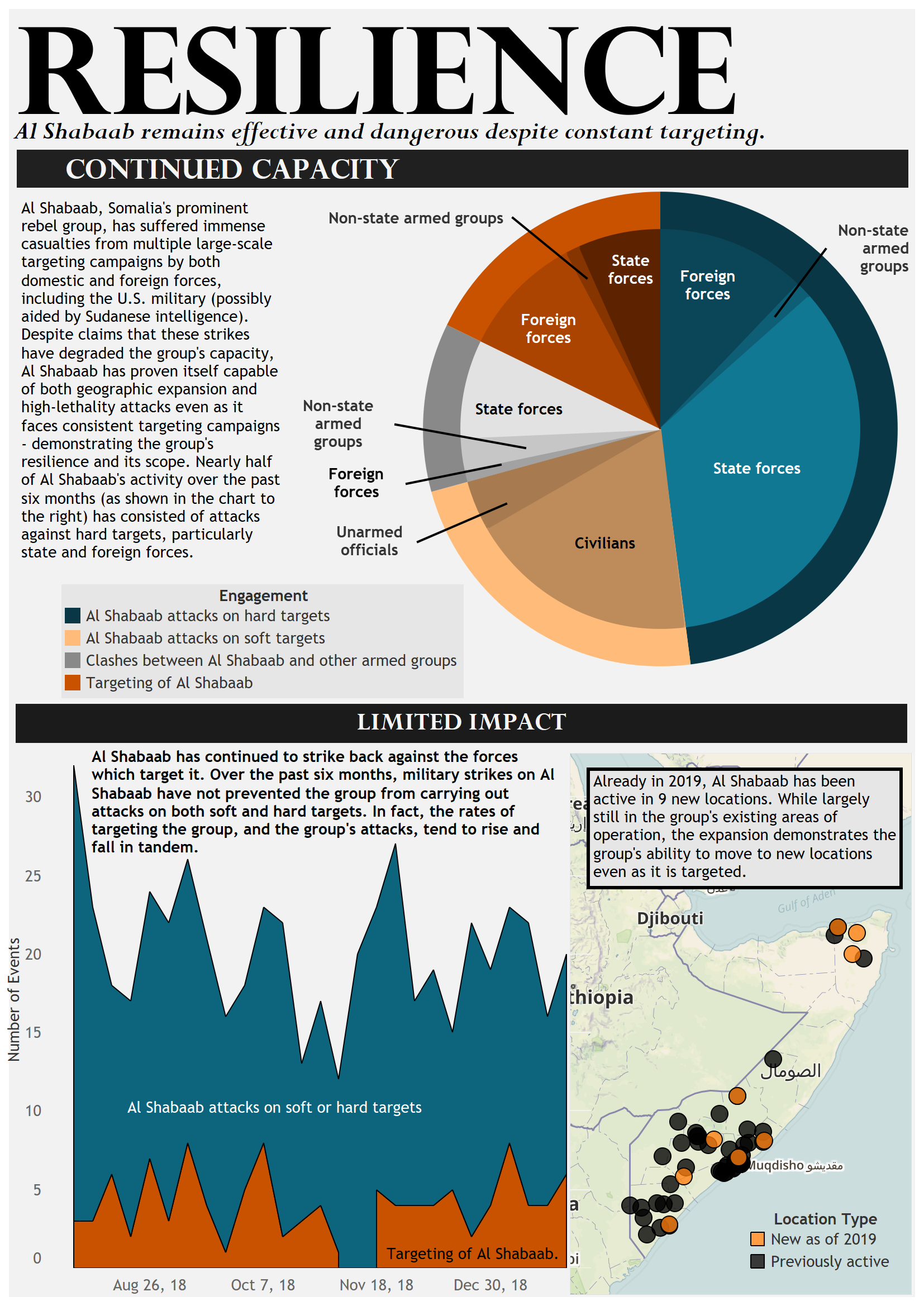 11 February 2019
ACLED Research Analyst Melissa Pavlik examines Al Shabaab's continued capacity for violence even in the face of consistent military pressure. © 2019 Armed Conflict Location & Event Data Project (ACLED). All rights reserved.
Read More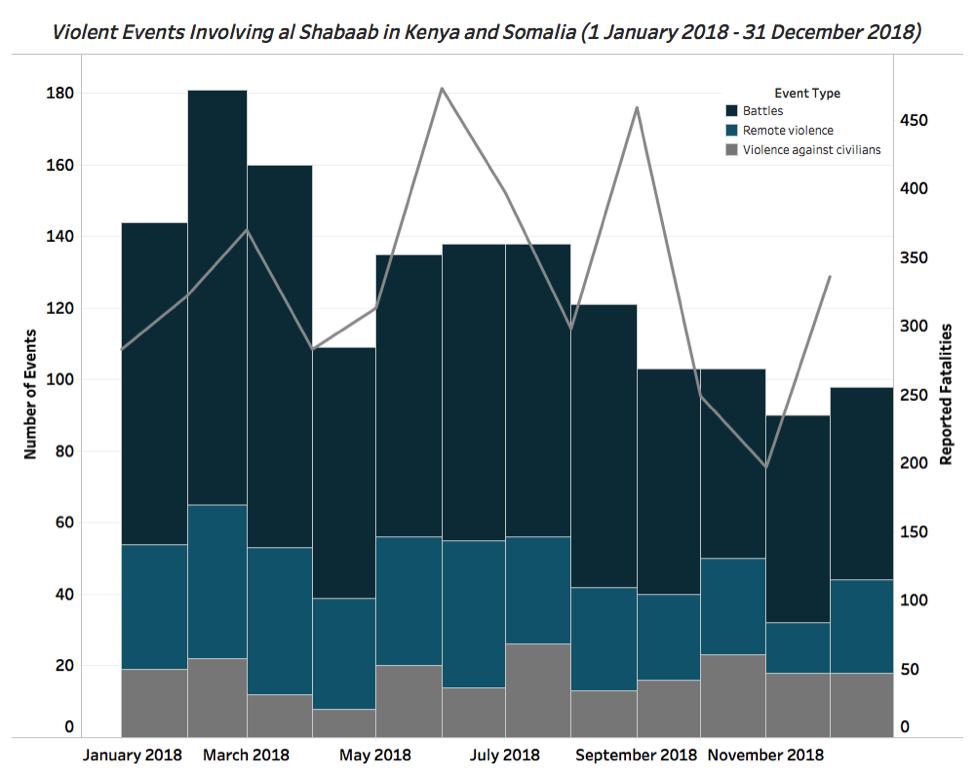 27 January 2019
Al Shabaab's attack on Dusit Hotel on January 17 resulted in 17 reported fatalities and has called into question the narrative of the group's degradation and decline (The Conversation, 2 October 2018). An assessment of Al Shabaab's activity and international efforts against the rebel group reveal that, while violent events involving the group have been…
Read More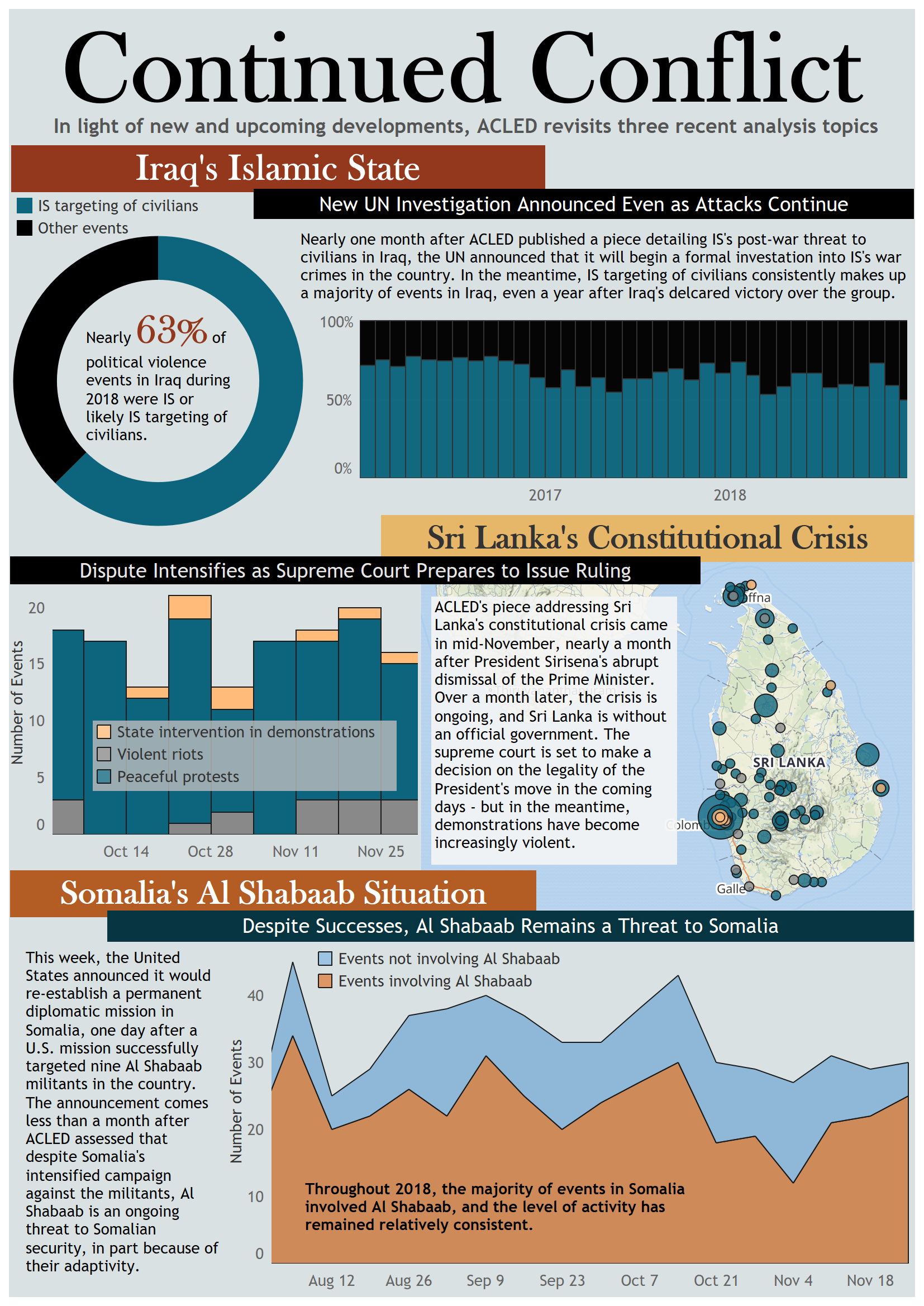 7 December 2018
ACLED Research Analyst Melissa Pavlik reviews developments on three recent topics of analysis: Islamic State violence in Iraq; Sri Lanka's constitutional crisis; and the continued threat of Al Shabaab in Somalia.
Read More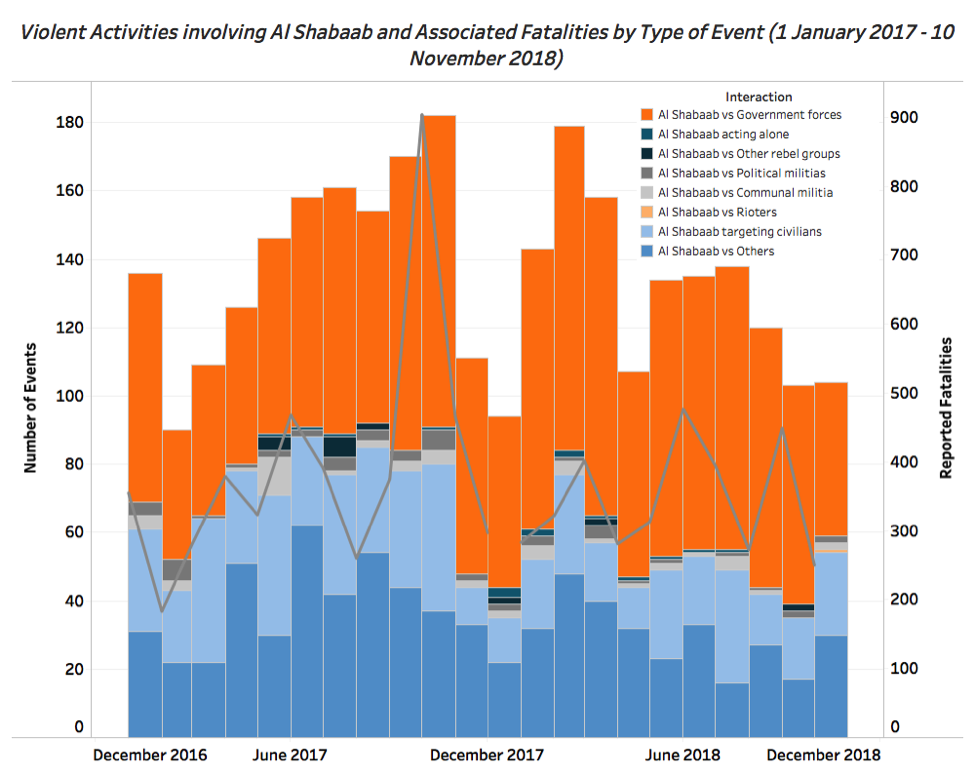 17 November 2018
More than 50 people were reportedly killed by a car bomb detonated on November 9th in Mogadishu, Somalia by al Shabaab. The event was the largest single al Shabaab attack on civilians since October 2017, when 587 fatalities were reported from multiple al Shabaab car bombs in Mogadishu. The October 2017 attack was followed by…
Read More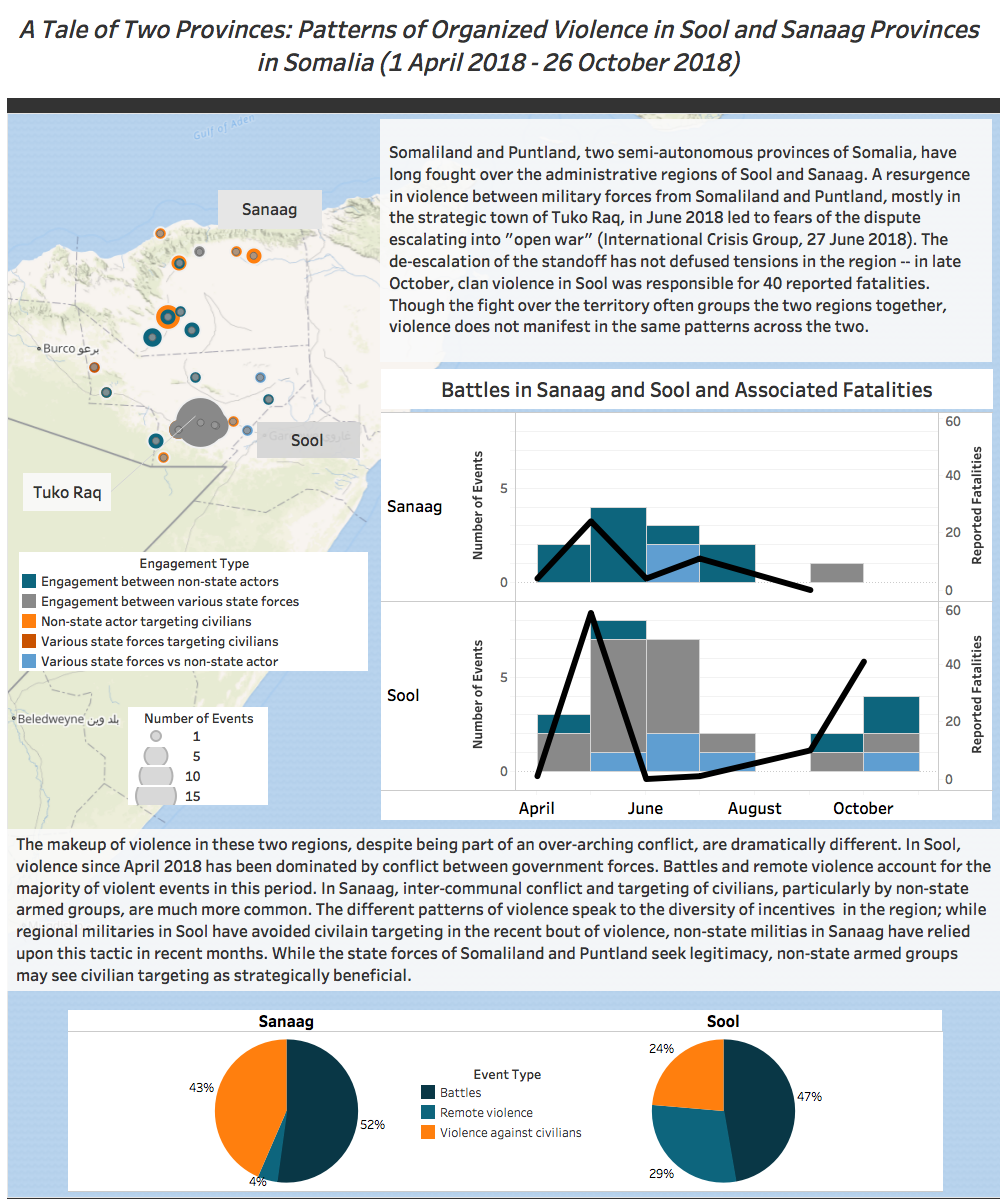 3 November 2018
In this infographic, ACLED Research Analyst Hilary Matfess tracks trends in organized violence across two Somali provinces: Sool and Sanaag.
Read More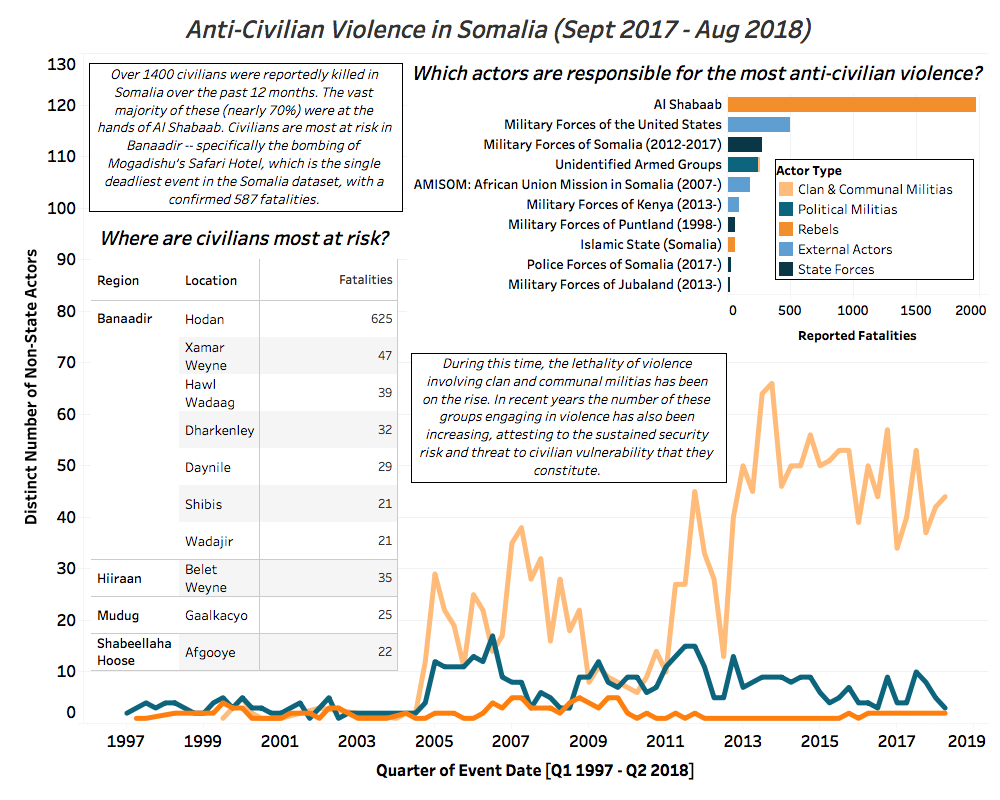 13 September 2018
This infographic, by ACLED Research Director Roudabeh Kishi, features anti-civilian violence in Somalia from September 2017 to August 2018.
Read More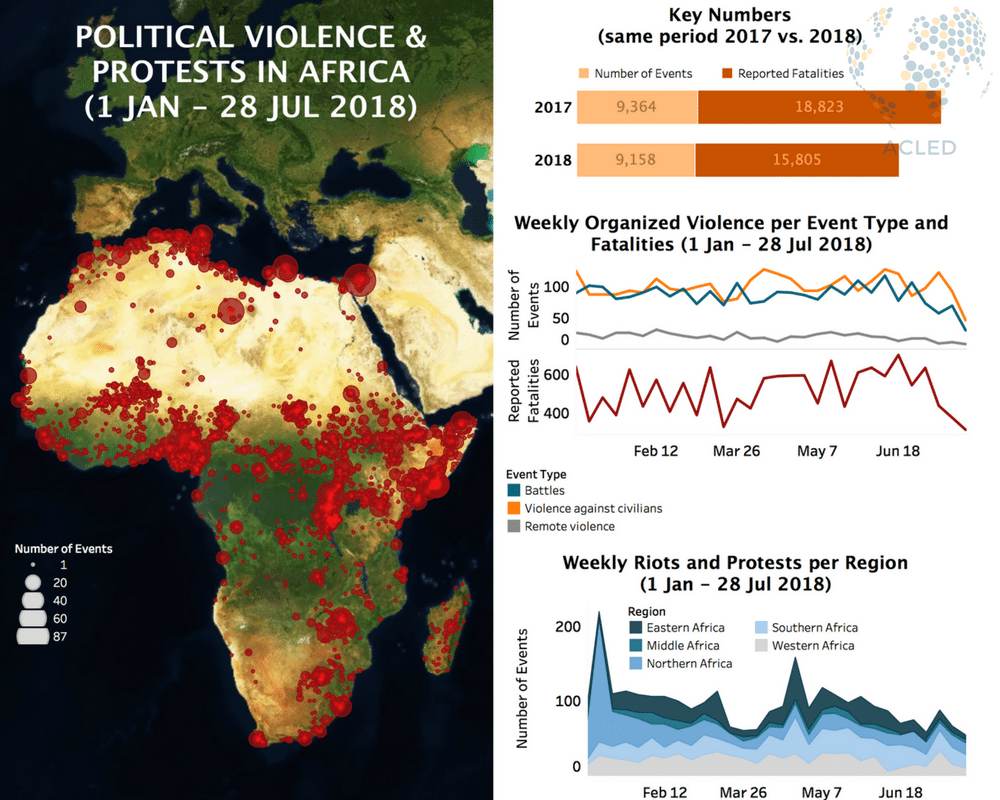 31 July 2018
The most notable trend in Africa on the week of July 22nd was the rise in violence involving Islamist militants across a number of countries. In Somalia, Al Shabaab carried out multiple operations across southern regions. The group claimed responsibility for several IED and grenade explosions targeting government officials and troops in Mogadishu, Baidoa, Belet…
Read More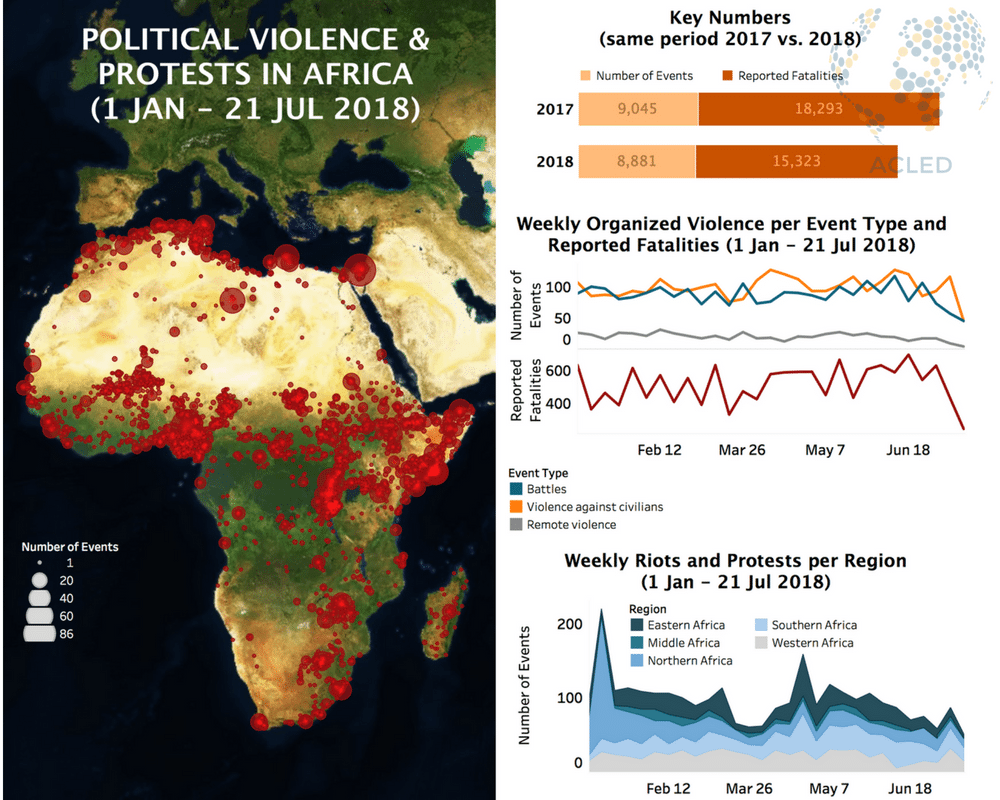 24 July 2018
Key developments in Africa in the week of July 15th include increased attacks by Boko Haram in several states surrounding Nigeria, and targeted political violence in Zimbabwe and Burundi. Regular fighting also occurred in Somalia, Mali, CAR and DRC, while riots and protests dominated the political landscapes in Ghana, Kenya and North Africa. In Chad,…
Read More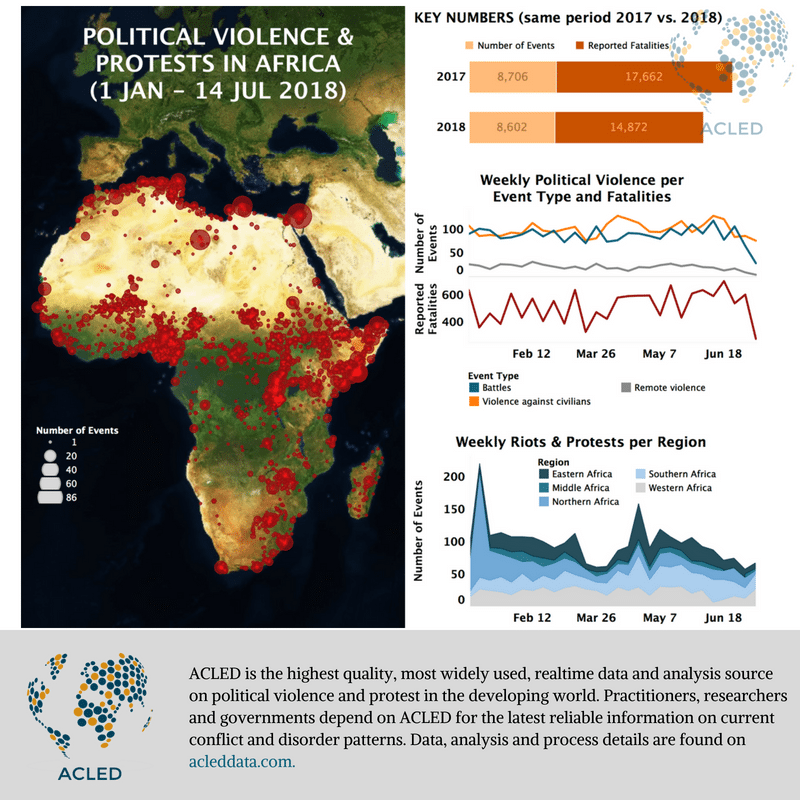 17 July 2018
On the week of July 8th Africa was marked by several important attacks and developments. In Nigeria, nearly one hundred people reportedly died in large-scale attacks launched by Middle Belt, Fulani militiamen in Adamawa and Tabara states over July 9-10th. Recent raids by the various Fulani militants have been increasingly violent and spread out, suggesting…
Read More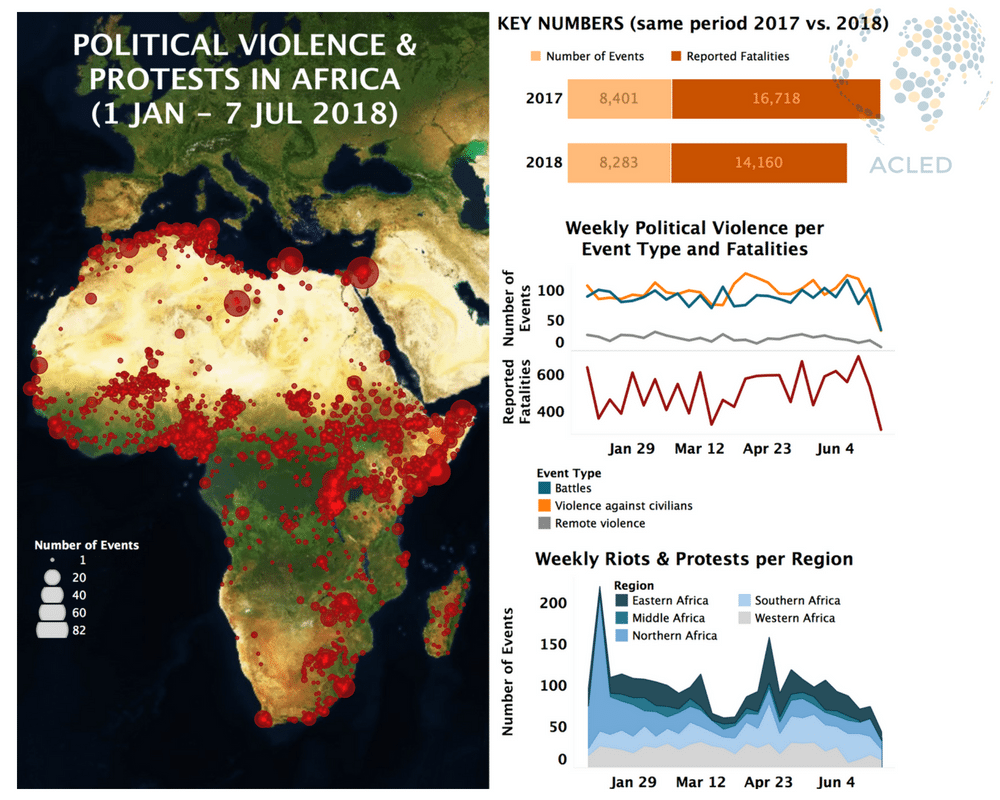 10 July 2018
Key political violence highlights from the first week of July 2018 in Africa include the cross-border incidents between Uganda and the DRC, Ethiopia and Sudan, and Burundi and Rwanda; the targeting of French officials and troops in Cameroon and Mali; and the signs of political tensions in Algeria and Ivory Coast. There were notable episodes…
Read More
Page 3 of 10