Found 76 Results
Page 2 of 8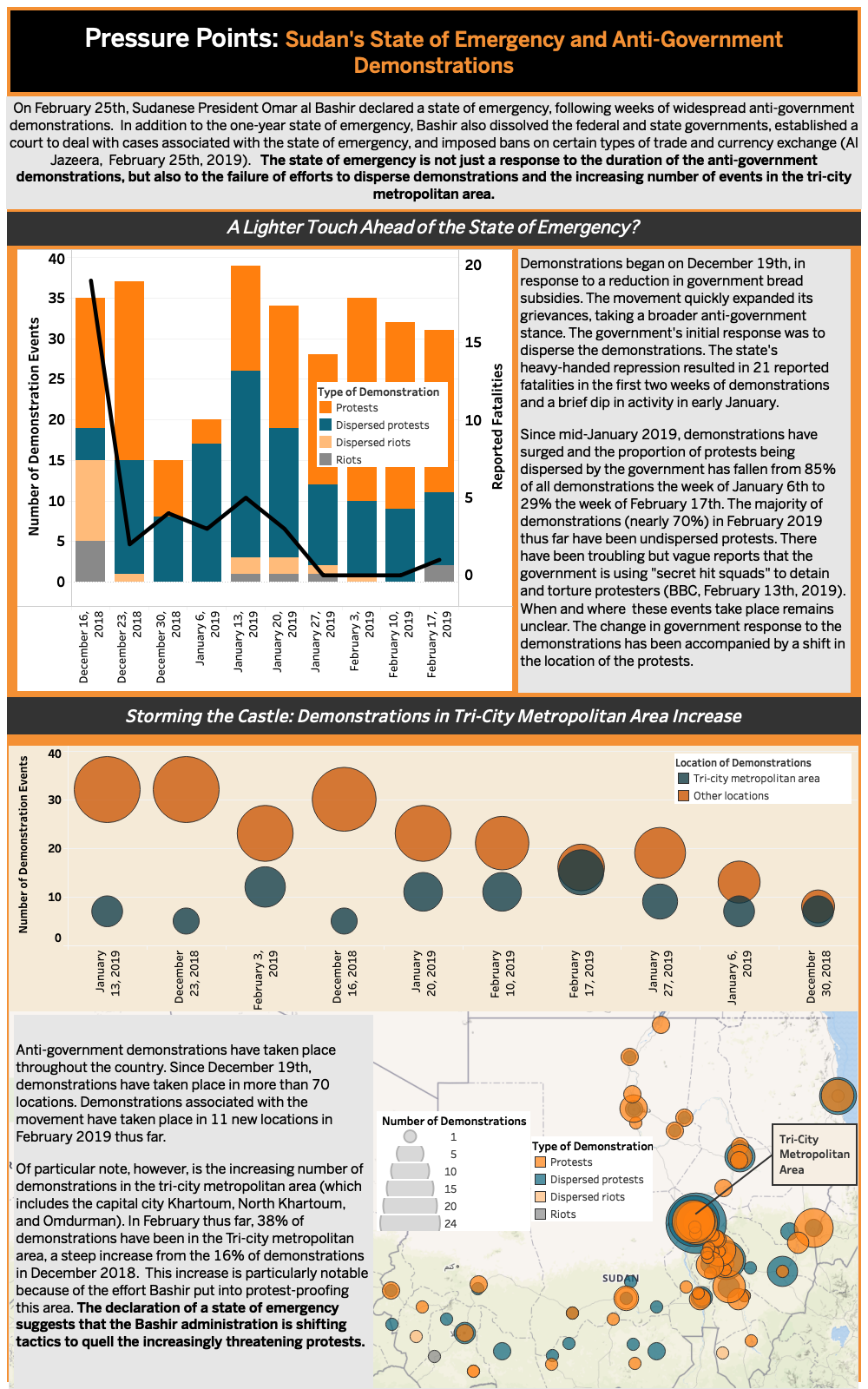 28 February 2019
ACLED Research Analyst Hilary Matfess breaks down President Omar al Bashir's latest efforts to quell the ongoing wave of unrest in Sudan. For analysis of the protest movement's start in December 2018, click here. © 2019 Armed Conflict Location & Event Data Project (ACLED). All rights reserved.
Read More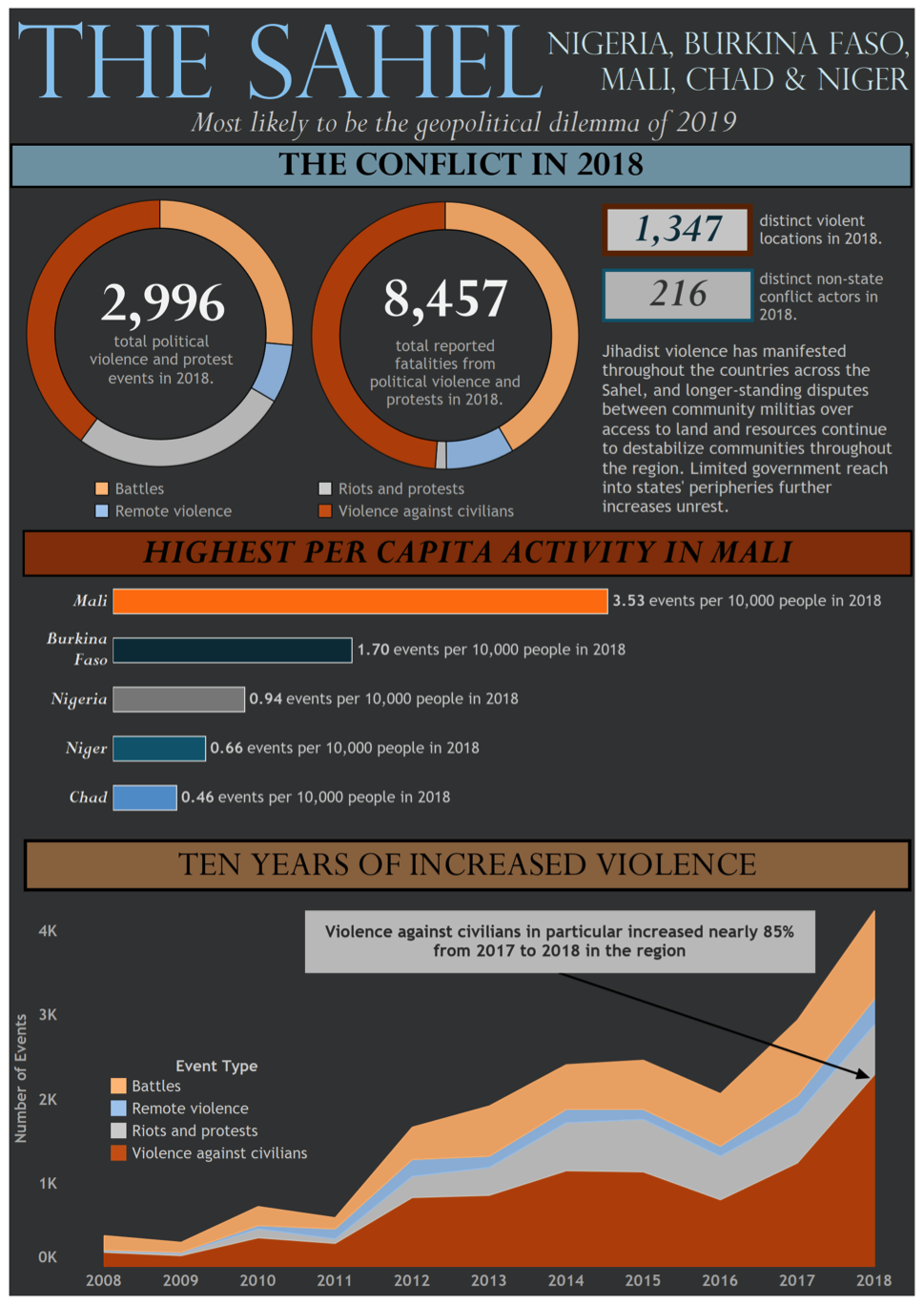 1 February 2019
Disorder spread across ACLED's areas of coverage last year, with political violence and protest surging in more countries than they declined. These trends show few signs of stopping in 2019, as conflict and unrest threaten to expand in scope and scale. In this special report on 10 conflicts to worry about in 2019, ACLED analyzes…
Read More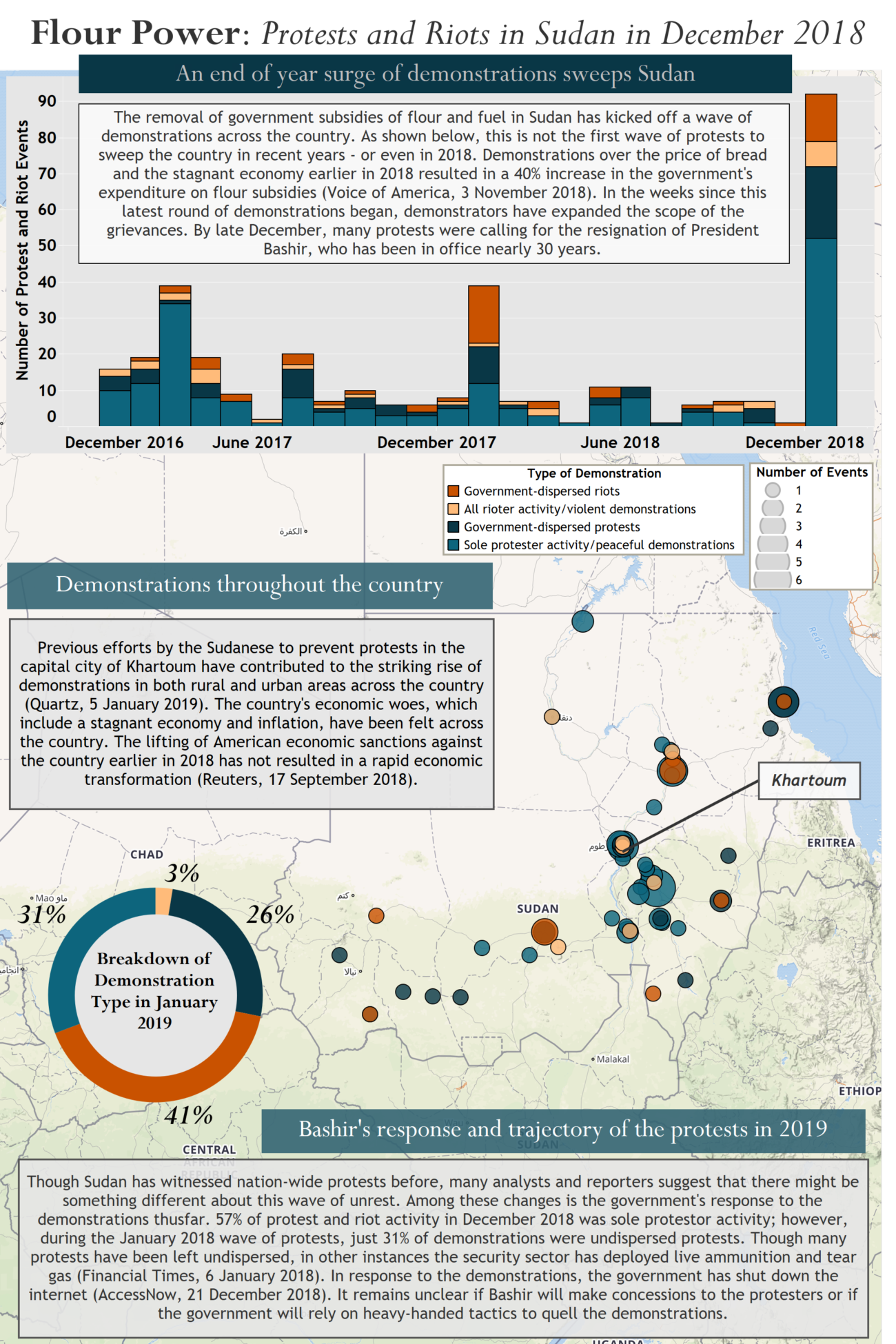 11 January 2019
ACLED Research Analyst Hilary Matfess maps the wave of demonstrations across Sudan in late 2018. © 2019 Armed Conflict Location & Event Data Project (ACLED). All rights reserved.
Read More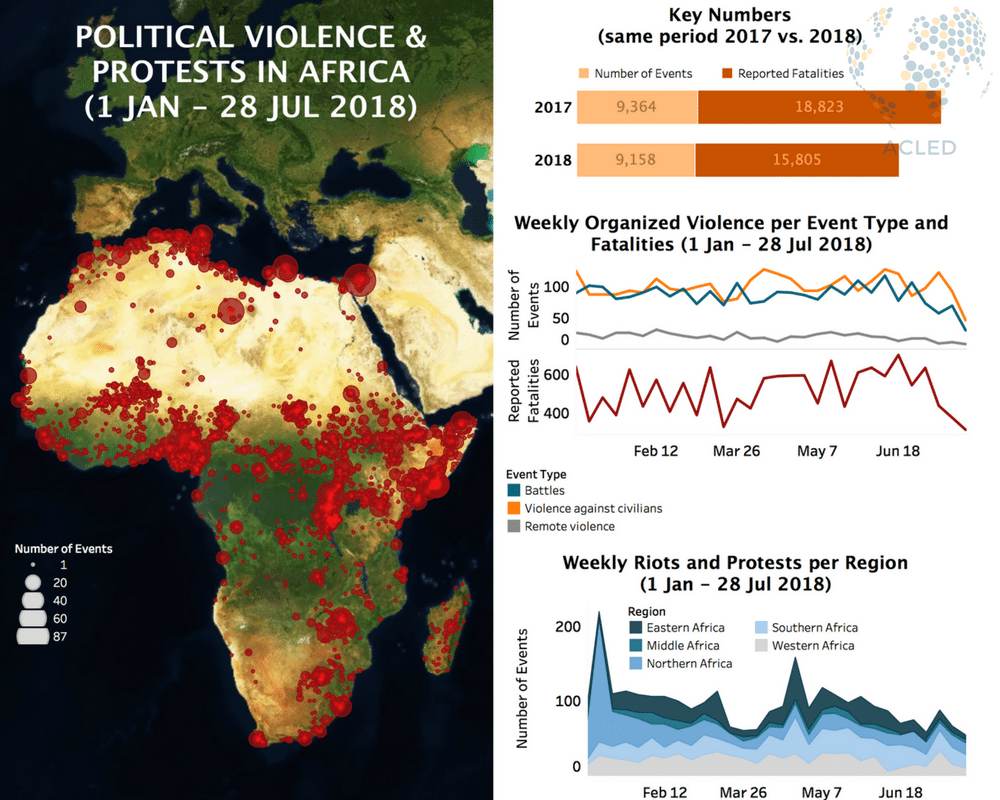 31 July 2018
The most notable trend in Africa on the week of July 22nd was the rise in violence involving Islamist militants across a number of countries. In Somalia, Al Shabaab carried out multiple operations across southern regions. The group claimed responsibility for several IED and grenade explosions targeting government officials and troops in Mogadishu, Baidoa, Belet…
Read More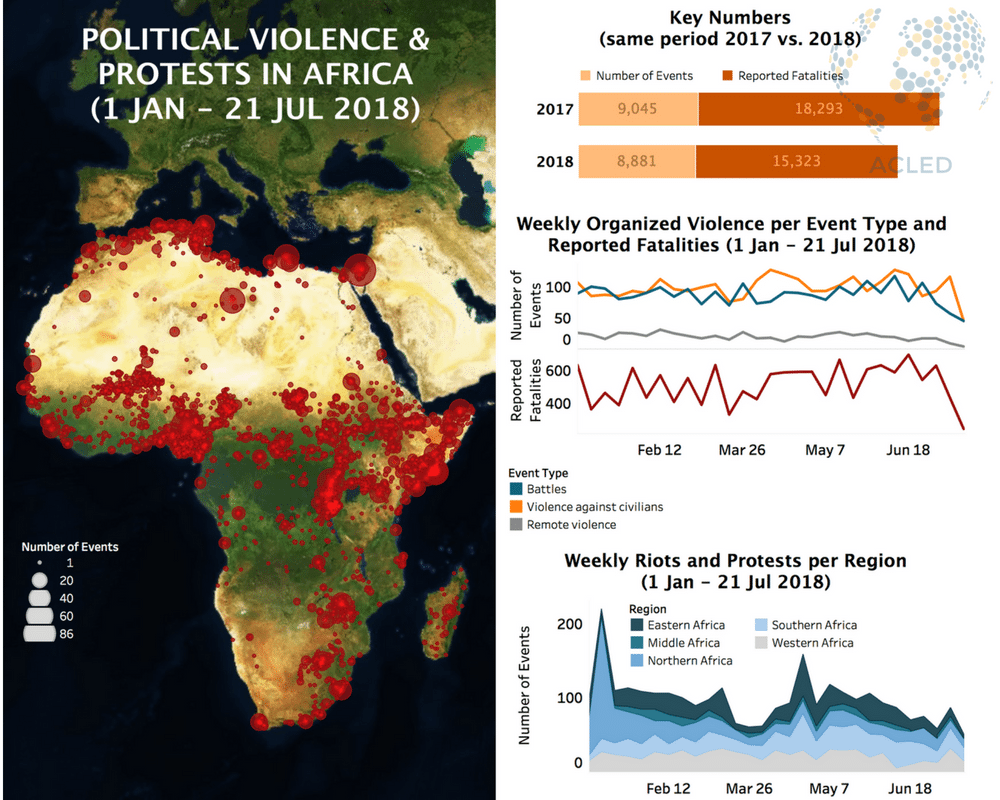 24 July 2018
Key developments in Africa in the week of July 15th include increased attacks by Boko Haram in several states surrounding Nigeria, and targeted political violence in Zimbabwe and Burundi. Regular fighting also occurred in Somalia, Mali, CAR and DRC, while riots and protests dominated the political landscapes in Ghana, Kenya and North Africa. In Chad,…
Read More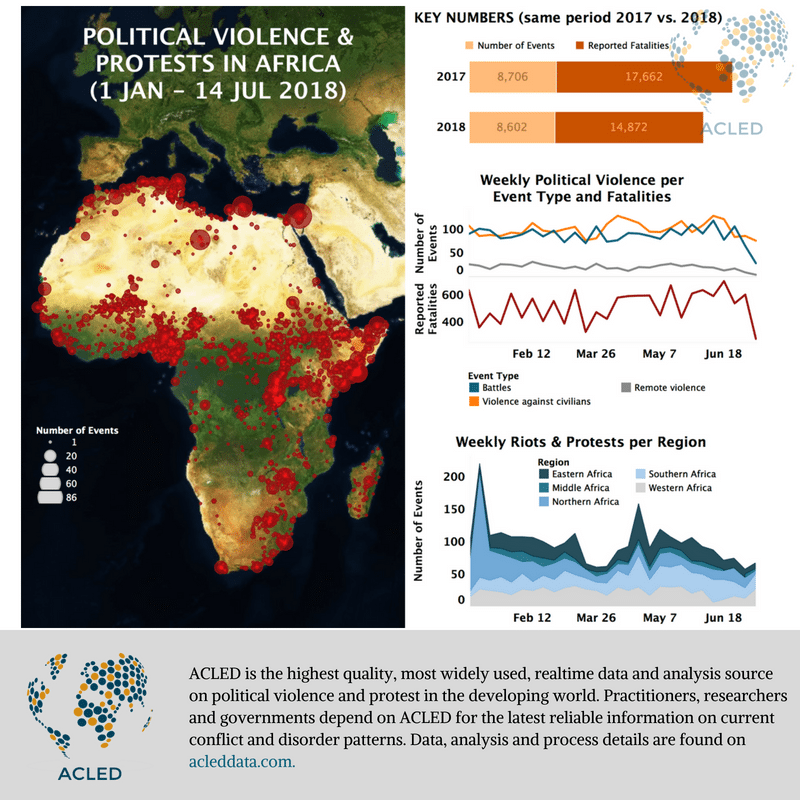 17 July 2018
On the week of July 8th Africa was marked by several important attacks and developments. In Nigeria, nearly one hundred people reportedly died in large-scale attacks launched by Middle Belt, Fulani militiamen in Adamawa and Tabara states over July 9-10th. Recent raids by the various Fulani militants have been increasingly violent and spread out, suggesting…
Read More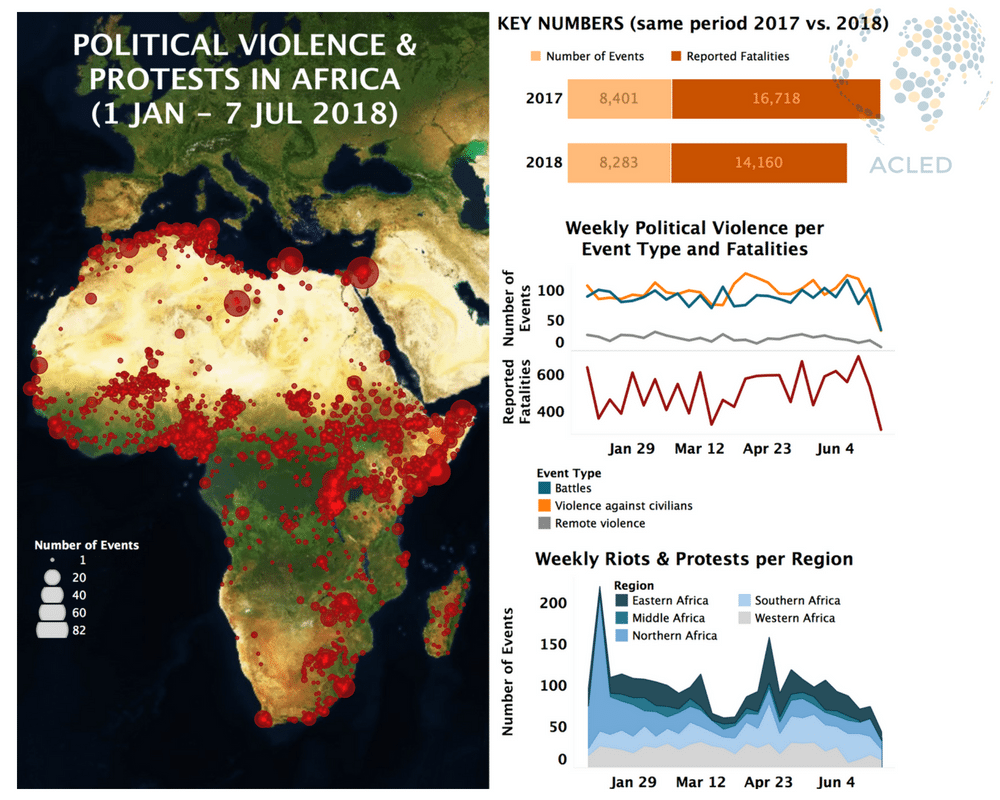 10 July 2018
Key political violence highlights from the first week of July 2018 in Africa include the cross-border incidents between Uganda and the DRC, Ethiopia and Sudan, and Burundi and Rwanda; the targeting of French officials and troops in Cameroon and Mali; and the signs of political tensions in Algeria and Ivory Coast. There were notable episodes…
Read More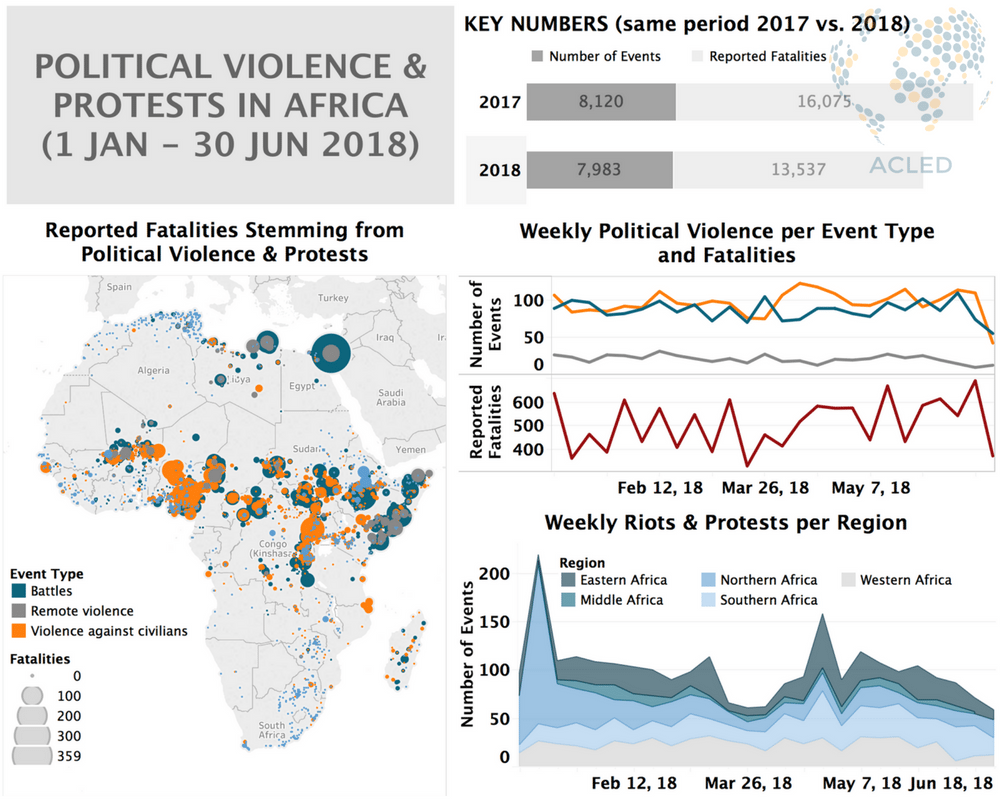 3 July 2018
Important developments in Africa in the week of June 24th included the Fulani violence in Nigeria and Benin; the high militant activity in Cameroon, Egypt and Mali; the tensions in CAR's Nana-Gribizi prefecture; and the continued violence in South Sudan tainting the progress made simultaneously at the negotiations' table. Relevant protests and riots also occurred…
Read More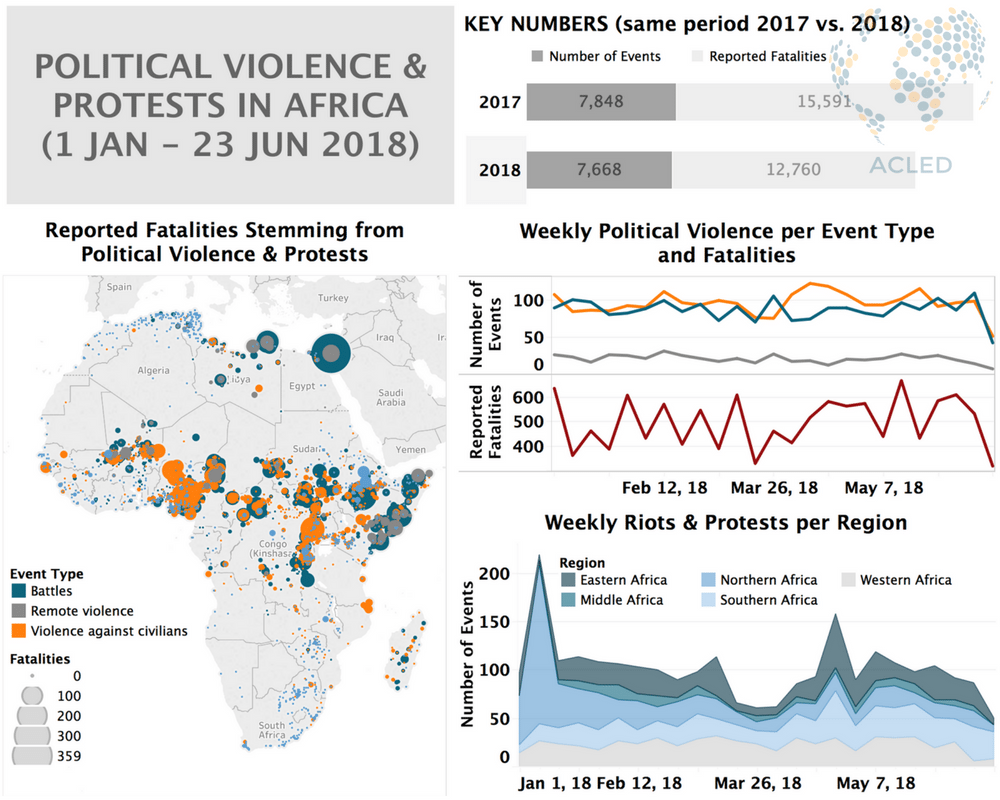 26 June 2018
There were several critical developments in Africa in the week of June 17th. Key among them were the two small bomb attacks on the leaders of Ethiopia and Zimbabwe on June 23rd at political rallies in Addis Ababa and Bulawayo, respectively. The explosions left two people killed in both Ethiopia and in Zimbabwe. Several key…
Read More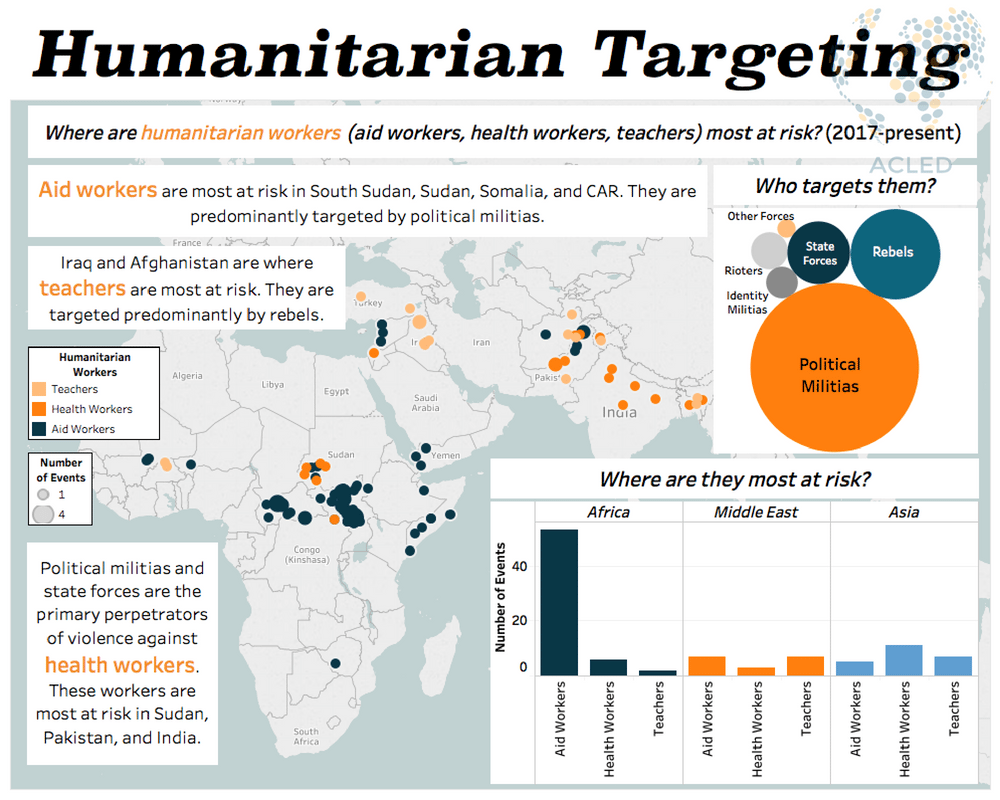 5 June 2018
In this infographic by ACLED Research Director, Dr. Roudabeh Kishi, we explore the question, "Where are humanitarian workers (aid workers, health workers, teachers) most at risk? (2017 – present).
Read More
Page 2 of 8