A new update of the recent unrest in Burundi, covering events from 26 April 2015 to 14 August 2016 has been released by ACLED. This update can be found here.
ACLED has covered the Burundi crisis with regular data updates and blog posts since June 2015, relying on a combination of news sources and local crowd-sourced information from the 2015Burundi Project, a network of grassroots organizations and trained citizen journalists aiding in conflict monitoring, and ACLED's weekly real-time conflict data release covering Burundi
A One-Year Special Report reviewing conflict patterns and dynamics, and the current state of the Burundi Crisis as it officially enters its second year, was recently published, and is available here.
Trends for the Week of August 8:
While the number of reported conflict-related events decreased last week, instability in Burundi continues (see Figure 1).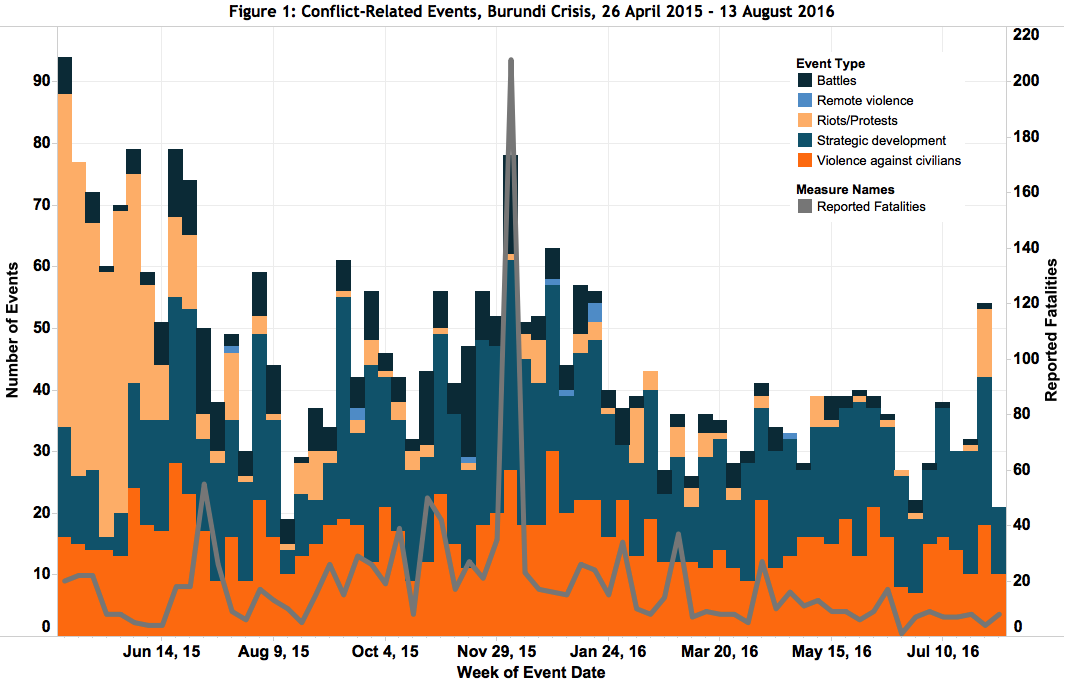 The week of August 8 reported a higher number of fatalities – a result of civilians being targeted, tortured, and killed. In fact, the majority of the armed conflict in Burundi continues to be violence against civilians. Civilians are targeted and killed across the country. Figure 2 maps the locations of civilian deaths in Burundi in August thus far, and briefly notes the circumstances surrounding each death.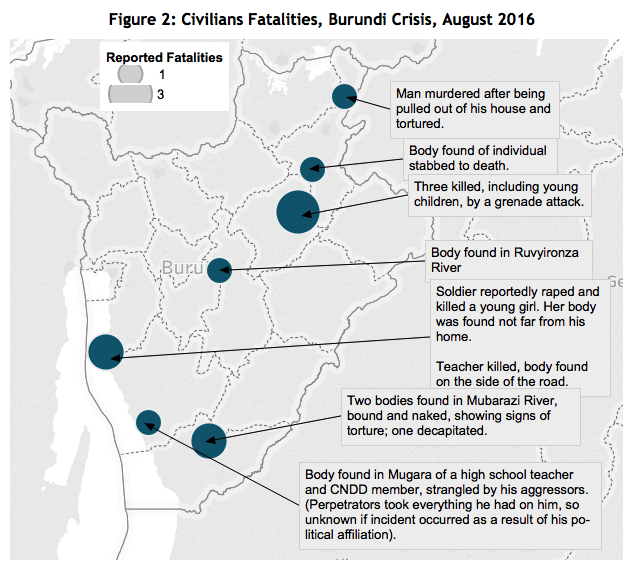 Reports of gender-based violence have also been increasing; there have been a number of instances where women and girls have been victims of sexual assault. Reports of "women being raped as punishment for their political affiliations" has been ongoing during the crisis (McNeish, 17 August 2016). Figure 3 maps the locations of these events in Burundi in August thus far. Local sources stated that the residents of Nyaruteza Hill in Kirundo have blamed a group of about five unidentified men who have committed a number of rapes of women in this locality. There have been reports of gender-based violence in other parts of the country as well, and the perpetrators of these acts are not always unidentified. Instances of soldiers committing these acts have also been reported. In addition to women, young girls have also been targeted. Earlier this month, there was a report of a soldier raping and killing a young girl, whose body was later found near his home.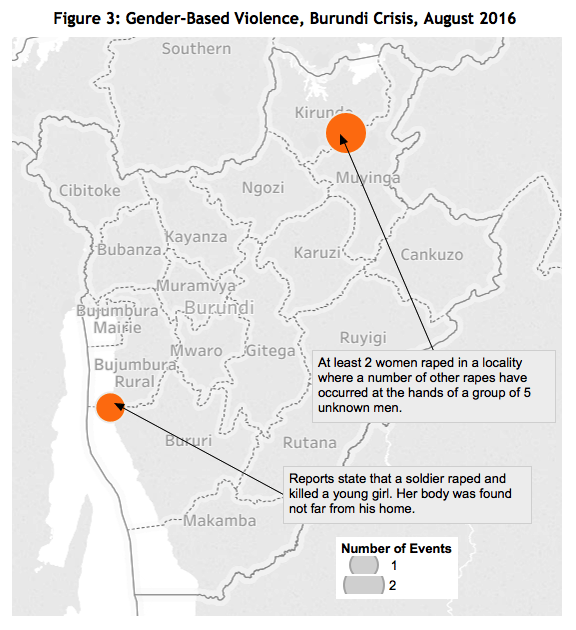 For more on Burundi local data coverage and analysis, see ACLED's prior posts on this topic.