Wagner Group Operations in Africa: Civilian Targeting Trends in the Central African Republic and Mali
Analysis of new ACLED data on Wagner Group activity and the threat posed to civilians.
World at a Glance
Week of 24 Sep 22
Data cover the period of 24 Sep 22 - 30 Sep 22. For more information about how ACLED collects data and categorizes events, see the ACLED Codebook.
Political Violence Events: 2,307ℹ
-19% from previous week
Demonstration Events: 2,746ℹ
-10% from previous week
Event Types:
Battles: 493 Events
Explosions/Remote Violence: 1,216 Events
Violence Against Civilians: 456 Events
Mob Violence: 142 Events
Protests: 2,605 Events
Violent Demonstrations: 141 Events
The Armed Conflict Location & Event Data Project (ACLED) collects real-time data on the locations, dates, actors, fatalities, and types of all reported political violence and protest events around the world.
Ukraine Crisis Hub
This dedicated research hub provides near real-time information on the ongoing conflict, including a curated data file, interactive data visualization tools, and weekly analysis of violence patterns in Ukraine, Russia, and the broader region.
Yemen Truce Monitor
The Yemen Truce Monitor is designed to support analysis of conflict trends during the UN-mediated truce and allow users to track violations as they are reported. The interactive tool is updated weekly with the latest data.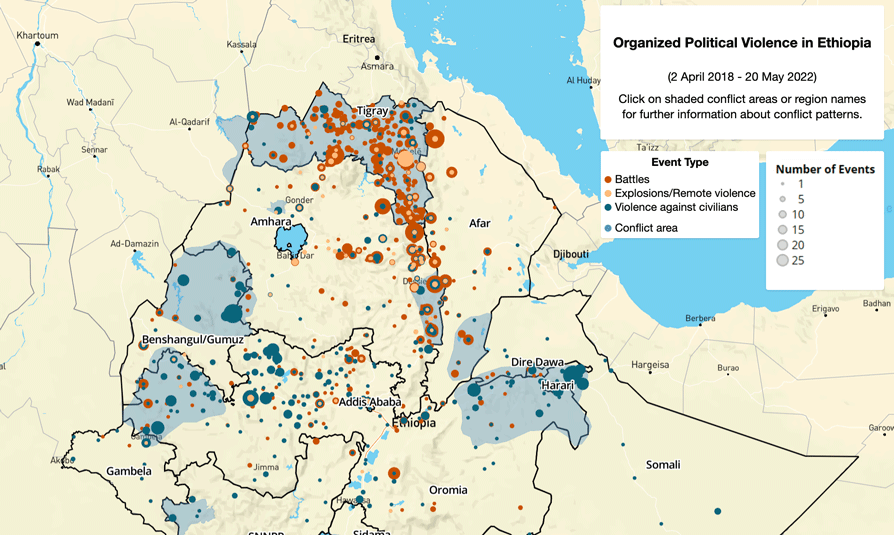 Ethiopia Peace Observatory
The Ethiopia Peace Observatory (EPO) is a special project launched by ACLED to enhance local data collection across Ethiopia. The EPO aims to provide a dedicated platform for governments, media, civil society, and the public to access reliable information and analysis about political violence and unrest across the country.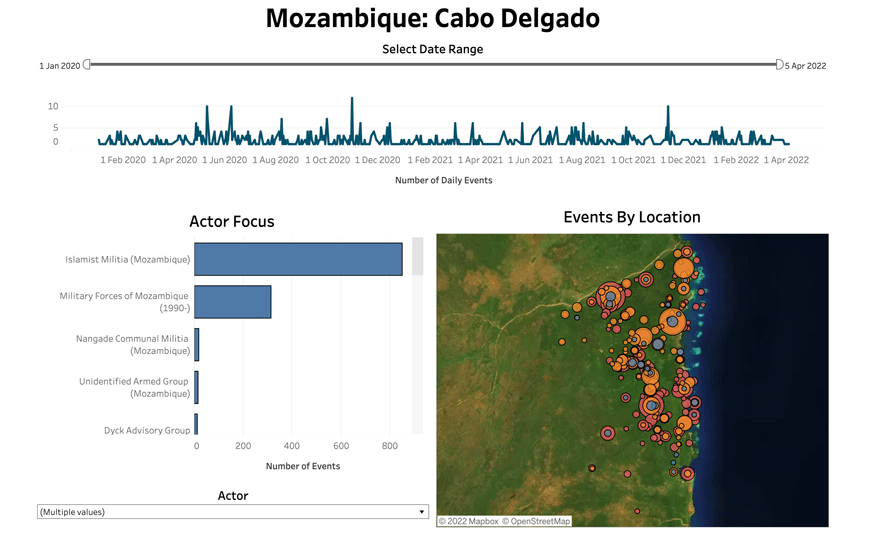 Cabo Ligado
Cabo Ligado ('connected cape') is a conflict observatory established by ACLED in partnership with Zitamar News and MediaFax to monitor political violence in Mozambique. The project supports real-time data collection on the insurgency in the country's northern Cabo Delgado province and provides cutting-edge analysis of the latest conflict trends.