In the east of the capital Sana'a, battles between pro-Hadi and Houthi forces have raged almost incessantly since the beginning of the civil war. This battlefront, which stretches across the predominantly tribal regions of Al Jawf, Sana'a and Ma'rib, constitutes one of the most violent conflict environments in Yemen, with more than 7,700 fatalities recorded by ACLED between January 2017 and March 2018. Despite the intensity of the violence, none of the warring parties has been able to achieve decisive breakthroughs since the beginning of the war.
Al Jawf is a northeastern, scarcely populated governorate where the Houthis have been present for several years. Since January 2018, army troops and pro-Hadi militias, with the air and ground support of the Saudi-led coalition, have seized several sites situated in the desert areas north of the governorate, close to the Houthis' stronghold of Sa'dah (ACLED, 22 March 2018). Claims that pro-Hadi troops almost control the entirety of the governorate (Anadolu Agency, 9 February 2018) have not stopped the fighting, as new clashes and artillery attacks continue in the north and the east of the regional capital Al Hazm. This renewed military offensive contributed to a dramatic spike in the number of reported fatalities (see figures 1 and 2 below).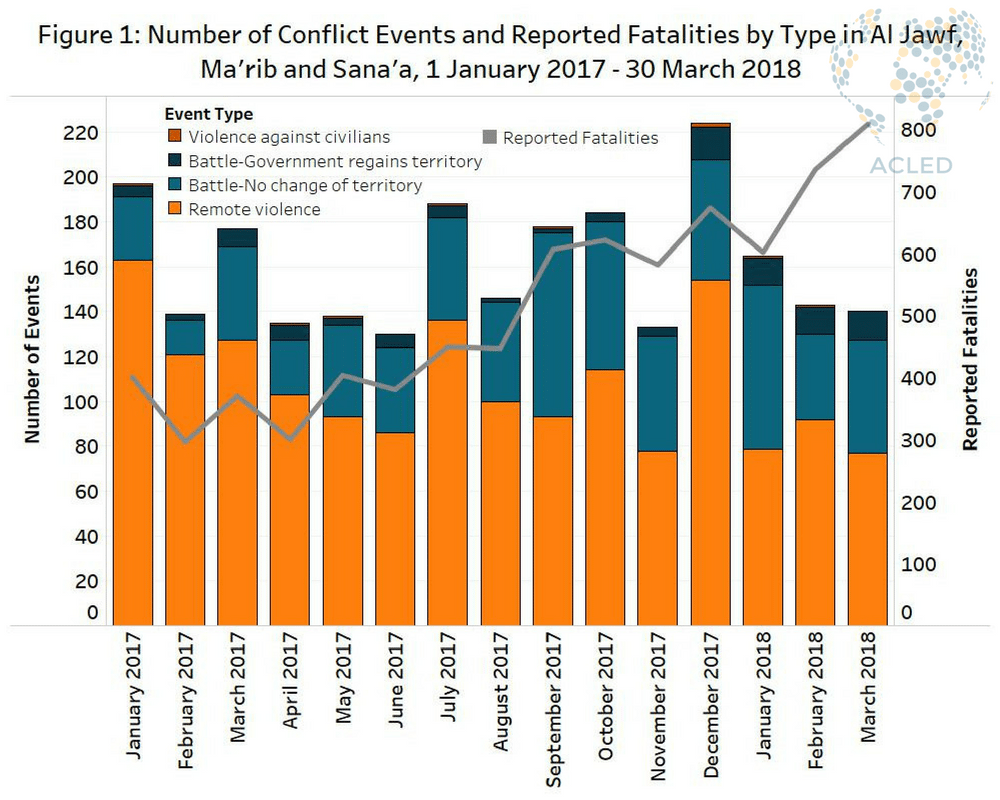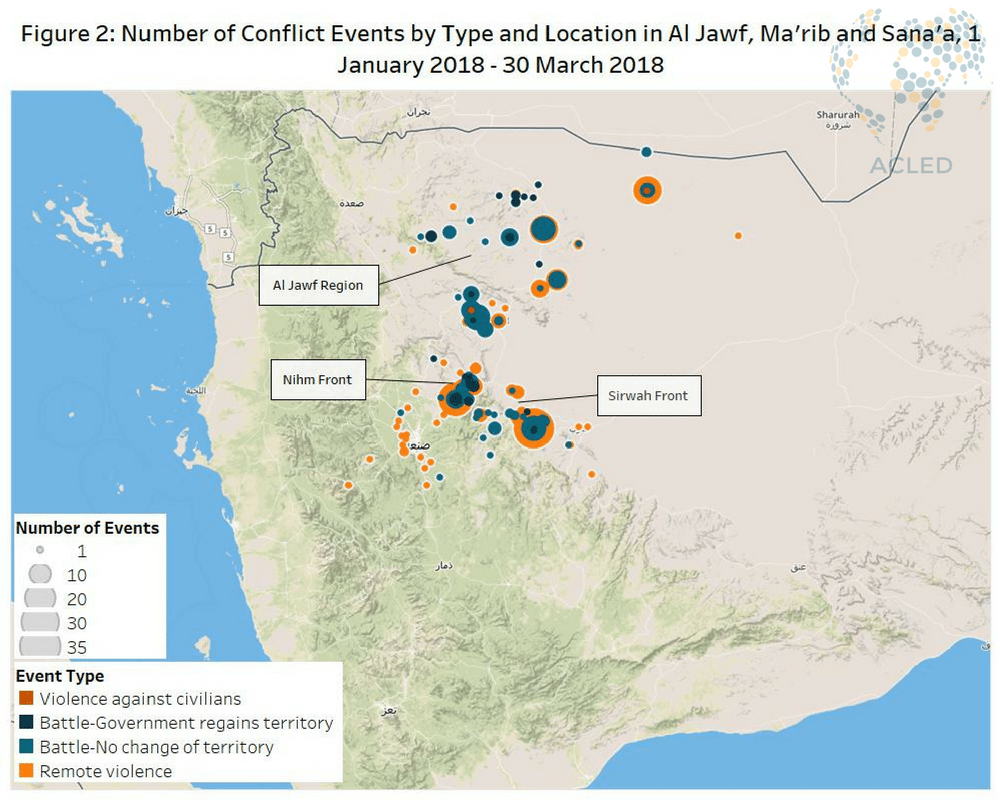 In the governorates of Sana'a and Ma'rib, violence has flared over the control of strategic military camps and hills located in the districts of Nihm and Sirwah, east of Sana'a. The Houthis have used the mountainous territory that surrounds the capital to mount attacks against pro-Hadi troops and slow down their push towards Sana'a (Salisbury, 20 December 2017). In neighbouring Ma'rib, the Hadi government has secured control of this oil-producing region aided by local tribes that, despite a long history of violence, largely aligned themselves with the internationally recognised government and the local governor Sultan al-Aradah (Al-Rawhani, 23 June 2017). Tribal violence, however, resurfaced last October when two tribesmen and one police officer died in a demonstration to demand jobs in Ma'rib, pointing to simmering tensions between local elites and national political actors (The National, 16 October 2017). These events are a reminder that failing to address the concerns of Yemen's local communities is unlikely to conduce to a sustainable post-war political settlement.
Find an explanation of ACLED's methodology for monitoring the conflict in Yemen here.