The Great Return March demonstrations (see here for more on this topic) officially began on 30 March 2018 (Land Day) and ended on 15 May 2018 (Nakba Day). These events were meant to reaffirm the right of return of Palestinians in the face of the US decision to move their embassy to Jerusalem, which is seen by Palestinians as the capital of their future state. However, the Trump administration's decision to move the US embassy to Jerusalem has bolstered Israel's sense of impunity in dealing with unrest in Gaza, which has become evident in Israel's disproportionate use of force in putting down the recent Great Return March demonstrations.
Over the course of these demonstrations, Israeli security forces have reportedly killed more than 100 Palestinians in Gaza and have injured thousands more. By contrast, there have been no Israeli fatalities reported as a result of the events along the Gaza border, and only one soldier has been reported injured. Additionally, there has been almost no spillover of these events into Israeli territory in any form. The most significant events have been fires sparked by Palestinian kites carrying Molotov cocktails (Times of Israel, May 13, 2018) and some cases of Israeli houses hit by bullets fired from Gaza (Times of Israel, May 16, 2018).
Accusations of a disproportionate use of force by Israel began after the first day of the demonstrations on March 30. On that day, at least 19 Palestinian demonstrators were reportedly killed by Israeli security forces, including snipers, firing live rounds during demonstrations that were reported to be largely non-violent (Al Monitor, April 3, 2018). This provoked international criticism and prompted the UN Security Council to call for an emergency meeting to address Israel's actions (Times of Israel, March 30, 2018). However, the US blocked the release of a statement calling for an "independent and transparency investigation" into the events of March 30 (Haaretz, April 1, 2018). Despite US support for Israel, international criticism — including comments from the United Nations, the Prosecutor of the International Criminal Court, and the Turkish government — appeared to have at least partially deterred Israel's use of force over the following weeks (UNHCR, April 17, 2018; JusticeHub, April 11, 2018; The Globe Post, March 30, 2018). A recent ACLED analysis piece on the Great Return March reported that fatalities decreased following the March 30 demonstrations (see graph below).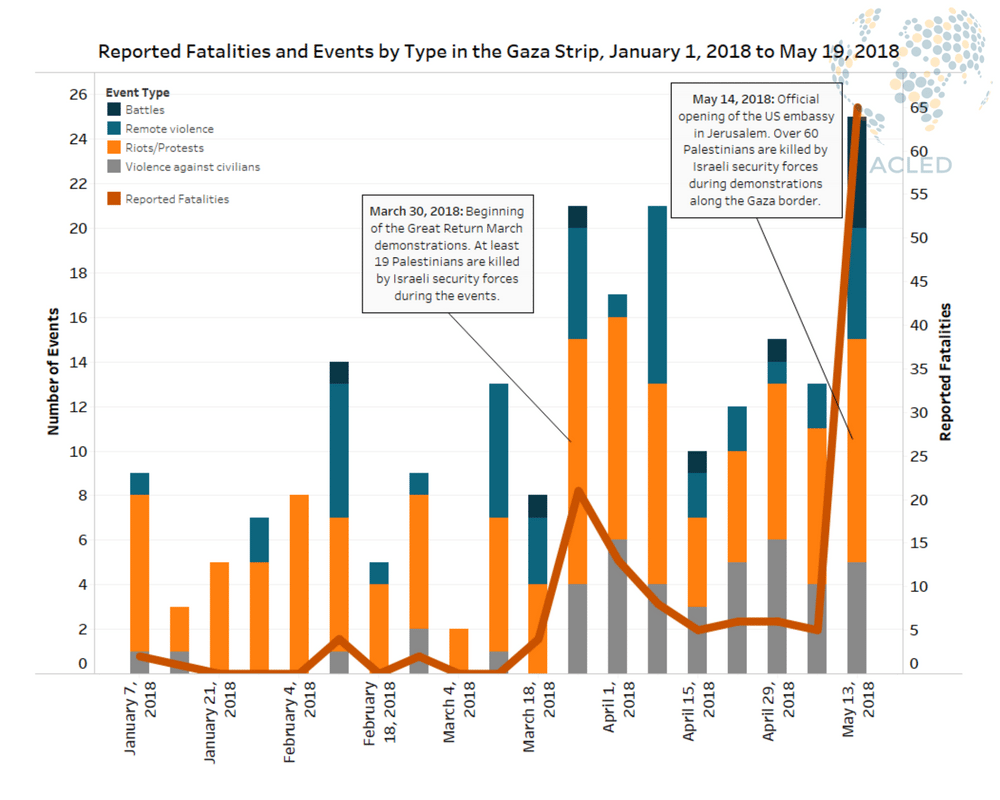 However, the drop in reported fatalities related to the GRM demonstrations has since been reversed. During demonstrations last week against the opening of the US embassy in Jerusalem on May 14, Israeli security forces reportedly killed over 60 Palestinians in Gaza (see graph above), the highest number of reported fatalities in Gaza in a single day since the end of the 2014 Israel-Hamas conflict (Jerusalem Post, May 14, 2018). The next day, May 15 (Nakba Day), was planned to be the final demonstration of the Great Return March yet was overshadowed by the lethal events of the previous day and the international criticism they again provoked (BBC News, May 18, 2018).
Although US administrations have universally supported Israel financially and with political cover at the UN, the move of the US embassy by the Trump administration has signaled to Israel a carte-blanche to act with impunity. And this is true not just in Gaza but outside of Palestine as well, as Israel also carried out unprecedented airstrikes in Syria targeting Iran the week prior. The US appears undeterred in its support for Israel despite these events and the mounting international criticism they have generated. In fact, this will likely further deteriorate the United States' relationships in the region, particularly with Turkey where mass demonstrations have been held over the US embassy move in December (Hurriyet Daily News, December 7, 2017) and again last week (Times of Israel, May 12, 2018). Looking forward, this has the potential to create a dangerous situation in the region whereby even slight provocations by Hamas or other groups Israel identifies as threats could lead to significant escalations and disproportionate responses as Israel is emboldened by unwavering US support.