Little-Known Military Brigades and Armed Groups in Yemen: A Series
This series maps the activity of little-known military brigades and armed groups proliferating throughout the conflict in Yemen. Mapping these actors has become relevant for understanding future trajectories of violence in Yemen as some of them have developed significant combat capabilities with shifting allegiances. While some follow their own interests, others have clear allegiances to the internationally recognized government or the Southern Transitional Council. As with actors in other conflict scenarios, such allegiances are, however, never set in stone. Rather, allegiances are a fluid process, shifting due to changes of outside circumstances (e.g. the behavior of a patron) or battlefield victories. In order to be better prepared for these changes, this series maps the activity of such military brigades and armed groups — some of them have become relevant already, while others may see their turn towards increased relevance in the future.
Supported by the Southern Resistance, the Amajid Brigade reportedly captured the strategic Thirah front from Houthi forces on 25 April 2020. This raised the little-known group's profile, warranting further examination of its history and role in the Yemen conflict. The Amajid Brigade is a brigade created by President Abdrabbuh Mansur Hadi in June/July 2019 and is led by Salafi Sheikh Brigadier General Salih Salim al-Sharji, reported to be close to Saudi Arabia. The brigade is part of the internationally recognized government's military structure, but seems to pursue its own agenda. According to some sources, it is based in al-Minyasah area, east of Lawdar district in Abyan governorate, while other sources report that its camp is based in Dathinah area of Mudiyah district (Twitter, 20 February 2020; Aden al-Ghad, 23 September 2019).
The Amajid Brigade is estimated to maintain between 5,000 and 6,000 fighters (Akhbar al-Yom, 11 July 2019). It recently completed its mission to push Houthi forces out of the Thirah front and is, as of July 2020, now trying to gain control of Mukayras district and Hazimiyah front in the Sawmaah district of Al Bayda governorate, as illustrated in the map below (Aden al-Ghad, 19 June 2020). If it achieves these objectives, the group may advance up Al Bayda governorate as part of its further strategic goals.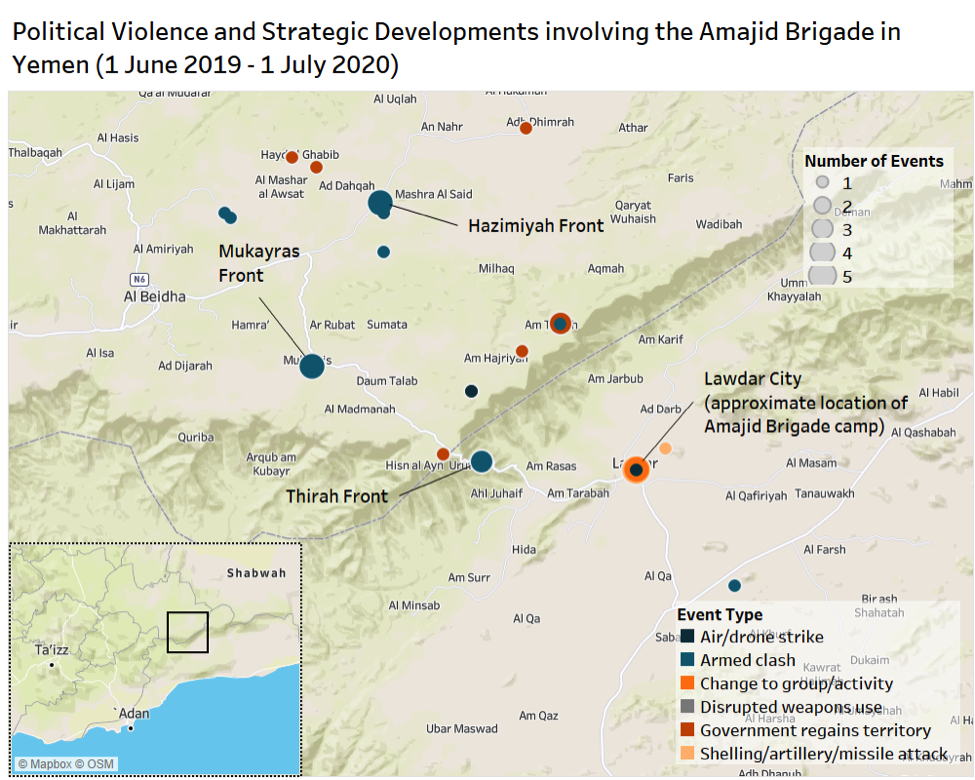 On 22 December 2019, the brigade reaffirmed its readiness and its commitment to fighting Houthi forces during a large military parade, with its activity rising significantly in the following months (Youtube, 22 December 2019; Al-Masdar, 24 December 2019). Until February 2020, ACLED records only six events involving the brigade. As of 30 June 2020, the number of reported events increased to almost 50, as shown in the graph below. This rapid escalation can be explained by an intensification of clashes around Thirah front, which culminated in its capture by Amajid Brigade forces, supported by the Southern Resistance, near the end of April 2020. However, anti-Houthi forces fighting in the Thirah front are typically reported collectively as Southern Resistance forces, most notably by reputed news outlet Aden al-Ghad, or as generic "government"/"legitimacy" forces, which might skew the number of records, in which ACLED codes the Amajid Brigade, downwards. In at least one instance, the Amajid Brigade was also referred to as the 103rd Brigade, as some sources noted the involvement of the 103rd Brigade in a shelling event, whereas others referred to the forces as the Amajid Brigade (Al-Masdar, 13 February 2020; Crater Sky, 11 February 2020). Some unverifiable reports suggested that its camp was targeted by UAE drones (Al-Awal Press, 26 December 2019).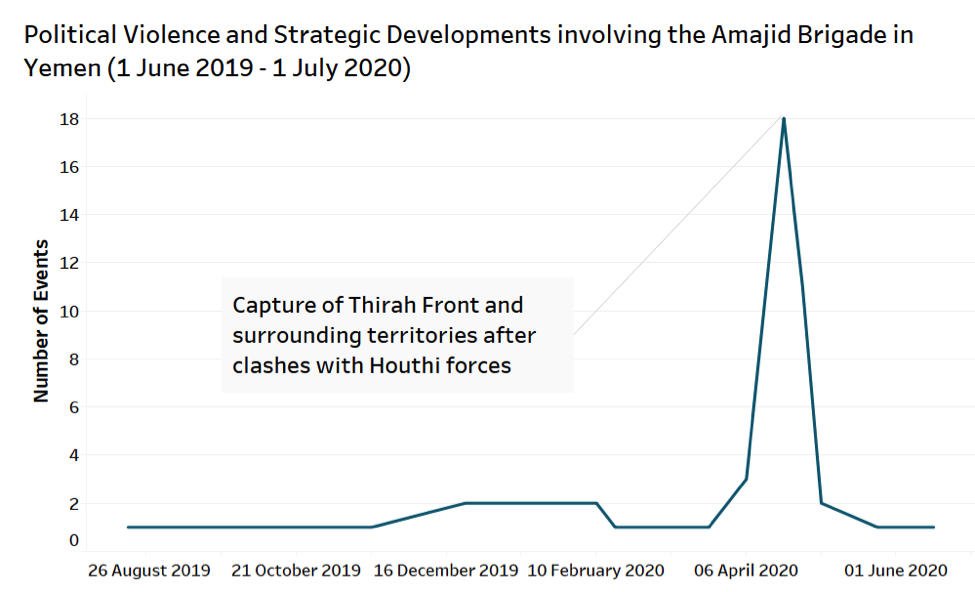 As of June 2020, however, good relations seemed to prevail with the UAE-backed Southern Transitional Council (STC). Around 25 May, the Amajid Brigade reportedly fought together with the Security Belt Forces (SBF) against Houthi forces on Mukayras front (Nokhbat Hadramout, 25 May 2020). On 14 February, both heads of the STC and of the SBF in Lawdar, respectively Abbas Nassir al-Saqqaf and 'Abdullah 'Umar al-Damani, visited the brigade following deadly shelling by Houthi forces from the Thirah mountain (Aden al-Ghad, 14 February 2020). Following the first attack in mid-July 2019, shortly after its establishment (Al-Masdar, 31 July 2019), the Amajid Brigade's camp has been repeatedly shelled by Houthi forces, who have used both drones and Katyusha rockets (Aden al-Ghad, 11 February 2020; Al-Masdar, 20 February 2020; Al Masdar, 8 April 2020).
As of 30 June 2020, Houthi forces shelled the Amajid Brigade camp in at least six different incidents. In the only deadly attack, two of the group's fighters were killed and 11 injured by three rockets on 11 February 2020 (Al-Masdar, 11 February 2020). 
Evidencing its Saudi backing, the Amajid Brigade has received Saudi military hardware on multiple occasions, including approximately 50 vehicles on 22 August 2019 (Al-Masdar, 22 August 2019) and 30 others three months later (Al-Wattan, 22 November 2019). The salaries of its members are, at least in part, directly paid by Saudi Arabia (Al-Wattan, 22 September 2019). Its spokesman is Fahd al-Barsha (Twitter, 22 December 2019), who appears to be a close associate of commander Salih al-Sharji since at least late 2018, before the creation of the Amajid Brigade (Aden al-Ghad, 29 November 2018).
Salih Salim al-Sharji, a.k.a. Abu 'Amr (Twitter, 29 March 2020), is a local from Mudiyah district in Abyan, located to the east of Lawdar district. He studied in Dar al-Hadith in Dammaj before returning to Southern Yemen following the Houthi siege of the institute. He reportedly joined the ranks of the Southern Resistance against Houthi-Saleh forces in March 2015 (Al-Wattan, 20 October 2018), and became commander of the Dathinah Battalion, most likely named after his region of origin in Mudyiah district, before playing a significant role at the governorate level (Al-Masdar, 23 July 2015).
Fighting for the Dathinah Battalion, he lost one of his legs during battle, after which he went to Saudi Arabia for treatment. The period in which he was in the Kingdom is unclear, but during this time he was replaced by his brother, al-Khadr al-Sharji, as head of the battalion (Crater Sky, 17 October 2018; Aden al-Ghad, 29 November 2018).
It will be important to monitor how the Amajid Brigade expands over the coming months. Its formal integration into the Yemeni military structure, relationship to Saudi Arabia, and partnership in arms with the more pro-STC Southern Resistance could lead to infighting if it manages to consolidate control over the southern districts of Al Bayda governorate. If Houthi forces are pushed out of the area, the question arises of whether the pro-STC Southern Resistance, the internationally-recognized government, or the pro-Saudi Amajid Brigade will control Northern Abyan and Southern Al Bayda, raising the risk of further instability in this region.

© 2020 Armed Conflict Location & Event Data Project (ACLED). All rights reserved.