Actor Profile:
The Islamic State Sahel Province
This is the second installment in our actor profile series unpacking the latest data on armed group activity around the Sahel. All data are available for direct download. Definitions and methodology decisions are explained in the Codebook. For more information, please check the full ACLED Resource Library.
Introduction: The Islamic State's Sahelian Affiliate
The Islamic State Sahel Province (IS Sahel) is a salafi-jihadist militant group and the Sahelian affiliate of the transnational Islamic State (IS) organization. It is primarily active in the border areas between Burkina Faso, Mali, and Niger — known as the tri-state border area, or Liptako-Gourma — but it has also engaged in sporadic activity in Algeria, Benin, and Nigeria. The group's composition reflects the social fabric in the areas where it is active. Its members belong to the Fulani, Arab, Tuareg, Dawsahak, Songhai, and Djerma ethnic groups, although its core leadership was historically composed of Western Saharan militants.
The genealogy of IS Sahel goes back more than a decade and is the result of a series of mergers and splits. Its de facto predecessor, the Movement for Oneness and Jihad in West Africa (better known by its French acronym, MUJAO), was formed in 2011 as an offshoot of al-Qaeda in the Islamic Maghreb and gathered Sahelian Arabs from Mali, Mauritania, and Western Sahara. MUJAO was initially involved in a series of kidnappings of Westerners in southern Algeria, but rose to prominence during the jihadist takeover of northern Mali in 2012, ruling northern Mali's largest city, Gao, for about six months. Then, in August 2013, MUJAO merged with Signatories in Blood, led by the notorious Algerian militant commander Mokhtar Belmokhtar, to form al-Mourabitoun. Western Saharan Adnan Abu Walid al-Sahrawi, the former MUJAO spokesman who became the head of al-Mourabitoun's Shura Council, eventually defected along with his men from al-Mourabitoun after swearing allegiance to the IS and its then-leader, Abu Bakr al-Baghdadi, in May 2015.1Combating Terrorism Center Sentinel, July 2020
After its formation in May 2015, the group went through several phases in its wartime transformation until it was granted 'provincial' status in March 2022. Initially, IS Sahel was known as the Islamic State in the Greater Sahara (ISGS). The group did not carry out attacks, or at least did not claim responsibility for them, until September 2016, when it began to carry out a series of attacks on military and security force positions in Burkina Faso and Niger. These attacks included a raid on a customs post in Markoye, an attack on a military camp in Intagom, and a failed prison break in Koutoukale. The string of attacks apparently caught the Islamic State central's (IS central's) attention as it belatedly took note of the pledge of allegiance by diffusing a video from the ceremony via its Amaq newswire. Some observers frowned upon the relatively small size of the ISGS, which at its inception was estimated to have consisted of only a few dozen men and owned no more than a handful of pickup trucks.2The Guardian, 5 June 2018
Between March 2019 and March 2022, IS Sahel was technically the Greater Sahara faction of the Islamic State West Africa Province (ISWAP) as part of the IS organizational infrastructure before being declared a separate province in March 2022. For the sake of clarity, in this report, the group will be referred to by its latest iteration, IS Sahel.
Activity and Area of Operations
IS Sahel is the second most active armed actor — after its al-Qaeda rival Jamaa Nusra al-Islam wa al-Muslimin (JNIM) — in the Sahel regional conflict. From its strategic home in the border area between Mali and Niger, where villages such as In-Araban, Akabar, and Infoukaretane are important bases (see map below), IS Sahel operates primarily in the Liptako-Gourma area. The group has become the dominant actor in several of the regions encompassing this area, including the Gao and Menaka regions in Mali, the Oudalan and Seno provinces in Burkina Faso, and the Tillaberi and Tahoua regions in Niger, as well as areas adjacent to the aforementioned regions.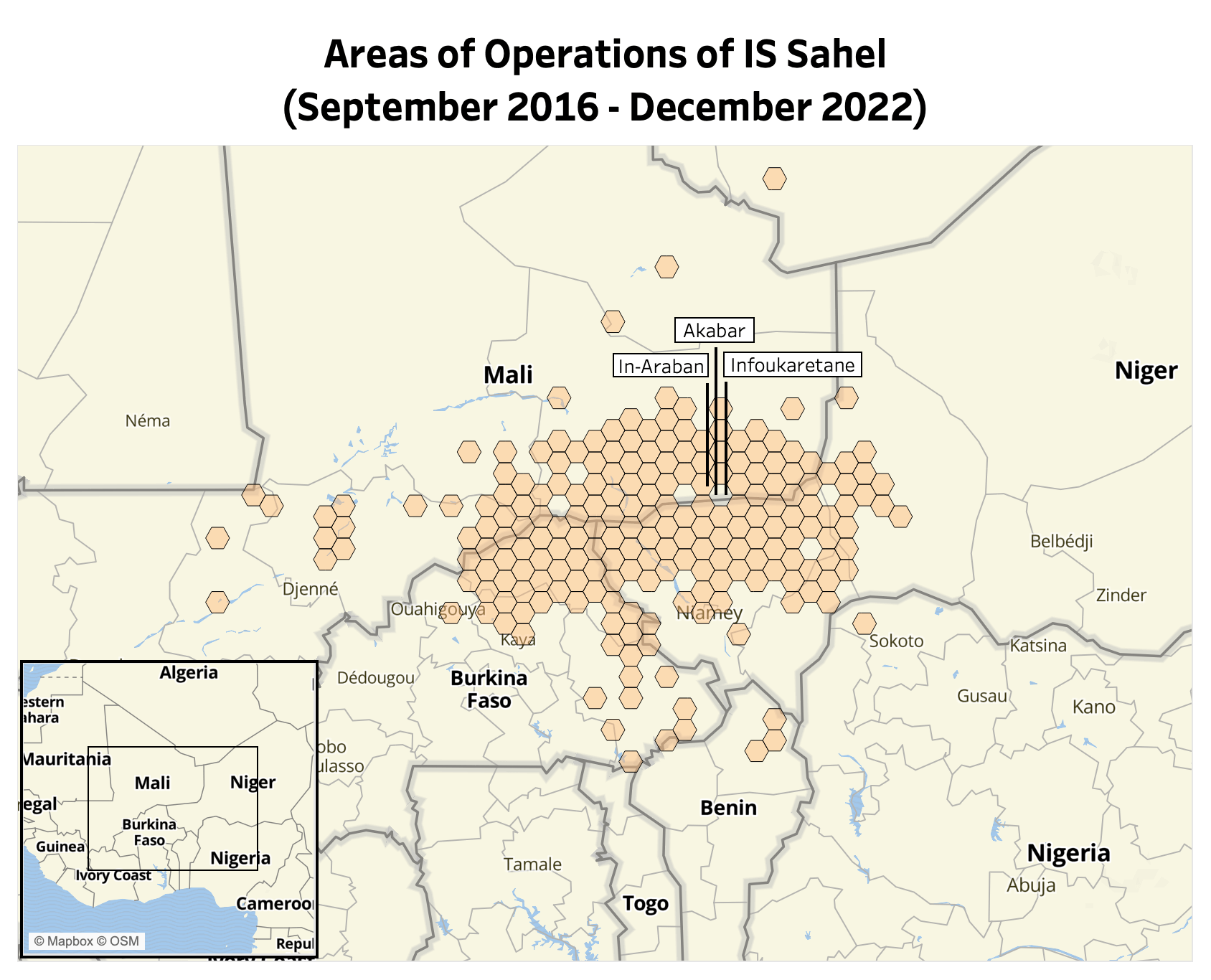 For most of IS Sahel's existence and throughout the period between 2015 and 2019, when it was known as the ISGS, its ties to the IS central were tenuous at best. Despite this apparent public disconnect, manifested by the ISGS's absence from IS media operations, the violence and brutality exhibited by the group demonstrated both its continued loyalty and willingness to align with the parent organization. This tenuous link changed in March 2019, when the group was formally integrated into the IS organizational infrastructure as the separate Greater Sahara faction of ISWAP.3Combating Terrorism Center Sentinel, November/December 2020
The integration of the group as an independent wing of ISWAP occurred against the backdrop of militant expansion of the group and JNIM throughout the Sahel region.4Raleigh, Nsaibia, & Dowd, 26 August 2022 In the period following the ISWAP incorporation, a major change in IS Sahel's capabilities was observed when the group attacked and overran numerous military positions in the Liptako-Gourma area over the course of a year between May 2019 and May 2020, reportedly killing more than 400 soldiers from Burkina Faso, Mali, and Niger (see graph below).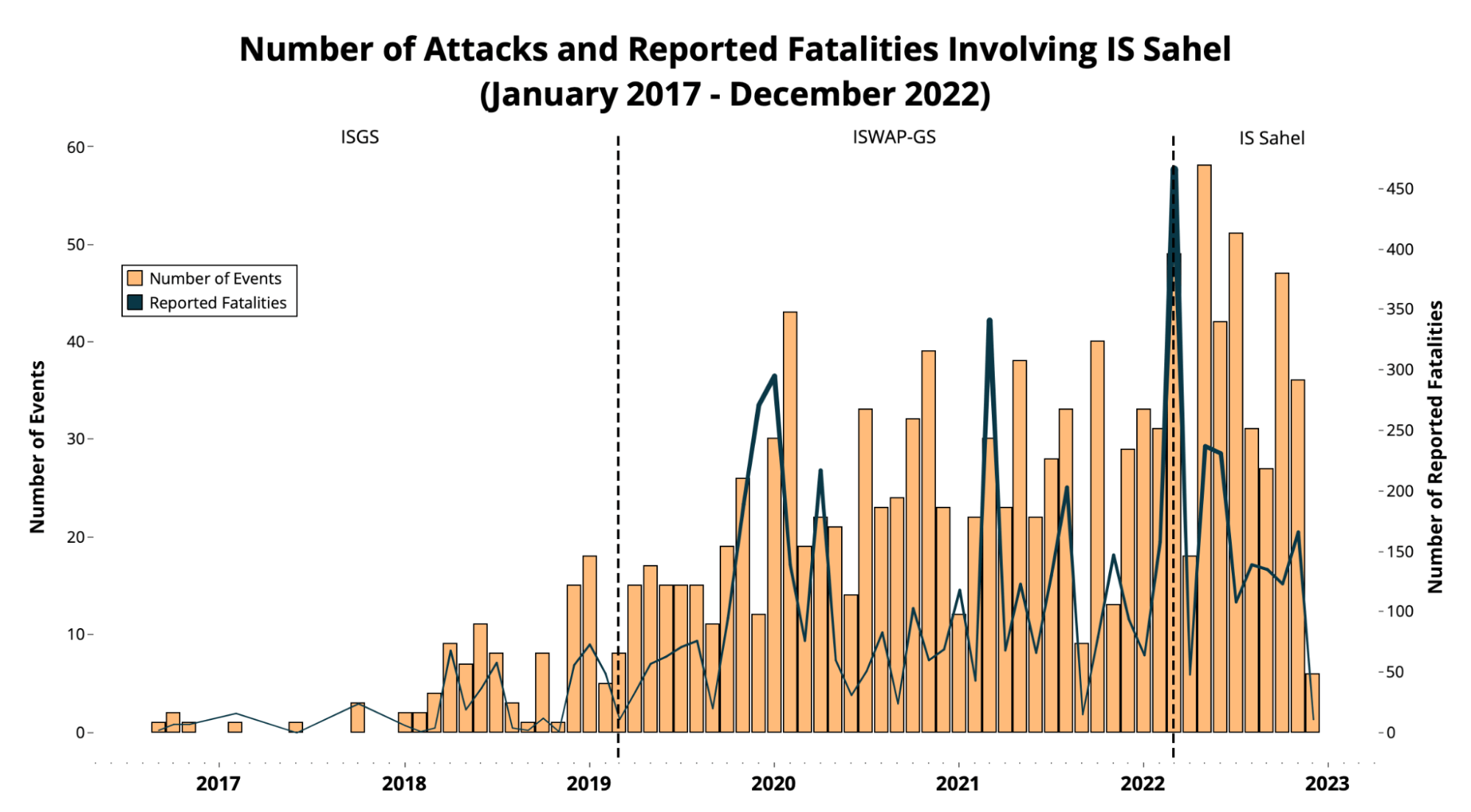 The violent campaign was apparently driven by growing competition between IS Sahel and JNIM, as the former sought to challenge the dominance of its al-Qaeda counterpart, which for years had been an ally facing common opponents among international forces, local government troops, and pro-government militias. In response to the growing lethality of IS Sahel and the apparent inability of government forces to effectively resist the group, France directed extensive military operations to contain the growing threat from IS Sahel (for more, see this ACLED report). During a military campaign conducted between early 2020 and mid-2021 against the group, IS Sahel suffered significant attrition, and its historical Western Saharan core leadership was largely decimated. Among those killed during this campaign was IS Sahel founder Abu Walid al-Sahrawi, who was killed in a French military airstrike in the forest of Dangarous on 17 August 2021.
However, as with previous military campaigns against IS Sahel, these operations were accompanied by indiscriminate violence by local state forces that left hundreds of civilians dead in a matter of months. Moreover, government forces were never able to recapture lost territory and re-establish a sufficient permanent presence. Rather, the area would become an important battleground in a full-fledged turf war between IS Sahel and JNIM, as both vie for influence and dominance in the tri-state border region.5Istituto per gli Studi di Politica Internazionale, 3 March 2021
The conflict between IS Sahel and JNIM has become particularly deadly and protracted, with nearly 200 reported clashes resulting in more than 1,100 combatants killed since fighting broke out in mid-2019. While JNIM gained ascendency in 2020, the tide has turned in favor of IS Sahel in recent months, as IS Sahel fighters inflicted significant losses in JNIM ranks in a series of major battles in the Gao and Menaka regions and along the border between Burkina Faso and Mali between September and November 2022 (see map below). This allowed IS Sahel fighters to return to areas where they had been largely absent after being pushed out by JNIM during the 2020 fighting.
Other sporadic IS Sahel activity has also been recorded in neighboring Algeria, Benin, and Nigeria. In Algeria, IS Sahel was involved in a handful of events in 2019 and 2020 after attempting to regain a foothold in areas where its predecessor, MUJAO, had been present in 2011-12. Activities in Algeria have been driven by a plan to expand operations outside the group's traditional stronghold in the tri-state border area, apparently attempting to establish a coordination center by joining forces with Libyan fighters and possibly making a short-lived attempt to revive the defunct Islamic State Algeria Province.
A short stint of activity in northwestern Nigeria in 2019 is explained by several factors. First, the road between Sanam, Dogondoutchi, and Sokoto is an important supply route for the group.6Ouest-France, 12 December 2019 Second, fighters from IS Sahel arrived in Sokoto in 2018 and 2019 to help communities with which they have kinship ties against banditry.7International Crisis Group, 29 April 2021 Third, northwestern Nigeria provided recruitment opportunities as IS Sahel militants sought to expand operations. Their fighters operating there at the time were locally referred to in the Hausa language as "Lakurawa" (the recruits).8Daily Trust, 1 December 2018; Combating Terrorism Center Sentinel, January 2022; Clingendael, 30 November 2022
Meanwhile, activities in Benin are more recent, as IS Sahel claimed two operations in the department of Alibori in July 2022. According to IS Sahel's own propaganda, this was part of the group's continued expansion into new areas. However, IS Sahel's activities in Benin likely predate the claimed operations but remain largely covert in nature. The announced presence of IS Sahel in Benin follows in the footsteps of a broader and accelerated militant expansion throughout the Sahel and northern parts of the West African littoral states. While both IS Sahel and JNIM have simultaneously moved into new areas in recent years, IS Sahel fighters have had difficulty maintaining and consolidating their presence in these areas, as seen in the East and Center-North regions of Burkina Faso and in central Mali. Nevertheless, they have managed to establish dominance in their traditional strongholds and expand their influence in adjacent areas. It remains to be seen whether Benin will become an exception to the prevailing trend.
Pattern of Violence and Activities
IS Sahel militants exhibit a distinct pattern of conflict characterized by large-scale violence against a variety of adversaries and civilians. An important aspect of IS Sahel's violence is that it tends to be indiscriminate: IS Sahel does not distinguish between combatants and civilian communities among opposing forces. As such, IS Sahel militants have repeatedly engaged in episodes of mass violence against military forces, militias, rival militants, and civilians in the countries where they primarily operate.
The first episode of such violence came in retaliation for operations by French-backed militias in 2018 and targeted various Tuareg and Dawsahak communities in the Menaka region of Mali. In neighboring Burkina Faso, they also perpetrated a large series of massacres against Mossi, Foulse, Songhai, and Bellah communities in the Sahel and Center-North region between 2019 and 2021, coinciding with the aforementioned offensive against government troops in the three central Sahel countries from mid-2019 to early 2020. In Niger, IS Sahel perpetrated widespread mass atrocities against ethnic Djerma and Tuareg communities in the Tillaberi and Tahoua regions and engaged in deadly confrontations with Djerma and Tuareg militiamen from the then-fledgling self-defense militias, which formed in response to IS Sahel's excessive violence and predatory activities in the Tillaberi and Tahoua regions. In March 2022, coinciding with its designation as a stand-alone province, the group launched an offensive in the Menaka and Gao regions on an unprecedented scale. During the six-month offensive between March and August 2022, more than a thousand people were killed, including civilians, pro-government Movement for the Salvation of Azawad and the Imghad Tuareg Self-Defense Group and Allies militiamen, and rival JNIM fighters.
Another dimension that distinguishes IS Sahel from its al-Qaeda counterpart concerns the strategy and tactics that they employ. IS Sahel's preferred modi operandi are ambushes and swarming tactics through motorcycle and vehicle-borne armed assaults, while JNIM employs an overwhelmingly higher proportion of remote violence from a distance through the use of explosives, artillery, and mortar fire, tactics that IS Sahel fighters rarely employ (see graph below).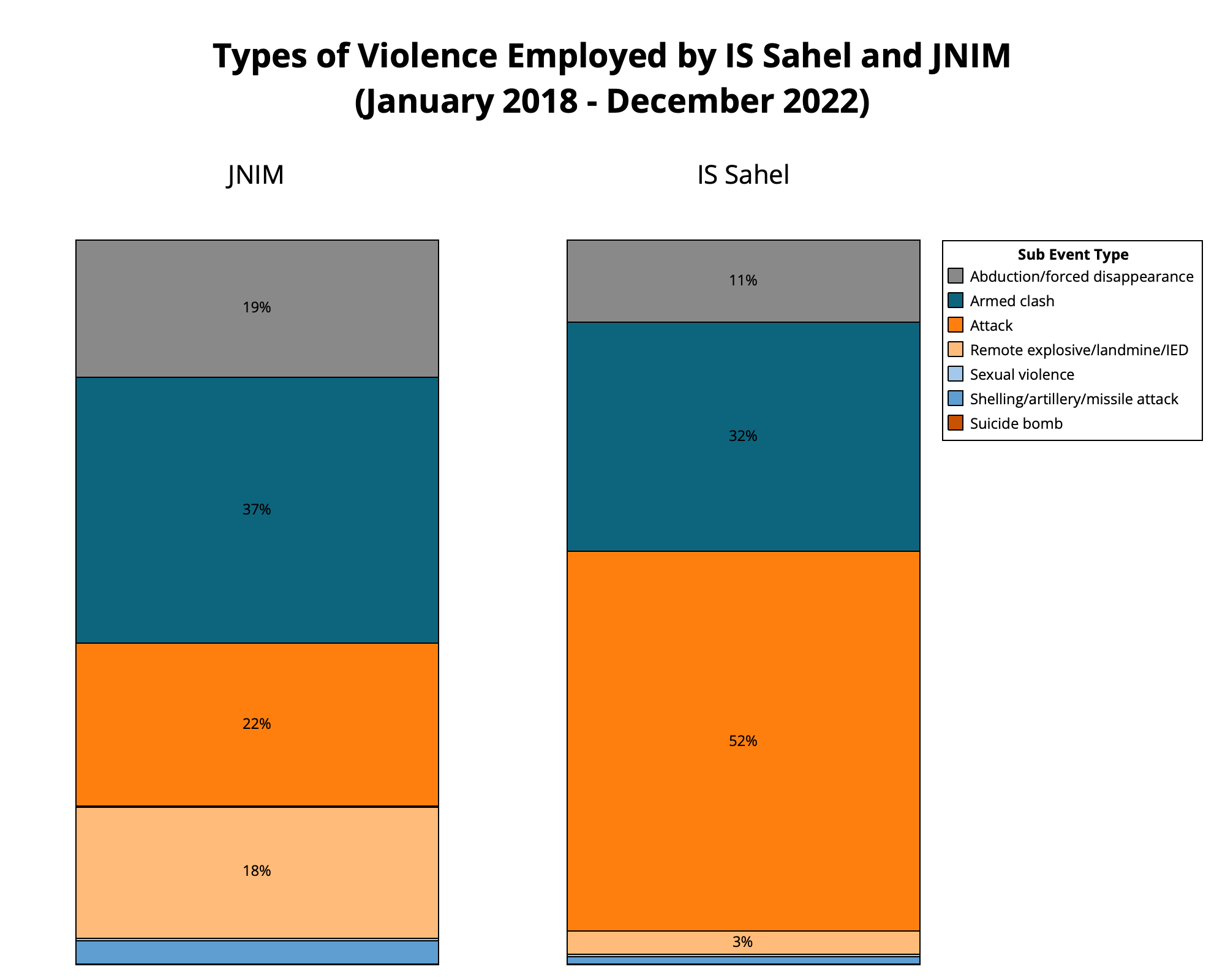 Apart from the violent activities of IS Sahel, resource extraction through cattle theft, extortion, and the collection of zakat (alms or taxes) represent an important dimension of the group's repertoire. However, IS Sahel's jihadist rival, JNIM, outdoes it threefold in terms of such activities.
Looking Forward
Alongside the death of IS Sahel's founding leader Abu Walid al-Sahrawi, the largely Sahrawi core leadership of IS Sahel has been decimated. However, a new emir, Abu al-Bara al-Sahrawi, along with a cadre of local commanders, has replaced the previous leadership, some of whom were already seasoned fighters and had been groomed for years to take over and provide continuity along with new generations of fighters. Political conditions have further developed in favor of IS Sahel as the French-led regional counterterrorism alliance eventually broke up following successive coups in Mali and Burkina Faso.
Evidently, the rise in power of IS Sahel has coincided with the withdrawal of French forces from Mali, which began in mid-2021. The combined forces currently present in Mali, including the Malian armed forces, the Wagner Group, JNIM fighters, and various militias and former rebel groups, have not been able to deter or contain IS Sahel's violence. Isolated and haphazard alliances have formed at the local level, but the hostility and divergent interests of the various armed actors opposing IS Sahel make a major joint effort unlikely. Until government forces and the various armed groups in the region make a concerted effort to confront the group, IS Sahel will likely continue its onslaught.
Indeed, IS Sahel is in the process of establishing a pseudo-state encompassing the rural areas stretching from Gao in the north to Dori in the south and from N'Tillit in the west to the border area of Tahoua in the east. Several towns, including Anderamboukane, Indelimane, and Tin Hama, to name a few, serve as quasi-administrative capitals of the IS Sahel pseudo-state, which is gradually taking shape. IS Sahel militants will seek to assert their influence through large-scale violence and expand operations in areas where they face weak opposition, while operating in a chaotic conflict environment characterized by a multitude of armed actors who have thus far proven unable, either on their own or in coalitions, to contain IS Sahel.
Visuals in this report produced by Héni Nsaibia, with Ana Marco
Ceci est le deuxième volet de notre série de profils d'acteurs, où sont présentées les dernières données relatives à l'activité des groupes armés dans la région du Sahel. Toutes les données sont disponibles en téléchargement direct (en anglais). Les définitions utilisées ainsi que les choix méthodologiques sont détaillés dans le manuel de codage (en anglais). Pour plus d'informations, veuillez consulter le centre de documentation d'ACLED (en anglais).
Introduction : la branche sahélienne de l'État islamique
L'État islamique dans le Grand Sahara (EIGS), aussi appelé État islamique au Sahel, est un groupe militant salafiste jihadiste représentant la branche sahélienne de l'organisation transnationale État islamique (EI). Si le groupe est principalement actif dans les zones frontalières entre le Burkina Faso, le Mali et le Niger, aussi connues sous le nom de zone des « trois frontières » ou Liptako-Gourma, il a également mené des activités sporadiques en Algérie, au Bénin et au Nigeria. Sa composition reflète le tissu social des régions où il est implanté. En effet, les militants du groupe sont issus des ethnies peule, arabe, touarègue, daoussahak, songhaï et zarma, bien qu'historiquement, son cercle dirigeant ait principalement été composé de militants sahraouis.
La généalogie de l'EIGS s'étale sur plus d'une décennie et est le résultat d'une succession de fusions et de scissions. Son prédécesseur de fait, le Mouvement pour l'unicité et le jihad en Afrique de l'Ouest (MUJAO), voit le jour en 2011 en tant qu'émanation d'Al-Qaïda au Maghreb islamique, rassemblant des Arabes sahéliens du Mali, de Mauritanie et du Sahara occidental. Initialement impliqué dans une série d'enlèvements d'Occidentaux dans le sud de l'Algérie, le MUJAO gagne en importance et en notoriété pendant la prise de contrôle jihadiste du nord du Mali en 2012, au cours de laquelle il gouverne la plus grande ville septentrionale du pays, Gao, pendant près de six mois. En août 2013, le MUJAO fusionne avec les Signataires par le sang, un groupe mené par le célèbre commandant militaire et jihadiste algérien Mokhtar Belmokhtar, pour former Al-Mourabitoune. En mai 2015, le Sahraoui Adnane Abou Walid al-Sahraoui, ancien porte-parole du MUJAO devenu chef du Conseil de la choura d'Al-Mourabitoune, finit par faire défection d'Al-Mourabitoune avec ses hommes, après avoir prêté allégeance à l'État islamique et à son chef d'alors, Abou Bakr al-Baghdadi.9Combating Terrorism Center Sentinel, juillet 2020
Suite à sa formation en mai 2015, le groupe d'Adnane Abou Walid al-Sahraoui connaît plusieurs phases dans son évolution guerrière, avant d'obtenir le statut de « province » en mars 2022. Quoique traditionnellement connu en français sous le nom d'État islamique dans le Grand Sahara (EIGS), il prend à partir de cette période le nom d'État islamique au Sahel (IS Sahel en anglais). Le groupe ne mène pas d'attaques, ou du moins n'en revendique pas la responsabilité, avant septembre 2016, date à laquelle il commence à mener une série d'attaques contre des positions appartenant aux forces militaires et de sécurité au Burkina Faso et au Niger. Parmi ces attaques, on compte notamment un raid contre un poste de douane à Markoye et l'assaut d'un campement militaire à Intagom, au Burkina Faso, ainsi qu'une tentative ratée de prise et de libération de prison à Koutoukalé, au Niger. Il semblerait que cette vague d'attaques ait attiré l'attention du commandement central de l'EI, qui a tardivement pris note du serment d'allégeance prêté par le groupe en mai 2015 en diffusant une vidéo de la cérémonie via son organe de presse Amaq. Certains observateurs se sont interrogés sur la taille relativement modeste de l'EIGS, qui ne comptait à ses débuts, selon les estimations, que quelques dizaines d'hommes, et ne possédait pas plus d'une poignée de pick-ups.10The Guardian, 5 juin 2018
Entre mars 2019 et mars 2022, l'État islamique au Sahel a techniquement représenté la cellule du Grand Sahara de l'État islamique en Afrique de l'Ouest (EIAO), faisant alors partie intégrante de l'architecture organisationnelle de l'État islamique, avant d'être désigné comme une province distincte à partir de mars 2022. Par souci de clarté, ce rapport utilisera le nom le plus couramment utilisé dans la presse francophone pour se référer à l'État islamique au Sahel : EIGS.
Activités et zones d'opération
L'EIGS est le deuxième acteur armé le plus actif après le Groupe de soutien à l'islam et aux musulmans (GSIM), son principal rival affilié à Al-Qaïda, dans les conflits de la région du Sahel. Depuis ses zones d'implantation stratégiques situées dans la zone frontalière entre le Mali et le Niger, où des villages tels qu'In Araban, Akabar et Infoukaretane constituent d'importantes bases (voir la carte ci-dessous), l'EIGS opère principalement dans la zone du Liptako-Gourma. Le groupe est devenu l'acteur principale dans plusieurs des régions qui composent cette zone, notamment les régions de Gao et de Ménaka au Mali, les provinces de l'Oudalan et du Séno au Burkina Faso, et les régions de Tillabéri et de Tahoua au Niger, ainsi que dans les zones adjacentes à ces dernières.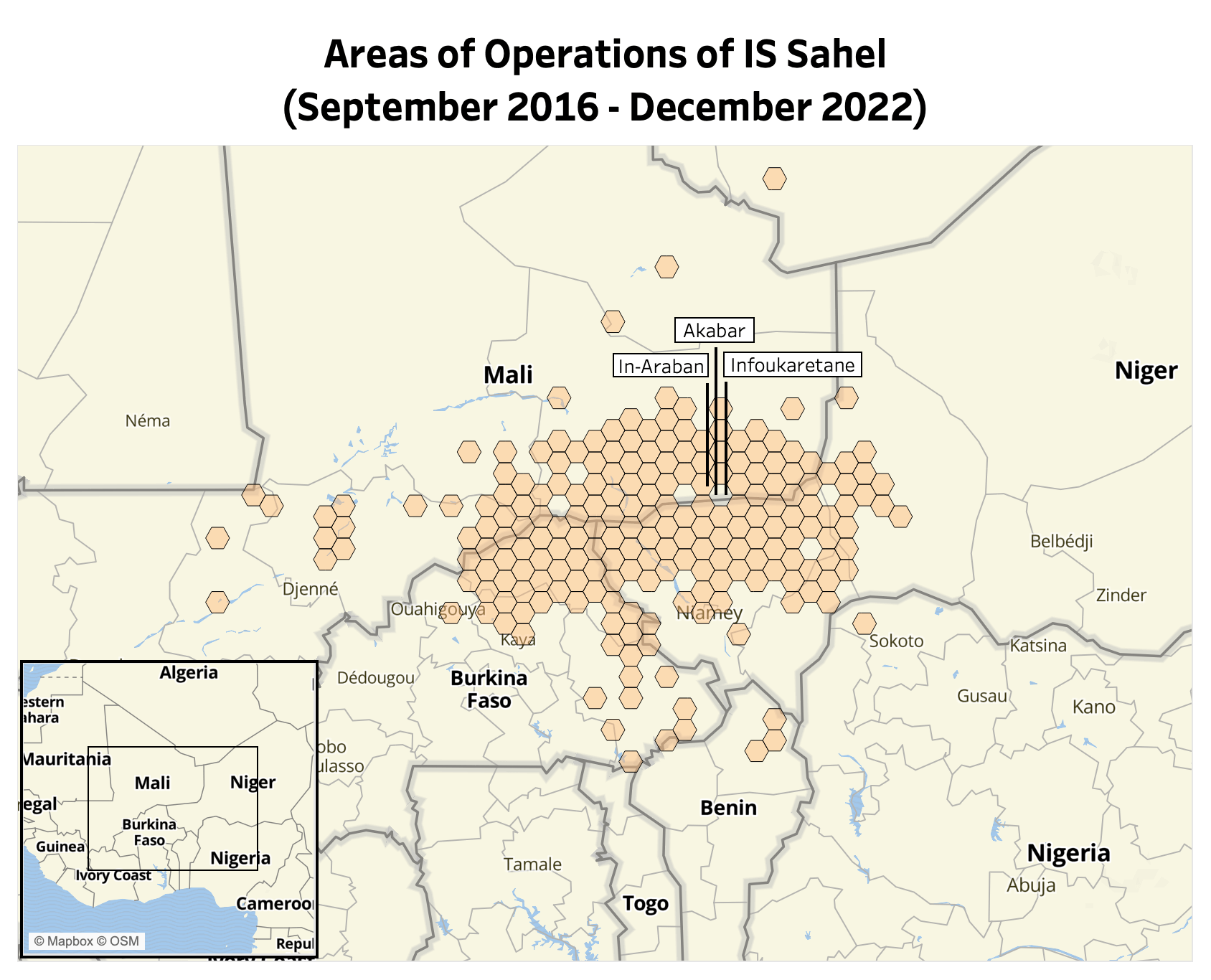 Pendant la majeure partie de l'existence de l'EIGS et tout au long de la période allant de 2015 à 2019, les liens du groupe avec le commandement central de l'EI étaient pour le moins ténus. Malgré cette apparente dissociation publique, illustrée par l'absence de l'EIGS de toute opération médiatique menée par l'EI, la violence et la brutalité des méthodes employées par le groupe ont démontré à la fois sa loyauté ininterrompue et sa volonté de s'aligner sur les choix de son organisation-mère. Ces liens se sont renforcés en mars 2019, lorsque le groupe est officiellement intégré à l'architecture organisationnelle de l'EI en tant que branche couvrant le Sahara rattachée à l'EIAO.11Combating Terrorism Center Sentinel, novembre/décembre 2020
L'intégration du groupe en tant que branche indépendante de l'EIAO est survenue dans un contexte d'expansion des activités militantes de l'EIGS et du GSIM dans l'ensemble du Sahel.12Raleigh, Nsaibia, & Dowd, 26 août 2022 Suite à son intégration de l'EIGS à l'EIAO, de profonds changements ont été observés vis-à-vis des capacités offensives du groupe, notamment lorsque ce dernier a attaqué et envahi de multiples postes militaires dans la région du Liptako-Gourma entre mai 2019 et mai 2020, faisant plus de 400 morts signalés parmi les soldats des forces du Burkina Faso, du Mali et du Niger (voir le graphique ci-dessous).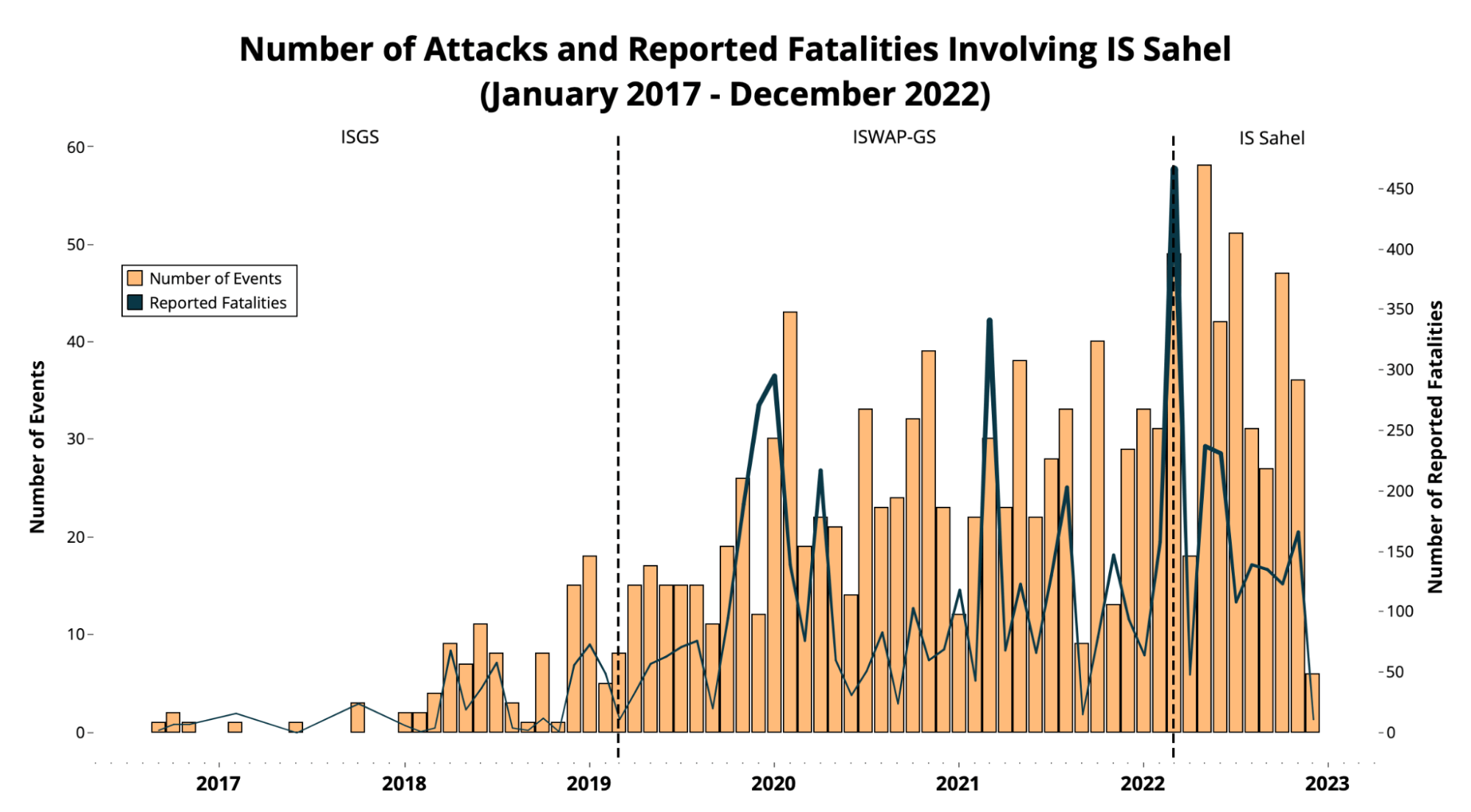 Cette violente campagne aurait été motivée par la concurrence croissante entre l'EIGS et le GSIM, le premier cherchant à défier la domination de son homologue d'Al-Qaïda après s'y être allié pendant plusieurs années afin de faire face à des adversaires communs tels que les forces internationales présentes sur place, les troupes gouvernementales locales et les milices pro-gouvernementales. En réponse au mode d'opération de plus en plus meurtrier de l'EIGS et à l'incapacité apparente des forces gouvernementales à lui opposer une résistance efficace, la France a lancé un vaste ensemble d'opérations militaires visant à contenir la menace croissante représentée par le groupe (pour plus d'informations à ce sujet, voir ce rapport d'ACLED – en anglais). Au cours d'une campagne militaire menée à son encontre entre le début de l'année 2020 et le milieu de l'année 2021, l'EIGS a connu une période de forte érosion, et son cercle dirigeant, traditionnellement sahraoui, a été largement décimé. Parmi les militants ayant trouvé la mort durant cette campagne, on compte notamment le fondateur de l'EIGS, Adnane Abou Walid al-Sahraoui, tué par une frappe aérienne française dans la forêt de Dangarous le 17 août 2021.
Cependant, comme lors des précédentes campagnes militaires menées contre l'EIGS, ces opérations ont été marquées par une vague d'exactions aux mains des forces étatiques locales, entraînant la mort de centaines de civils en l'espace de quelques mois. En outre, les forces gouvernementales n'ont jamais été en mesure de reconquérir les territoires précédemment perdus et d'y rétablir une présence permanente suffisante. Au lieu de cela, les zones concernées se sont transformées en un véritable champ de bataille où les visées territoriales de l'EIGS et du GSIM ont continué de s'opposer, les deux groupes se disputant l'influence et la domination sur la zone des « trois frontières ».13Istituto per gli Studi di Politica Internazionale, 3 mars 2021
Le conflit entre l'EIGS et le GSIM est devenu particulièrement meurtrier et durable, avec près de 200 affrontements signalés ayant entraîné la mort de plus de 1100 combattants depuis le début des combats au milieu de l'année 2019. Si le GSIM a d'abord pris l'ascendant sur son opposant en 2020, le vent a récemment tourné en faveur de l'EIGS, suite à des pertes importantes subies par le GSIM au cours d'une d'une série de batailles stratégiques dans les régions de Gao et de Ménaka et le long de la frontière entre le Burkina Faso et le Mali entre septembre et novembre 2022 (voir la carte ci-dessous). Cette offensive a notamment permis aux combattants de l'EIGS de faire leur retour dans des zones d'où ils avaient été délogés par le GSIM lors des affrontements de 2020.
Des activités plus sporadiques de l'EIGS ont également été observées dans des pays du voisinage tels que l'Algérie, le Bénin et le Nigeria. En Algérie, le groupe a ainsi été impliqué dans une quantité limitée d'événements en 2019 et 2020, après avoir tenté de reprendre pied dans des zones où son prédécesseur, le MUJAO, s'était implanté en 2011 et 2012. Les activités en Algérie ont notamment été conduites afin d'étendre les opérations du groupe au-delà de la zone des « trois frontières », dans l'optique potentielle de créer un centre de coordination réunissant ses forces et des combattants libyens et de faire renaître la défunte province algérienne de l'État islamique.
La brève période d'activité du groupe dans le nord-ouest du Nigeria en 2019 s'explique par plusieurs facteurs. Tout d'abord, la route entre Sanam, Dogondoutchi et Sokoto représente une importante voie d'approvisionnement pour le groupe.14Ouest-France, 12 décembre 2019 De plus, des combattants de l'EIGS se sont rendus à Sokoto en 2018 et 2019 pour y aider des communautés, avec lesquelles certains d'entre eux ont dit entretenir des liens familiaux ou économiques, à faire face au banditisme.15International Crisis Group, 29 avril 2021 Troisièmement, le nord-ouest du Nigeria s'est avéré être un espace de recrutement favorable pour l'EIGS, qui cherchaient alors à étendre ses opérations. Les combattants du groupe évoluant sur place à l'époque étaient ainsi connus en langue haoussa sous le nom de « Lakurawa » (les recrues).16Daily Trust, 1er décembre 2018 ; Combating Terrorism Center Sentinel, janvier 2022 ; Clingendael, 30 novembre 2022
Les activités au Bénin sont, elles, plus récentes, l'EIGS ayant revendiqué deux opérations dans le département de l'Alibori en juillet 2022. Selon les canaux de propagande du groupe, ces actions s'inscrivent dans le cadre d'un effort continu d'implantation dans de nouveaux territoires. Cependant, les activités de l'EIGS au Bénin sont probablement antérieures aux opérations revendiquées, et leur nature demeure très secrète. La présence annoncée de combattants du groupe au Bénin intervient, néanmoins, dans le contexte d'une vaste et rapide expansion des activités militantes de l'EIGS dans tout le Sahel et dans le nord des États côtiers d'Afrique de l'Ouest. Alors que l'EIGS et le GSIM se sont simultanément implantés dans de nouveaux territoires ces dernières années, les combattants de l'EIGS ont peiné à maintenir et à consolider leur présence dans ces zones, comme observé dans les régions de l'Est et du Centre-Nord du Burkina Faso et dans le centre du Mali. Ils ont toutefois réussi à consolider leur autorité dans leurs fiefs traditionnels et à étendre leur influence aux zones adjacentes. La question de savoir si le Bénin continuera de faire exception à une telle tendance reste donc à élucider.
Modes de violence et activités
Les militants de l'EIGS présentent un mode de conflit distinctif, caractérisé par une violence à grande échelle contre une multitude d'adversaires et de civils. Un aspect important de la violence pratiquée par l'EIGS est qu'elle tend à être aveugle : parmi les forces qu'il considère comme lui étant opposées, le groupe ne fait pas de distinction entre combattants et populations civiles. Ainsi, dans les pays où sont concentrées les opérations de l'EIGS, les militants du groupe se sont livrés à plusieurs reprises à des violences de masse visant aussi bien les forces armées que les milices, les militants rivaux et les populations civiles.
Le premier épisode de cette série de violences est survenu en représailles à des opérations menées par des milices bénéficiant du soutien de la France en 2018, visant plusieurs communautés touarègues et daoussahak dans la région de Ménaka au Mali. Au Burkina Faso voisin, les militants de l'EIGS se sont également livrés à une longue série de massacres contre les communautés mossi, foulsé, songhaï et bellah dans les régions du Sahel et du Centre-Nord entre 2019 et 2021. Ces attaques ont coïncidé avec l'offensive précédemment évoquée de l'EIGS contre les troupes gouvernementales dans les trois pays centre-sahéliens entre le milieu de 2019 et le début de 2020. Au Niger, les militants du groupe se sont également livrés à des massacres de masse visant les communautés zarma et touarègue dans les régions de Tillabéri et de Tahoua, tout en s'engageant dans des affrontements meurtriers avec les combattants zarma et touareg issus de milices d'autodéfense, dont l'émergence visait alors à répondre aux exactions et aux actions de prédation conduites par l'EIGS dans les régions de Tillabéri et Tahoua. En mars 2022, suite à sa désignation en tant que province autonome, le groupe a lancé une offensive sans précédent dans les régions de Ménaka et de Gao au Mali. Cette offensive, qui a duré de mars à août 2022, a entraîné la mort de plus d'un millier de personnes, notamment des civils, des miliciens pro-gouvernementaux du Mouvement pour le salut de l'Azawad et du Groupe autodéfense touareg Imghad et alliés, ainsi que des combattants rivaux du GSIM.
Une autre caractéristique qui distingue l'EIGS de son rival affilié à Al-Qaïda a trait à la stratégie et aux tactiques employées par les deux groupes. En guise de mode opératoire offensif, l'EIGS privilégie ainsi les embuscades et les tactiques d'essaimage par le biais d'assauts armés à bord de motos et de véhicules, tandis que le GSIM recourt beaucoup plus fréquemment à de la violence à distance, mêlant utilisation d'explosifs, d'artillerie et de tirs de mortier ; une tactique que les combattants de l'EIGS n'emploient que très rarement (voir graphique ci-dessous).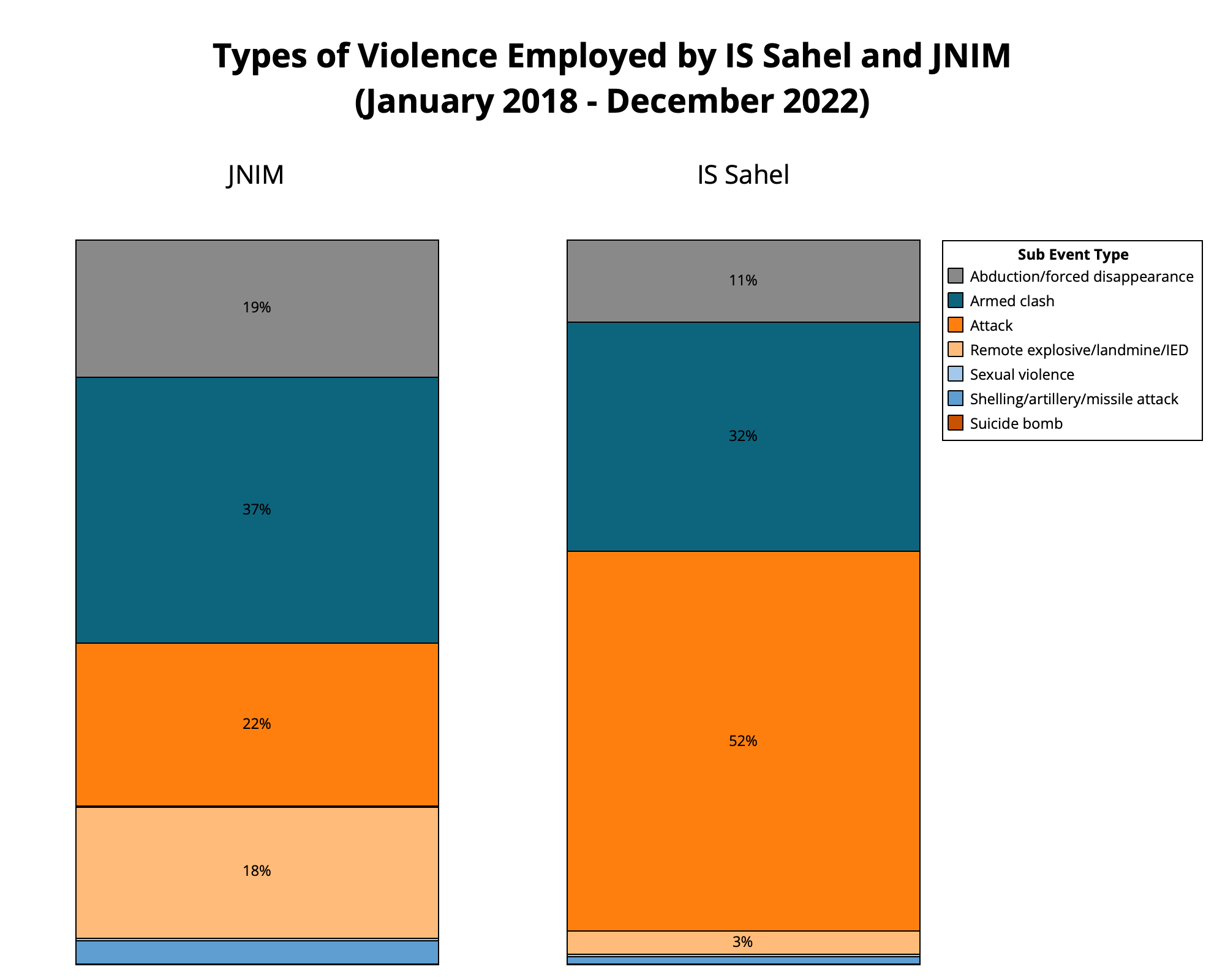 Outre les activités violentes menées par l'EIGS, la captation de ressources par le vol de bétail, l'extorsion et la collecte du zakât (aumônes ou taxes) représente une part importante du répertoire du groupe. Cependant, le GSIM, son rival jihadiste, est trois fois plus actif que l'EIGS dans la conduite d'activités de ce type.
Perspectives futures
Avec la mort du chef fondateur de l'EIGS Adnane Abou Walid al-Sahraoui, le cercle dirigeant du groupe, traditionnellement sahraoui, a été éliminé. Cependant, un nouvel émir, Abou al-Bara al-Sahraoui, ainsi qu'un ensemble fidèle de commandants locaux se sont substitués à l'ancien cercle dirigeant. Avant leur ascension, certains de ces commandants étaient des combattants aguerris, et avaient déjà été formés sur plusieurs années pour prendre la relève et assurer la continuité avec les nouvelles générations de combattants. Les conditions politiques dans lesquelles le groupe évolue ont, de plus, évolué en sa faveur, l'alliance régionale anti-terroriste dirigée par la France ayant fini par éclater à la suite de coups d'État successifs au Mali et au Burkina Faso.
Il semble évident que la montée en puissance de l'EIGS a été concomitante au retrait des forces françaises du Mali, qui a été amorcé au milieu de l'année 2021. La combinaison de forces actuellement présentes au Mali, notamment les forces armées maliennes, le groupe Wagner, les combattants du GSIM et diverses milices et anciens groupes rebelles, n'ont toutefois pas été en mesure de prévenir ou d'endiguer les violences commises par l'EIGS. S'il y a bien eu des alliances ponctuelles et désordonnées au niveau local, l'hostilité entre les différents acteurs armés opposés à l'EIGS et la divergence de leurs intérêts rendent improbable la création d'un front commun d'envergure. Tant que les forces gouvernementales et les différents groupes armés de la région ne concentreront pas leurs efforts pour affronter le groupe, il est probable que l'EIGS continue à mener des attaques.
En effet, l'EIGS s'emploie actuellement à établir un pseudo-État englobant les zones rurales situées entre Gao au nord et Dori au sud, et entre N'Tillit à l'ouest et la zone frontalière de Tahoua à l'est. Plusieurs villes, dont Andéramboukane, Indelimane et Tin-Hama, pour n'en citer que quelques-unes, servent ainsi de capitales quasi-administratives au pseudo-État que l'EIGS est progressivement en train de constituer. Les militants de l'EIGS vont chercher à asseoir leur autorité par le biais de violences de masse et à étendre leurs opérations à des zones où ils n'ont jusqu'à maintenant rencontré qu'une faible résistance. Ceci, tout en évoluant dans un environnement de conflit chaotique, où une multitude d'acteurs armés se sont jusqu'à présent montrés incapables, seuls ou par le biais d'alliances, de le contenir.
Les visuels de ce rapport ont été réalisés par : Héni Nsaibia, avec Ana Marco